Are you ready for some football? These football trivia questions for kids are full of interesting facts about one of America's favorite pastimes, football. Grab your friends and family, and see who gets the most football trivia questions for kids right!
Trivia games are a great way to spend time with family and friends. Using Trivia as a conversation starter or to test each other's knowledge on different topics is the perfect way to connect. You can find trivia questions on different topics, some of our favorites are Spring Break Trivia, Baseball Trivia or Sports Trivia. These football trivia questions are guaranteed to bring fun, a little competition, and learning opportunities to any gathering.
Why I Love Trivia Questions
Trivia questions are great conversation starters and a great way for everyone playing to learn new facts or information to share with others.
My family uses trivia questions to help entertain us on road trips or as conversation starters while making dinner or around the dinner table.
Trivia games are great for introducing competition, practicing teamwork (if you are playing in teams), and learning how to win and lose. Using trivia with your family is an excellent way to learn how to play games, take turns, and test each other's skills on different topics.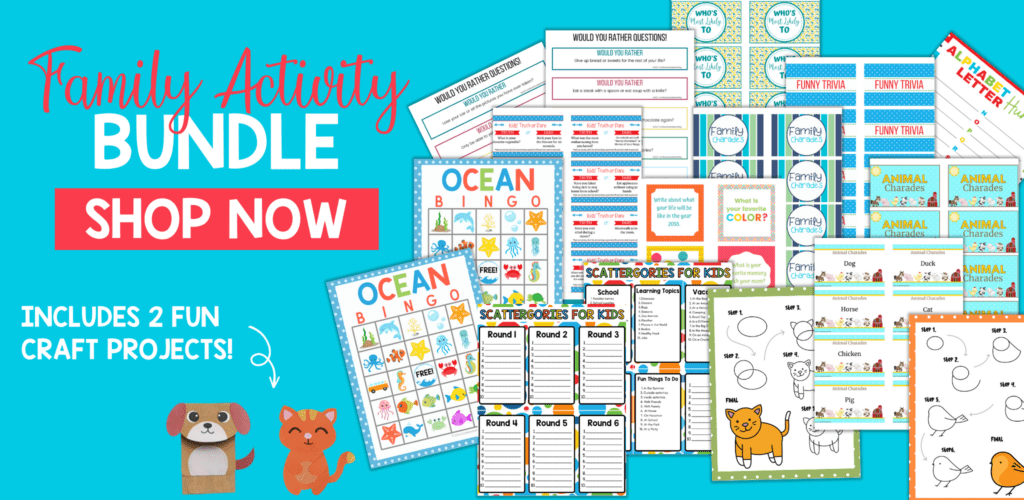 How to Play Trivia
There are different ways to play trivia games. All you need is to grab these Football Trivia Questions, download and print them, and have them ready when you are.
You can also bookmark or save this post and you can have Football Trivia at your fingertips, ready to play as soon as you are.
Create teams by dividing your group into equal numbers or pair smaller children with older teens or adults.
Choose one person to be the moderator or take turns reading the questions.
The first team or person with the correct answer wins a point.
Play until all questions are read and answered or until a team or individual gets a certain amojunt of points.
The team with the most point wins.
Benefits of Trivia Games
Children can learn how to play, take turns and play games with others.
Trivia games are easy on the family budget, and games can be found online for free.
Trivia helps teach players how to get along with each other.
Trivia games are fun for all ages and perfect for families with children of all ages.
Tips and Tricks
There are many different ways to enjoy a trivia game with friends and family.
Keep track of points with a giant whiteboard so everyone can see the score.
Each team can use bells or noisemakers to buzz in before giving their answer.
Draw the trivia questions from a bowl.
Football Trivia Questions for Kids
What does the NFL stand for?

A: National Football League
How many points are scored for a touchdown in American football?

A: 6 points
Which NFL team had the highest salary cap in the year 2022?

A: The Browns
What are the two NFL conferences that make up the NFL?

A: The American Football Conference (AFC) and National Football Conference (NFC)
The NFL began in what year?

A: 1920
How many games are played in a regular NFL season?

A: 17 games with one bye week
How many minutes does a halftime last?

A: 12 minutes
To reach the red zone, the football team has to drive to their opponent's 22-yard line, true or false?

A: True
What is the length of the end zone?

10 yards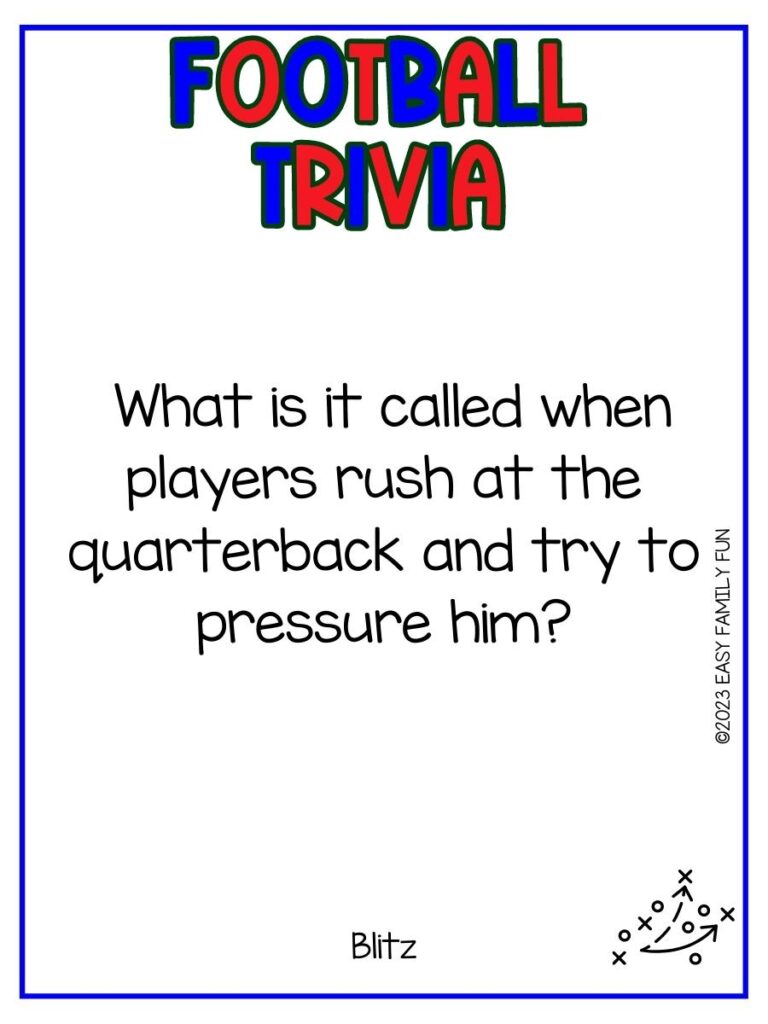 What is it called when players rush at the quarterback and try to pressure him?

A: Blitz
What is it called when a player loses control of the football during a play?

A: Fumble
John Madden awarded what to the MVP of the primetime football game?

A: Turkey Leg
How many points is a field goal worth?

A: 3 points
How many players are on the defense in the NFL?

A: 11 players
How many points is an NFL safety worth?

A: 2 points
Name two teams who have won the Super Bowl 6 times?

A: New England Patriots, Pittsburgh Steelers
How many players are there in the offense in the NFL?

A: 11 players
Why is there a two-minute warning in the NFL?

A: A checkpoint for the referees to ensure that each team is aware of how much time remains in the game.
How many years does a player need to be retired before being eligible for the Pro Football Hall of Fame?

A: Five
How long is a field in an NFL game?

A: 120 yards
How many football teams play in the Big Ten Conference?

A: 14 teams
Which team was given the nickname "America's Team" in the 1979 NFL season?

A: Dallas Cowboys
Which quarterback has the most Super Bowl championships?

A: Tom Brady
Who is the current head coach for the Arizona Cardinals team?

A: Kliff Kingsbury
Name the NFL team that is the most popular in the United States.

A: Dallas Cowboys
Which NFL team is known for selling the most tickets?

A: Dallas Cowboys
Which two NFL teams have each lost 5 Super Bowl games?

A: Denver Broncos and New England Patriots
What nickname did NFL great Lance Alworth share with a Disney movie title character?

A: Bambi
The New York Giants are based in what city?

A: East Rutherford, New Jersey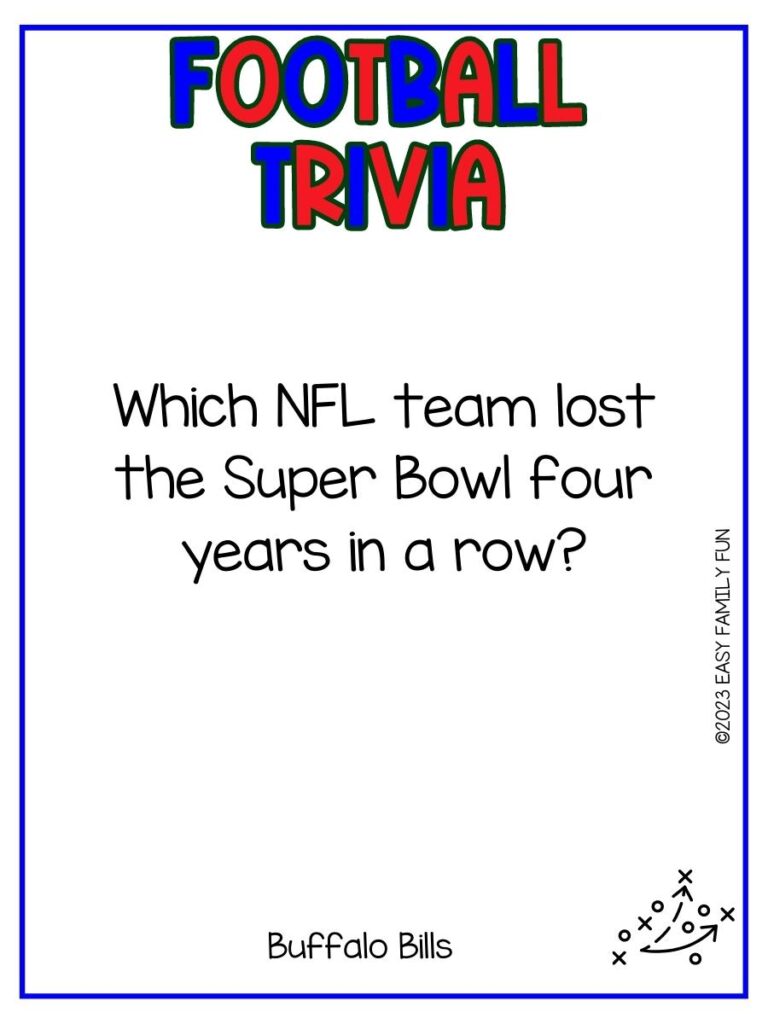 Which NFL team lost the Super Bowl four years in a row?

A: Buffalo Bills
What is the penalty for using a helmet as a weapon?

A: 15 yards
Dan Campbell is the head coach for which NFL team?

A: Detroit Lions
Who is the oldest quarterback to play in the NFL as of 2021?

A: Tom Brady at 45
Who is the heaviest player to play in the NFL in 2021?

A: Aaron Gibson is at 410 pounds
Which football player holds the record for the most receiving yards in a game?

A: Willie "Flipper" Anderson
Where do the kickoffs usually take place?

A: At the 35-yard line
The goalposts for an NFL game are what color?

A: Yellow
How many years must a player be retired to be eligible for the Pro Football Hall of Fame?

A: Five
Intentional face-masking carries what penalty?

A: 15-yards
Name the Dallas Cowboys player who had his helmet stolen at the 1994 Super Bowl.

A: Emmitt Smith
Name the NFL team whose name was inspired by a famous author.

A: Baltimore Ravens
Who was named the NFL's 2016 Offensive Rookie of the Year?

A: Dak Prescott
Who was the longest-running quarterback for the Green Bay Packers?

A: Brett Favre
Cornerback is the position in an NFL game that does not get the football passed to them, true or false?

A: True
Name the player that was fined more than $13,000 for a touchdown celebration that included him going into the stands and drinking a beer with a fan?

A: Marcus Peters
Name the NFL team who was the first to hire professional cheerleaders.

A: Dallas Cowboys
At which field position does the play begin?

A: At the line of scrimmage
Which NFL teams played in the first Super Bowl?

A: Green Bay Packers and Kansas City Chiefs
Which NFL team did Dan Marino play as a quarterback?

A: Miami Dolphin
Which two teams played in the 1995 "all California Super Bowl"?

A: San Francisco 49ers and San Diego Chargers
Are you a fan of trivia? Check out our other awesome trivia questions now!
If you're ready to show off your trivia skills, make sure to subscribe to our email list! That way, you'll be the first to know when we've added new topics for even more brain-teasing fun.
How Do I Print A PDF?
You'll need a program that supports PDFs. Adobe Acrobat is a great option. Open the program, click file, then print. Select your printer and the number of copies you want to print. Be sure you click double-sided if you want it to print on both sides.
Can I Resell These?
You may not resell any printable that you find on our website or in our resource library. You may use them for class parties, at church, at home, or in the classroom. You may get these printed at an office supply store or copy center at your own expense.