If you are searching for a fun way to teach your family about the true meaning of Easter, look no further! Our Easter Bible Trivia Questions will test your knowledge about the Easter story and inspire you to learn more!
Easter Bible Trivia Questions
Does your family love playing games as much as mine does? It's such a great way to spend time together, laughing and having fun.
Trivia games are especially fun, because they give you a chance to show off what you know and challenge each other's knowledge of trivia. With Easter just around the corner, you won't want to miss these Easter Bible Trivia Questions!
Along with Easter baskets, bunnies, and dyed eggs, I want to be sure that my kids have a firm understanding of the Easter story. These Easter Bible Trivia Questions are the perfect way to get your kids thinking and learning more about Jesus and the Bible, and in such a fun way!
Grab these Easter Bible Trivia Questions for your next family game night. Pair them with these Bible Trivia Questions for an even more exciting trivia night!
How To Play Easter Bible Trivia
It's so easy to play Easter Bible Trivia! It requires almost no setup or cleanup, and can be played any time! You can play it with only two people, or you can organize a large group into teams.
After you decide which person or team goes first, take turns answering the trivia questions.
You can keep score by putting each trivia card you answer correctly into a pile, or by using tally marks for each correct answer. When you've run out of questions, the person or team with the highest score wins!
How To Improve Your Trivia Skills
The best way to get better at anything is practice, practice, practice!
The more you play trivia games, the more facts you remember. It also helps to pick a topic that interests you, and then spend extra time reading and learning more about it.
More Easter Fun!
Are you looking for activities for Easter to do with friends and family? You will want to grab our ultimate Easter bundle loaded with fun activities! Use these fun activities at home or in the classroom. This bundle comes with so many activities for one incredible price.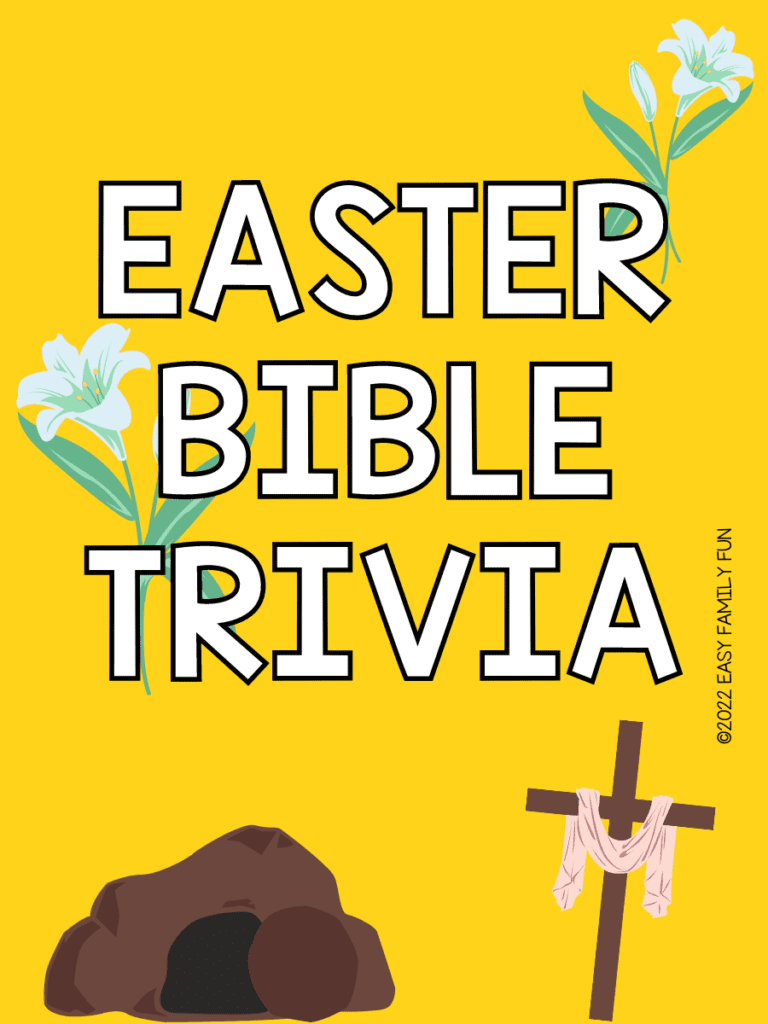 Benefits of Trivia Games
Trivia games are a fun and effective way to challenge your knowledge about any topic.
With each question, you have a chance to recall what you already know, and each answer is a potential fact that you might not have known before.
The more you play trivia games, the more your family will want to learn more and become trivia experts!
Tips and Tricks to Playing Trivia
If you are feeling more competitive, use a timer and set a time limit for each trivia question.
If you are playing with young players, consider letting them team up with a partner who is older and can help them with tougher questions.
It's always fun to offer a prize or reward for the winner!
Easter Bible Trivia Questions
True or False: The word "Easter" appears in the Old Testament in the Bible.

A: False
True or False: A lamb is one of the symbols of Easter, as it was a sacrificial animal in the Old Testament.

A: True
True or False: The rabbit is an ancient symbol of fertility.

A: True
True or False: The egg represents "new life," or the resurrection of Christ.

A: True
True or False: The most popular American Easter candy is the chocolate bunny.

A: False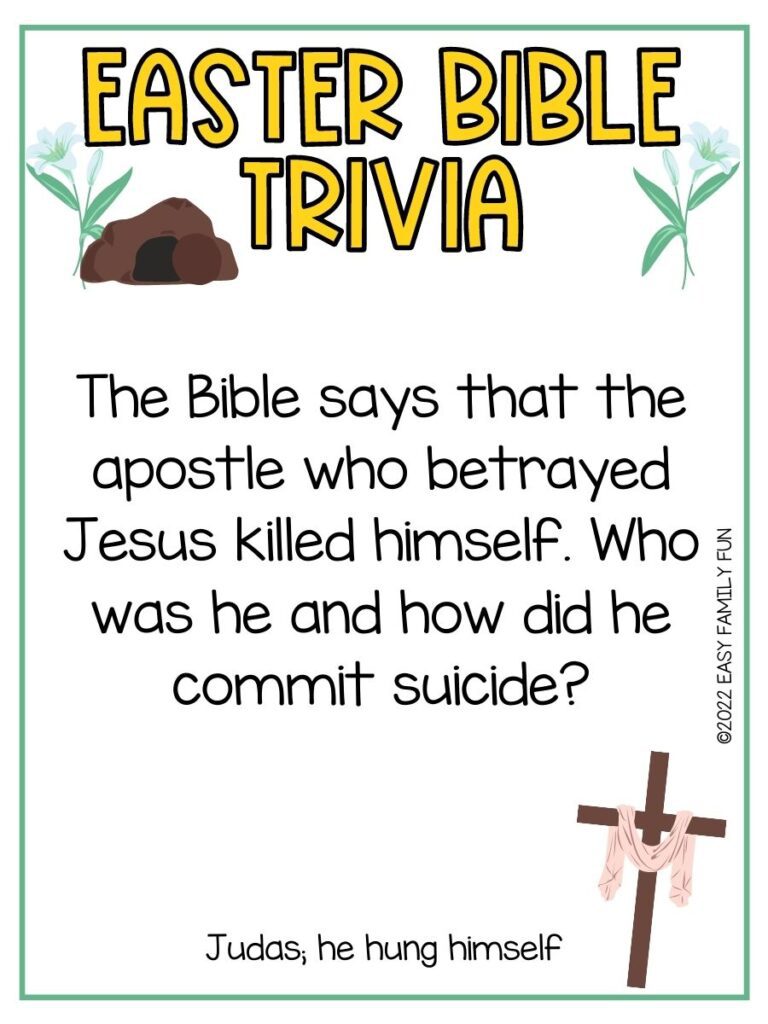 Q: The Bible says that the apostle who betrayed Jesus killed himself. Who was he and how did he commit suicide?

A: Judas; he hung himself
Q: The second largest holiday for eating candy is Easter. Which is the first?

A: Halloween
Q: The idea of the Easter bunny was originated in the 1700s in what country?

A: Germany
Q: The idea of the Easter bunny, which originated in Germany in the 1700s, was not a rabbit originally, but a ________?

A: Hare
Q: The most popular American Easter candy is _______ ?

A: Marshmallow peeps.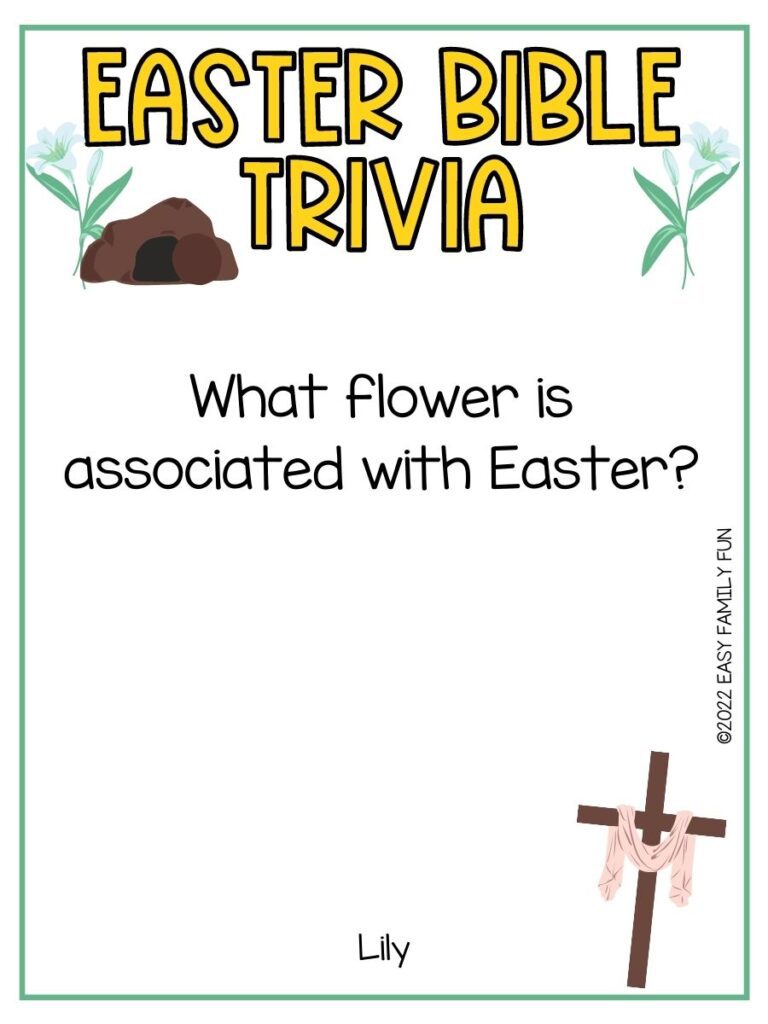 Q: What flower is associated with Easter?

A: Lily
Q: Which animal is used in Australia instead of a rabbit?

A: Bilby
Q: The Romans, in an effort to mock Jesus, gave him a "crown" of what?

A: Thorns
Q: How many gospels are in the Bible? Why are they important at Easter?

A: Four (Matthew, Mark, Luke and John; the "Easter Story" is in the gospels)
Q: What was the purpose of the Easter Act passed in 1928 by Parliament in the United Kingdom?

A: Establish a fixed date for Easter.
Q: What is the name of the Charlie Brown Easter Special?

A: It's the Easter Beagle, Charlie Brown.
Q: At the Last Supper, what food did Jesus liken to his body?

A: Bread
Q: Easter Island belongs to which South American country?

A: Chile
Q: How was Jesus fastened to the cross?

A: With nails through his hands and feet.
Q: Jesus prophesized that Peter would deny him how many times?

A: Three
Q: What came first, Jesus' crucifixion, the resurrection, or the Last Supper?

A: The Last Supper
Q: The "Easter parade," an American cultural event consisting of a festive strolling procession on Easter Sunday, is characterized by what item of clothing won by women?

A: Hats
Q: Which job did Zacchaeus hold in the Bible?

A: Tax Collector
Q: When the soldiers came for Jesus, what wound did Peter inflict on the servant of the high priest?

A: Cut off his right ear.
Q: Who wrote the popular Easter hymn "Christ the Lord is Risen Today"?

A: Charles Wesley
Q: Which country has the tradition of eating hot cross buns at Easter?

A: Great Britain
Q: Who held the first egg roll on the White House lawn and in what year?

A: Lucy Hayes, wife of President Rutherford B. Hayes in 1878
Q: What are two traditional Easter games?

A: The Easter egg hunt and egg rolling.
Q: The custom of giving candy and chocolate for Easter first appeared during what historic age?

A: The Victorian age.
Q: The Easter sunrise service, a distinctive Protestant observance in North America, comes from what Biblical event?

A: It is a reenactment of Mary Magdalene's visit to Jesus' tomb on the morning of his Resurrection.
Q: In the United States, what is the traditional Easter meat people eat?

A: Ham
Q: What colors are associated with Easter?

A: Purple and yellow.
Q: Who made the statement, "Take ye him, and crucify him, for I find no fault in him."?

A: Pontius Pilate
Q: Some countries (Mexico, Spain, and Greece) have bonfires at Easter time. What is burned in these fires?

A: Effigies of Judas
Q: What kind of cloth was used to wrap the body of Jesus?

A: Linen
Q: Jesus body was placed in a sepulcher and a rock was rolled to cover the opening. What is a sepulcher?

A: A cave-like tomb.
Q: How many angels were guarding the sepulcher?

A: Two, one where the head of Jesus had been and one at the feet (John 20:12)
Q: Which disciple is not present when Jesus goes to see them after his resurrection?

A: Thomas
Q: Easter celebrates the resurrection of Jesus Christ. After his crucifixion, Jesus rose from the dead how many days later?

A: 3
Q: Which prisoner was released instead of Jesus?

A: Barabbas
Q: What was the name of the hill where they crucified Jesus?

A: Golgotha
Q: What animal did Jesus ride on when he entered Jerusalem the week before his death?

A: A donkey
Q: What do we call the day Jesus was crucified?

A: Good Friday
Q: "I tell you the truth, today you will be with me in paradise." is spoken by Jesus in what book?

A: Matthew
Q: Who did Jesus first appear to after he had risen?

A: Mary Magdalene
Q: What was the name of the garden where Jesus was praying before the soldiers came to get him?

A: Gethsemane
Q: Who betrayed Jesus?

A: Judas Iscariot
Q: Who denied Jesus?

A: Peter
Q: "And they crucified him, and parted his garments, casting lots" was written in which book?

A: Matthew
Q: Who was the Roman King at the time Jesus was crucified?

A: Pontius Pilate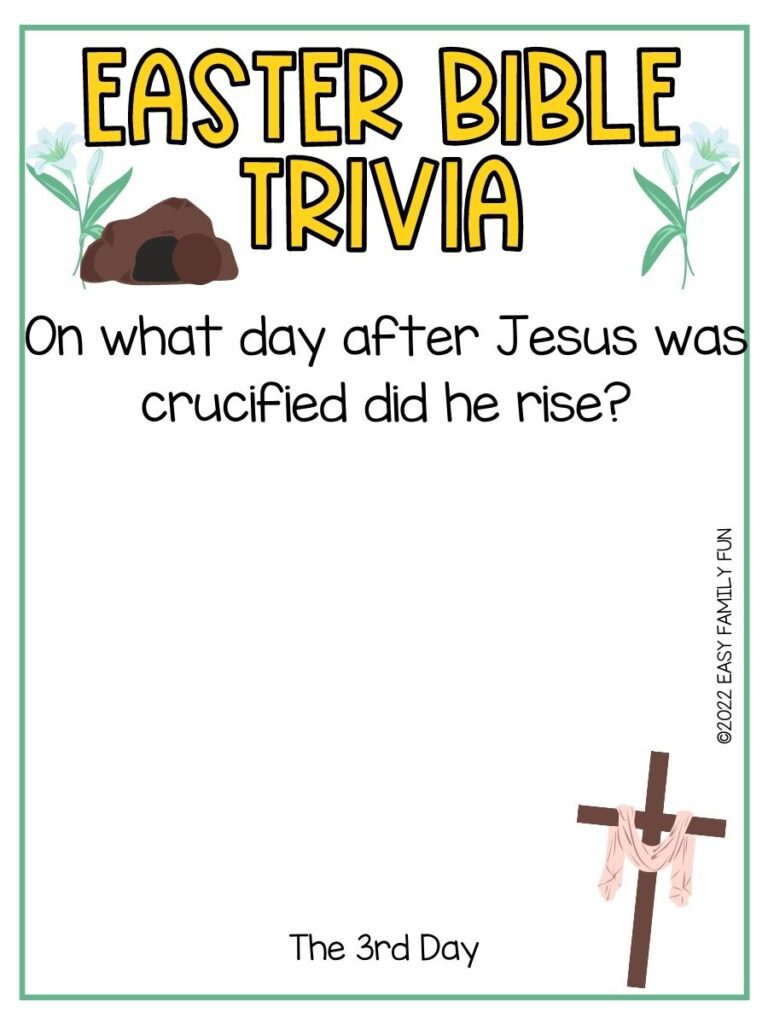 Q: On what day after Jesus was crucified did he rise?

A: The 3rd Day
Q: Palm Sunday is the week before Easter. What does it mark?

A: Jesus entering Jerusalem on a donkey.
Q: Why was Jesus coming to Jerusalem?

A: To celebrate Passover.
Q: On what day was the Last Supper had?

A: Maundy Thursday
Q: How did Judas betray Jesus?

A: He marked out Jesus to the Roman soldiers by kissing his cheek.
Q: Who else was crucified alongside Jesus?

A: Two thieves
Q: What words did Jesus according to the Bible cry out while on the cross?

A: "My God, My God, why have you forsaken me"
Q: Who came to visit Jesus at his burial site only to discover he'd been resurrected?

A: Mary Magadalene
Q: When did Jesus leave Earth to join God in heaven?

A: After he appeared to his disciples
Q: Who asked Pilate for Jesus' corpse and put it in his own tomb?

A: Joseph of Arimathaea
Q: What was placed in front of the door of the tomb to close it?

A: A stone
Q: What moved the object in front of the tomb door?

A: An angel
Q: Who did not see the empty tomb?

A: Joseph
Q: What was found in the tomb?

A: Jesus' burial clothes.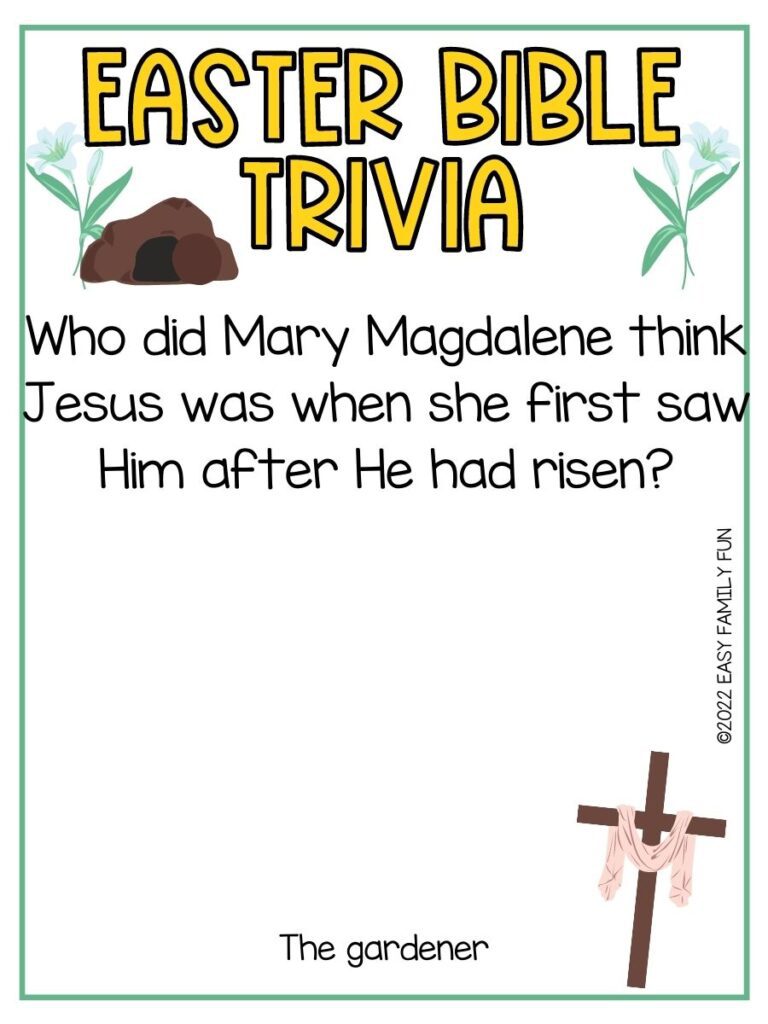 Q: Who did Mary Magdalene think Jesus was when she first saw Him after He had risen?

A: The gardener
Can you think of some Easter Bible trivia questions of your own? Share them with us in the comments below, and be sure to tag us on Instagram by using #easyfamilyfun when you play!