Discover the iconic faces of Mount Rushmore and the incredible history behind this American landmark. Explore the artistry, carving process, and significance of this majestic mountain sculpture in these facts about Mt. Rushmore.
Imagine a mountain that looks like a gigantic rock wall with the faces of four presidents on it! Mount Rushmore is located in South Dakota, a big state in the middle of the country. The mountain features the faces of four very important presidents: George Washington, Thomas Jefferson, Abraham Lincoln, and Theodore Roosevelt. These presidents did great things for the United States, and that's why their faces are carved into the mountain.
Now, let's talk about the amazing carving process. Carving Mount Rushmore was like a giant art project that took many years to finish. A talented sculptor named Gutzon Borglum and his team used dynamite, jackhammers, and drills to carefully shape the presidents' faces into the mountain. It was a bit like creating a giant sculpture, but instead of clay or stone, they used the mountain itself!
Here's a fun fact: Mount Rushmore wasn't always called that! The Lakota Sioux, a Native American tribe that has lived in the area for a long time, called it "Six Grandfathers" before the carving began. It's important to remember that this mountain is a symbol of great presidents and a place with a rich history and meaning for Native Americans. So, as you explore the fantastic facts about Mount Rushmore, remember the many stories it holds and the people it represents!
If you love learning new facts about history, be sure to check out 275 Best History Trivia Questions, as well as 25 Remarkable Facts about James Madison.
Most Interesting Facts About Mt. Rushmore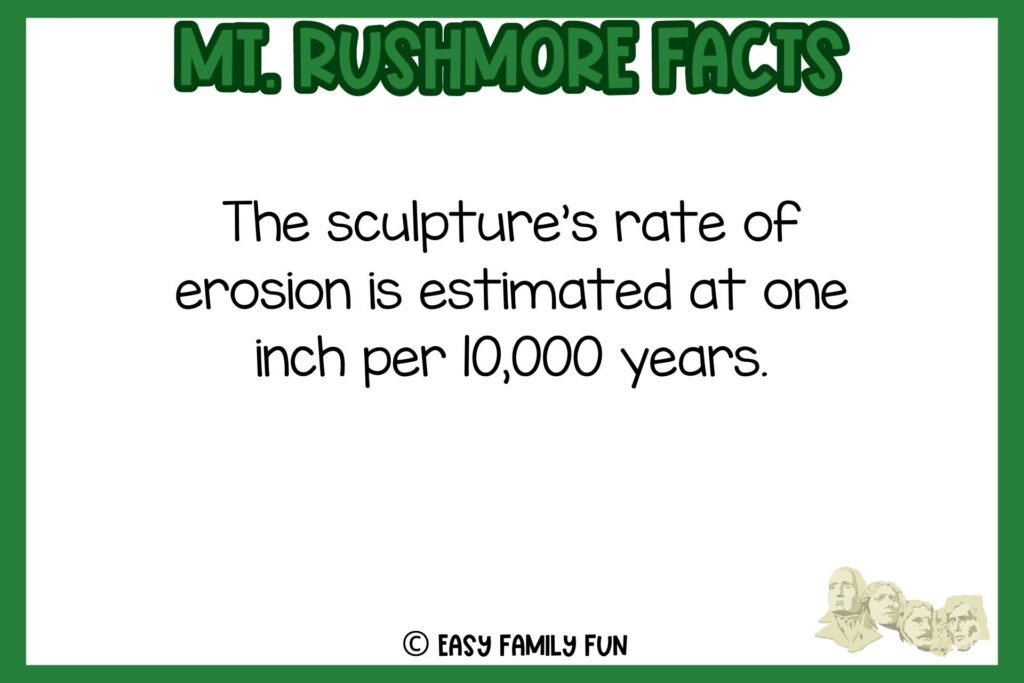 The sculpture's rate of erosion is estimated at one inch per 10,000 years.
The cave behind the monuments on Mount Rushmore is the 'Hall of Records'.
Charles E. Rushmore donated $5,000 toward the sculpting of the mountain that bore his name.
Mount Rushmore has undergone various preservation efforts to maintain its structural integrity and appearance over the years.
To build it took 14 years to complete and had a total cost of $989,992.32.
About 400 workers built the sculptures.
Mount Rushmore is located in the Black Hills region of South Dakota
It stands 5,725 feet above sea level.
The Mount Rushmore workers hiked up the mountain with another thing in mind.
Mount Rushmore is actually unfinished, in that each of the presidents was meant to also have a carved body.
The Presidential Trail is a 0.5-mile walking trail that offers up-close and different views of each face. If you start the trail from the Sculptor's Studio, you'll have to climb 422 stairs.
Sadly, the Mount Rushmore project had adverse effects on the worker's health. In the duration of their work on the Black Hills, many of them breathed in silica dust. This incident then caused them to die from lung disease silicosis later on.
Mount Rushmore National Memorial is a massive sculpture carved into the granite face of Mount Rushmore in the Black Hills of South Dakota, USA.
Mount Rushmore has become a symbol of American patriotism and democracy.
Mount Rushmore's construction began in 1927 and took about 14 years to complete.
There have been zero (0) recorded fatalities during the construction.
Mount Rushmore is now visited by nearly 3 million people annually.
The idea of creating a sculpture in the Black Hills was dreamed up in 1923 by South Dakota historian Doane Robinson.
Mt. Rushmore was created to find a way to attract tourists to the state.
Mount Rushmore features the faces of four U.S. presidents: George Washington, Thomas Jefferson, Theodore Roosevelt, and Abraham Lincoln.
The men who worked on the mountain were miners who had come to the Black Hills looking for gold.
Mt Rushmore is not as big as it appears in pictures.
The heads of the presidents depicted in the monument are only 18 meters tall.
The four presidents represented on Mount Rushmore were chosen to represent pivotal times in American history as well as vital American principles and values.
Mount Rushmore is known to the Lakota Sioux as "The Six Grandfathers" or "Tukáila ákpe" in Lakota.
Dynamite was used in carving the granite on Mount Rushmore
The sculpture was designed by Danish-American sculptor.
90% of the mountain was carved with dynamite, and more than 450,000 tons of rock was removed.
How Do I Print A PDF?
You'll need a program that supports PDFs. Adobe Acrobat is a great option. Open the program, click file, then print. Select your printer and the number of copies you want to print. Be sure you click double-sided if you want it to print on both sides.
Can I Resell These?
You may not resell any printable that you find on our website or in our resource library. You may use them for class parties, at church, at home, or in the classroom. You may get these printed at an office supply store or copy center at your own expense.