Comets are like space's very own fireworks. They zoom around in space and sometimes come close to Earth, leaving a bright, glowing trail behind them. Imagine a giant snowball made of ice, dust, and gas. That's kind of what a comet is like but in space! Ready to learn more facts about comets? Let's go!
Comets, known as space snowballs, have been flying around for billions of years. When they come close to the sun, the heat makes them glow and release gas and dust. This creates a bright, shining tail that can stretch for millions of miles. The tail always points away from the sun because of the sun's energy and the solar wind.
If you've ever seen a shooting star, that's not actually a star—it's often a tiny piece of a comet burning up as it enters Earth's atmosphere! But real comets are a lot bigger and can be seen for days or even weeks when they get close to Earth. Some famous comets, like Halley's Comet, come back near Earth every few decades, giving people a chance to see them more than once in their lifetime.
Studying comets is like looking into a time machine. They can teach us about what the universe was like a long time ago because they're made of old materials from when our solar system was beginning. So, every time you look up and spot a comet, remember: you're seeing a little piece of history flying by!
Ready to learn more facts about comets? Scroll down to learn more comet facts! Don't forget to check out our facts about bugs and facts about bees!
Best Facts about Comets
All comets orbit the sun
One great comet happens every ten years.
Comets are believed to originate in one of two regions
Comet orbits are elliptical. It brings them close to the sun and takes them far away.
Halley's Comet is visible every 75 to 76 years.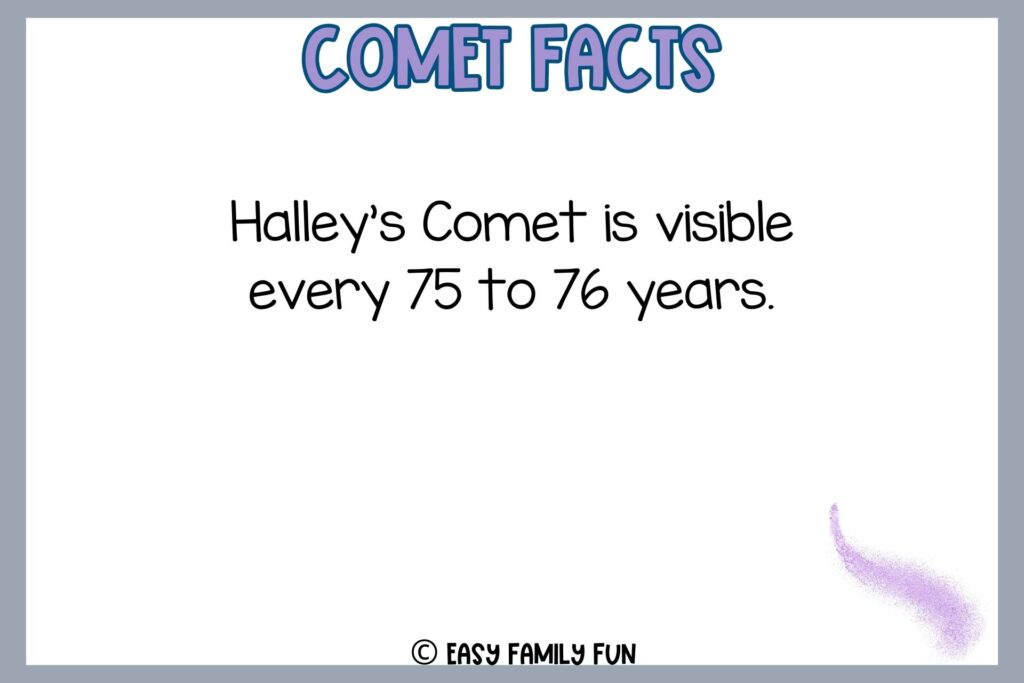 A comet's dust tail is a trail of dust and rocky material
As the comet gets warmer, it grows a tail of gas and dust that can be millions of miles long, always pointing away from the sun.
Comets are generally named after their discoverer.
Comets have their own atmospheres
Some comets, called sun-grazers, smash right into the sun or get so close that they break up and evaporate.
Comets are little bits of ice left over from the beginning of our solar system.
Comets are most easily visible when they get close to the sun
The Perseid meteor shower occurs every year between August 9 and 13 when Earth passes through the orbit of Comet Swift-Tuttle.
One AU is the distance between Earth and the Sun.
Comets have a halo when they move close to the Sun.
Comets are composed primarily of frozen ammonia, methane or water, and contain only small amounts of rocky material.
The ion tail of a comet is the result of solar winds
There are over 3,000 currently known comets. Scientists believe that there are up to one billion comets in our solar system.
For much of human history, comets were not welcome visitors. They were thought to symbolize times of disaster and doom.
Comets are believed to originate from either the Oort Cloud, or the Kuiper Belt, found beyond the orbit of Neptune and the dwarf planet Pluto.
The Oort cloud is believed to contain dormant comets.
As a comet gets closer to the Sun, it loses some of its mass as it sublimes.
A highly visible comet was Hale-Bopp, which came within 122 million miles (197 million km) of Earth in 1997.
Isaac Newton later discovered that comets move in elliptical, oval-shaped orbits around the sun, and correctly predicted that they could return again and again.
Comets can travel out to hundreds of thousands of times the distance between the Earth and the sun, and then slowly travel back into the inner solar system on million-year-long orbits.
A great comet is one that is bright enough to be visible from Earth without the need for a telescope.
Astronomers classify comets based on the duration of their orbits around the sun.
Short-period comets are also known as periodic comets
Comets are neither spaceships nor alien bases
Comets have two tails, not one
The Kuiper Belt is a ring made up of dormant comets
Short period comets orbit the Sun every 20 years or less.
Long period comets orbit the Sun every 200 years or longer.
Comets have been given the nickname of "dirty snowballs."
Comets are somehow the jewel for amateur astronomers since they are so many, usually dim, and hard to spot.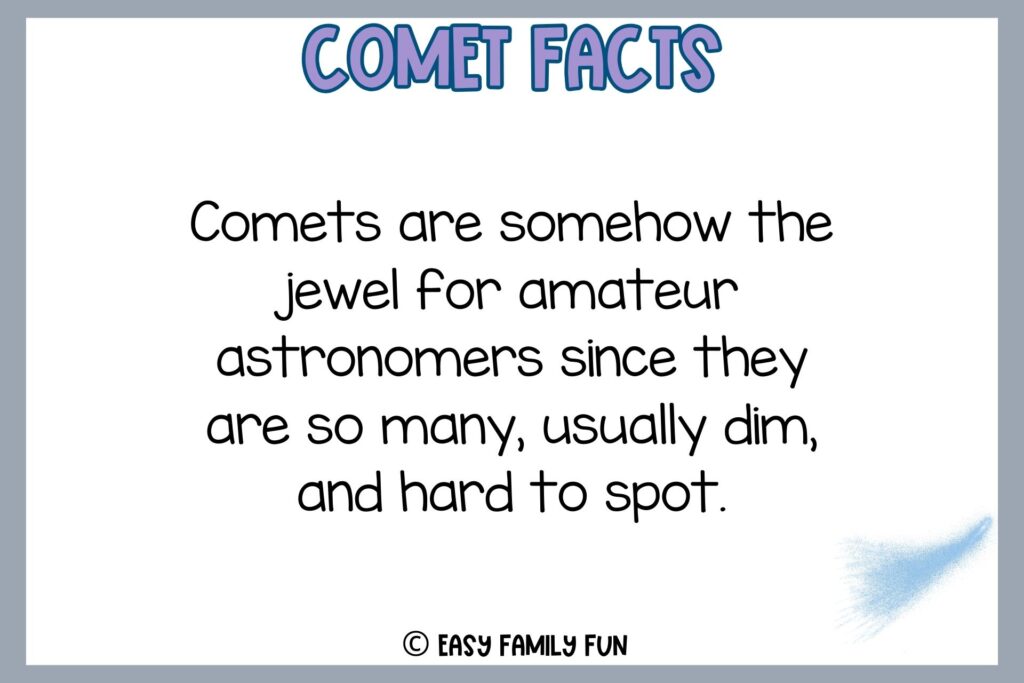 The Oort cloud is an outer region of the Solar System 50,000-150,00 times the distance from the Sun to Earth
The most recent comet to be making headlines is that of recently discovered comet C/2022 E3 (ZTF) which will make a relatively close approach to Earth on Feb. 1, 2023, passing within 28 million miles (42 million km).
Comets leave a trail of debris behind them that can lead to meteor showers on Earth.
Long-period comets – which are called nearly isotropic comets.
As a comet approaches the sun, it heats up very quickly causing solid ice to turn directly into gas via a process called sublimation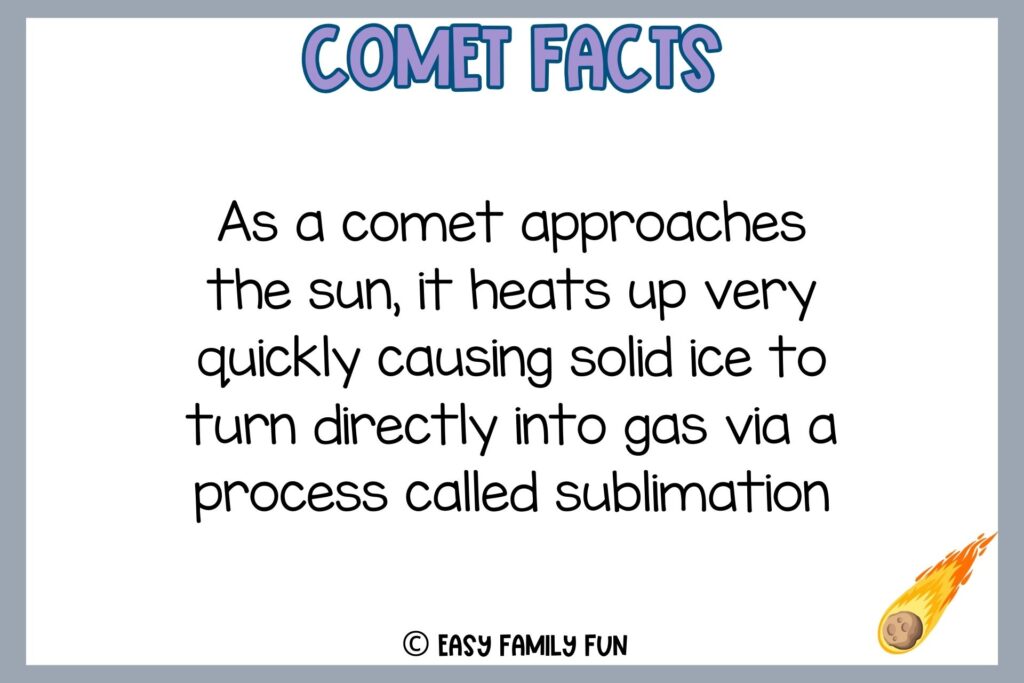 Comet Hale-Bopp is best known to most people for the much publicized Californian cult who believed the comet to be a spacecraft.
Sometimes comets are referred to as cosmic snowballs
The nucleus of a comet contains the vast majority of its total mass.
Comets orbit the Sun in elliptical paths – just like the planets.
Comet Shoemaker-Levy 9 is named after its discoverers, Gene Shoemaker, Carolyon Shoemaker and David Levy.
Comets, like asteroids, are small celestial bodies that orbit the Sun.
The ion tail is a stream of ionized gasses that are blown directly away from the Sun as a result of the comet's contact with the solar wind.
Those comets with orbits in between are called Halley-type comets.
Comets have three parts: the nucleus, the coma and the tails.
Short-period comets – which are called ecliptic comets
Comets are frozen leftovers from the formation of the solar system composed of dust, rock, and ices.
The coma is the gas and dust atmosphere around the nucleus
Comets are in orbit around the Sun as are our planets.
Comets can become extinct or explode
The appearance of a comet is called an apparition.
Halley's peanut-shaped nucleus is barely 9 miles (15 kilometers) long by 5 miles (8 kilometers) wide.
The word "comet" comes from the Greek word "Kometes" which means long hair. This is because of how a comet's tail can look like long flowing locks of hair.
Like planets, some comets orbit the sun on a predictable schedule
Chinese astronomers kept extensive records on comets for centuries, including observations of Halley's Comet going back to at least 240 B.C., and historic annals that have proven valuable resources for later astronomers
The most famous comet is Halley's Comet. It has been observed since at least 240 B.C. It was named after the British astronomer Edmond Halley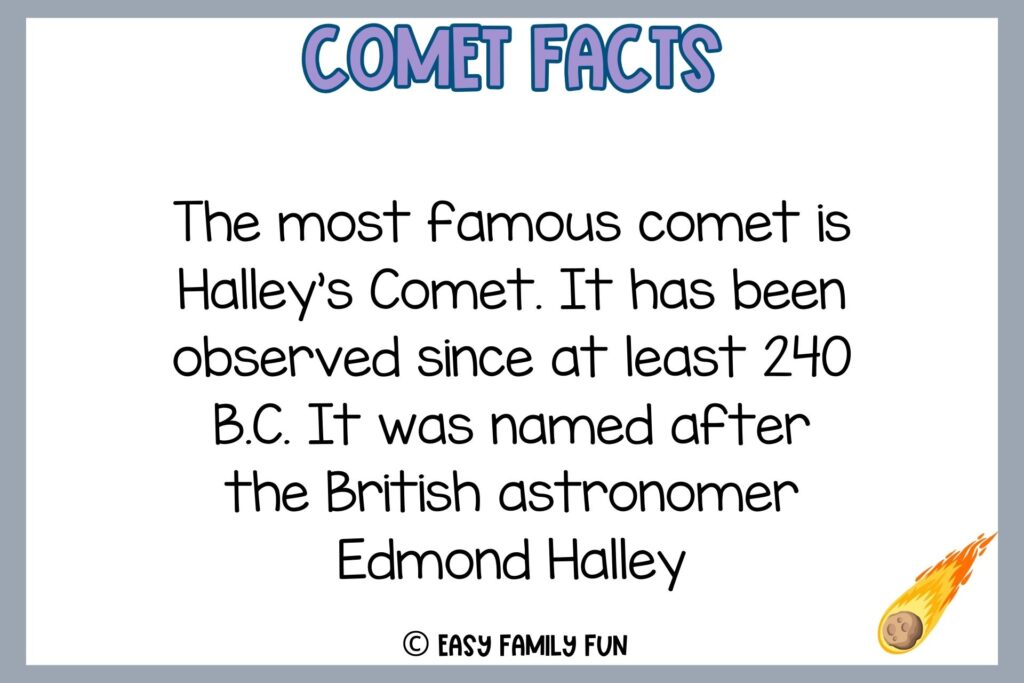 The nucleus is the solid center component made of ice, gas, and rocky debris.
Comets might have brought life and water to Earth
The tails are formed when energy from the Sun turns the coma so that it flows around the nucleus and forms a fanned out tail behind it extending millions of miles through space.
Many believe that Chicxulub, the celestial body that caused the extinction of the dinosaurs around 66 million years ago, was either an asteroid or a comet.
Many periodic comets are now termed lost comets since their orbits were never known well enough to predict future appearances.
Do you know more comet facts that we missed? Share them in the comments!
How Do I Print A PDF?
You'll need a program that supports PDFs. Adobe Acrobat is a great option. Open the program, click file, then print. Select your printer and the number of copies you want to print. Be sure you click double-sided if you want it to print on both sides.
Can I Resell These?
You may not resell any printable that you find on our website or in our resource library. You may use them for class parties, at church, at home, or in the classroom. You may get these printed at an office supply store or copy center at your own expense.