Bacon is a treat loved by many. When it sizzles in the pan, it makes a sound that's music to many ears, and its yummy smell can make your mouth water! But did you know there's more to bacon than just its tasty flavor? Let's dive into some crispy facts about bacon!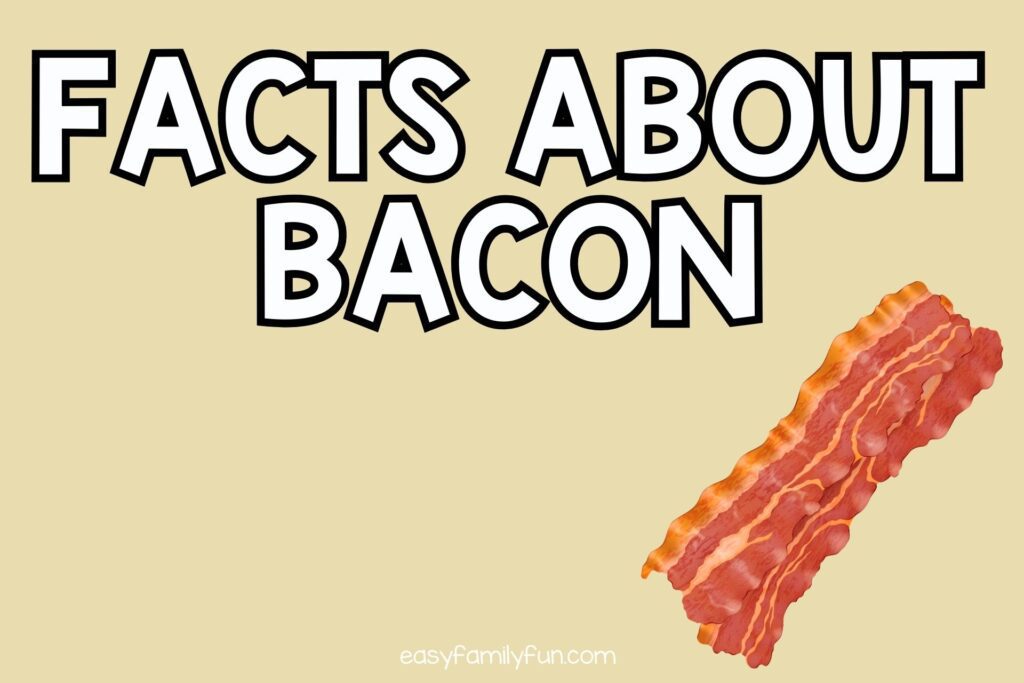 Bacon comes from pigs, and it's a type of meat that has been enjoyed for thousands of years.
Long ago, people learned how to preserve or save meat by adding salt. This was super helpful because there were no refrigerators back then! That's how bacon was born, from the need to keep meat good to eat for a longer time.
There are different types of bacon all over the world. In the United States, bacon is usually thin and crispy, but in places like Canada, it's thicker and is often called "back bacon." Some countries even have sweet bacon, where it's mixed with flavors like honey or maple.
Did you know that bacon is not just for breakfast! Bacon can be found in all sorts of dishes, from salads and sandwiches to desserts like chocolate-covered bacon. People love adding its smoky flavor to all sorts of recipes. So, next time you munch on some bacon, remember: there's a world full of bacon facts just as exciting as its taste! Ready to learn more facts about bacon? Scroll to learn more!
And to discover more cool facts, don't forget to check out our facts about red wolves and our facts about the heart.
Facts About Bacon
The intense flavor of bacon comes from its high fat content, which adds a deliciously smoky and salty taste to dishes.
In the late 18th century, a businessman named John Harris opened the first bacon processing plant in the county of Wiltshire.
Bacon is one of the most popular meats in the US,
There's a Church of Bacon.
Bacon can be used in various dishes, from breakfast classics like bacon and eggs to savory dinner recipes and even desserts.
Romans called bacon petaso.
Bacon and pancetta are two different types of cured pork. While bacon is smoked, pancetta is air-dried and seasoned with various spices like garlic, herbs, and black pepper.
The Chinese were the first to cook salted pork bellies more than 3,000 years ago. This makes bacon one of the world's oldest processed meats.
European and Canadian bacon are made from the back meat of a pig, which is considerably leaner.
The average American consumes 18 pounds of bacon each year.
Hardee's Frisco burger was a game-changer for bacon.
Bacon is a good source of protein and essential nutrients.
Bacon can be used to enhance the flavor of other dishes.
More than 2 billion pounds of bacon is produced each year in the US
The first bacon factory opened in 1770.
Bacon has a strong presence in popular culture.
Bacon has a distinctive aroma when cooked
There's a bacon sculpture of Kevin Bacon.
The phrase "bringing home the bacon" dates back centuries.
Bacon can be enjoyed in different degrees of crispness.
182 slices is The world record for eating the most bacon in 5 minutes
American bacon is made from the pork belly, which accounts for its trademark streaks of fat.
70% of all bacon in the US is eaten at breakfast time.
The Baconian Method of scientific inquiry is named after Sir Francis Bacon.
Bacon is high in fat and calories, but it's also a good source of protein. It contains essential nutrients like vitamins B1, B2, B3, B6, B12, and minerals such as selenium and phosphorus.
In the past, bacon was often used as a means of preserving meat, as the curing and smoking processes helped extend its shelf life.
The word bacon refers to the "back" of a pig.
Bacon has a long history and has been consumed by various cultures around the world for centuries.
Modern technology wants to help you wake up and smell the bacon.
Due to its curing and smoking process, bacon can last for an extended period when refrigerated and stored correctly.
The smell of cooking bacon is so universally loved that it has been described as having the power to "wake the dead" due to its irresistible aroma.
When consumed in moderation, bacon can be part of a balanced diet
Bacon dates back to 1500 BCE.
Bacon has inspired countless recipes and culinary creations.
While pork is the most common choice for bacon, it can also be made from other meats such as turkey, chicken, and even beef.
Bacon has its own national and international days.
Bacon is known for its rich and savory flavor.
Do you love bacon and know more fun facts about bacon that we forgot? Share them in the comments!
Are you looking for more fun and engaging facts to share with your family? Check out these other posts for more facts!
How Do I Print A PDF?
You'll need a program that supports PDFs. Adobe Acrobat is a great option. Open the program, click file, then print. Select your printer and the number of copies you want to print. Be sure you click double-sided if you want it to print on both sides.
Can I Resell These?
You may not resell any printable that you find on our website or in our resource library. You may use them for class parties, at church, at home, or in the classroom. You may get these printed at an office supply store or copy center at your own expense.