Get ready to embark on a journey deep into the cosmos, far beyond our own planet, as we explore facts about Neptune. Let's set our sights on Neptune, a frigid and mysterious world that lies in the outer reaches of our solar system. See how many of these Facts About Neptune you never knew before!
Did you know that Neptune is often called the ice giant? It's true it is a world where diamonds' rain may fall into its solid core. It is primarily composed of hydrogen and helium with a little bit of methane that gives this planet an azure hue.
Not only is Neptune known as the ice giant, but they have the fastest winds in the whole solar system. They are known to whip more than 1200 miles per hour.
Discover more facts about Neptune with our giant list of Neptune Facts and learn more about the 8th farthest planet from the sun.
If you want to learn even more fun facts with your friends and family, be sure to check out our list of Facts About Jupiter and Space Facts to discover even more fascinating finds you didn't know before.
Out-of-This-World Facts about Neptune
Neptune has 6 rings around it.
There are 16 hours in a day on Neptune.
It takes 165 Earth years for Neptune to go around the sun.
Neptune has 14 moons.
Neptune is the farthest planet from the sun.
Neptune is the 8th planet from the sun, and Uranus is the only planet close to it.
Voyager 2 is the only thing that has been able to visit Neptune.
Neptune is the fourth largest planet in our Solar System.
Neptune is the smallest of the gas giants.
Neptune and Uranus are called ice giants because the composition of them is different than Saturn and Jupiter.
The wind speed is the fastest in the Solar System; they are 5 times stronger than on Earth.
Neptune's surface is about -353 degrees Fahrenheit.
Neptune's largest moon is named Triton.
Triton, Neptune's largest moon, is the seventh-largest moon of all the planets in the solar system.
Neptune's color comes from the methane in the atmosphere.
Neptune and Uranus are twin planets as far as their size and composition.
Neptune is the fourth largest planet in our solar system.
Neptune is about 30 times farther than the Earth from the sun.
Neptune is named after the Roman God of the Sea.
The gravity on Neptune's surface is a lot like the gravity on the Earth's surface.
It is believed that Galileo was the first to see Neptune as a star, but Urbain Le Verrier and John Couch Adams found it to be a planet.
Neptune's winds are measured at up to 1304.88 miles/hour.
Just like the red dot on Jupiter, Neptune has a storm as well.
Neptune spins fast because it doesn't have a solid body.
It is a 12-year journey to get from Earth to Neptune.
It has geysers that spit out nitrogen gas and dark dust about 5 miles into the air.
Neptune could have been named Janus or Ocean instead.
Neptune could be raining diamonds because of the way it produces carbon.
One day the moon Triton will be torn apart by the gravity of Neptune and will form a ring bigger than Saturn's rings.
Neptune's climate is very active.
If you weighed 200 pounds on Earth, you would weigh 251 pounds on Neptune.
Neptune was the last planet to be discovered in the solar system.
Neptune is 58 times bigger than Earth
Neptune is 17 times heavier than the Earth.
All of Neptune's moons are named after Greek and Roman water Gods.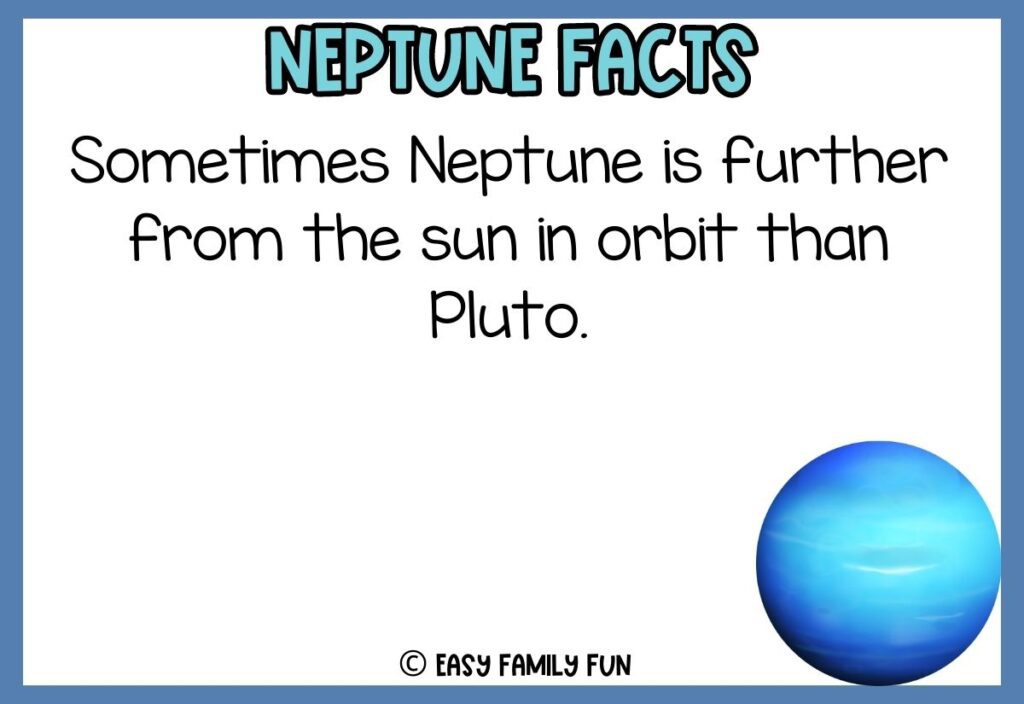 Sometimes Neptune is further from the sun in orbit than Pluto.
Neptune's storm is big enough to cover the planet Earth.
Triton, one of Neptune's moons, is the only moon in a retrograde orbit.
Triton, One of Neptune's moons, is one of the coldest places in our solar system.
We don't know the internal temperature of Neptune.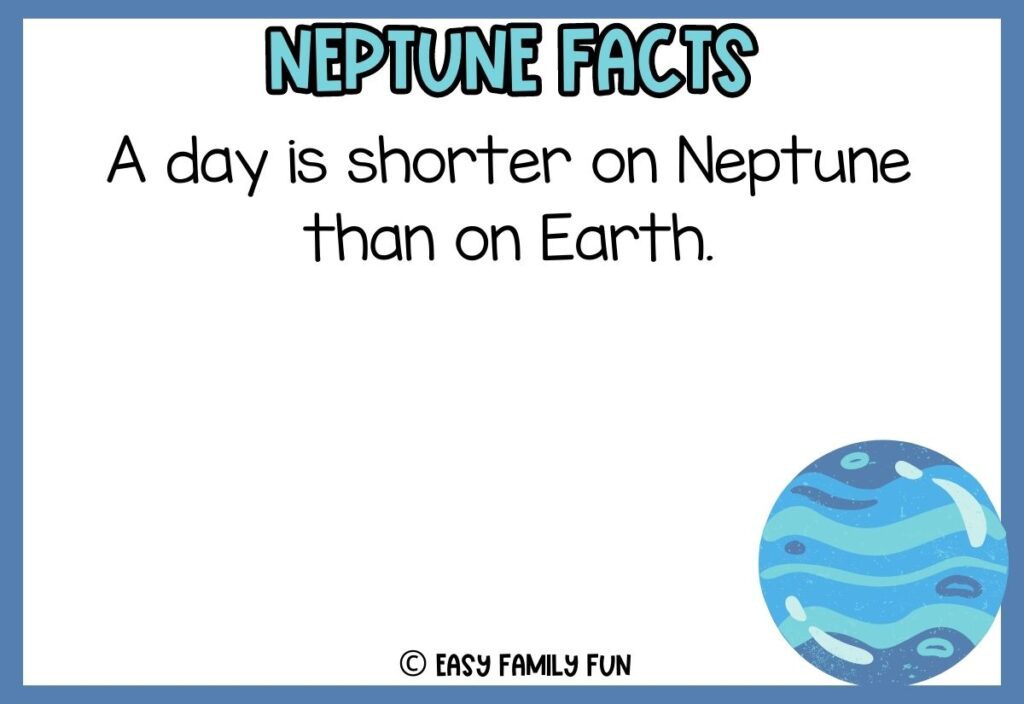 A day is shorter on Neptune than on Earth.
Neptune's axial tilt is 28.5 degrees.
Neptune is the only planet you can not see with the naked eye.
The magnetic field of Neptune is 27 times more powerful than Earth's magnetic field.
Neptune is the third largest planet in our solar system as far as mass goes.
We could fit 60 Earths in the space that Neptune takes up.
In 2011, Neptune completed one orbit around the sun since it was discovered in 1946.
It takes more than four hours for the sunlight to reach Neptune.
Neptune is the first planet's location predicted by math.
Because of the orbit of Uranus, Neptune was discovered.
Earth is as small as the core of Neptune.
Some scientists believe that humans might be able to live on one of the moons of Neptune.
There you have it! So many Neptune facts. Do you know any others? Add them to the comments!
Are you looking for more fun and engaging facts to share with your family? Check out these other posts for more facts!
How Do I Access My Printable?
Fill in the form above. You will receive an email in your inbox. If you don't see it, check your spam folder! You will then click to confirm your subscription. Once confirmed, you will be taken to Airtable (a different website) where all our free printables will be waiting for you! It is free to sign up for Air Table!
How Do I Print A PDF?
You'll need a program that supports PDFs. Adobe Acrobat is a great option. Open the program, click file, then print. Select your printer and the number of copies you want to print. Be sure you click double-sided if you want it to print on both sides.
Can I Resell These?
You may not resell any printable found on our website or in our resource library. You may use them for class parties, at church, at home, or in the classroom. You may get these printed at an office supply store or copy center at your own expense.