Immerse yourself in the enchanting world of Ireland with these captivating facts about Ireland that will unveil its rich history, vibrant culture, and stunning landscapes.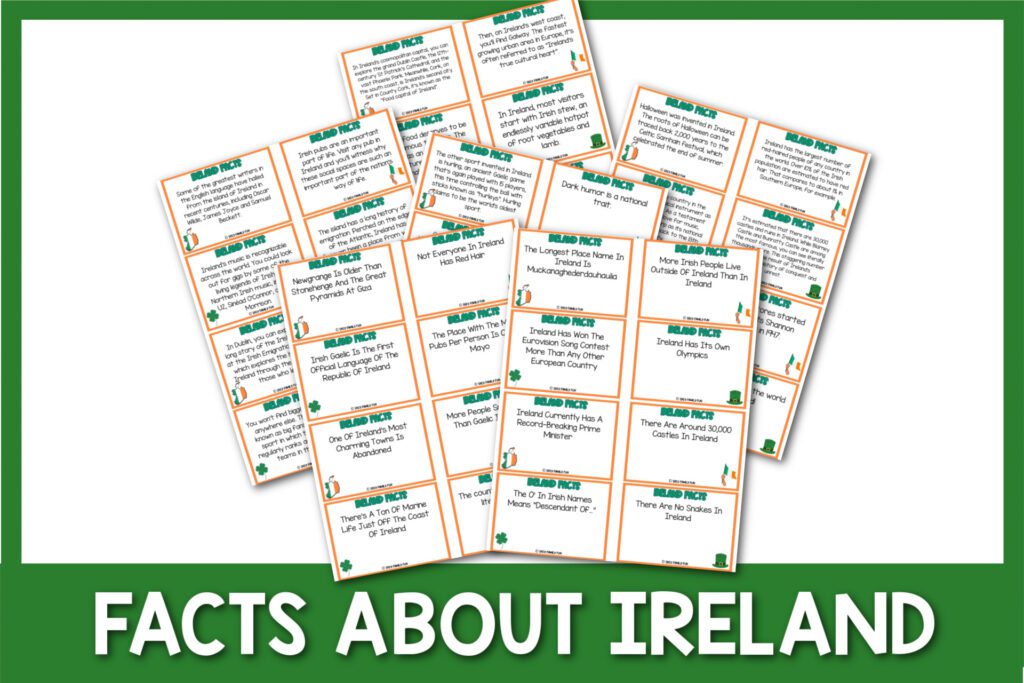 If you love learning new facts, be sure to check out our 100+ Out-of-This-World Facts about Earth, Facts About Rome, and 100 Best Facts About Canada for Kids.
Fascinating Facts About Ireland
The Longest Place Name In Ireland Is Muckanaghederdauhaulia
More Irish People Live Outside Of Ireland Than In Ireland
Ireland Has Won The Eurovision Song Contest More Than Any Other European Country
Ireland Has Its Own Olympics
Ireland Currently Has A Record-Breaking Prime Minister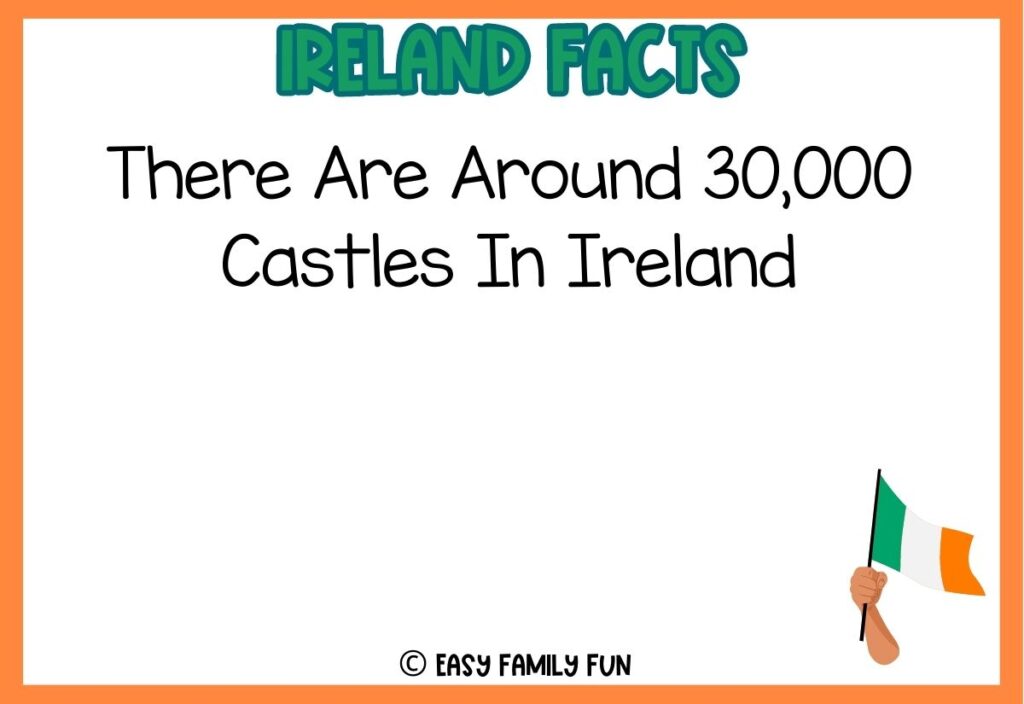 There Are Around 30,000 Castles In Ireland
The O' In Irish Names Means "Descendant Of…"
There Are No Snakes In Ireland
Newgrange Is Older Than Stonehenge And The Great Pyramids At Giza
Not Everyone In Ireland Has Red Hair
Irish Gaelic Is The First Official Language Of The Republic Of Ireland
The Place With The Most Pubs Per Person Is County Mayo
One Of Ireland's Most Charming Towns Is Abandoned
More People Speak Polish Than Gaelic In Ireland
There's A Ton Of Marine Life Just Off The Coast Of Ireland
The country boasts a deep literary culture
Some of the greatest writers in the English language have hailed from the island of Ireland in recent centuries, including Oscar Wilde, James Joyce and Samuel Beckett.
Irish pubs are an important part of life. Visit any pub in Ireland and you'll witness why these social spaces are such an important part of the nation's way of life.
Ireland's music is recognizable across the world. You could look out for gigs by some of the living legends of Irish and Northern Irish music, including U2, Sinéad O'Connor, or Van Morrison.
The island has a long history of emigration. Perched on the edge of the Atlantic, Ireland has forever been a place from which people have set sail in search of opportunity and discovery.
In Dublin, you can explore the long story of the Irish diaspora at the Irish Emigration Museum, which explores the history of Ireland through the stories of those who left.
The museum is a past winner of the award for "Europe's Leading Tourist Attraction" at the World Travel Awards.
You won't find bigger sport fans anywhere else. The Irish are known as big fans of rugby, a sport in which the country regularly ranks among the top teams in the world.
Gaelic football was invented in Ireland. It is played with two teams of 15 players, who kick or punch a ball into their opponent's goal. Interestingly, it's one of the last strictly amateur sports in the world.
The other sport invented in Ireland is hurling, an ancient Gaelic game that's again played with 15 players, this time controlling the ball with sticks known as "hurleys". Hurling claims to be the world's oldest sport.
Dark humor is a national trait.
One of the most famous stereotypes about the Irish is that they love the craic. It's a word that translates roughly as "chat", "good conversation", or just "a good time". As a result, the Irish are famously friendly, talkative, and hilarious.
The friendly Irish spirit makes the a joyous place to stay, where you can expect some of the world's best hospitality.
Irish Celtic traditions remain alive. Leprechauns, for example, were mischievous little fairies, while the shamrock (or the clover) was traditionally a symbol for the Catholic Holy Trinity.
We have the efforts of poet William Butler Yeats to thank for their continued presence in Irish culture. He was part of the 19th-century Celtic Revival, a movement across Ireland and areas of Great Britain that promoted Celtic culture and traditions.
Ireland's cities are vibrant, lively places. Beyond its famous green landscapes, your trip to Ireland won't be complete without visiting its exciting urban scenes.
Ireland's cities offer compelling cultural attractions, diverse bars and restaurants, and an impressive range of historical sights.
In Ireland's cosmopolitan capital, you can explore the grand Dublin Castle, the 12th-century St Patrick's Cathedral, and the vast Phoenix Park. Meanwhile, Cork, on the south coast, is Ireland's second city. Set in County Cork, it's known as the "food capital of Ireland".
Then, on Ireland's west coast, you'll find Galway. The fastest growing urban area in Europe, it's often referred to as "Ireland's true cultural heart".
Ireland's food deserves to be more famous than it is. The nation has an incredibly rich food culture that's diverse, traditional, and, of course, delicious.
In Ireland, most visitors start with Irish stew, an endlessly variable hotpot of root vegetables and lamb.
Alternatively, soda bread, colcannon, and the Irish pancake known as "boxty" are delicacies that you simply must try. And if you're on the coast, you shouldn't miss Ireland's abundant seafood either.
While better known for its traditions, Ireland's contemporary food culture is booming. In Dublin, Cork, and other cities, you'll find many modern and surprising restaurants for every taste.
While better known for its traditions, Ireland's contemporary food culture is booming. In Dublin, Cork, and other cities, you'll find many modern and surprising restaurants for every taste.
Ireland is the most successful country in the Eurovision Song Contest. The nation has won a massive 7 times since the contest started in 1956. However, it has finished in the top 10 only once in the last 14 years.
Halloween was invented in Ireland. The roots of Halloween can be traced back 2,000 years to the Celtic Samhain festival, which celebrated the end of summer.
Ireland has the largest number of red-haired people of any country in the world. Over 10% of the Irish population are estimated to have red hair. That compares to about 1% in Southern Europe, for example.
Ireland is the only country in the world to have a musical instrument as its national symbol. As a testament to the country's love for music, Ireland boasts a harp as its national emblem. It dates back to the 13th century.
It's estimated that there are 30,000 castles and ruins in Ireland. While Blarney Castle and Bunratty Castle are among the most famous, you can see literally thousands more. This staggering number is likely the result of Ireland's tumultuous history of conquest and unrest.
Ireland has won the Eurovision Song Contest seven times, more than any other country. Ireland won in 1970, 1980, 1987, 1992, 1993, 1994 and 1996.
Tax-free stores started at Ireland's Shannon Airport in 1947.
Newgrange is 5,000 years old, making it older than the ancient pyramid of Giza and Stonehenge. During the winter solstice, light penetrates through to the burial tomb for about 19 minutes.
The oldest bar in the world is in Ireland!

"Why is the sky blue?

"

A simple question, but did you know that it was an Irish scientist, John Tyndal. The discovery was made in the 1860s of why the sky is blue during the day but red at sunset.

Irish people consume on average 131.1 litres of beer per year! The 2nd highest per-capita consumption after the Czech Republic.
The three most famous Celtic symbols of Ireland are the green Shamrock, the harp, and the Celtic cross.
Ireland is the only country in the world to have a musical instrument as the national symbol. You can visit some of the oldest harps in the world at Trinity College in Dublin.

No less than 3 million pints of Guinness are brewed every day at the St James' Gate Brewery in Dublin.

The Cliffs of Moher have featured in famous movies, including Harry Potter and the Half-Blood Prince, the Mackintosh Man and the Princess Bride.
Because Ireland is so isolated from the European mainland, it lacks several common species in Europe, such as moles, weasels, polecats and roe deer.
Over 70-80 million people worldwide claim Irish ancestry. However, it is hard to estimate the exact numbers.
At 688 metres above the Atlantic Ocean, Croaghaun (on Achill Island) are the second-highest cliffs in Europe. The highest is in Cape Enniberg in the Faroe Islands.
The Céide Fields in County Mayo are the most extensive Stone Age site in the world. It contains the oldest known field systems globally (6,000 years old) and Europe's most massive stone enclosure (77 km).

The leading cause for such a number of Irish ancestry is the massive emigration due to famine and the search for better opportunities abroad, especially in America in the 1800s.

Irish is a Gaelic language belonging to the Celtic side of the Indo-European language tree and is not much like English. It's still the first spoken language in Galway, Kerry, Cork, and Donegal, smaller areas of Waterford, Mayo, and Meath.
In Irish, there is no word for "yes" or "no". However, you can say "Tá sin ceart" which means "That's right".
Ireland had a female president in 1990! In the 1990 elections, Mary Robinson was elected the republic's first woman president.
The election of a candidate who was a woman and had socialist and feminist leanings was a huge paradigm shift in Irish politics.
Ireland is one of the best countries in the world for gender equality. We have had two female presidents.
You may be familiar with W.B Yeats, but did you know that his brother Jack Butler Yeats won the first-ever Olympic medal for Ireland in Paris in 1924 for painting.
The song "When Irish Eyes are Smiling" was written by two Americans, George Graff and Chauncey Olcott, in 1912. But no records state that they ever visited Ireland.
The patron saint of Nigeria is St Patrick! Irish bishops in Nigeria named St. Patrick, who is said to have died on March 17 in the year 461, as the country's patron in 1961, the same year Ireland opened its embassy in Lagos.
Hook Lighthouse is thought to be the oldest working lighthouse in Europe or possibly in the world. Located at Hook Head, in County Wexford, the present structure was completed either in 1172 or 1245, although the first lighthouse on that spot dates back to the 5th century.
Did you know that there are no wild snakes in Ireland? The sea has stopped many animals common in mainland Europe from reaching the island. However, many believe that St Patrick banished all snakes from Ireland.
The country has had a high birthrate for the last 50 years, and because of that, Ireland has one of the youngest populations in the world.
Approximately 50% of the population of Ireland is less than 28 years of age.
Ireland has the most educated workforces in the world. The share of 30-34 years old in Ireland with third level qualification is 53.5%, compared to EU average of 40%.
Dame Alice Kyteler was the first recorded person condemned for witchcraft in Ireland. Dame Alice Kytler was born in Kilkenny in 1280. All four of her husbands died, and she was accused of poisoning them.
Surprisingly Ireland, the home of Guinness, does not sell the most Guinness in the world! Britain is first, Nigeria is second, and Ireland is third!
Only about 9% of people in Ireland have natural red hair, contrary to popular belief.
The submarine was invented in Ireland by John Philip Holland.
An Irish man wrote the novel Dracula! Abraham "Bram" Stoker was an Irish author known today for his 1897 Gothic horror novel Dracula. Born in Clontarf, Dublin
It took approx—3,000 men nearly three years to build the Titanic. Three million rivets held its massive hull together.
According to the Belfast List, 2,225 people boarded the Titanic. Of those, 1,317 were passengers, and 908 people were members of the crew. Only 713 people survived.
Ireland was one of the first 12 European Union nations that began using the euro currency in 2002.
The Cliffs of Moher in Ireland were believed to be formed over 320 million years ago! Born before the island of Ireland itself, during a time called the Upper Carboniferous.
The White House was designed by Irishman James Hoban, who won a competition in 1792, which lead him to create the building.
Over 40 million Americans are of Irish descent, which is seven times more than Ireland's population.
New York City hosted the first St. Patty's Day parade when a contingent of Irish soldiers, homesick for their native coast, marched through the city in 1762.
The 2008 American Community Survey reported more than 414,943 people of Irish ancestry living in NYC.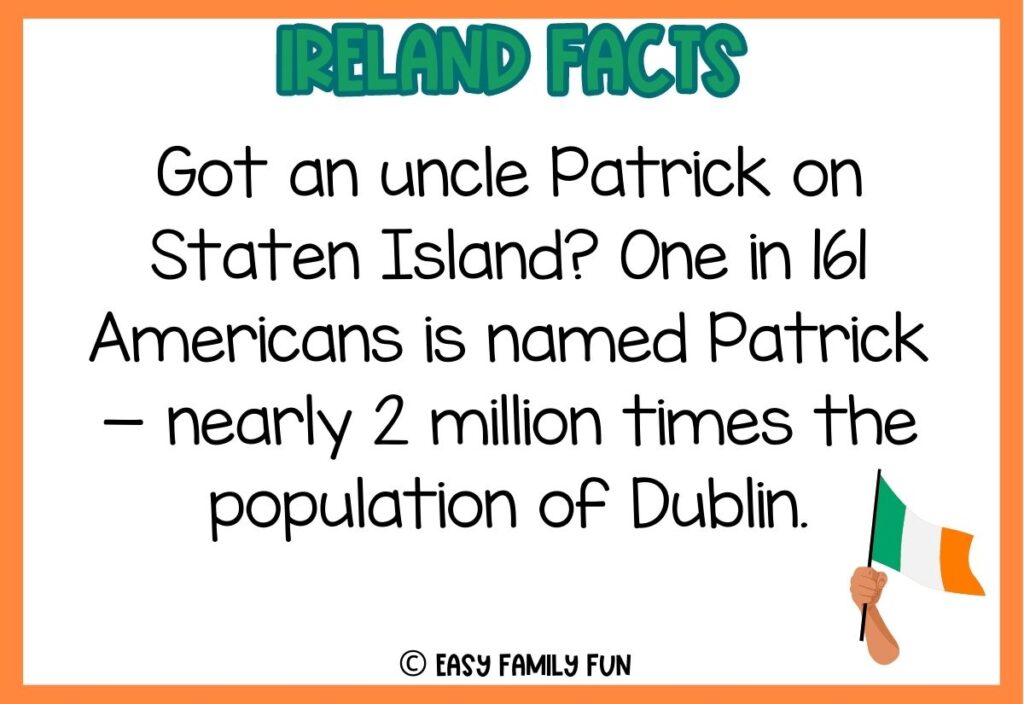 Got an uncle Patrick on Staten Island? One in 161 Americans is named Patrick — nearly 2 million times the population of Dublin.
According to some historians, over 40% of all American presidents have had some Irish ancestry.
The tallest identical twins ever born were the Knipe Brothers from Magherafelt in County Derry, who were 7ft 2. They were born in 1761.
Irish has three major dialects – Spoken Irish today has three major dialects: Ulster, Connacht, and Munster. Each dialect differs slightly in vocabulary, grammar and pronunciation.
January 6 is known in the Irish language as "Nollaig na mBan" – Women's Christmas. If you are ever in Ireland on this day, be sure to head out for a few drinks. It is a crazy, fun night.
In the late 18th century, Cork was the largest exporter of butter in the world. This was mostly to Britain and the British Empire.
The Royal Cork Yacht Club was founded in 1720 and is the world's oldest yacht club.
The Union Jack was flown for the first time in Dublin on 1st January 1801 to herald the Union of Great Britain and Ireland.
At its closest point, Northern Ireland is only 13 miles across the sea from the Scottish coast. On a clear day, you can stand in Antrim, look across the water and see houses in Scotland!
John Fitzgerald Kennedy, the 35th president of the United States of America, wore a green tie for photographs when Ireland's ambassador to the US, Thomas Kiernan, turned up at the White House with a bowl of shamrock on 17 March 1963
A shiny Claddagh ring was spotted on the finger of Shirley Eaton as famous Bond Girl Jill Masterson in the 1964 film Goldfinger.
The Claddagh ring became more popular after the appearance in the film.
There are more mobile phones than actual people living in Ireland!
The first divorce in Ireland actually took place on 17 January 1997. 23 years after the bill came into effect, Ireland has the lowest divorce rates in Europe and the fourth-lowest in the world.
One of the most well-known facts about Ireland is that Dublin is home to the world-famous Guinness Brewery. In 1759, Arthur Guinness signed a 9,000-year lease for the land.
Ireland has one of the highest church attendances in Europe, and about 80% of the total population are nominally Roman Catholics.
Irish Castles are scattered across the island in vast amounts, and numbers point to a total of around 25'000 castles and ruins. Some of the castles are open for tourists to stay.

The guillotine was used in Ireland before it was used in France. The earliest use dates back to 1307.

The term "boycott" originated in Co. Mayo, Ireland. Charles Cunningham Boycott was an English land agent whose ostracism by his local community in Ireland gave the English language the verb "to boycott".
The famous Irish movie "The Quiet Man" was filmed in Cong, Co. Mayo. More than 40,000 tourists seeking to take in the sights and sounds of the beloved movie visit the town of Cong each year.
Today, the population of Ireland is only about 4.9 million people— Arizona alone has 6.7 million people.
Between 70 and 80 million worldwide people can trace roots back to the Emerald Isle.
Bono, the Edge and the gang were formed in Dublin in 1976, and one of their first tastes of success was winning a talent show on St. Patrick's Day in Limerick in 1978.
The Tara Mine near Navan, County Meath, is the largest zinc mine in Europe and the fifth-largest globally.
The Late Late Show is an Irish chat show. It is the world's second-longest-running late-night talk show, after the American The Tonight Show.
Montgomery Street in Dublin was once the largest red-light district in all of Europe.
A 'Standard Drink' in Ireland has 25% extra alcohol than in the United Kingdom. Although I guess it depends on the bartender, haha.
New York City's Central Park gets all the hype about being a huge city park, but Phoenix Park in Dublin is actually twice the size of Central Park.
Sports betting is legal in Ireland, Irish citizens can use online gambling platforms that are domestically certified.
According to the most recent census, there are now more Polish people in Ireland than native speakers of the original Irish language Gaelic.
Ireland was the last country in the European Union without a postcode system.
In 1853 Dundalk man named John Coffee built the Dundalk Jail. However, he encountered some financial troubles while building the prison. He ended up going bankrupt and becoming the first inmate in his own prison.
The largest town in Ireland is Drogheda, with a population of 40,956 (up 6.2% since April 2011).
More Irish people are cycling! In April 2016, 56,837 people cycled to work, an increase of 43% since 2011.
A motorway in Ireland was delayed by ten years and then rerouted to protect a tree that was thought to belong to fairies.
In terms of area, the largest county in Ireland is county Cork at 7,457 km². The next largest is county Galway, at 6,148 km².
The ball that drops in Times Square on New Year's Eve is made by Waterford Crystal.
In the 18th century, Cork was the largest exporter of butter in the world.
In Co. Cork, Ireland, there is one pub for about every 500 people.
Puck Fair is one of Ireland's oldest fairs. It takes place annually for three days on the 10th, 11th and 12th of August in Killorglin, County Kerry. A goat is crowned king for three days and hoisted on a 40-foot pedestal.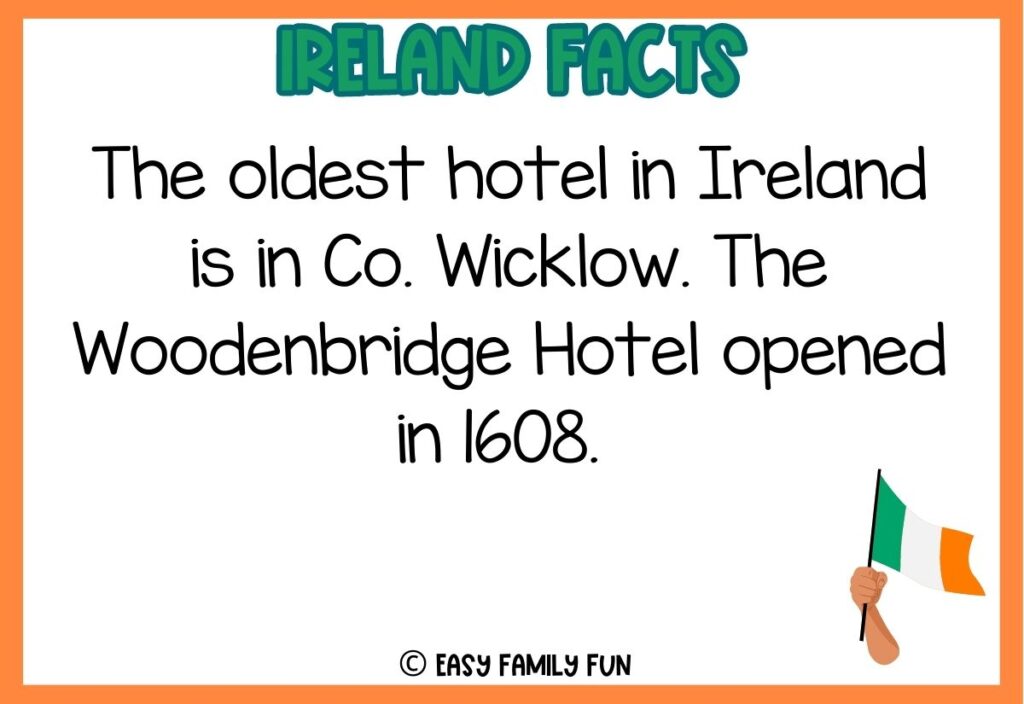 The oldest hotel in Ireland is in Co. Wicklow. The Woodenbridge Hotel opened in 1608.
In 1844, Irishman Francis Rynd invented the hollow needle for syringes.
There is a village in Limerick, Ireland, called Hospital. It does not have a hospital.
The Irish report the lowest annual number of UFO sightings in Europe.
May is generally the driest month of the year in Ireland.
Google, Microsoft, Facebook, PayPal, Twitter, Intel, Apple and many more large corporate US companies all have their European Headquarters in Ireland.
Ireland is the second biggest tea drinker in the world!
In 2004 Ireland was the first country to introduce a countrywide ban on smoking in the workplace and pubs/restaurants.

Ireland is responsible for many inventions such as Colour photography, Whiskey Distilling, Flavored Chips, Portable defibrillator, and Rubber-soled shoes.

It rains A LOT in Ireland but back in 2007, it rained for 49 consecutive days!
Isn't Ireland so fascinating? We learned so much putting this list together! Hopefully you did too. Leave a comment with the most interesting thing you learned through this list!
Are you looking for more fun and engaging facts to share with your family? Check out these other posts for more facts!
How Do I Access My Printable?
Fill in the form above. You will receive an email in your inbox. If you don't see it, check your spam folder! You will then click to confirm your subscription. Once confirmed, you will be taken to Airtable (a different website) where all our free printables will be waiting for you! It is free to sign up for Air Table!
How Do I Print A PDF?
You'll need a program that supports PDFs. Adobe Acrobat is a great option. Open the program, click file, then print. Select your printer and the number of copies you want to print. Be sure you click double-sided if you want it to print on both sides.
Can I Resell These?
You may not resell any printable found on our website or in our resource library. You may use them for class parties, at church, at home, or in the classroom. You may get these printed at an office supply store or copy center at your own expense.