Warm breezes, green grass, and bright flowers are all things we see in springtime that we enjoy. The warm days after winter are a welcome change and are the perfect time to get your kids moving. Our springtime charades are the perfect way to enjoy all things spring! Pretend you are a bunny or a chick hatching to bring spring into your home or classroom. Just download, print, and start playing in no time.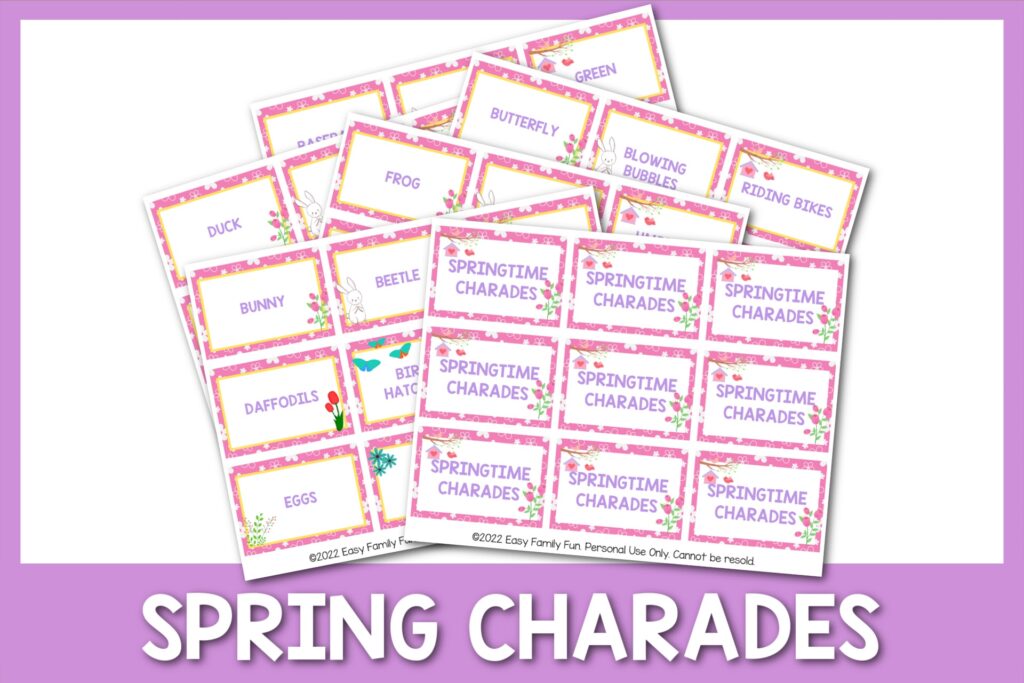 Charades is such a fun way to get your kids moving this Spring, and our springtime charades are the perfect group activity for your family or classroom to get them in the mood for spring! It will get them laughing, moving, and having tons of fun together.
Check out our Zoo charades or Nature Charades that will delight your kids and get them involved and excited about spring!
Why I Love Springtime Charades
Springtime charades are a great way to get the kids excited for spring and to involve the whole family. No allergy medication is needed!
All you need is your imagination, the charade cards, and your family, and you are ready to play springtime charades!
These brightly colored springtime charade cards are the perfect activity after the long winter of snow and ice! There is nothing better than getting outside when Winter is gone and the air is warm!
Springtime charades brings that feeling into my home; my kids love it when we play. My younger kids love the simplicity of this game, and my teens love that they can use their acting skills and even make fun of mine while we play!
Charades gets my family together and even gets my teens off their phones! Charades is the best game to bring my family together. That is why charades are perfect for families to play. There is something for all ages to enjoy.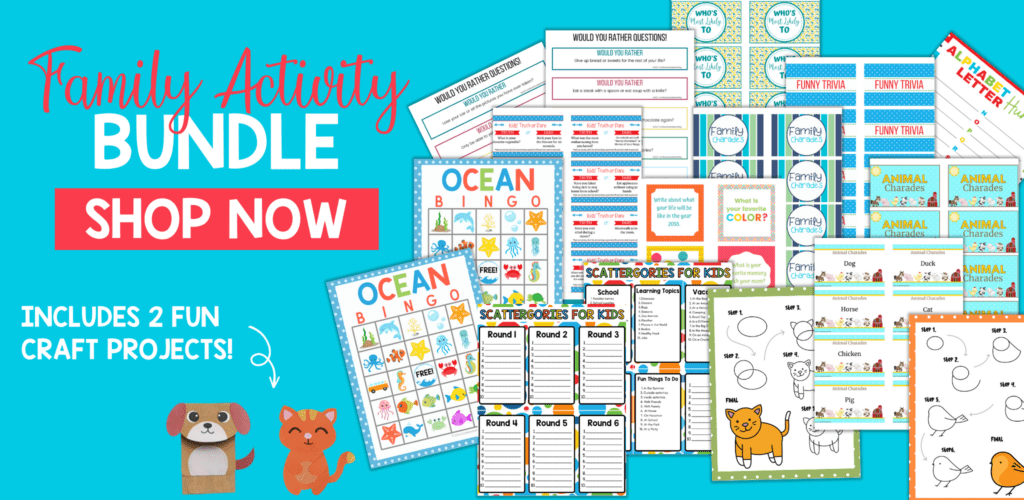 Ultimate Charades Bundle!
Grab our ultimate charades bundle that includes over 23 charades games for one very low price! Your friends and family will love playing charades at all your get together and parties!
What You Need To Play Charades
All you need to play is to download, print, and cut out the springtime charade cards, and your family will be ready for some fun in no time!
How To Play Springtime Charades
Let's spring into action!
Grab your family or friends and divide them into two teams. Decide which team will go first and select someone to act out the first clue from the pile. Choose someone from the other team to time the round.
Decide on a time limit before the game starts; each round is usually 1 minute.
If your team guesses the clue, you will get 1 point.
Each team will take turns guessing clues until the cards are gone, and then points will be added up to determine the winner.
Remember, no talking! Use gestures and body movements for your team to guess the clue.
The team with the most points wins!
Tips And Tricks For Play Charades
Here are some more ways to enjoy our springtime charades even more!
Take the game outside! Set up outside for some fresh air and fun!
Laminate the cards for extra durability so that you can use them again and again.
Print the springtime charades cards twice to create a memory game for more fun after the game is done.
Use music to time the rounds.
Take turns being the one to time the rounds to keep everyone involved.
Springtime Charades ideas
Be sure to grab our springtime charades right here so that you can play in no time!
Bunny
Beetle
Nest
Daffodils
Birds Hatching
Parade
Eggs
Tulips
Garden Spade
Duck
Lamb
Spring Break
Peeps
Hop
Brunch
Bonnet
Mowing the Lawn
Watering the Plants
Frog
Seeds
Umbrella
Ladybud
Roller Skating
Spider
Raining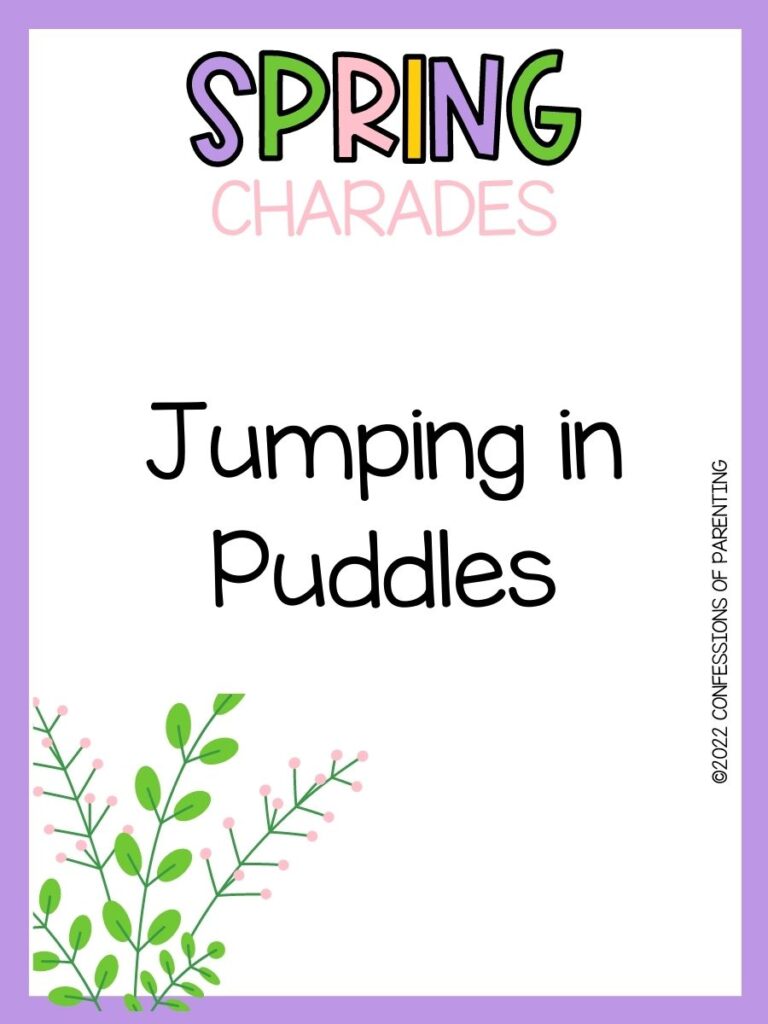 Jumping in Puddles
Bird
Butterfly
Blowing Bubbles
Riding Bikes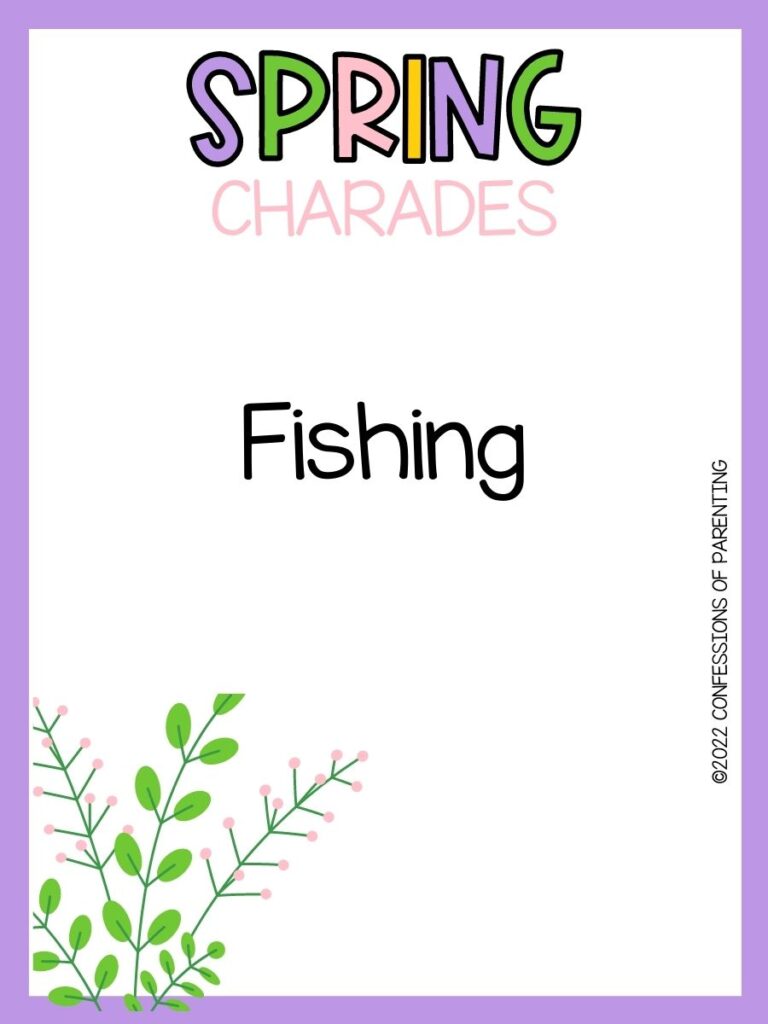 Fishing
Flying a Kite
Caterpillar
Planting a Garden
Eating Jelly Beans
Easter
Flower
Honey Bee
Mushroom
Grasshopper
Ants
Sunflower
Sun
Raincoat
Blossoms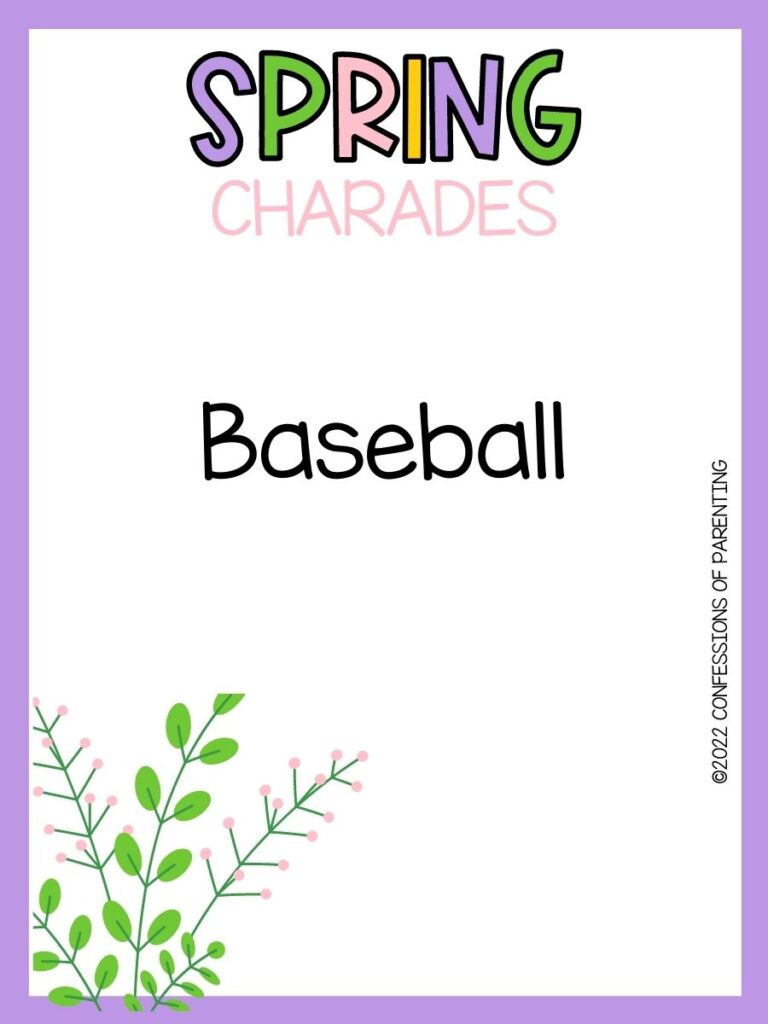 Baseball
Leaf
Green
Sprouts
Clouds
Love Charades? Try these charades games!
How Do I Access My Free Printables?
Fill in the form above. You will receive an email in your inbox. If you don't see it, check your spam folder! You will then click to confirm your subscription. Once confirmed, you will be taken to Airtable (a different website), where all our free printables will be waiting for you! It is free to sign up for Air Table!
How Do I Print A PDF?
You'll need a program that supports PDFs. Adobe Acrobat is a great option. Open the program, click file, then print. Select your printer and the number of copies you want to print. Be sure you click double-sided if you want it to print on both sides. 
Can I Resell These?
You may not resell any printable that you find on our website or in our resource library. You may use them for class parties, at church, at home, or in the classroom. You may get these printed at an office supply store or copy center at your own expense.