If your kids love dinosaurs, they will have a blast playing Dinosaur Charades! It's easy to play, and it's perfect for any age. You'll want to grab this game for your next family game night!
Dinosaur Charades
Our family loves playing charades! It's always a hit whenever we have a party with friends, a family game night, or just an afternoon when the kids are looking for something to do. It's so easy to pull out our charades cards and start playing! My kids really have fun playing Verb Charades, winter charades, Winter Charades, Mother's Day Charades, Bible Charades, Princess Charades, Birthday Charades, and of course, Dinosaur Charades! 
Dinosaur Charades is the perfect game for a dinosaur-themed party! There is almost no setup or cleanup needed, and it's guaranteed to bring tons of fun for everyone. Your kids will not be able to contain their giggles as they act out each card and make guesses!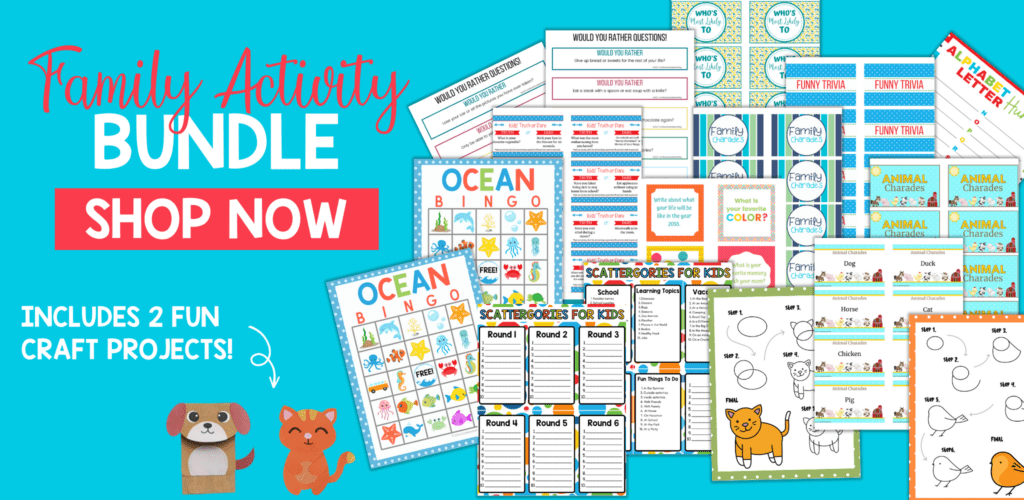 Why I Love Charades
Charades is a great family game because almost any age can play! Whether you have little ones, teenagers, or adults, this game is perfect for you.
Charades is so fast and easy to start playing! You can play anytime with very little preparation. All you need are some friends and these Dinosaur Charades cards, and you are ready to go!
How to Play Dinosaur Charades
First, gather your group and divide into at least two teams. If you have a large group, dividing into more teams can make the game go smoother.
Next, choose which team will go first. You can decide this however you want! I like to roll a die, flip a coin, or play paper-rock-scissors.
Each team will take a turn having one person act out a card while the rest of the team guesses. The actor chooses a card and, without using their mouth at all, acts out what is on the card. If they guess the right answer in 1 minute or less, they get a point! If they don't, the other team gets one chance to guess.
The game is over when each person has had a turn to act, when the cards are gone, or when a team has reached a predetermined amount of points.
Tips and Tricks for Playing Dinosaur Charades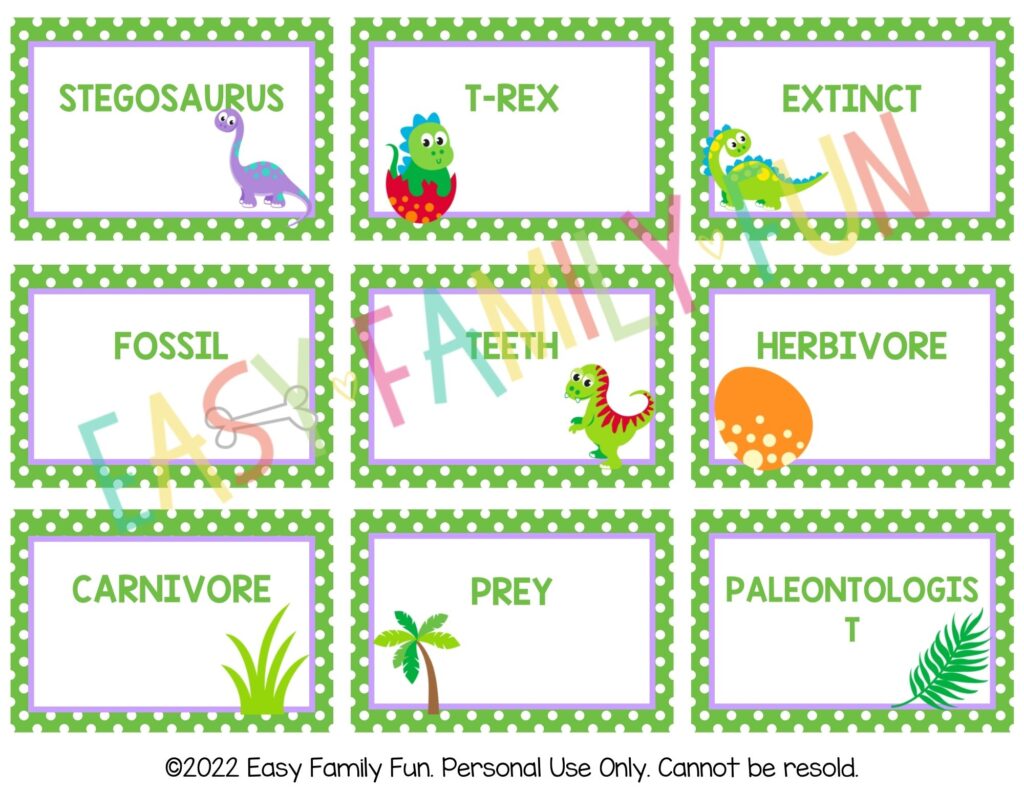 Use a timer to help keep track of each team's turn.
Make your cards more durable by printing them on cardstock and laminating them.
Each actor can help their team by using hand gestures to tell their team how many words are on the card.
Have your own fun ideas for Dinosaur Charades? We've included blank cards for you to use!
Dinosaur charades can get a little challenging, especially when it is hard to act out different types of dinosaurs, so if it becomes challenging you can always have a word bank for little kids so they can still have fun while playing!
Dinosaur Charades List
Stegosaurus
T-rex
Extinct
Fossil
Teeth
Herbivore
Carnivore
Prey
Paleontologist
Claws
Cold blooded
Excavate
Horns
Triceratops
Tail
Velociraptor
Spikes
Omnivore
Volcano
Footprint
Plant
Hatch
Egg
plant
Grab your Dinosaur Charades
Are you ready to start playing Dinosaur Charades? To get your printable cards, be sure to sign up below for our free email list! We'll send you exclusive offers and freebies that you won't want to miss!
If you love this game, we'd love to hear about it! Tell us in the comments below and don't forget to tag us on Instagram by using #easyfamilyfun! We can't wait to see all the fun you are having!
Love Charades? Try these charades games!
How Do I Access My Free Printables?
Fill in the form above. You will receive an email in your inbox. If you don't see it, check your spam folder! You will then click to confirm your subscription. Once confirmed, you will be taken to Airtable (a different website), where all our free printables will be waiting for you! It is free to sign up for Air Table!
How Do I Print A PDF?
You'll need a program that supports PDFs. Adobe Acrobat is a great option. Open the program, click file, then print. Select your printer and the number of copies you want to print. Be sure you click double-sided if you want it to print on both sides. 
Can I Resell These?
You may not resell any printable that you find on our website or in our resource library. You may use them for class parties, at church, at home, or in the classroom. You may get these printed at an office supply store or copy center at your own expense.