Being a princess is every little girl's dream. These Princess Charades will test how much you actually know about them! Every princess buff will find something to enjoy in this game. Just download, print, and start playing.
Charades is such a fun game to play with large groups because it doesn't take a lot of prep work so it can be played anytime and anywhere! We love playing all kinds of charades in my family and found it's extra fun when we have a category to help us narrow down our guessing.
Some other charades games we enjoy are Occupation Charades and Dinosaur Charades! I love how different categories help different members of the family really shine.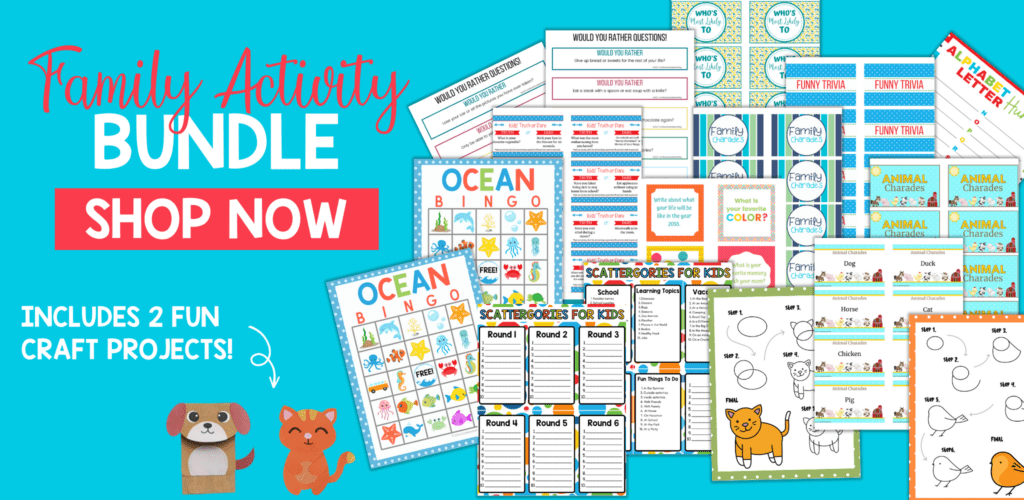 Why I Love Charades
I love playing Charades in my family because it really gets my kids thinking! It can be hard to figure out how to best act out an item on a card, and this is great for their brain!
I also love how Charades can be played in groups of any size, from 2 to 100 (or more!). This makes it perfect for anything from family gatherings to a one-on-one special time with your kid.
Ultimate Charades Bundle!
Grab our ultimate charades bundle that includes over 23 charades games for one very low price! Your friends and family will love playing charades at all your get together and parties!
What You Need To Play Charades
All you really need to play Charades is the clue cards and a friend (or several)! Of course, if you want to be a bit fancier, you could have a pad of paper or another way to keep score, a buzzer or timer, and a prize for the winners.
How To Play Princess Charades
Split up your group into two or more teams and decide which team will act first.
The chosen team will select one person to act first. They will choose a card, read it to themselves, and then the timer will start.
The acting player has one minute (or whatever time you choose) to get their team to guess what was on their card without making any sound or mouthing the words. Charades rules do allow for holding up fingers to indicate how many words they need to guess.
The team gets a point if they correctly guess the clue before the time runs out. If they do not guess correctly, the other team gets one chance to guess. If they are correct, they get the point. No points are given if no one answers correctly.
The game is over either when all the clue cards have been used or when one team reaches a certain number of points (decided upon beforehand).
Tips And Tricks For Playing Charades
Look through the cards first to make sure the clues are doable for your group.
Go over the rules beforehand so everyone knows what to expect.
Use an egg timer or other loud timer so that no one has to watch a clock.
Princess Charades Ideas
Ready to get started? Grab these princess charade cards that you can download, print, and start playing now.
Ball gown
Castle
Pink lipstick
Want
Elegant necklace
Princess carriage
Fairy godmother
Glass show pillow
Mirror
Brush
Throne
Chair
Diamond
Handbag
Teacup
Headband
Magic potion
Prince
Glass slippers
Glitter eyeshadow
Vanity makeup
Tiara
Gloves
Perfume
Horse
Earrings
Bangle
Ribbons
Hand mirror
Palace
Comb
Keys
Canopy bed
Chandelier
Flower
Lipgloss
Unicorn
Fairy dust
Knights
Fairy lights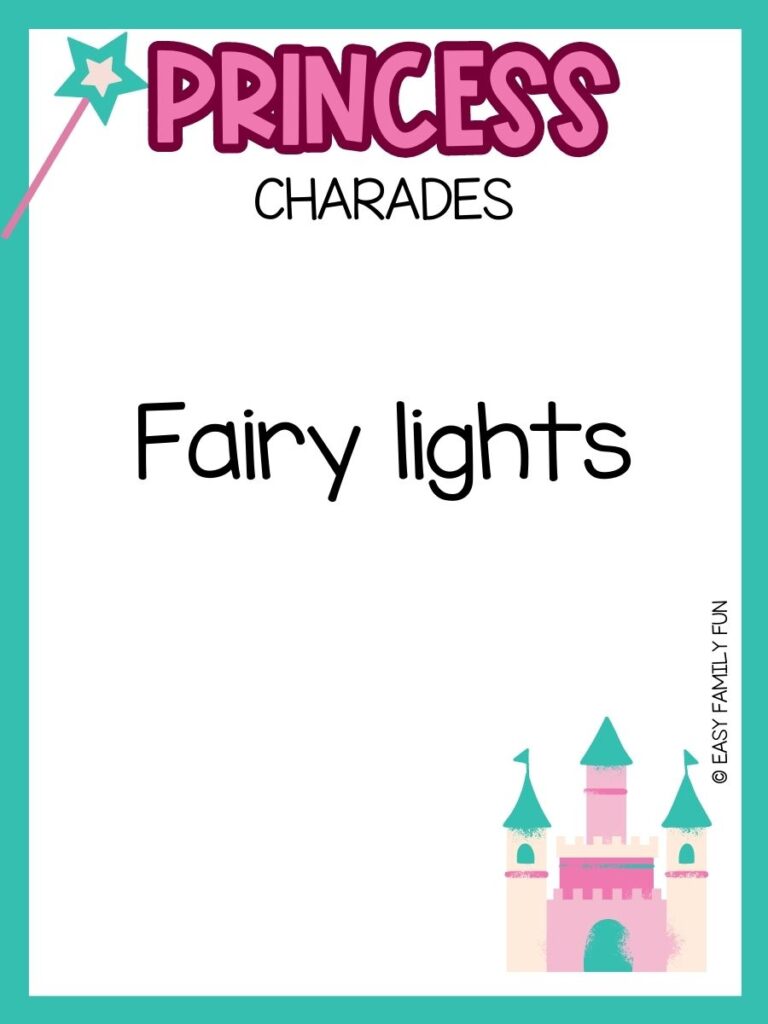 Love Charades? Try these charades games!
How Do I Access My Free Printables?
Fill in the form above. You will receive an email in your inbox. If you don't see it, check your spam folder! You will then click to confirm your subscription. Once confirmed, you will be taken to Airtable (a different website), where all our free printables will be waiting for you! It is free to sign up for Air Table!
How Do I Print A PDF?
You'll need a program that supports PDFs. Adobe Acrobat is a great option. Open the program, click file, then print. Select your printer and the number of copies you want to print. Be sure you click double-sided if you want it to print on both sides. 
Can I Resell These?
You may not resell any printable that you find on our website or in our resource library. You may use them for class parties, at church, at home, or in the classroom. You may get these printed at an office supply store or copy center at your own expense.