Looking for something new for game night? Try our Occupation Charades! It's so much fun, and perfect for groups of any age or size! Grab your printable cards today!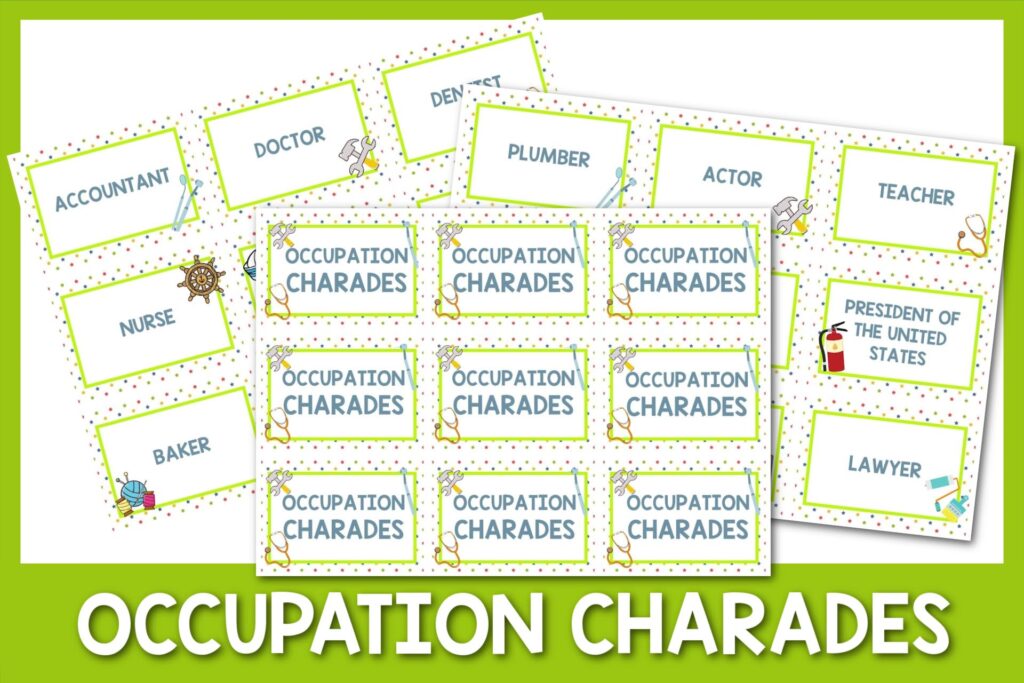 Occupation Charades
Do your kids love to talk about what they want to be when they grow up? With so many interesting and exciting occupations out there, it's so hard for a kid to decide!
Our Occupation Charades game makes it so much fun to explore the many different kinds of jobs people do in our community!
Your family will have a blast acting out each card!
Some of my favorite family memories are from playing charades together! We love to get silly and make each other laugh with our actions!
It's also fun to get a little bit competitive and have a prize for the winning team!
We've had so much fun playing Dinosaur Charades and Verb Charades, and of course, we love Occupation Charades! I know your family will love it too, so be sure to grab it today and start playing!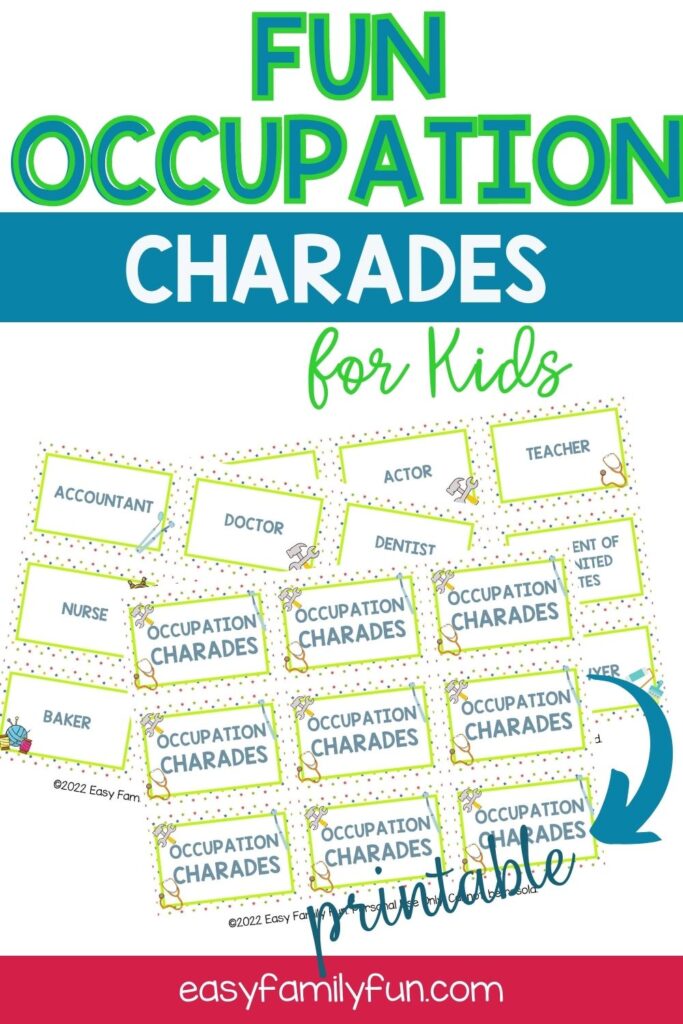 Why I Love Charades
Family game night is so easy when you play charades!
There's very little setup or cleanup needed, so you can spend all your time having fun together!
Just print out these cards, grab your family or friends, and you are all set!
Charades is easy to understand and play, which makes it great for the whole family. Preschoolers, teens, and adults can all have so much fun together!
Charades is also versatile and great for small or large groups.
It can be played in almost any setting, whether at home, at a party with friends, at school, or even at a family reunion!
How to Play Occupation Charades
Divide into at least two teams. If your group is very large, you may want to form multiple teams.
Decide which team will go first. You can flip a coin, play paper-rock-scissors, or create your own silly method! The choice is yours!
The first team has one person (the actor) choose a card and act it out. Remember, you can't use your mouth at all to make sounds or mouth words! The rest of the team has one minute to guess. If they guess correctly, they get a point!
If they don't guess it correctly, the other team has a chance to guess it and steal the point. There's only one chance, so make sure the whole team agrees before you guess!
The game is over when you've run out of cards, when everyone has had a turn, or you've reached a predetermined amount of points. Whoever has the highest points wins!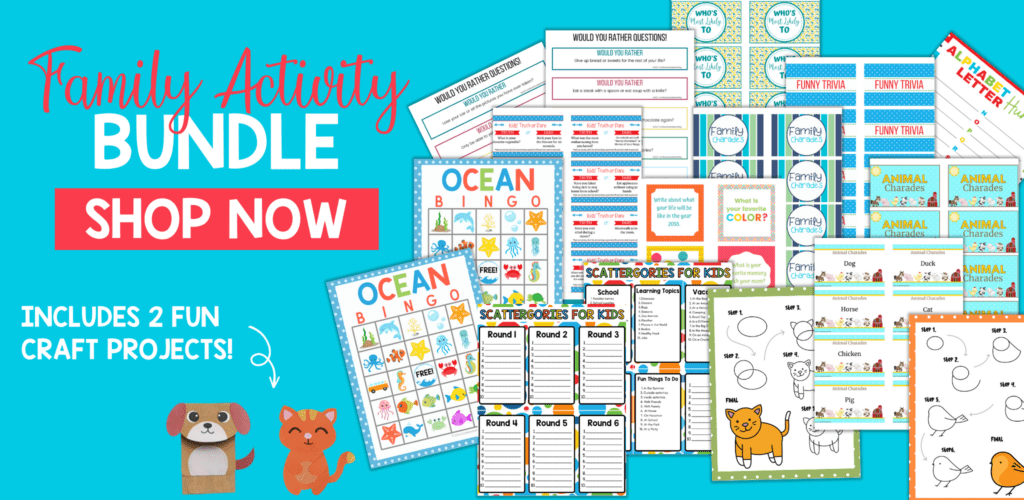 Tips and Tricks for Playing Occupation Charades
It's a good idea to go over the rules and make sure everyone understands them before you start playing! This can help avoid any confusion during the game.
Using a timer makes it easier to keep track of each turn.
Don't forget that actors can use their hands to indicate how many words their team should guess.
Don't be shy! Get into the fun of acting out each card, and don't be afraid to be a little silly!
Grab your Occupation Charades Cards
Ready to get your Occupation Charades printable cards and start playing? Grab them right here!
Occupation Charades List
Accountant
Doctor
Dentist
Nurse
Grocery store clerk
Architect
Baker
Influencer
Mechanic
Plumber
Actor
Teacher
Librarian
Mayor
President of the United States
Police officer
Firefighter
Lawyer
Hair dresser
Electrician
Waiter / Waitress
Carpenter
Butcher
Veterinarian
Pilot
Farmer
Construction worker
Soldier
Secretary
CEO
Train conductor
Taxi Driver / Uber Driver
Personal Shopper
Cook
Fisherman
Gardener
Judge
Editor
Journalist
Coach
Painter
Mason
Mailman
Singer
Goldsmith
Seamstress
Telephone operator
Flight Attendant
Aircraft Mechanic
Ambulance Driver
Dog trainer
Horse trainer
Realtor
Crossing guard
Audiologist
Cardiologist
Bank Teller
Fast food worker
Dental hygienist
Dancer
Bicycle repairer
car salesman
Cabinet maker
Photographer
Videographer
Tile Installer
Preschool Teacher
Preacher
Hotel Clerk
Swim instructor
Computer programmer
Pizza Delivery man / girl
Dishwaher
Psychologist
Medical Assistant
Surgeon
Designer
Floor installer
Fitness trainer
Music Director
House keeper
Insurance Agent
Life guard
Nanny
Midwife
Optometrist
Pest contoller
Detective
Truck Driver
Pool Builder
Telemarketers
Travel Agent
Delivery driver
Disneyland employee
Tutor
Video game designer
Woodworker
Zoologist
Baseball coach
Pediatrician
Do you love this game? Be sure to share it on Instagram and tag us using #easyfamilyfun! We can't wait to see you having fun with your family!
Love Charades? Try these charades games!
How Do I Access My Free Printables?
Fill in the form above. You will receive an email in your inbox. If you don't see it, check your spam folder! You will then click to confirm your subscription. Once confirmed, you will be taken to Airtable (a different website), where all our free printables will be waiting for you! It is free to sign up for Air Table!
How Do I Print A PDF?
You'll need a program that supports PDFs. Adobe Acrobat is a great option. Open the program, click file, then print. Select your printer and the number of copies you want to print. Be sure you click double-sided if you want it to print on both sides. 
Can I Resell These?
You may not resell any printable that you find on our website or in our resource library. You may use them for class parties, at church, at home, or in the classroom. You may get these printed at an office supply store or copy center at your own expense.