There's nothing better than being in the great outdoors as a family. Spending time in nature is so relaxing. These Camp Charades are just what every family needs to take on their next camping trip! Who doesn't love unplugging from technology and enjoying being together in the great outdoors?
Whenever I need something fun for a group, I always turn to charades. The rules are simple, the laughs are big, and no one ever wants the game to end! We've played charades in groups as small as 2 and as big as 15 or more! It's really the perfect game for any occasion.
If you're looking for Charades to play, check out our Springtime Charades to shake off the winter blues, or if you have a baby shower coming up grab our Baby Shower Charades!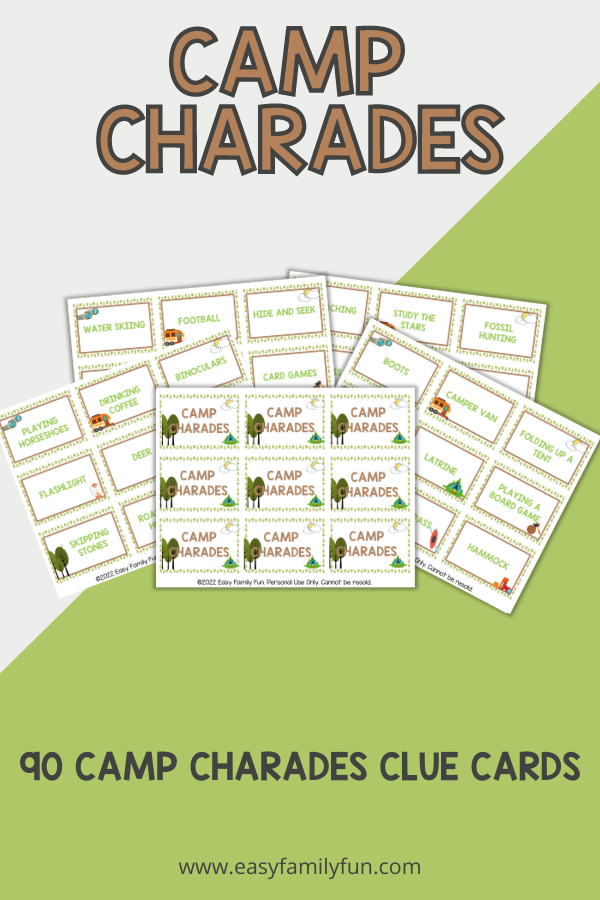 Why I Love Charades
Charades is the perfect game to play anywhere and everywhere. I like to keep a stack of cards in my purse just so they are always ready to go! Camping is the perfect opportunity to use them because we're off the grid, but we like to pack light. We don't have to worry about losing game pieces or leaving someone out who is too little to play. Everyone can play charades!
Charades help get my shy kids out of their shells. They like to watch at first but before long they can't wait for their turn to act! We always laugh and have a good time when we play together. It's a great way to bond with each other.
Ultimate Charades Bundle!
Grab our ultimate charades bundle that includes over 23 charades games for one very low price! Your friends and family will love playing charades at all your get together and parties!
What You Need To Play Charades
All you really need for charades are these printable cards! I like to print them on cardstock and laminate them to keep them sturdy and easy to reuse. Some sort of timer is good to have as well. Try using a kitchen timer because it beeps loudly when the time is up. Keeping score is really easy as well. Simply have the teams keep each card they successfully guessed. Then count them up at the end! The team with the most cards wins.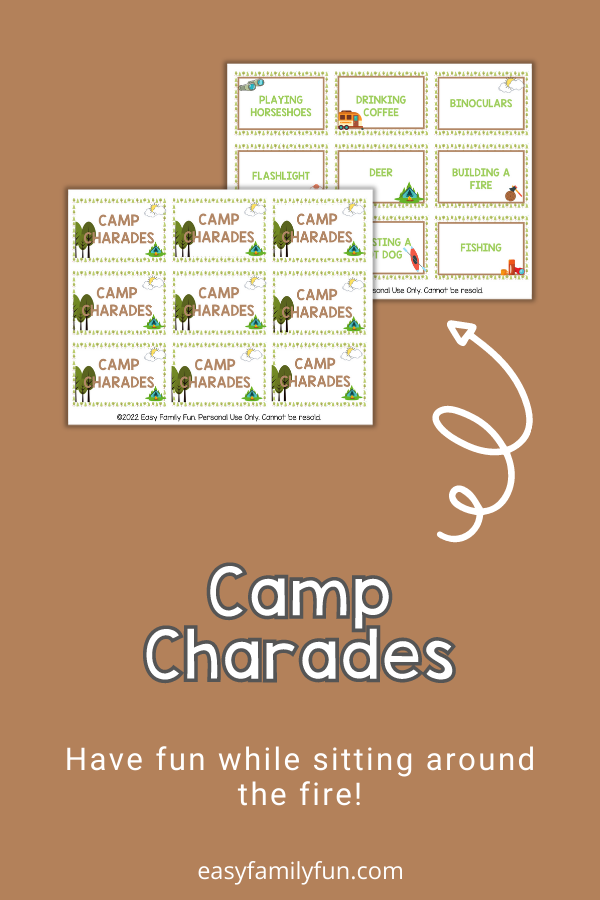 How To Play Camp Charades
Divide your group into two or more teams.
One team will send a player to the front to act out a card. Once a card has been chosen, the timer is started.
The actor has 1 minute to act out the clue on their card, without making noise or mouthing any words.
If their team successfully guesses the clue within one minute, that team gets a point. If the clue is not guessed, the other team has a chance to steal the point by guessing correctly. If no one guesses the clue, no points are given.
Teams take turns sending a player to the front to act out clues.
The game ends when the cards or gone or when one team reaches a certain number of points.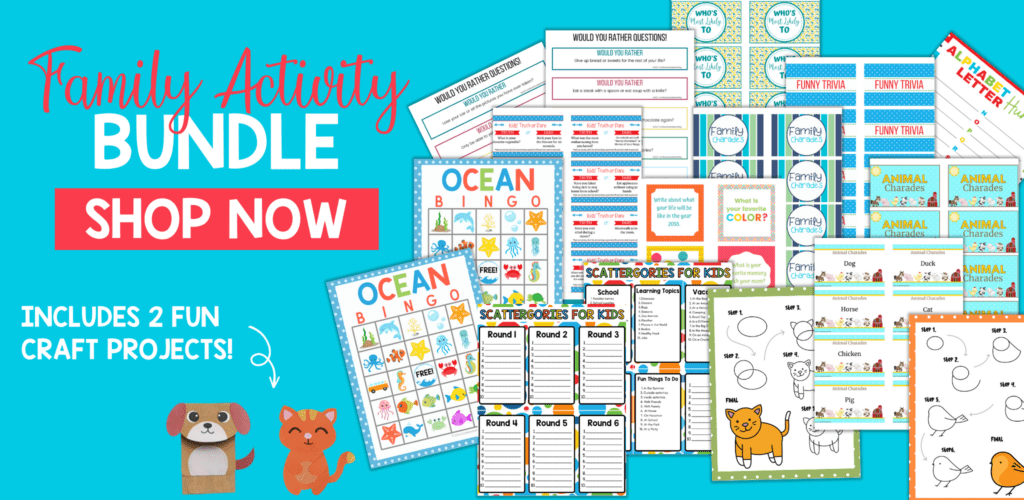 Tips And Tricks For Playing Camp Charades
If you are playing this around a campfire, pass out an equal number of clue cards to each player. Then they can simply stand up from their chair and act, without having to move to a different spot to grab a card.
Make the game more of a challenge by not allowing players to point to nearby objects. For example, if their clue is "tent" they cannot point to their tent.
An easy way to keep score while camping is to label a plastic cup for each team and place guessed clue cards into the cups. Count them up at the end to determine the winner.
Camp Charades Ideas
Life can get really busy, and having fun together as a family should be simple! Grab our camp Charades cards for an easy game to play together. Simply download, print and cut, and you're ready for an afternoon of fun!
Playing horseshoes
Drinking coffee
Binoculars
Flashlight
Deer
Building a fire
Skipping stones
Roasting a hot dog
Fishing
Water skiing
Football
Hide and seek
Bug collecting
Float on the water
Card games
Snuggle
Photographing nature
Riding a bike
Geocaching
Study the stars
Fossil hunting
Ring toss
Diving
Soccer
Tent
Canoeing or kayaking
Swimming
Boots
Camper van
Folding up a tent
Roasting marshmallows
Compass
Hammock
Lawn bowling
Red rover
Listen to nature
Taking a nap
Play truth or dare
Dance around the fire
Shoot off fireworks
Play flashlight tag
Stargaze
Tell ghost stories
Catching fireflies
Wave runners
Catching a fish
Bird watching
Backpack
Chipmunk
Grill some food
Climbing a tree
Chopping firewood
Sleeping bag
Hair is on fire!
Flying a kite
Playing tug-of-war
Kickball
Capture the flag
Animal watching
Swing in a hammock
Make shadow puppets
Go for a midnight swim
Cataloguing rocks
Read books and magazines
Corn hole
Tubing
Practice target shooting
Organizing a scavenger hunt
Putting on sunscreen
Blowing bubbles
Baseball
Boating
Water volleyball
Knitting
Sewing
Drawing
Sing campfire songs
Release sky lanterns
Hiking
Disc Golf (Frisbee Golf)
Mountain
Water pump
Latrine
Tin Foil Dinner
Dutch oven
Love Charades? Try these charades games!
How Do I Access My Free Printables?
Fill in the form above. You will receive an email in your inbox. If you don't see it, check your spam folder! You will then click to confirm your subscription. Once confirmed, you will be taken to Airtable (a different website), where all our free printables will be waiting for you! It is free to sign up for Air Table!
How Do I Print A PDF?
You'll need a program that supports PDFs. Adobe Acrobat is a great option. Open the program, click file, then print. Select your printer and the number of copies you want to print. Be sure you click double-sided if you want it to print on both sides. 
Can I Resell These?
You may not resell any printable that you find on our website or in our resource library. You may use them for class parties, at church, at home, or in the classroom. You may get these printed at an office supply store or copy center at your own expense.