Easter charades is a fun and exciting games that can be enjoyed by kids of all ages during your Easter celebrations. From toddlers to grandmas, it is the perfect game to bond, laugh and spend time with one another. Just simply grab our Easter charades cards and get acting in no time!
Charades is the best game for family gatherings because there's no limit to the number of players making it perfect for your Easter gatherings! After your yummy Easter meal, get the family together for a rousing game of acting and guessing. Everyone will enjoy being together, laughing and spending time together.
Make charades a holiday tradition! Be sure to grab our 4th of July Charades, Halloween Charades, and Thanksgiving Charades for even more fun! No one outgrows this game, and even the youngest players can participate which makes it a huge win for family gatherings.
Why I Love Charades
I love playing charades with my family because it's a game that takes almost no prep work or set up and everyone can play and participate! I love that I just need a stack of Easter charades ideas, and a large group can be entertained for a good long while. I love the way charades encourages family togetherness and fun!
Ultimate Charades Bundle!
Grab our ultimate charades bundle that includes over 23 charades games for one very low price! Your friends and family will love playing charades at all your get together and parties!
What You Need To Play Charades
All you really need for Easter Charades are the cards (I like to print on cardstock and laminate them), a timer, and a way to keep score.
A large whiteboard or chalkboard works well, or you can hang up a piece of butcher paper. I like to use an egg timer or a timer on someone's phone so everyone can hear when the time is up.
How To Play Easter Charades
Split your group into at least two teams. You can come up with silly Easter names for each group, like the Bunnies and the Flowers if you choose!
The team that goes first sends one player to the front. They will choose the top card and act out the clue for their team.
Sounds, mouthing words, and talking are not allowed. This is not pictionary, so no drawing either! The timer starts as soon as the player has looked at the clue card.
Set the timer for 1 minute. If the team guesses the clue before the timer goes off, they get a point. If they do not guess, the other team will get one chance to guess and steal the point. If they are also wrong, no one gets a point.
The game is over when you run out of cards or reach a predetermined amount of points.
Tips And Tricks For Playing Charades
To make this game egg-stra fun for Easter, hide each of the clues inside a plastic egg!
Pair younger children with an older partner to help them read the clues and act them out.
Charades can get really loud, so make sure your timer is loud enough to be heard over the group.
Easter Charades Ideas
Be sure to grab our Easter Charades ideas here to start playing in no time!
Pancakes
Lent
Eating candy
Good Friday
Easter
Basket
Egg hunt
Bow tie
Rabbit
Chick
Chocolate egg
Rainbow
Butterfly
Lamb
Sunshine
Duckling
Painting eggs
Smelling flowers
Cracking eggs
Marshmallow bunny
Hopping rabbit
Easter basket
Chocolate bunny
Family dinner
Watering the garden
Bouquet of flowers
Easter Parade
Tulips
Bonnet
Easter dress
Blessing
Celebration
Daisies
Bible
Easter lily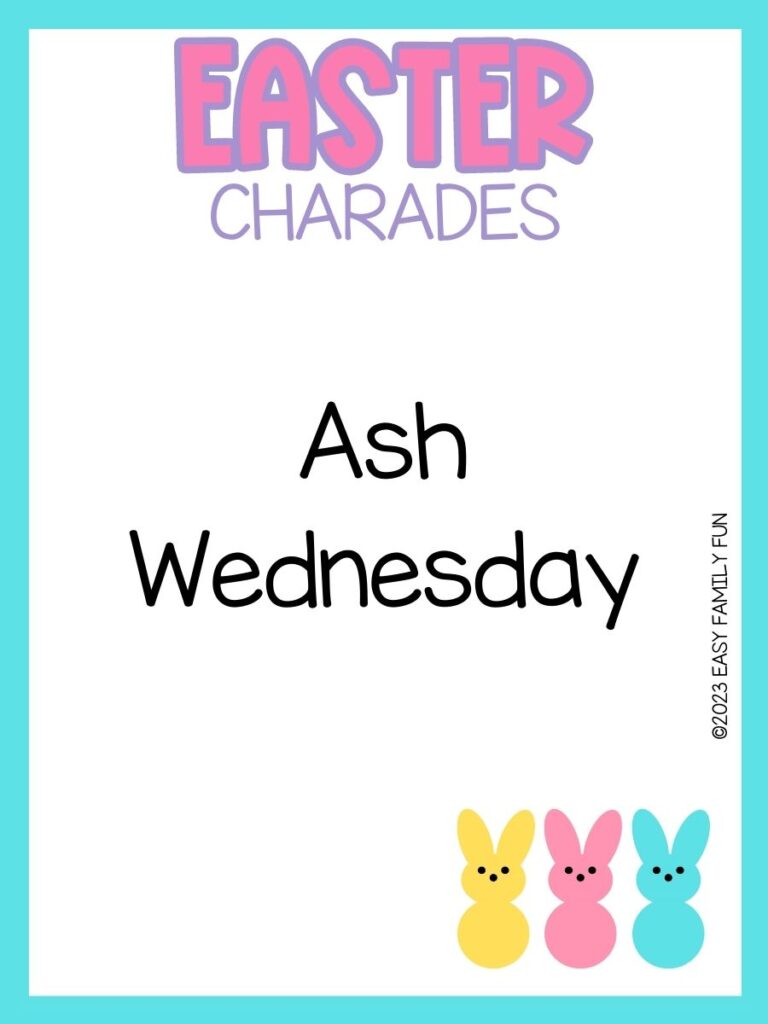 Ash Wednesday
Palm Sunday
Sunday
Daffodils
Egg decorating
Carrots
Hot cross buns
Pastel
Holiday
Carrot cake
April
Palm leaves
Cookie jar
Umbrella
Rain boots
Cottontail
Love Charades? Try these charades games!
How Do I Access My Free Printables?
Fill in the form above. You will receive an email in your inbox. If you don't see it, check your spam folder! You will then click to confirm your subscription. Once confirmed, you will be taken to Airtable (a different website), where all our free printables will be waiting for you! It is free to sign up for Air Table!
How Do I Print A PDF?
You'll need a program that supports PDFs. Adobe Acrobat is a great option. Open the program, click file, then print. Select your printer and the number of copies you want to print. Be sure you click double-sided if you want it to print on both sides. 
Can I Resell These?
You may not resell any printable that you find on our website or in our resource library. You may use them for class parties, at church, at home, or in the classroom. You may get these printed at an office supply store or copy center at your own expense.