New Year's Eve Charades is just the game to keep everyone awake and having a good time together on New Year's Eve. There's no limit to the number of players; all ages can participate! All you have to do is print, cut, and you're all set to have fun!
Finding a party game that everyone can participate in can sometimes be challenging, to say the least. That's why I love charades.
From the youngest to the oldest, members of the family will enjoy acting and guessing and having fun with one another. No one has a chance to get bored waiting for their turn because of the fast pace!
If your family loves playing charades as much as my family does, be sure to grab our other holiday-themed charades games! There are charades for every holiday: Halloween charades, Thanksgiving charades, and even the 4th of July charades. Playing charades at family parties may just become your new favorite tradition!
Why I Love Charades
Charades is a simple game and it's easy to adapt for younger children.
I love that there is no limit to the number of people that can play. We once played Charades at a family Christmas gathering with over 50 people! It was so much fun.
Even when it's not your turn to act, you are still fully involved in guessing and watching the actor. No one ever gets bored!
I love watching how my children act out the clue on the card that they draw. They can be so creative and funny! Some games in our house tend to end in tears, but charades always leaves us with tons of laughter and memories.
Ultimate Charades Bundle!
Grab our ultimate charades bundle that includes over 23 charades games for one very low price! Your friends and family will love playing charades at all your get together and parties!
What You Need To Play Charades
Playing charades is easy, and does not require many things.
All you need to play charades are the cards and a way to keep score and the printable charade cards! I like to put all the cards in a big bowl and stick a large piece of butcher paper on the wall to tally points on.
How To Play New Year's Eve Charades
If you're not already familiar with charades, here are some easy rules to follow:
Split your group into at least two teams. If you have a really large group you might want to split into more than two groups. You can do this any way you like. You can choose to split the group down the center of the room, boys against girls, parents vs children, birthdays in the first half of the year vs the second half of the year, or simply count everyone off into groups.
Choose someone to be in charge of the timer and the score.
Choose which group will go first with a coin toss, based on whichever team has the youngest or oldest player, or any other fun way you can think of!
A volunteer from that team will come to the front where everyone can see them and pick a charades card. Once they are ready, the timer begins.
The actor has one minute (or whatever time you decide is best) to act out the word on the card without talking, making sounds, or mouthing any words.
A point is awarded to the team if they guess the answer correctly within the minute. If they do not guess correctly, the other team gets a chance to guess, but they only get one guess! If they guess correctly, they get the point. If no one guesses correctly, no points are given.
Each team takes turns sending actors to the front, making sure each person on the team gets a chance to act.
The game is over when you have finished all the cards, when one team has reached a certain number of points, or when everyone has had a turn to act.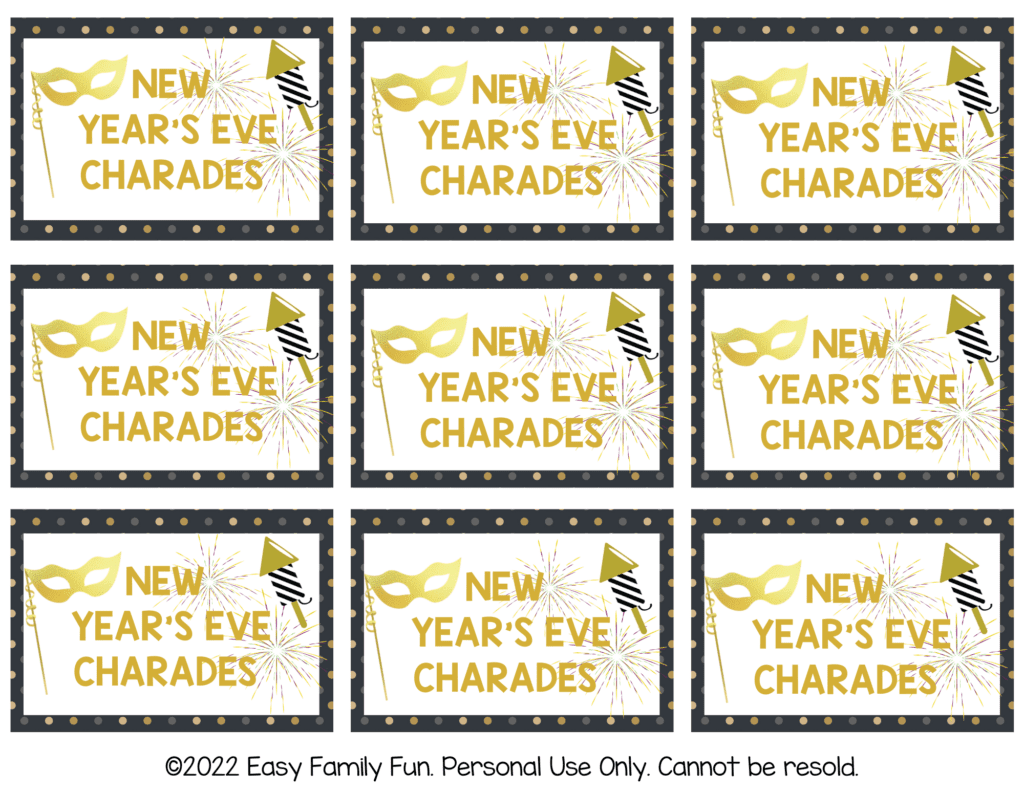 Tips And Tricks For Playing Charades
Use a timer that beeps at the end, such as a kitchen timer. This way, no one has to watch the clock and everyone knows when the time is up.
If you are playing with younger children, create an "easy" stack of cards for them to choose from.
Another idea to help younger players is to team them up with an older player.
Decide ahead of time if you will allow the actor to use props.
Holding up fingers to indicate the number of words is allowed and makes it a little easier for your team to figure it out.
New Years Charades Ideas
Ready to get started playing and having fun? Grab these New Year's Charades cards. You can download them right now and get the party started in no time!
Banging pots and pans
Celebrate
Cocktail
Excitement
Hourglass
Midnight
Noisemaker
Poppin Bottles
Sparklers
Tuxedo
Appetizers
Candle
Dancing
Kiss
Parade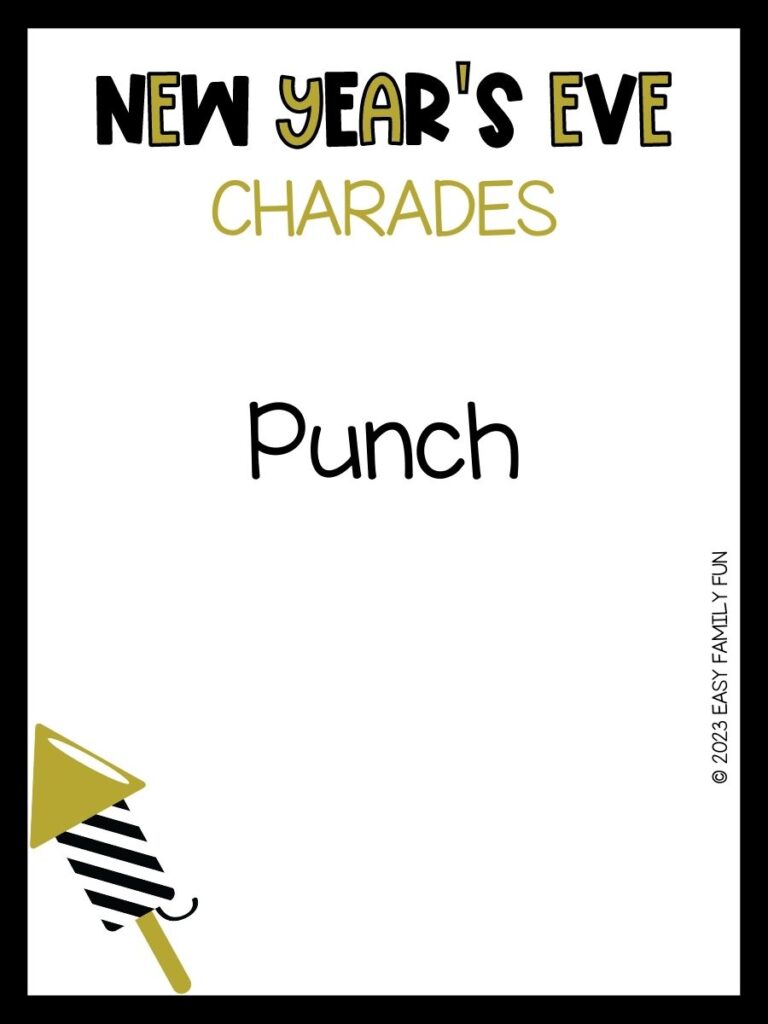 Punch
Tradition
Ball
Cheers
Fireworks
Resolution
New year
Toast
Balloons
Calander
Diet
Party hat
Times Square
Father Time
Auld Lang Syne
Games
Confetti
Ball Drop
Cake
Memories
Karaoke
Gift
Countdown
Champagne
Hourglass
Sequins
Streamers
New York City
Party
Music
Party Mask
Exercise
Clock
Fresh Start
Black Tie
Love Charades? Try these charades games!
How Do I Access My Free Printables?
Fill in the form above. You will receive an email in your inbox. If you don't see it, check your spam folder! You will then click to confirm your subscription. Once confirmed, you will be taken to Airtable (a different website), where all our free printables will be waiting for you! It is free to sign up for Air Table!
How Do I Print A PDF?
You'll need a program that supports PDFs. Adobe Acrobat is a great option. Open the program, click file, then print. Select your printer and the number of copies you want to print. Be sure you click double-sided if you want it to print on both sides. 
Can I Resell These?
You may not resell any printable that you find on our website or in our resource library. You may use them for class parties, at church, at home, or in the classroom. You may get these printed at an office supply store or copy center at your own expense.