Halloween charades is the perfect way to get in the Halloween spirit. It is the perfect activity for classroom parties, Halloween parties, or family game night. All you need to do is download, print, and start playing.
Halloween Charades
Halloween is such a fun time of year for kids and adults! Everyone gets in the spirit of Halloween, it seems. One of our favorite things is to get together with friends and neighbors and celebrate. We trick or treat together, and we even have Halloween parties. We have all kinds of fun activities that we keep going back to year after year, including Halloween Word Scramble and Halloween Bingo. We always play Halloween charades and act out all the things associated with Halloween sometimes though it is hard to think of Halloween words on the spot!
That is why we created this fun list of Halloween charades ideas. With these Halloween charades cards playing charades with your friends and family takes very little effort but is so much fun for everyone.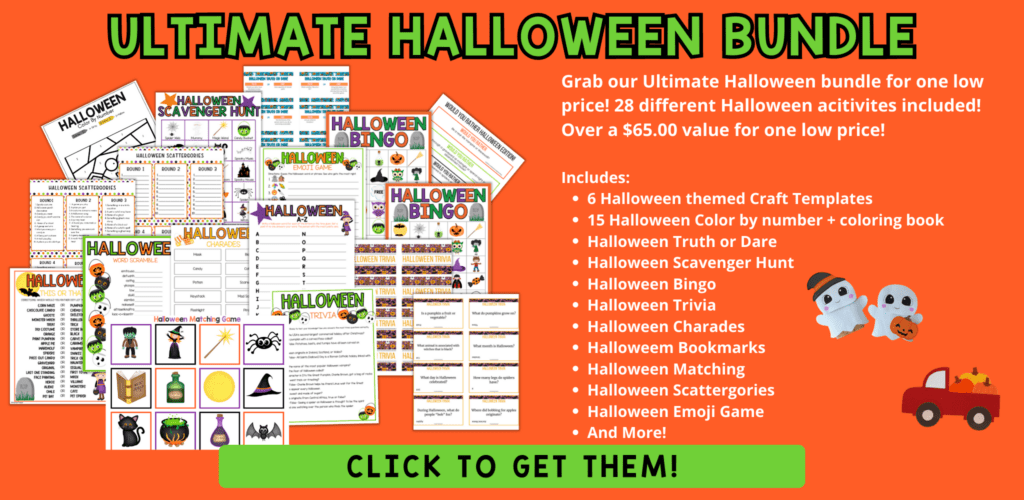 Halloween charades is a quick and easy game that takes very little time to start playing. Kids and adults love it. I love playing with the kids because it helps them practice skills like
teamwork
cooperation
being a good winner and loser
taking turns
following direction
All while having a blast playing with one another, creating the best memories. Our readers love charades, and we know you will too! It is the perfect game for kids and adults of all ages, even our teenagers love to play with us!
For other holiday themed charades games, New Year's Charades, Mother's Day Charades, and St. Patrick's Day Charades.
For more charades fun, be sure to check out Reverse Charades, Dinosaur Charades, Nature Charades, and Occupation Charades.
Why I Love Charades
There are many reasons to love charades, especially when playing with kids.
It is easy! Just download, print, cut, and start playing in minutes.
It is a game that everyone can agree on and has fun playing.
It is perfect for kids of all ages, even non-readers can play with a little help reading the clue.
It is an active game that everyone is involved in as you play.
Perfect ice breaker and great for parties.
This game is adaptable for small groups as well as big parties.
Ultimate Charades Bundle!
Grab our ultimate charades bundle that includes over 23 charades games for one very low price! Your friends and family will love playing charades at all your get together and parties!
How to Play Charades
To begin, you are going to want o download your Halloween charade cards. Once downloaded, print, and cut them out. For added durability, you may want to laminate them.
Place them in a bowl or face down in a pile on the table.
Divide into two or more teams. If you have a large group of friends playing in smaller groups is better, so everyone is involved.
Choose a scorekeeper and a timer for each time. The timers will watch the other team's timer and yell, "times up" when time runs out.
Next, decide on a team that is going to go first. Any way you choose is fine. Some people do oldest or youngest, others pick a number from 1-10, or rock paper scissors.
The first actor will draw a card out of the bowl or from the top of the stack. They will not show the card or tell anyone what it is. When the time begins, they will begin acting out the word without making noise or moving their mouth. If their team guesses correctly before the time runs out, the team gets the point.
If the team doesn't guess correctly before time runs out, then the other team gets one guess to get it right. This is the first word that is shouted out, so be sure not to shout anything before discussing it with your team. If they get the correct word, then they get the point. If not, no one gets the point.
The next team will then send an actor up to play.
Teams will take turns acting until you reach a predetermined score, the cards run out, or you play the predetermined amount of rounds. One round consists of every team having one person go up and act. The team with the highest score at the end of the game wins.
Tips for Playing Halloween Charades
Be sure everyone knows the rules prior to playing Halloween charades. This helps save a lot of frustration as you play.
At the beginning of your turn, show your team how many words they are trying to guess by holding up that many fingers. For example, if your Halloween charade card says, "Mad scientist," you will want to hold up two fingers.
Be silly and have fun.
Laminate the cards for added durability.
Printable Halloween Charade Cards
Be sure to grab your printable Halloween charade cards here so you can start playing in minutes. This is a game that everyone will play over and over through the Halloween season.
Helpful Tools We Love When Downloading Printables
Printer– I love my HP+ printer that uses Instant Ink. I love it because we can use as much color ink as you want for one low cost starting at $.99/ month for ink. Try it out for free here!
Cardstock- I always recommend printing on cardstock. This makes it more durable, so you don't have to worry about repeatedly printing it. 
Laminator / Laminating Sheets- For added durability, grab a laminator and laminating sheets so that you can use this again and again! 
Scissors (I seriously love these ones)
Dry Erase Pens- Use dry erase pens to wipe your laminated printable clean for endless use!
Halloween Charades Ideas
Mask
Candy
Potion
Haystack
Flashlight
Cauldron
Chinese Finger Trap
Bobbing For Apple
Blood
Coffin
Scarecrows
Mad Scientist
Pirates
Werewolf
Jack O Lantern
Skeleton
Chocolate
Skull
Evil Spirits
Carving Pumpkins
Haunted House
Dracula
Spooky Decoration
Spider
Broom
Graveyard
Telling Ghost Stories
Frankenstein
Bones
Vampire
Exorcist
Monster
Casket
Walk Like Frankensteinn
Decorating A House
Cemetery
Crows
Headless Zombies
Wizard
Creating A Spell
Spooky Costume
Fortune Telling
Black Cat
Candles
Crucifix
Pranks
Pumpkin
Treats
Mummy
Satan
Witch
Candy Apple
Web
Owl
Bats
Super Hero Costume
Princess Costume
Bat Turn Into A Vampire
Witch Hat
Zombie Baby
Spider Web
Fire
Wings
Werewolf Howling
Eyeball
Candy Corn
Story Telling
Magic Show
Basket
Pitch Fork
Costume
Make-up
Sword
Ghost
Halloween Cake
Tombstone
Moon
Flower
Broom Stick
Hunting A Ghost
Devil Wing
Flying Ghost
October
Decorations
Ripper
Trick
Horror Movie
Ropes
Shadow
Pumpkin Seeds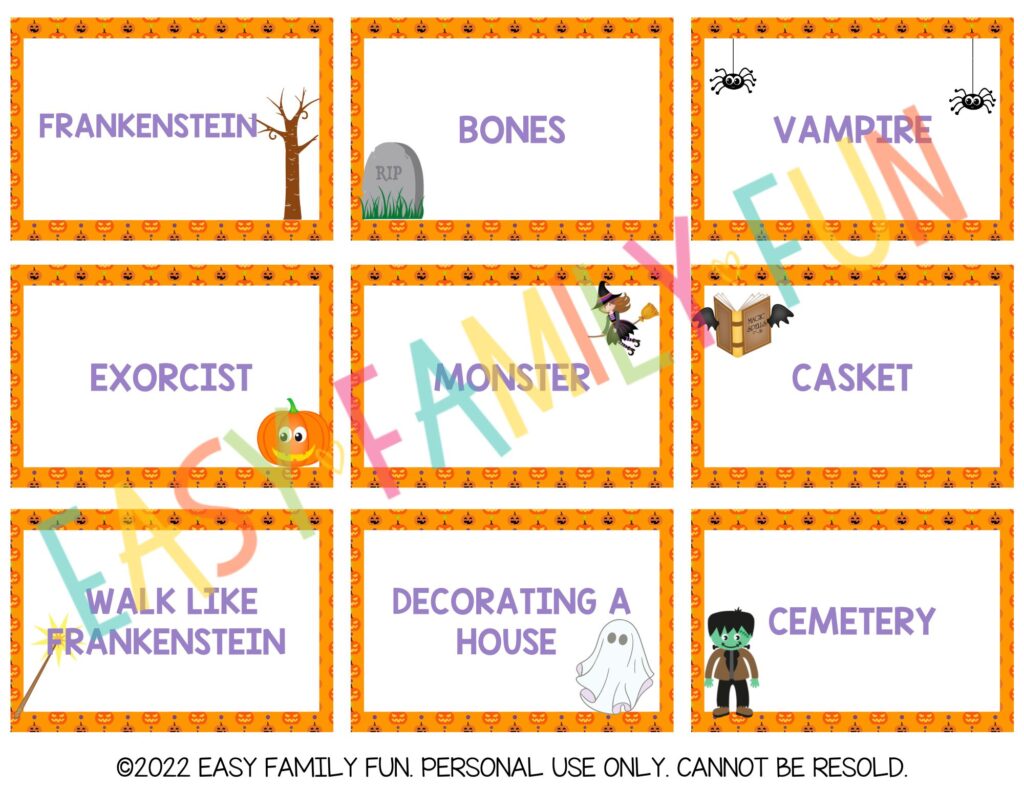 Love Charades? Try these charades games!
How Do I Access My Free Printables?
Fill in the form above. You will receive an email in your inbox. If you don't see it, check your spam folder! You will then click to confirm your subscription. Once confirmed, you will be taken to Airtable (a different website), where all our free printables will be waiting for you! It is free to sign up for Air Table!
How Do I Print A PDF?
You'll need a program that supports PDFs. Adobe Acrobat is a great option. Open the program, click file, then print. Select your printer and the number of copies you want to print. Be sure you click double-sided if you want it to print on both sides. 
Can I Resell These?
You may not resell any printable that you find on our website or in our resource library. You may use them for class parties, at church, at home, or in the classroom. You may get these printed at an office supply store or copy center at your own expense.