Zoo charades is the perfect game for animal lovers. It is the perfect activity to play in the classroom, for family game night, at birthday parties or getting together with friends. All you need to do is download, print, and play!
Zoo Charades
If your kids are like mine, they love going to the zoo. While we are at the zoo and after we are at the zoo, they love pretending to be all the animals they saw. So as soon as we return home, they always want to play zoo charades.
Zoo charades is a quick and easy game that takes very little time and effort to start playing. The kids love it, and I love it too because it is great for working on skills like teamwork, cooperation, and being a good winner and loser. Not only that, but charades help create some of the best family memories.
Our readers love charades, and we are sure you will love them too! It is the perfect game to play with little kids, teens, and even grandmas and grandpas because it is easily adaptable to all levels.
We've played so many that we have loved, including Picture Charades, Springtime Charades, Birthday Charades, Princess Charades, Mother's Day Charades, or Bible Charades. We know these and our zoo charades will be a huge hit for your next game night. You will want to be sure to grab all these charade collections and our zoo charades for your next game night.
If you want to check out even more charade games, you will want to try our Fall Charades, Nature Charades, Food Charades, Animal Charades, Easter Charades, Dinosaur Charades, or Occupation Charades.
Why I Love Charades
There are so many reasons to love charades.
It's easy! Just download, print, cut, and play! You can start playing this game in minutes.
It is a fun game that everyone loves.
It is perfect for all ages.
Even non-readers can play with a little help from an adult.
Everyone is involved.
It is a great ice breaker and gets everyone laughing and talking.
You can easily adapt this to small or large crowds, and is perfect to use in your home or in the classroom.
Ultimate Charades Bundle!
Grab our ultimate charades bundle that includes over 23 charades games for one very low price! Your friends and family will love playing charades at all your get together and parties!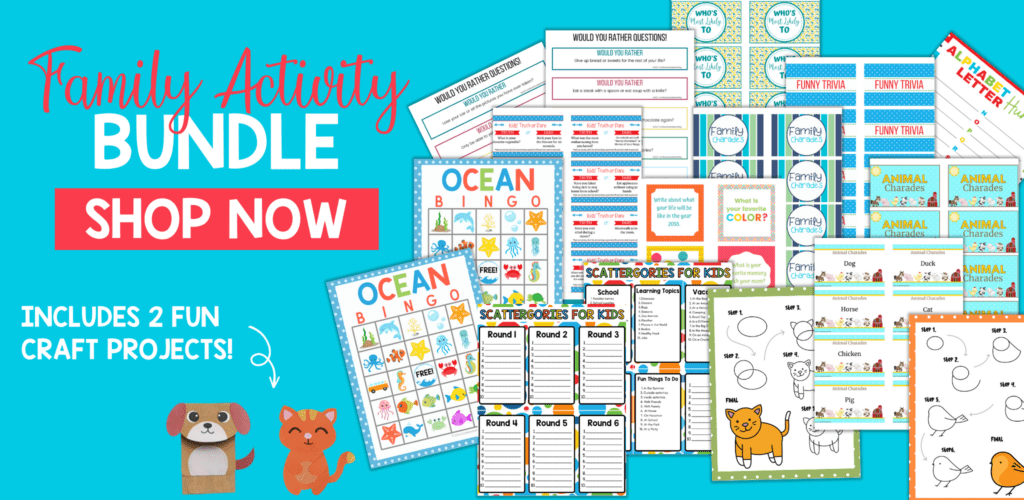 How to Play Zoo Charades
First, you will want to download your zoo charades cards. Once downloaded, print, and cut. If you plan to use these again and again, I highly recommend you laminate them for added durability.
Place them in a bowl or a pile face down.
Divide into two or more teams. If you have a large group, smaller teams work better so everyone can be involved.
Pick a team to go first. This is up to you. We always like to do who has the next birthday that way, it changes throughout the year. We play a lot of charades. Any method of choice is good. You can even play rock paper scissors to decide.
Choose a scorekeeper and a timer for each team. The scorekeeper will keep track of the score while the timer watches the timer and yells "times up" when it runs out.
An actor from the first team draws a card out of the bowl or the top one on the stack. They will pick it up without telling anyone what it is or showing anyone. They will then act it out without moving their mouth, making noises, or saying words. They will try to get tea to guess the word. If their team guesses correctly before time runs out, they get 1 point. If the team doesn't guess in the time frame, then the other team gets one guess. This is the first guess that is said out loud, so be sure no one shouts it out before discussing it as a team first. If they get it right, they will get the point.
The other team will now go.
You will switch back and forth. The game is over when you have reached your predetermined score, or whoever has the highest points when you finished the predetermined number of rounds.
Tips for Playing Zoo Charades
Be sure everyone knows the rules before you start the game. This can help avoid anger and frustration among the teams.
Help your team by showing them with your fingers how many words you are trying to act out. For example, if the zoo charade idea was a flying monkey, if that were a thing, you would hold up two fingers when the timer begins.
Be goofy and silly. This makes it fun for everyone.
Laminate the cards so that you can use them again and again.
Printable Zoo Charade Cards
Be sure to grab your zoo charade cards right here so that you can get started playing ASAP! You know the kids will love it, and you will love it too, spending time together as a family!
Helpful Tools We Love When Downloading Printables
Printer– I love my HP+ printer that uses Instant Ink. I love it because we can use as much color ink as you want for one low cost starting at $.99/ month for ink. Try it out for free here!
Cardstock- I always recommend printing on cardstock. This makes it more durable, so you don't have to worry about repeatedly printing it. 
Laminator / Laminating Sheets- For added durability, grab a laminator and laminating sheets so that you can use this again and again! 
Scissors (I seriously love these ones)
Dry Erase Pens- Use dry erase pens to wipe your laminated printable clean for endless use!
Zoo Charade Ideas
Iguana
Snake
Lizard
Zookeeper
Elephant
Tiger
Leopard
Giraffe
Lion
Monkey
Deer
Ostrich
Gift shop manager
Panda eating bamboo
Hippopotamus
Flamingo
Koala
Alligator
Kangaroo
Giant turtles
Monkey eating a banana
Feed the elephant
Penguins
Picnic
Pet the animal
Touching the tank
Trees
Food basket
Banana
Janitors
Veterinary doctor
Volunteers
Animal caretaker
Ticket booth
Camera
Tour bus driver
Bear
Donkey
Horse
Spider
Rattlesnake
Zoo Map
Hot Dog stand
Vending Machine
Food Court
Stroller
Rides
Gorilla
Coffee shop
Picnic area
Penguins
Love Charades? Try these charades games!
How Do I Access My Free Printables?
Fill in the form above. You will receive an email in your inbox. If you don't see it, check your spam folder! You will then click to confirm your subscription. Once confirmed, you will be taken to Airtable (a different website), where all our free printables will be waiting for you! It is free to sign up for Air Table!
How Do I Print A PDF?
You'll need a program that supports PDFs. Adobe Acrobat is a great option. Open the program, click file, then print. Select your printer and the number of copies you want to print. Be sure you click double-sided if you want it to print on both sides. 
Can I Resell These?
You may not resell any printable that you find on our website or in our resource library. You may use them for class parties, at church, at home, or in the classroom. You may get these printed at an office supply store or copy center at your own expense.