St. Patrick's Day celebrates all things Ireland, and this extensive This St. Patrick's Day charade list will bring the luck of the Irish and the spirit of the Emerald Isle to any gathering. Grab your St. Patrick's Day charades list and get playing in no time!
With St. Patrick's Day quickly approaching, we are always looking for fun ideas to do with the kids. St. Patricks Day charades are one of our favorites. Not only is it fun for everyone, but it also helps teach the kids a little bit more about the holiday.
St. Patrick's Day is also the perfect time to gather the family, test your acting skills, and bond with one another.
If you're looking for some other fun and festive St. Patrick's Day activities, check out our Festive St. Patrick's Day Bingo. If you're having an adult party, our St. Patrick's Day Puns for Adults would be a hilarious addition to your gathering.
Why I Love St. Patrick's Day Charades
My family and I love charades because acting is one thing we all enjoy doing!
This St. Patrick's Day charades game is perfect for busting out my kids' acting skills and putting our guessing skills to the test.
I love watching my teenagers help my younger kids understand and act out a prompt. Imaginary play brings my kids closer to each other and creates memories for us all to enjoy.
All you have to do is download and print off the St. Patrick's Day charade cards, and you are ready to play!
We love to laugh and tease one another as we play a quick game of charades for family game night or on a lazy Sunday afternoon when everyone proclaims how bored they are. Charades is the perfect boredom buster!
We always have a list of charades list handy like our Charades For Kids ideas and our Zoo Charades.
Playing Charades is a great way to give young kids' imagination and acting skills a chance to grow and develop. Through play, kids can discover new things, places, and ideas that will expand their thinking and worldview.
Don't forget to check out our Fourth of July charades and Summer charades games for more fun with your loved ones.
Ultimate Charades Bundle!
Grab our ultimate charades bundle that includes over 23 charades games for one very low price! Your friends and family will love playing charades at all your get together and parties!
What You Need To Play Charades
Playing St. Patrick's Day charades is easy! All you need is a group of people, this list of St. Patrick's Day charades ideas printed and cut out, and a timer!
How To Play St. Patrick's Day Charades
Simple and easy to play!
First, you'll need a group to divide evenly to create teams and decide which team is going first. Select a player from the team to be first.
Second, have the pre-selected player draw a charade prompt, and the timer will start when the player signals they are ready. The team has a minute to guess what the charade prompt is; if they guess correctly, then the team wins a point.
Remember, no talking! Charades is all about body movement.
Each team takes turns drawing a card and acting out the prompt, the game ends when all cards are gone, and the winner is the team with the most points.
Tips And Tricks For Play Charades
Use props for even more fun!
Pair kids against parents or girls against boys for a fun twist!
Take turns being the timer or select one person to be in charge of the time.
Send the cards to grandparents and have them send a video of them acting out the prompts for a fun surprise!
More St. Patrick's Day Fun!
Are you looking for more fun St. Patrick's Day activities with friends and family? You will want to grab our ultimate St. Patrick's Day bundle loaded with all kinds of fun activities to help you connect with the ones you love! Use these fun activities at home or in the classroom. This bundle comes with so many activities for one incredible price.
St. Patrick's Day Charades
Be sure to grab your St. Patricks's Day Charades cards here, if you didn't take advantage of our St. Patrick's Day bundle!
Ireland
Green
Leprechaun
March
Rainbow
Lucky
Gold
Clover
Saint
Patrick
Irish
Holiday
Limerick
Pot-of-Gold
Four-Leaf-Clover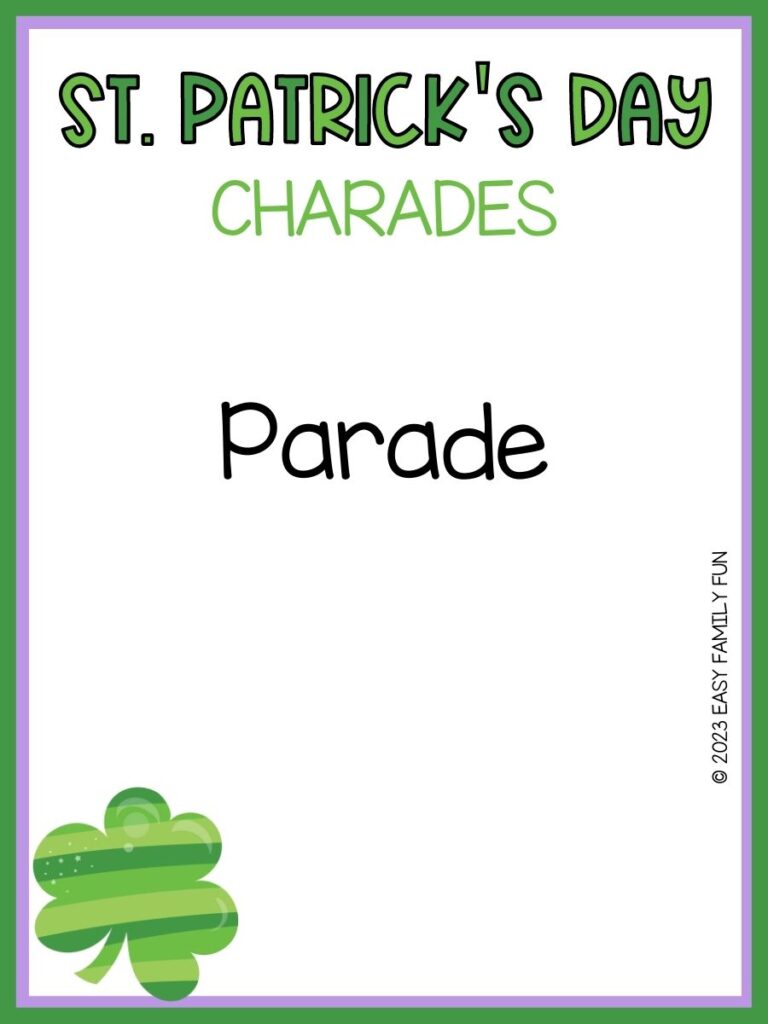 Parade
Shamrock
Wish
Tradition
Gold Coins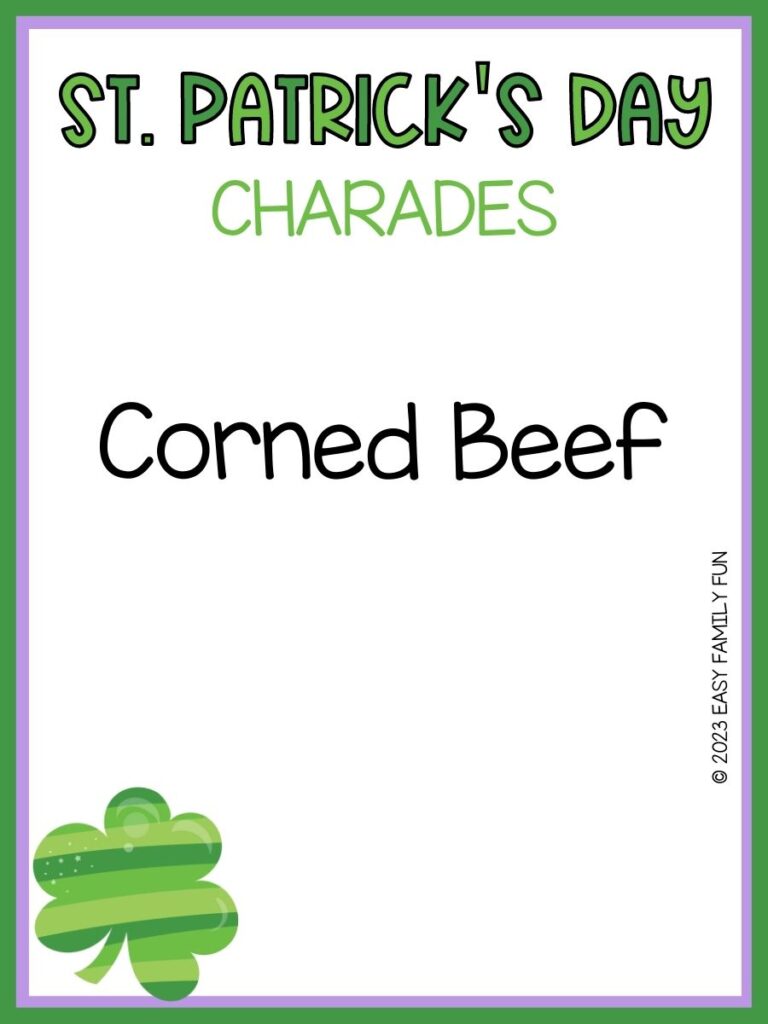 Corned Beef
Blarney Stone
Harp
St. Patrick
Celebrate
Fortune
Spring
Green Beer
Dance a Jig
Irish Flag
Top Hat
Church
Flag
Flute
Horseshoe
Frog
Potato
Tree
Fiddle
Lucky Number
Award
Wishing Well
Walking Stick
Green Star
Shoe
Castle
Cabbage
Celtic
Patron
Do you have some other St. Patrick's Day charades ideas? Be sure to add them to the comments so we can try and act those out too!
Love Charades? Try these charades games!
How Do I Access My Free Printables?
Fill in the form above. You will receive an email in your inbox. If you don't see it, check your spam folder! You will then click to confirm your subscription. Once confirmed, you will be taken to Airtable (a different website), where all our free printables will be waiting for you! It is free to sign up for Air Table!
How Do I Print A PDF?
You'll need a program that supports PDFs. Adobe Acrobat is a great option. Open the program, click file, then print. Select your printer and the number of copies you want to print. Be sure you click double-sided if you want it to print on both sides. 
Can I Resell These?
You may not resell any printable that you find on our website or in our resource library. You may use them for class parties, at church, at home, or in the classroom. You may get these printed at an office supply store or copy center at your own expense.