Your family will love this twist on a classic party game! It's perfect for the whole family! All you need are these Reverse Charades Printable Cards for a fun family game night!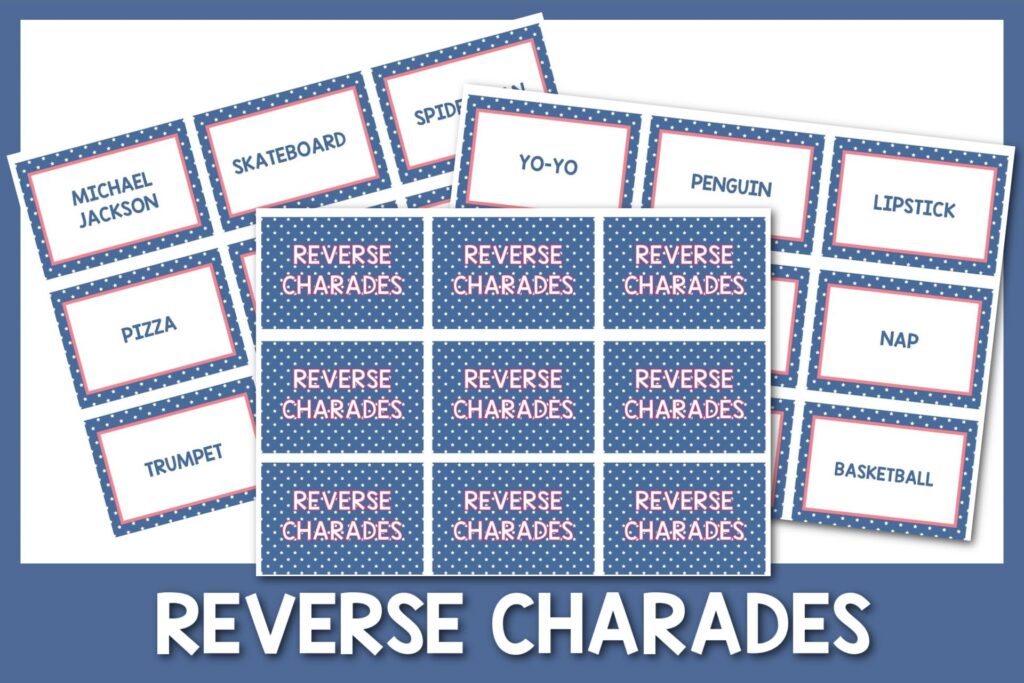 Reverse Charades
When my family gets to the end of a busy day, we are all ready to relax and have some fun together, and we love to play charades.
We love to get out our charades cards, pop some popcorn, and get right to playing and laughing together! Lately, our favorite charades games are Verb Charades, Dinosaur Charades, Winter Charades, Mother's Day Charades, Bible Charades, Princess Charades, Birthday Charades, Dinosaur Charades, and of course, Reverse Charades! 
Reverse Charades is a fun and silly twist on regular charades!
Instead of one person acting out the card and the rest of the team guessing, you flip it around and have one person guess while the rest of the team acts out the card.
It's always so funny to see all the different ways people act out the same card!
You'll want to have these Reverse Charades printable cards for your next party or game night!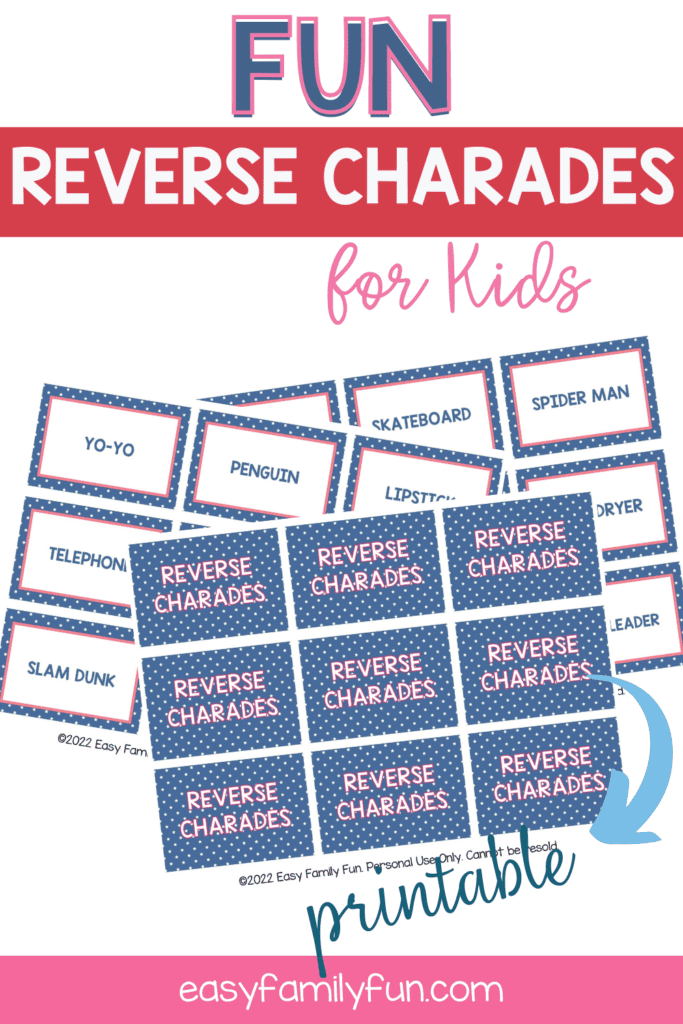 Why I Love Charades
Charades is such an easy game to play!
There's almost no setup needed; all you need to do is print out these cards, grab your family or friends, and start playing!
Charades is a great game for any age. The rules are easy to understand and the game is simple and fun. Kids, teens, and adults can all play together and have a great time!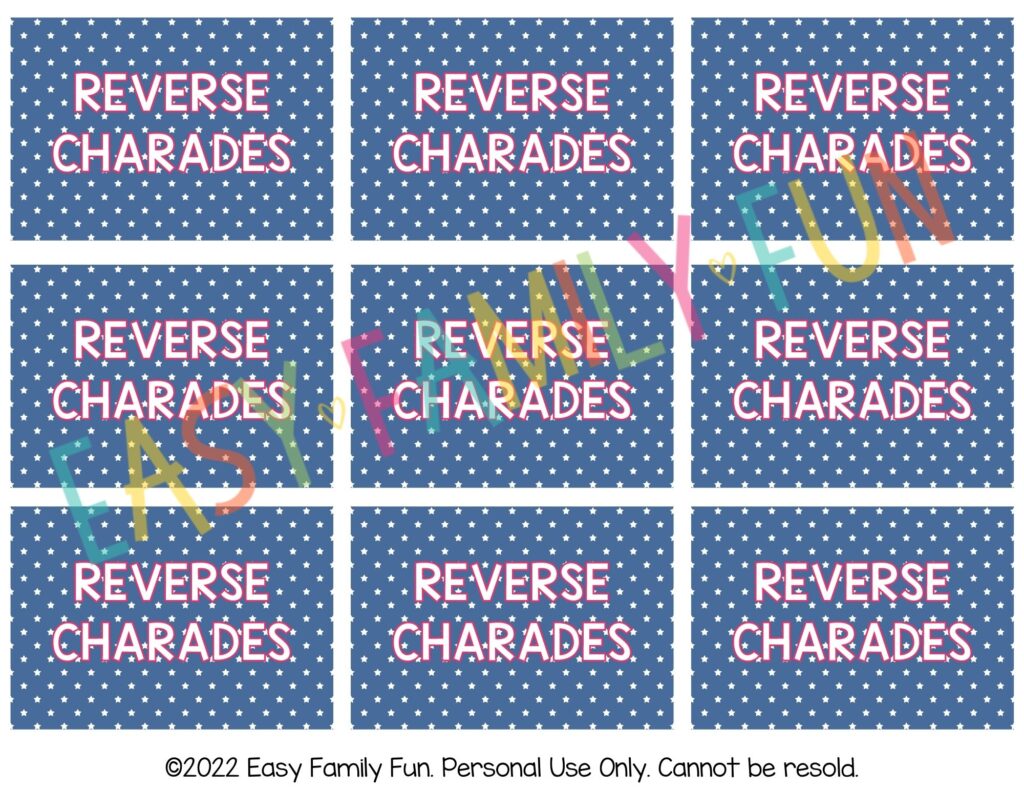 How to Play Reverse Charades
Playing Reverse Charades is a lot like playing regular charades, but the actors and guessers are flipped! The actor becomes the guesser, and the guessers become the actors!
First, divide into groups of at least three people. This way you can have one guesser and multiple actors on each team.
Next, each team will decide who will be their first guesser. You can do this any way you like! You can go from youngest to oldest, tallest to shortest, longest hair to shortest hair, or whatever creative way you come up with.
During each team's turn, the team selects a card and acts out together what is on that card. You may not use words, sounds, or move your mouth! The guesser has one minute to guess correctly. If they do, they get a point! If they don't, the other team gets one chance to make the right guess.
When you've run out of cards, or when one team has earned a predetermined amount of points, the game is over. Whichever team has the most points wins!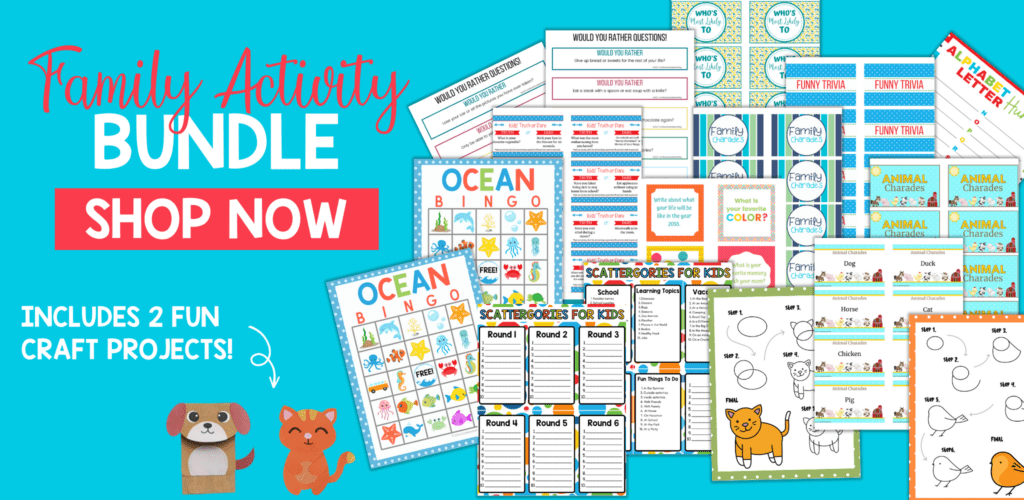 Tips and Tricks for Playing Reverse Charades
Using a timer can help you keep track of each turn.
It can really help for the actors to use their hands to indicate how many words the guesser should guess.
You can reverse any charades game! Add our Verb Charades cards to the deck for more fun!
Grab your Reverse Charades Printable Cards
Ready to get your Reverse Charades Printable Cards? Grab them right here!
Reverse Charades List
Does your family love this game? Tell us all about it in the comments below!
Michael Jackson
Skateboard
Spiderman
Pizza
Frog
Hairdryer
Trumpet
Violin
Cheerleader
Yo-yo
Penguin
Lipstick
Telephone
Toothbrush
Nap
Slam dunk
Jog
Basketball
Surfing
Cooking
Washing dishes
Superman
Zombie
Baby
Mosquito
Driving a bus
Tarzan
Money
Sip
Shopping cart
Whisper
Karate
Cat
Changing a tire
Archery
Darts
Dance Party
Building a snowman
Painting a house
Orchestra
Wedding
Taking a bath
Soccer
Birds
Taking a selfie
Exercise
Mop
Fishing
Skiing
Santa Claus
Love Charades? Try these charades games!
How Do I Access My Free Printables?
Fill in the form above. You will receive an email in your inbox. If you don't see it, check your spam folder! You will then click to confirm your subscription. Once confirmed, you will be taken to Airtable (a different website), where all our free printables will be waiting for you! It is free to sign up for Air Table!
How Do I Print A PDF?
You'll need a program that supports PDFs. Adobe Acrobat is a great option. Open the program, click file, then print. Select your printer and the number of copies you want to print. Be sure you click double-sided if you want it to print on both sides. 
Can I Resell These?
You may not resell any printable that you find on our website or in our resource library. You may use them for class parties, at church, at home, or in the classroom. You may get these printed at an office supply store or copy center at your own expense.