Picture Charades is a fun and creative game that combines the classic guessing game of charades with the visual clues so that kids and adults of all ages can play together! Picture Charades is a great game for groups of all ages. It can be played anywhere, making it a perfect way to entertain family and friends at parties, gatherings, or even on a lazy afternoon at home. So, gather around, print your picture charades cards, and get acting in no time.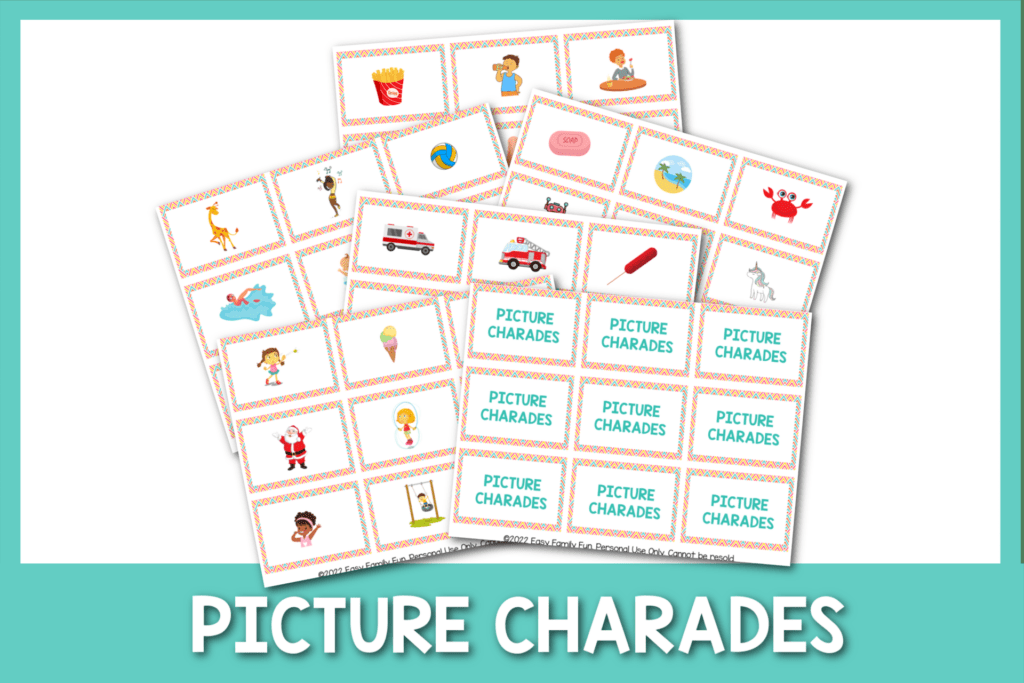 My family loves playing charades, and it's especially fun when we can really include everyone! My youngest was so excited to use these picture cards because he can't quite read all the words yet. I love games that are anyone can play. My kids never want to stop acting out the cards. I love watching their creativity grow with every action.
If you are looking for even more kid friendly charade options be sure to try our Charades for Kids or Zoo Charades!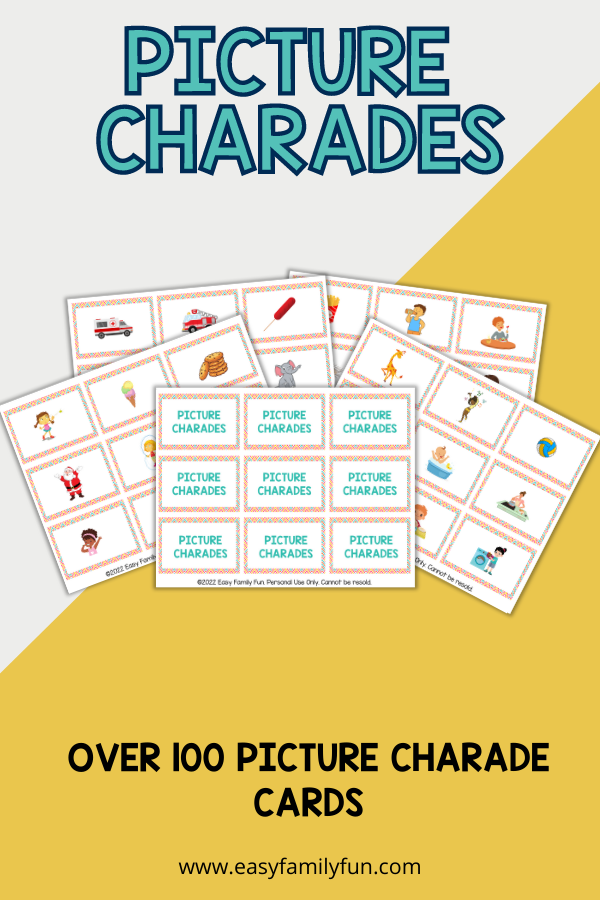 Why I Love Charades
I love playing charades with my family. Figuring out how to act out each clue is really good for my kid's thinking skills, and the movement makes the game entertaining for much longer than a board game.
I also love how adaptable this game is to any age group and any size group! I have played charades one-on-one with my kids, but we have also played it at a large family gathering. There's no limit to the fun you can have!
Ultimate Charades Bundle!
Grab our ultimate charades bundle that includes over 23 charades games for one very low price! Your friends and family will love playing charades at all your get together and parties!
What You Need To Play Charades
All you really need for charades are the cards! Simply download the picture charade idea cards, print them out, and play! I like to laminate the cards or print them on heavy cardstock so they last longer. Other items you may want for charades, especially if you are playing in a large group are a timer and a large poster or whiteboard to keep track of points on. That's it!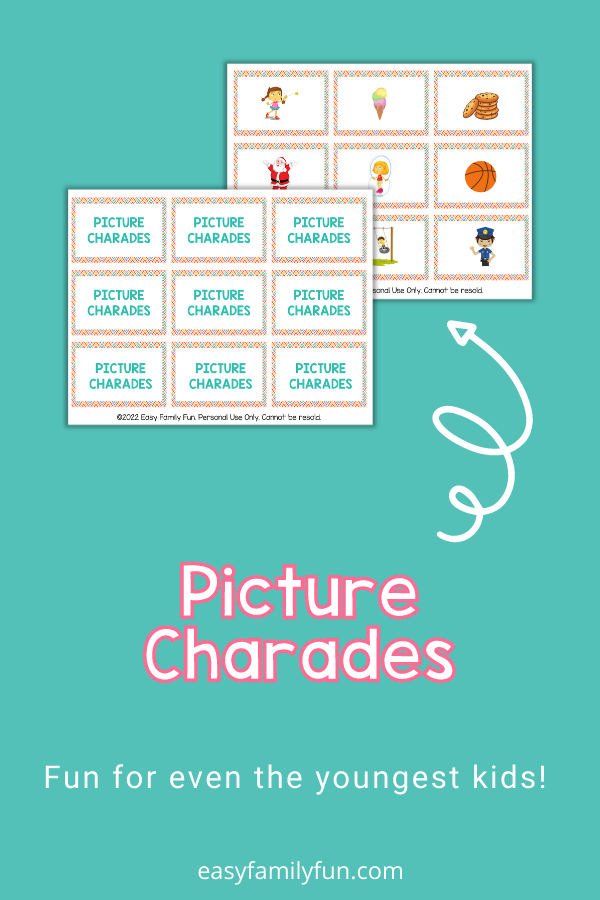 How To Play Picture Charades
Choose whether you want to use teams or just have fun acting out and guessing!
If you want teams, divide your group at least into two. Choose one team to go first.
The team that is acting first will send one team member to the front to act. They will pick the top card, look at the picture, and then someone will start a timer.
The actor has one minute (or another pre-determined amount of time) to act out the picture on the card for their team to guess.
If the clue is guessed correctly before the timer runs out, that team gets a point. If the clue is NOT guessed, the other team gets one chance to guess and steal the point!
The game is over once everyone has had a turn to act, when you run out of cards, or when one team reaches a certain number of points.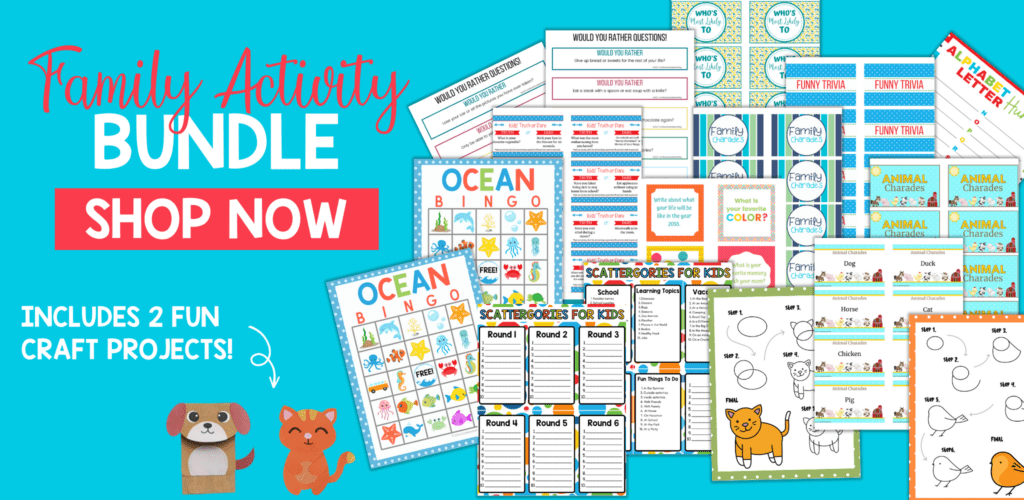 Tips And Tricks For Play Charades
To make this game more challenging for older kids, mix in some cards that have words on them
Timers can be stressful for younger kids, so consider eliminating the time requirement when your little ones are acting.
Always encourage younger kids while they are acting! Don't be afraid to give them a little help if they are not sure what to do or if their first attempt doesn't result in any correct guesses.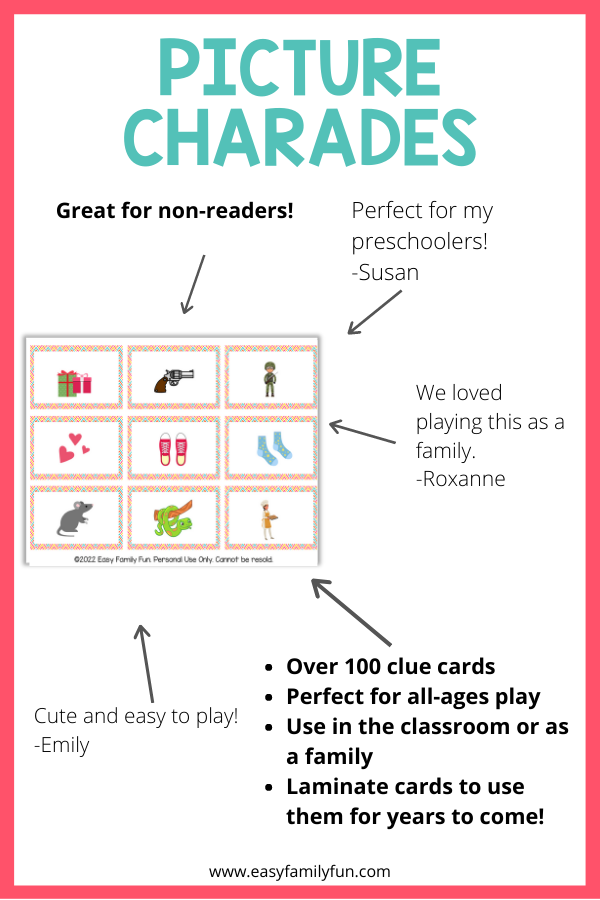 Picture Charade Ideas
Be sure to grab your picture charade idea cards right here to get started playing in minutes!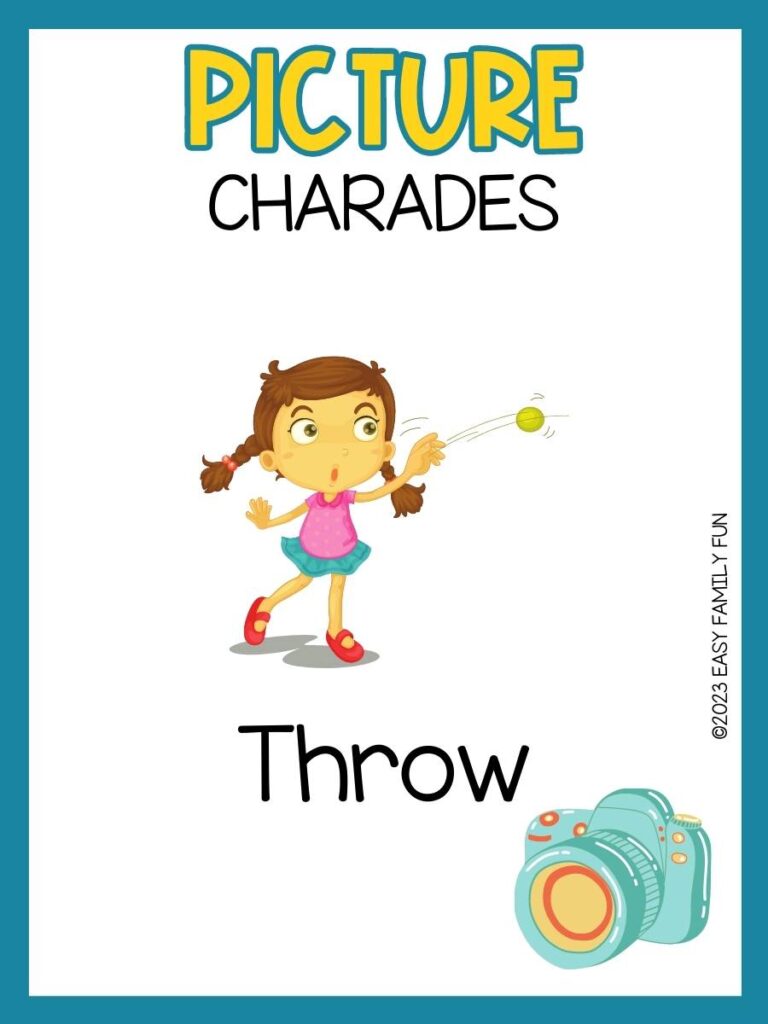 Throw
Ice cream
Cookies
Santa Claus
Jump Rope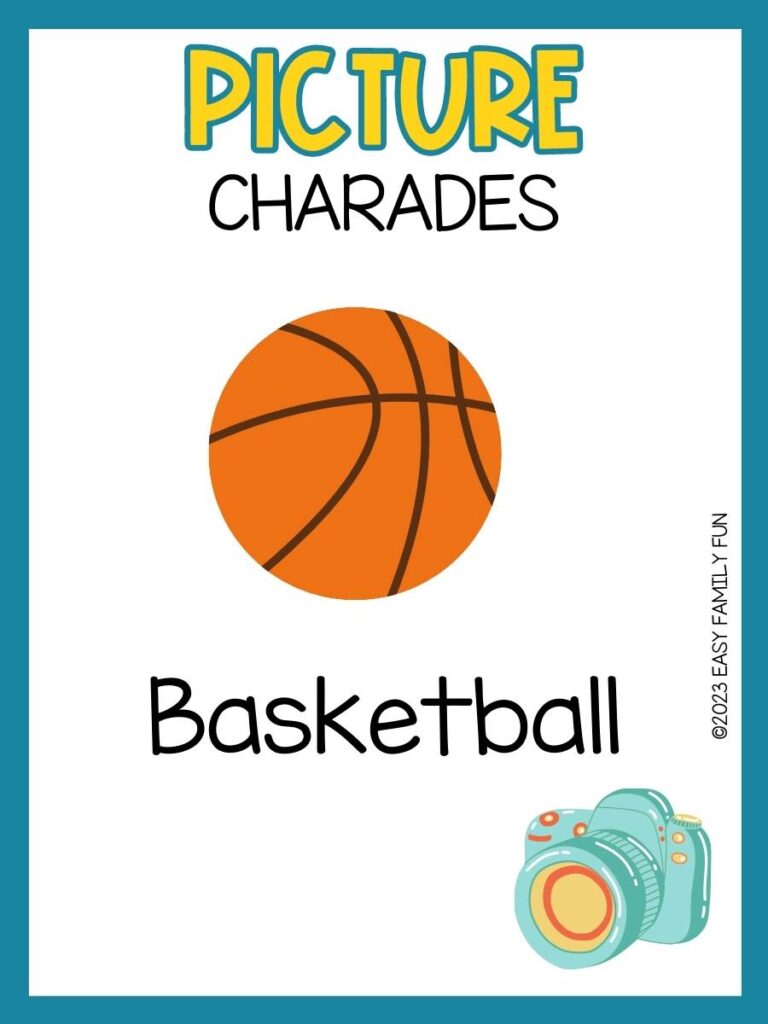 Basketball
Brush your teeth
Swing
Police officer
Ambulance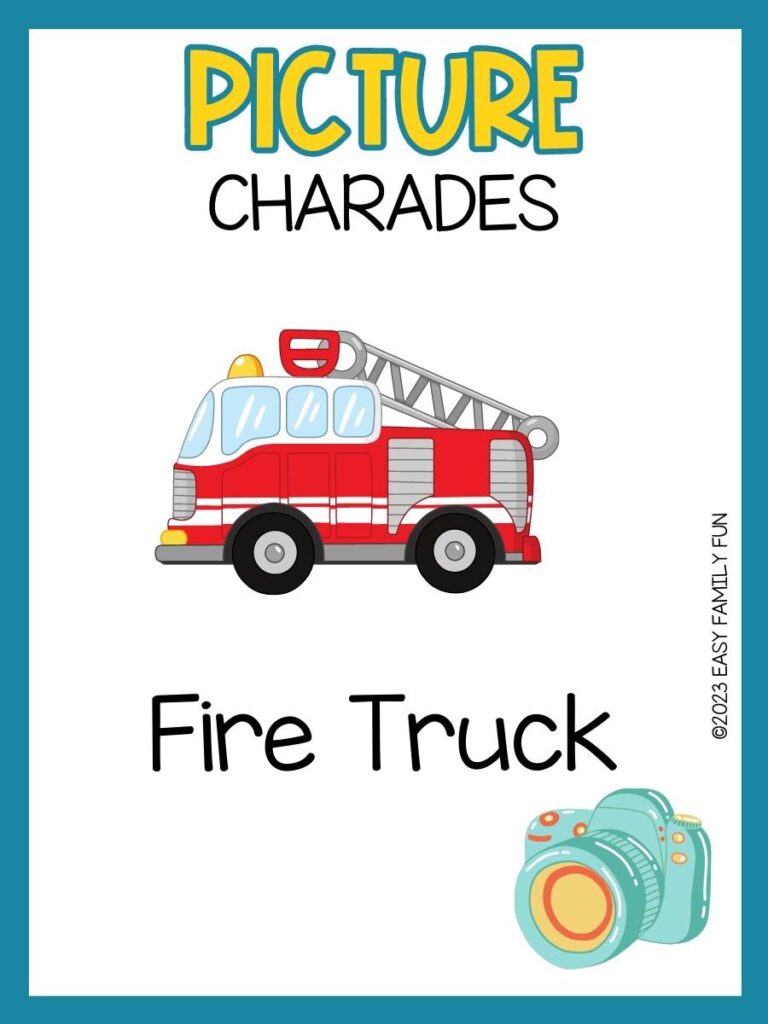 Fire truck
Hot Dog on a stick
Pizza
Turtle
Elephant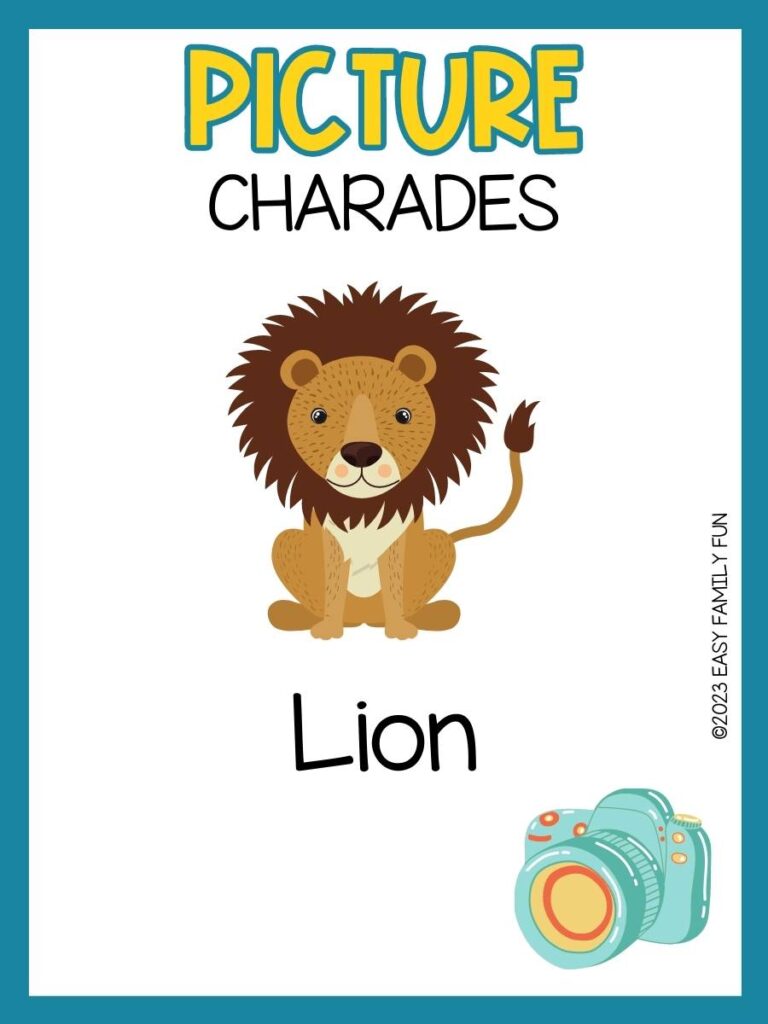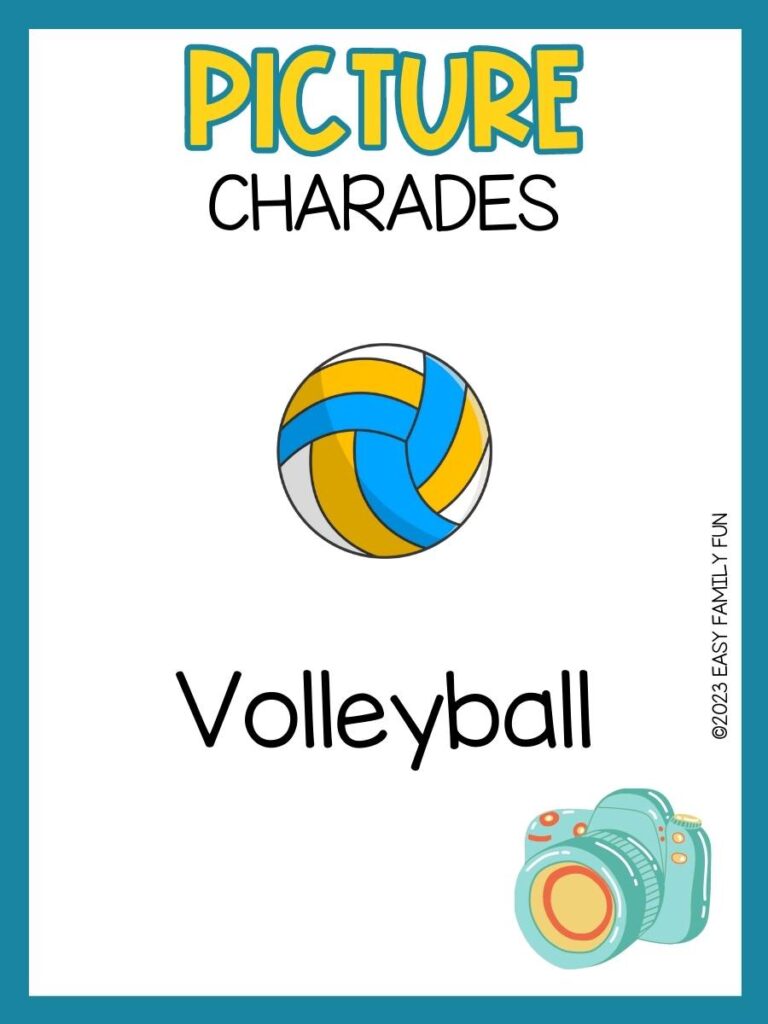 Volleyball
Swim
Bathtub
Kitchen
Apple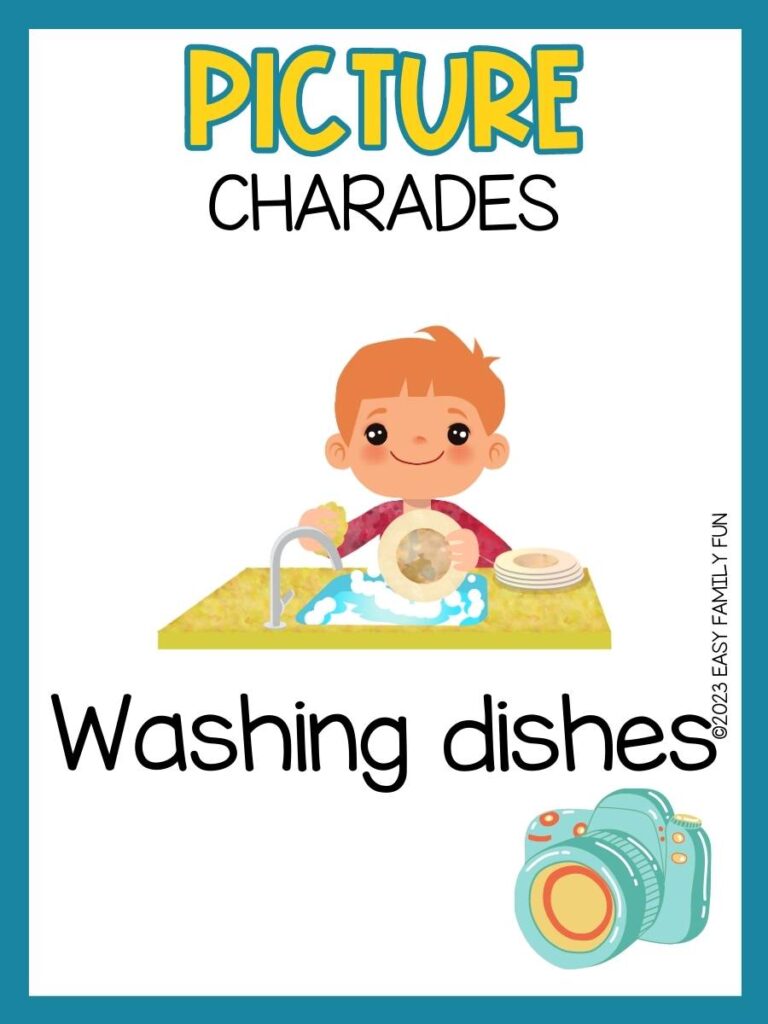 Washing Dishes
Washing clothes
Soap
Beach
Crab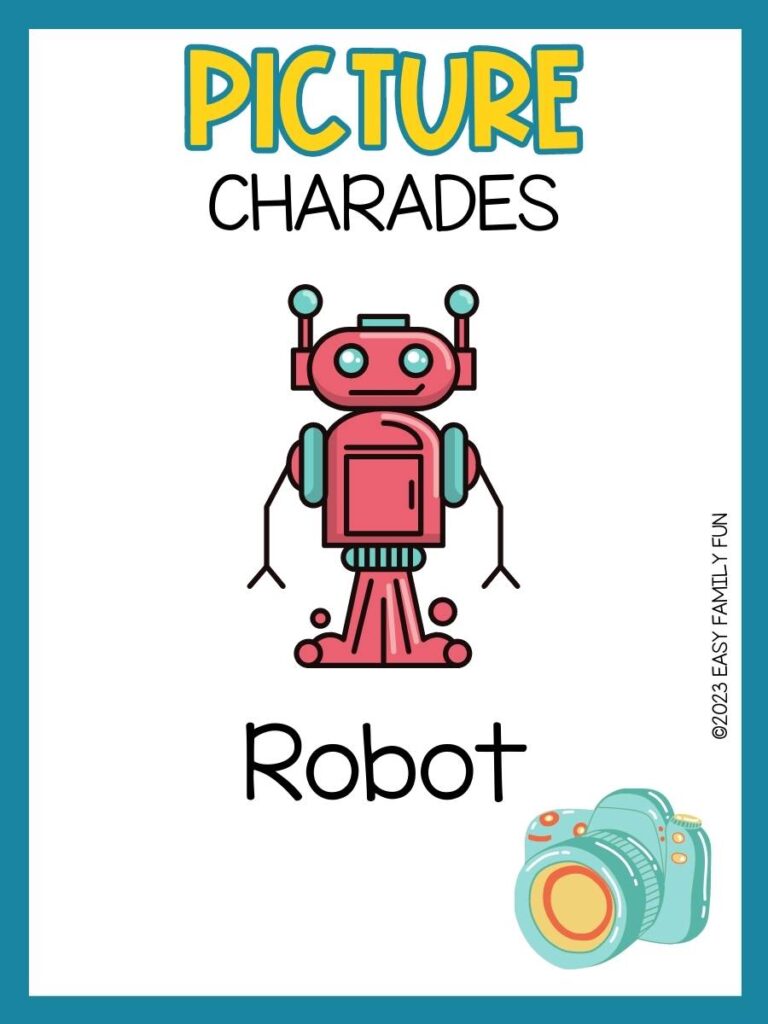 Robot
Dinosaur
Unicorn
Sleeping
Sing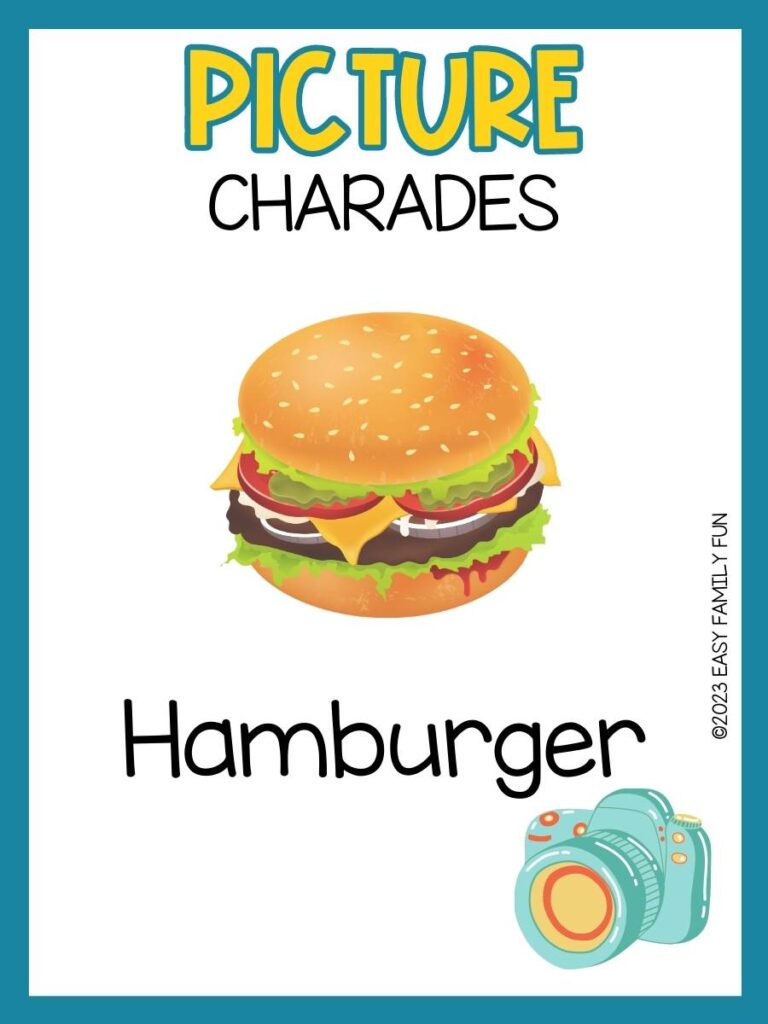 Hamburger
French fries
Drinking
Eating
Eye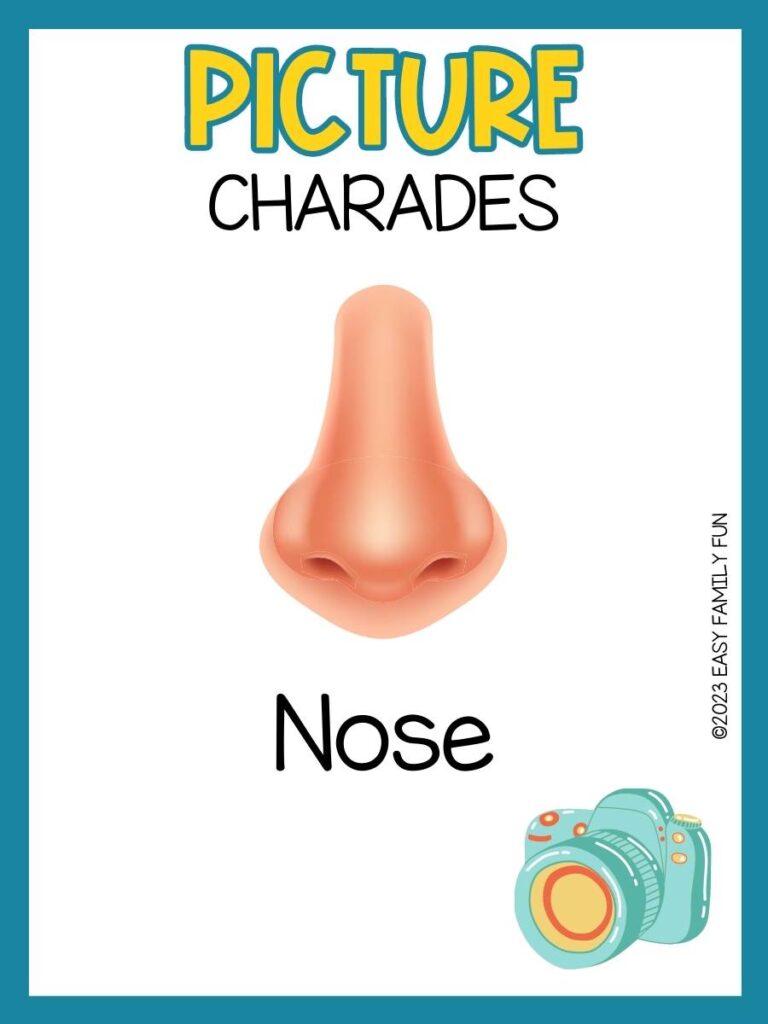 Nose
Hair
Brush
Sweeping
Mopping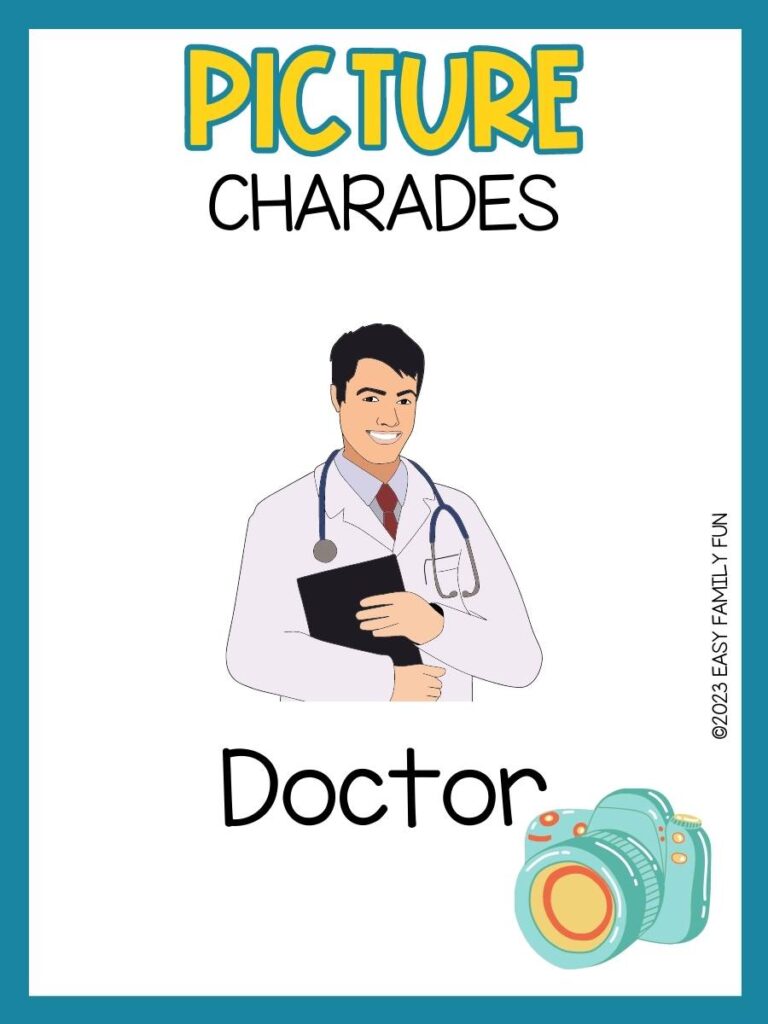 Doctor
Fireman
Crying
Laughing
Mad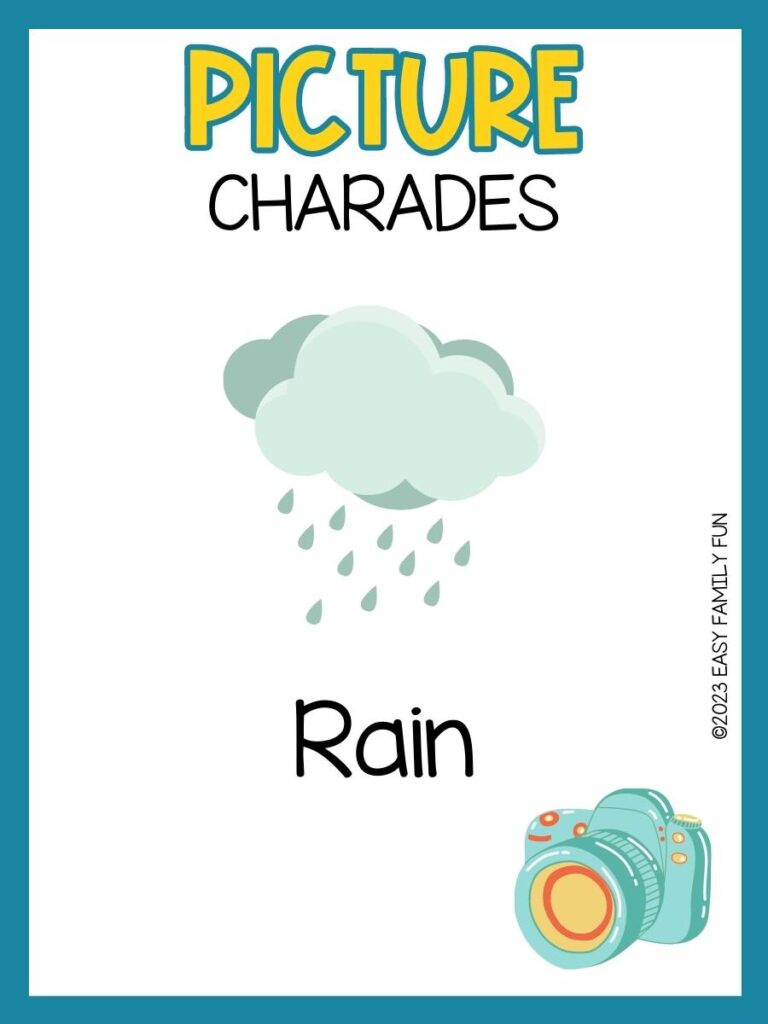 Rain
Sun
Bird
Monkey
Balloons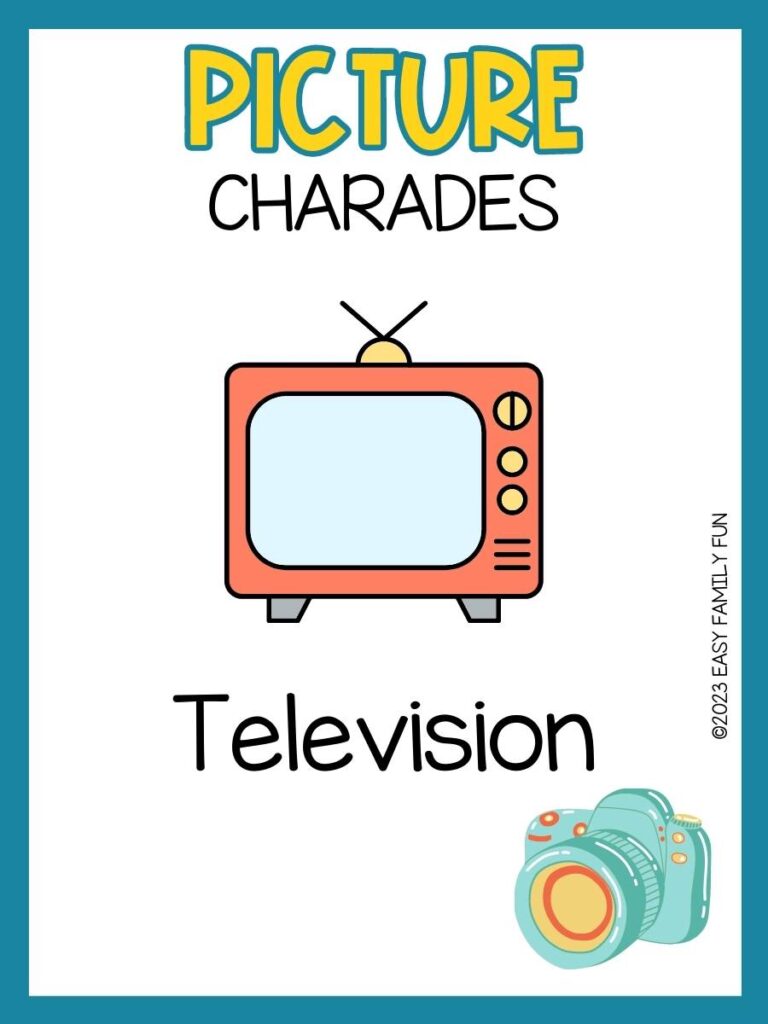 Television
Computer
Phone
Money
House
Ghost
Zombie
Rainbow
Reindeer
chocolate
candy
Lollipops
cake
Clown
Flower
Baby
Christmas tree
Presents
Boat
Soldier
Heart
Shoes
Socks
Mouse
Snake
Chef
Prayer
Pancakes
Scissors
Pencils
Flip Flops
Astronaut
Star
Walk
Wash your hands
Spaghetti
Fried Chicken
Ear
Video game
Umbrella
Popsicle
Fish
Shark
Love Charades? Try these charades games!
How Do I Access My Free Printables?
Fill in the form above. You will receive an email in your inbox. If you don't see it, check your spam folder! You will then click to confirm your subscription. Once confirmed, you will be taken to Airtable (a different website), where all our free printables will be waiting for you! It is free to sign up for Air Table!
How Do I Print A PDF?
You'll need a program that supports PDFs. Adobe Acrobat is a great option. Open the program, click file, then print. Select your printer and the number of copies you want to print. Be sure you click double-sided if you want it to print on both sides. 
Can I Resell These?
You may not resell any printable that you find on our website or in our resource library. You may use them for class parties, at church, at home, or in the classroom. You may get these printed at an office supply store or copy center at your own expense.