Christmas is one of our favorite times of the year, and these Kids Christmas Charades ideas are always a hit in our family. We love spending time together, laughing, and talking through these fun Christmas charades ideas. The best part is that the these ideas are perfect for kids.
Kids Christmas Charades
Charades are such a hit with my family. We love gathering around and having fun together, and charades is a great way to get everyone laughing and talking with each other. We love a seasonal charades game as well like our Halloween Charades and Thanksgiving Charades.
We love charades for so many reasons in our house, but I especially love having all my kids gathered around, laughing and talking with each other. With all the activities and never ending to-do lists during the holiday season, having time to slow down and connect is so important. Games, like charades, are a great way to do that.
Why I Love Charades Games
I love charades for so many reasons.
First of all, it's fun! My kids love playing charades together and I love the time that we spend together laughing.
Charades are also awesome for teaching teamwork and healthy competition. Whether they win or lose, everyone has fun together, and teams work on communication skills and working together.
Another great reason why we love Christmas Charades is that it is fun reading practice for all those fun Christmas words! If you have a learning reader, charades are an awesome way to get them practicing without being boring or annoying.
Ultimate Charades Bundle!
Grab our ultimate charades bundle that includes over 23 charades games for one very low price! Your friends and family will love playing charades at all your get together and parties!
How To Play Charades
Charades is so easy to play. Simply grab your Kids Christmas charades cards, and place them in a bowl.
Divide the group into teams. Once the teams are divided choose one person from the first team to choose and idea out of the bowl.The timer will start and they will begin to act it out. Their team works to guess the Christmas charades idea within the one minute time frame. If the team guesses the answer they get a point. If the team does not guess it the other team gets one guess to try and get it correct. Whichever team has the most points at the end of the game wins!
It's as simple as that!
Benefits Of Charades
There are so many benefits to playing Charades with your family.
Learning communication skills in a fun way.
Practicing working with a team and healthy competition.
Sneaky language practice!
Spending time together as a family having fun.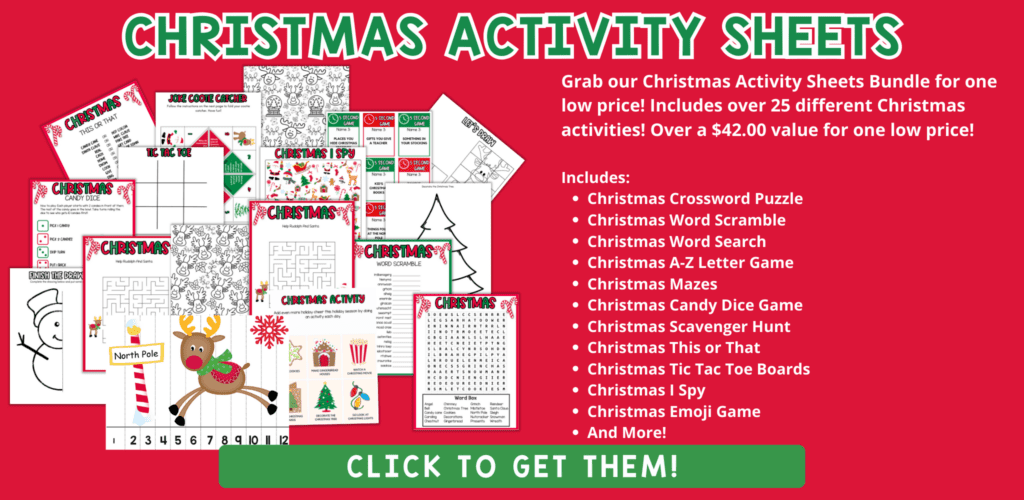 Tips And Tricks
If you know your family will want to play this charades game over and over, print the cards on cardstock and laminate them to make them extra sturdy.
Set a timer for each round so that no one loses track of time.
Be sure that everyone knows the rules before you start so that everyone can have a good time.
Separate into 2 teams, or have groups of 2 people work together as a team. This is awesome for older/younger sibling groups!
Kid's Christmas Charades Ideas
If you're ready to save some time, grab our Printable Kids Christmas Charades cards here. All you have to do is print, cut and you're ready to play charades with your family!
Christmas Party
Santa Claus
Reindeer
Snowman
Candy Cane
Gingerbread
Cookie
North Pole
Jingle Bells
Nutcracker
Ribbon
Christmas Ornaments
Chimney
Chocolates
Snowflakes
Candles
Baby Jesus
Maria
Bells
Ice Skating
Angel
Ham
Prayer
Bethlehem
Sled
Joseph
Letter to Santa
Hanging Stockings
Igloo
Wreath
Poinsettia
Wrapping Presents
Tinsel
Shepherd Boy
Holiday
Worship
Pie
Advent Candle
Frosty the Snowman
Twelve Days of Christmas
Unwrapping Presents
Sledding
Exchange Gifts
Cherry
December
Gingerbread House
Toys
Snow
Elf
Candy
Stars
Christmas Lights
Giftwrap
Rudolph
Christmas Gift
Snowball Fight
Decorating a Tree
Santa Bag
Polar Bear
Santa Going Down the Chimney
Hanging Stockings
Mistletoe
Caroling
Holly
Evergreen
Pie
Parades
Jolly
Celebrate
Christmas Caroling
I hope your family enjoys using these Kids Christmas charades ideas this holiday season. When your family uses them, be sure to tag #easyfamilyfun when you post about them so we can see all the fun you had together.
Love Charades? Try these charades games!
How Do I Access My Free Printables?
Fill in the form above. You will receive an email in your inbox. If you don't see it, check your spam folder! You will then click to confirm your subscription. Once confirmed, you will be taken to Airtable (a different website), where all our free printables will be waiting for you! It is free to sign up for Air Table!
How Do I Print A PDF?
You'll need a program that supports PDFs. Adobe Acrobat is a great option. Open the program, click file, then print. Select your printer and the number of copies you want to print. Be sure you click double-sided if you want it to print on both sides. 
Can I Resell These?
You may not resell any printable that you find on our website or in our resource library. You may use them for class parties, at church, at home, or in the classroom. You may get these printed at an office supply store or copy center at your own expense.