Food is one of those things that just never fails to bring a family together. Whether we're gathering for meals, traditional foods cooked for the holidays, or special occasion dinners, food is always the centerpiece. With this Food Charades game, you can keep the family togetherness going long after everyone's bellies are full!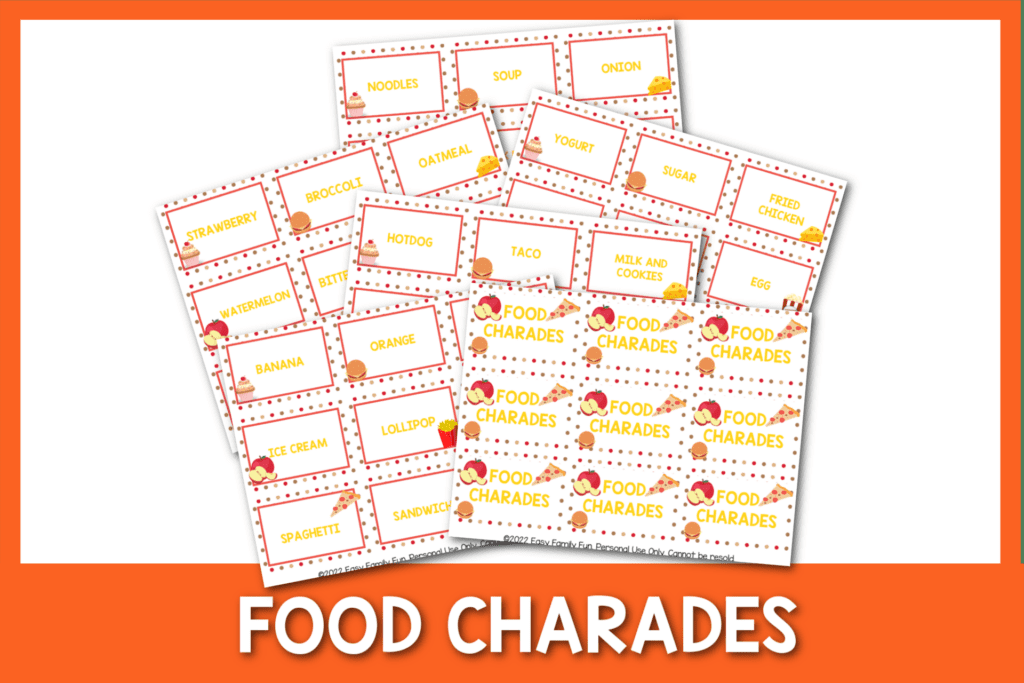 Charades is always my go to game at family get-togethers. It is also a great game when I just have some downtime with my kids. We love figuring out new ways to act out different words and clues. The oldest and youngest members of the family can all participate and share in the fun, and there's no limit to the number of people who can play!
We love playing themed charades like Zoo Charades and Space Charades! This is because it helps us to have a category to guess in. Makes it easier for the younger kids too.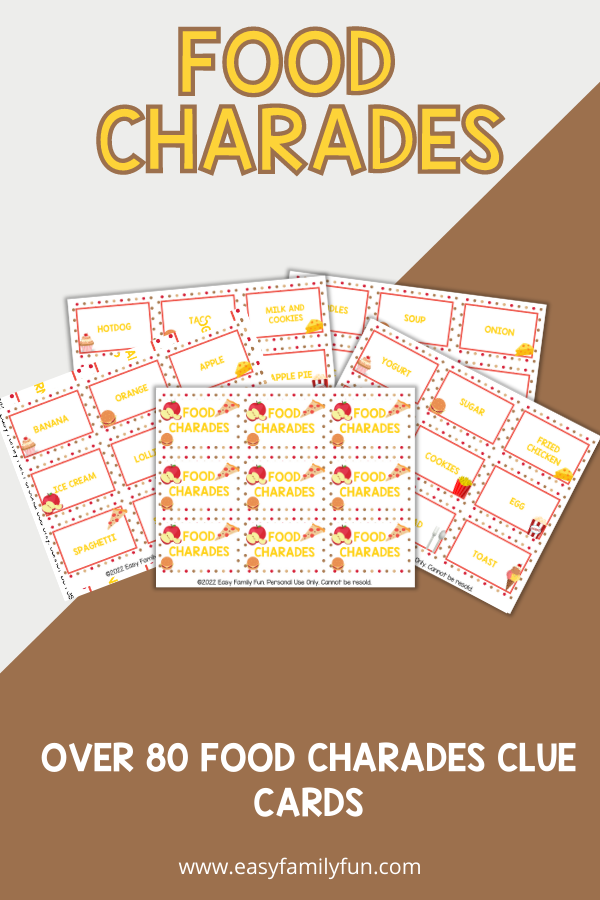 Why I Love Charades
I love the way that charades stretch everyone's creativity. Sometimes it's really difficult to think of a different way to act out the clues so that everyone will understand. This is a great brain exercise!
Charades also have a long lifespan. Kids can start playing as soon as they can read (or have someone who can help them) and they can keep playing this game all the way into old age! The instructions are simple enough for everyone to understand, the game takes almost no prep work, and within minutes, everyone is laughing and having fun.
Ultimate Charades Bundle!
Grab our ultimate charades bundle that includes over 23 charades games for one very low price! Your friends and family will love playing charades at all your get together and parties!
What You Need To Play Charades
All you need for Charades are the printed-out cards, a way to keep score, and a timer! It really couldn't be any simpler. I like to use a large whiteboard or chalkboard to keep score, or if that's not available, a large piece of paper works too. Of course, it's always fun to have a prize for the winner. Since this is food charades, make the prize edible!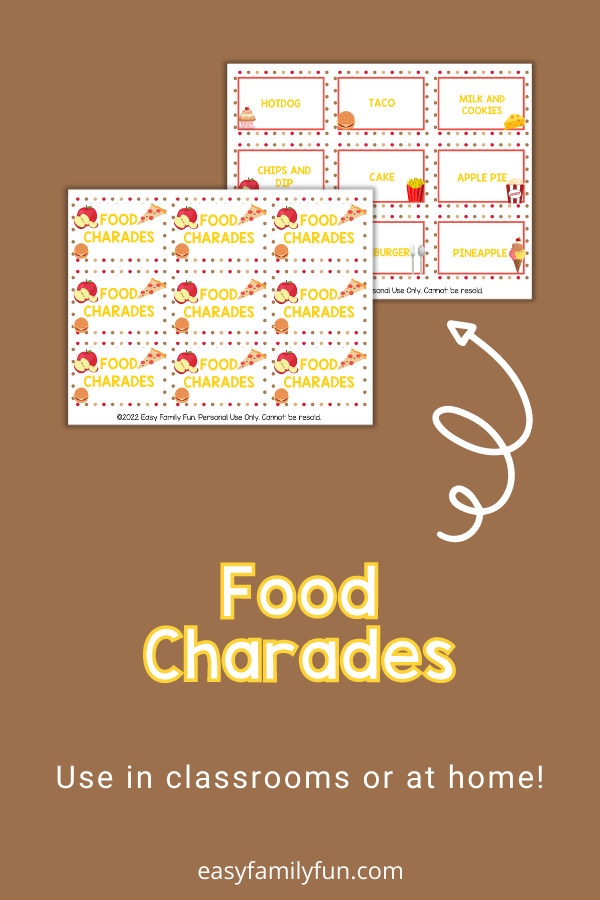 How To Play Food Charades
Playing charades with kids is a fun and easy activity that can be enjoyed by children of all ages. Here are some steps to follow to play charades with kids:
Gather your supplies: All you need to play charades is a list of words or phrases, a timer, and some paper and pencils to keep score.
Divide into teams: Divide the kids into two or more teams, depending on the size of the group. Each team should have at least two players.
Choose a word or phrase: One player from the first team chooses a word or phrase from the list and shows it to the other members of their team. They must then act out the word or phrase without speaking, while their teammates try to guess what it is.
Set a time limit: The team has a set amount of time, usually one or two minutes, to guess the word or phrase. The player who is acting out the word or phrase can continue to act until the time is up or their team guesses correctly.
Keep score: If the team guesses correctly within the time limit, they earn a point. If they do not guess correctly, the other team has a chance to guess and earn a point
Repeat with the other team: Once the first team has had a turn, the other team takes their turn, following the same steps.
Continue playing: Keep playing until all the words or phrases have been used, or until the kids get tired of playing.
Charades is a simple yet entertaining game that can be adapted to suit any age group. With these steps, you can easily play charades with kids and have a great time!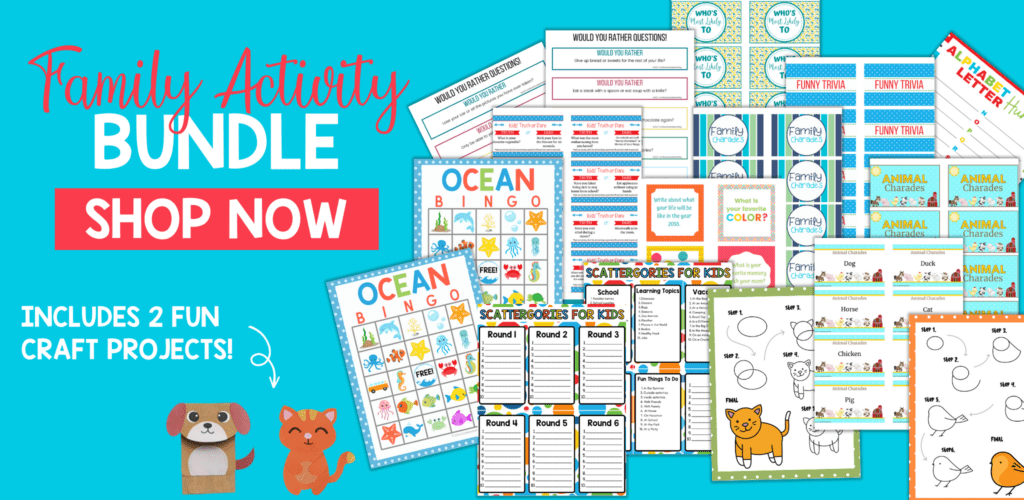 Tips And Tricks For Playing Charades
Make sure your timer is loud so that everyone can hear it when it goes off.
Pair younger players with an older partner to help them with acting
Adding the usage of props can be really fun!
It helps if the timekeeper and scorekeeper are not part of any of the teams.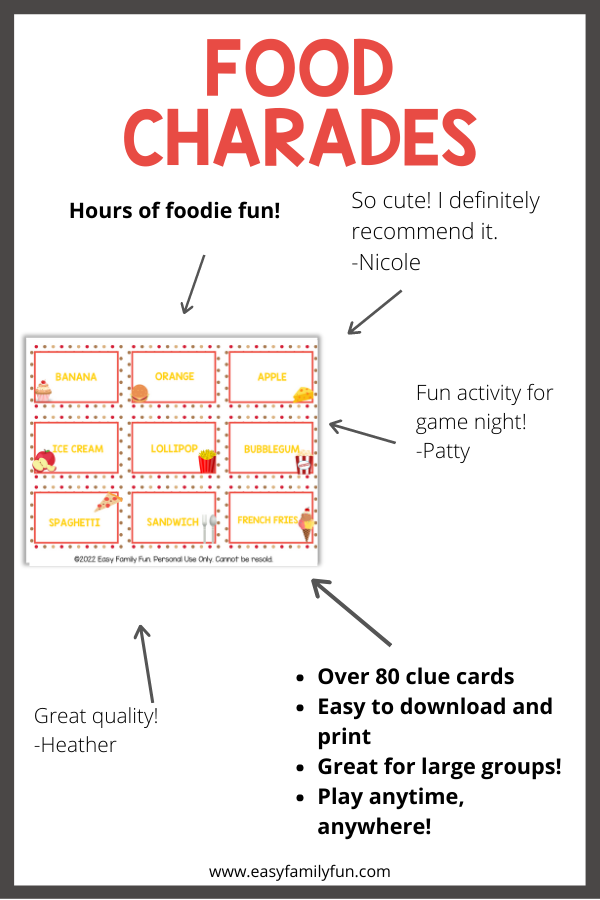 Best Food Charades Ideas
We know that life is busy and there are so many things to do. Family games shouldn't be complicated. Simply grab our Food Charades cards, print, cut and you're ready to start playing in minutes!
Banana
Orange
Apple
Ice cream
Lollipop
Bubblegum
Spaghetti
Sandwich
French Fries
Hot dog
Taco
Milk and cookies
Chips and dip
Cake
Apple pie
Popcorn
Hamburger
Pineapple
Yogurt
Sugar
Fried chicken
Tomato
Cookies
Egg
Cheese
Bread
Strawberry
Broccoli
Oatmeal
Watermelon
Mango
Sausage
Bacon
Fish
Noodles
Soup
Onion
Garlic
Black pepper
Chili
Juice
Elbow macaroni
Honey
Celery
Pizza
Chicken wings
Jackfruit
Lemon
Prune
Sugar cane
Tamarind
Biscuit
Donut
Pancake
Mac and cheese
Steak
Cereal
Chicken fillet
Tempura
Cupcake
Chocolate bar
Cheese stick
Corndog
Corn
Clam chowder
Banana bread
Cheeseburger
Waffle
Burrito
Hash brown
Muffin
Bagel
Mushroom
Cinnamon roll
French toast
Maple syrup
Butter
Porridge
Tortilla
Toast
Love Charades? Try these charades games!
How Do I Access My Free Printables?
Fill in the form above. You will receive an email in your inbox. If you don't see it, check your spam folder! You will then click to confirm your subscription. Once confirmed, you will be taken to Airtable (a different website), where all our free printables will be waiting for you! It is free to sign up for Air Table!
How Do I Print A PDF?
You'll need a program that supports PDFs. Adobe Acrobat is a great option. Open the program, click file, then print. Select your printer and the number of copies you want to print. Be sure you click double-sided if you want it to print on both sides. 
Can I Resell These?
You may not resell any printable that you find on our website or in our resource library. You may use them for class parties, at church, at home, or in the classroom. You may get these printed at an office supply store or copy center at your own expense.