Looking for something new for your next game night? Our Nature Charades are just what you need for the nature lovers in your family! Be sure to grab it today for hours of fun!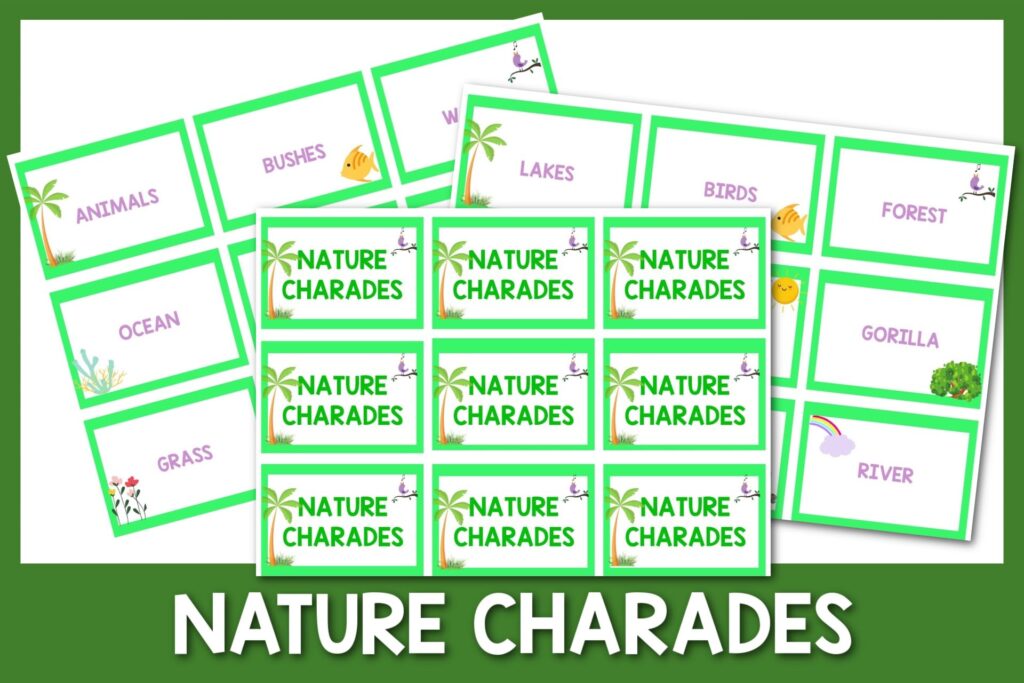 Nature Charades
We live in such a big, beautiful world with so much to enjoy! It's so fun to talk about all of the things we enjoy around us, and with Nature Charades, you can take the fun up to the next level! Your family will have so much fun acting out each nature clue and guessing as a team. It's sure to get them all excited about nature!
Charades is one of my family's favorite ways to play together! We love to get silly and make each other laugh as we act out the different clues. It's the perfect way to unwind and have fun after a busy day! We had so much fun with Nature Charades, and I know your family will too! Make sure to scroll to the bottom of this post to grab your free printable Nature Charades cards, and don't miss out on the fun!
For more exciting charades, check out our Dinosaur Charades and Verb Charades!
Why I Love Charades
It's so easy to set up and start playing charades! It's the perfect no-muss, no-fuss game for any family game night! All you need are a group of people and your printed charades cards, and you are ready to go!
Whether you have young children, teens, or a mixture of all ages, charades can be played by the whole family. Everyone is guaranteed to have a great time! You'll love how your family bonds over your time spent playing together!
How to Play Nature Charades
Divide into two or more teams. If your group is very large, you may want to form multiple teams. If you only have two people, that's okay too! You can take turns guessing each other's cards.
Decide which team will go first. You can decide this however you want! Flip a coin, see who can hop on one foot the longest, or create your own silly method!
To start the game, an actor from the first team chooses a card and then acts it out without using their mouth at all, not even to mouth words. The rest of the team has just one minute to guess. If they guess correctly within a minute, they get a point! Hooray!
If they don't guess it correctly, the other team has one chance to guess it and steal the point. Remember you only get one guess, so make it a good one! You might want to decide together as a team what your guess will be.
The game ends when you've run out of cards, when everyone has had a turn to act, or when you've reached a predetermined amount of points. Whoever has the highest points wins! Time to celebrate with some treats or prizes!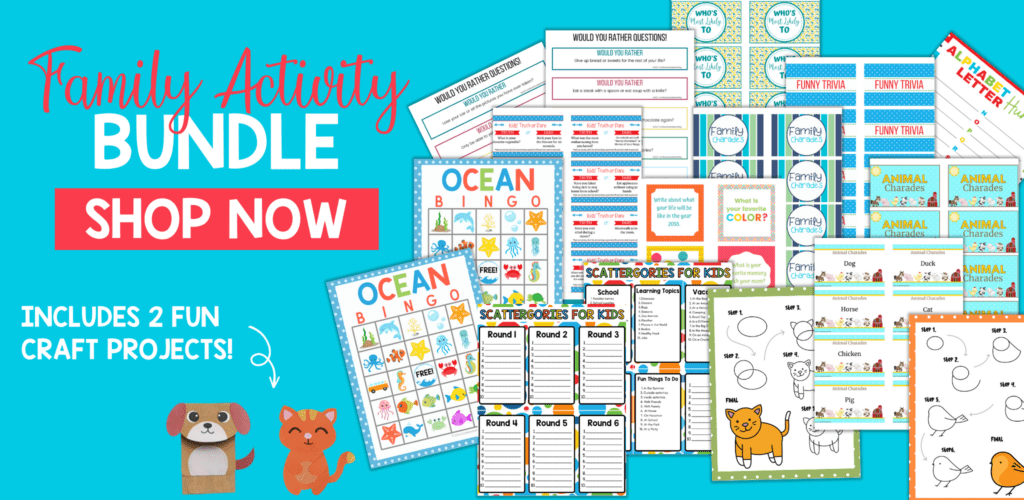 Tips and Tricks for Playing Nature Charades
To avoid any confusion or frustration during the game, I recommend going over the rules as a group before playing to make sure everyone understands them.
Using a timer can help you keep track of each turn.
Use your hands! Actors can tell their team how many words to guess by holding up that many fingers.
Don't be afraid to get silly when it's your turn to be the actor! Your team will have an easier time guessing, and you'll have a lot more fun!
Nature Charades List
Animals
Bushes
Water
Ocean
Dog
Ponds
Grass
Lakes
Trees
Lakes
Birds
Forest
Sea
Sand
Gorilla
Beach
Leaves
River
Mountains
Hills
Fruits
Shrimp
Soil
Gas
Sun
Rock
Coal
Air
Oil
Mineral
Flower
Stars
Waterfall
Sun
Fish
Rainbow
Raindrops
Path
Pond
Fire
Lightning
Kangaroo
Insects
Snow
Lagoon
Coral reef
Valley
Lily pad
Canyon
Cactus
Flower
Seed
Sky
Clouds
Rice field
Moon
Island
DNA
Starfish
Shark
Octopus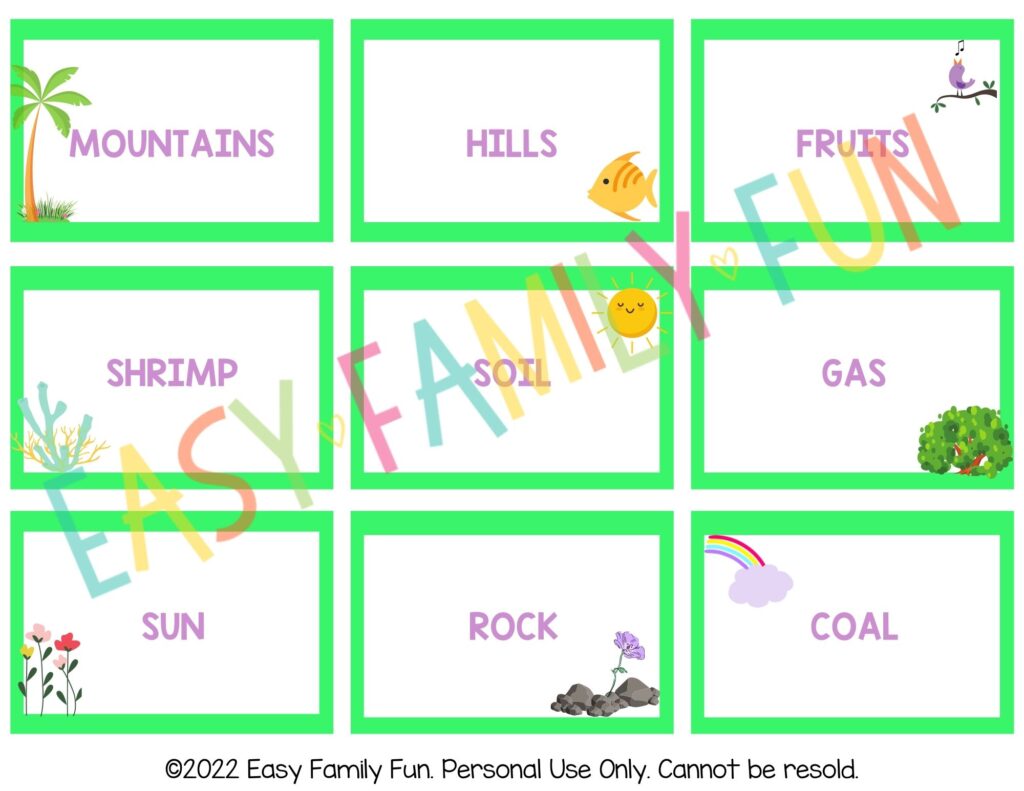 Grab your Nature Charades
Ready to get your Nature Charades printable cards? Be sure to sign up below for our free email list and grab them today! We'll send you exclusive offers and freebies that you won't want to miss!
Did your family have the best time playing this game? Be sure to share it on Instagram and tag us using #easyfamilyfun! We can't wait to see all the fun!
Love Charades? Try these charades games!
How Do I Access My Free Printables?
Fill in the form above. You will receive an email in your inbox. If you don't see it, check your spam folder! You will then click to confirm your subscription. Once confirmed, you will be taken to Airtable (a different website), where all our free printables will be waiting for you! It is free to sign up for Air Table!
How Do I Print A PDF?
You'll need a program that supports PDFs. Adobe Acrobat is a great option. Open the program, click file, then print. Select your printer and the number of copies you want to print. Be sure you click double-sided if you want it to print on both sides. 
Can I Resell These?
You may not resell any printable that you find on our website or in our resource library. You may use them for class parties, at church, at home, or in the classroom. You may get these printed at an office supply store or copy center at your own expense.