Looking for a game night that is out of this world? Grab our Space Charades today for some stellar fun with the whole family! It's sure to become your new favorite game!
Space Charades
My family looks forward to game night every week! It's such a great opportunity to have fun, laugh together, and make memories that will last a lifetime. Space Charades is the perfect family game because nearly everyone can play!
Preschoolers, teens, parents, and grandparents can all join in the fun with these simple rules and clues to act out!
Some of our favorite charades games have been Picture Charades, Animal Charades, Easter Charades, Food Charades and Dinosaur Charades, and of course, Space Charades. 
We always get a chuckle out of watching each other being silly and acting out each card!
It's so exciting when your team gets a point, and even more exciting when the other team gets a turn to try to steal a point!
Why not grab these Space Charades printable cards for your next game night? You'll be so glad you did!
If you are looking for other fun Space-themed activities, be sure to check out our list of Facts About Space or these fun Space Riddles!
Charades are sure to be a hit in your house! If you want some other fun versions to play, be sure to check out our Springtime Charades, Birthday Charades, Princess Charades, Mother's Day Charades, or Bible Charades.
Ultimate Charades Bundle!
Grab our ultimate charades bundle that includes over 23 charades games for one very low price! Your friends and family will love playing charades at all your get together and parties!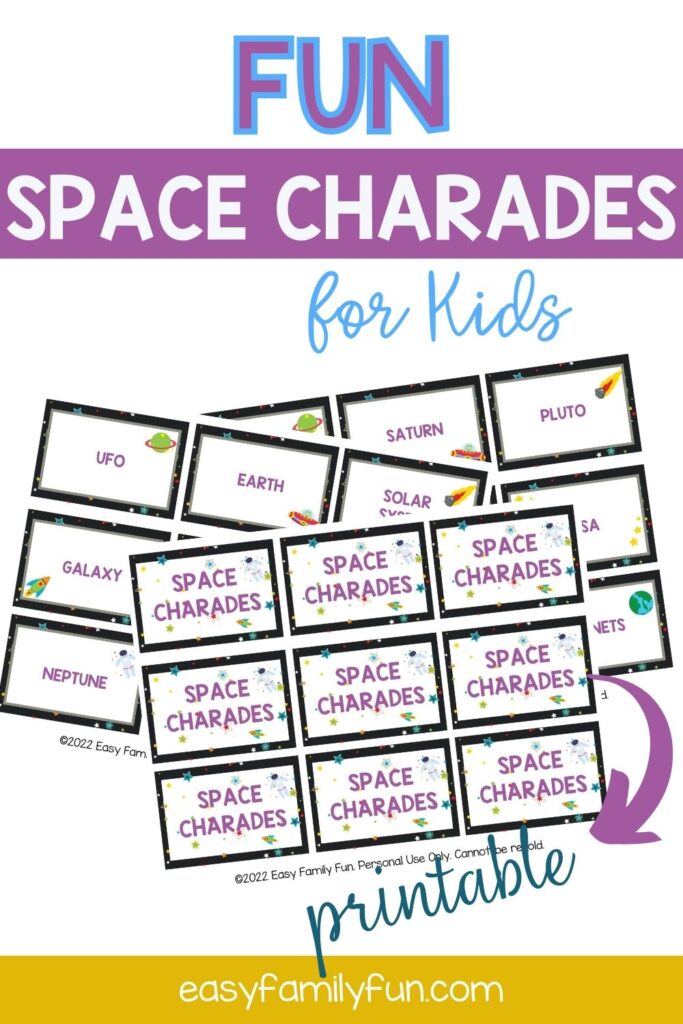 Why I Love Charades
Charades is perfect for an easy game night! All you need are these printable cards and a group of family or friends. There's very little setup, so you can get right to playing and having fun!
Charades is a fun game for any age or personality!
The rules are simple and easy to understand, so the whole family can get in on the fun. It's also a great way to break the ice and get to know each other better!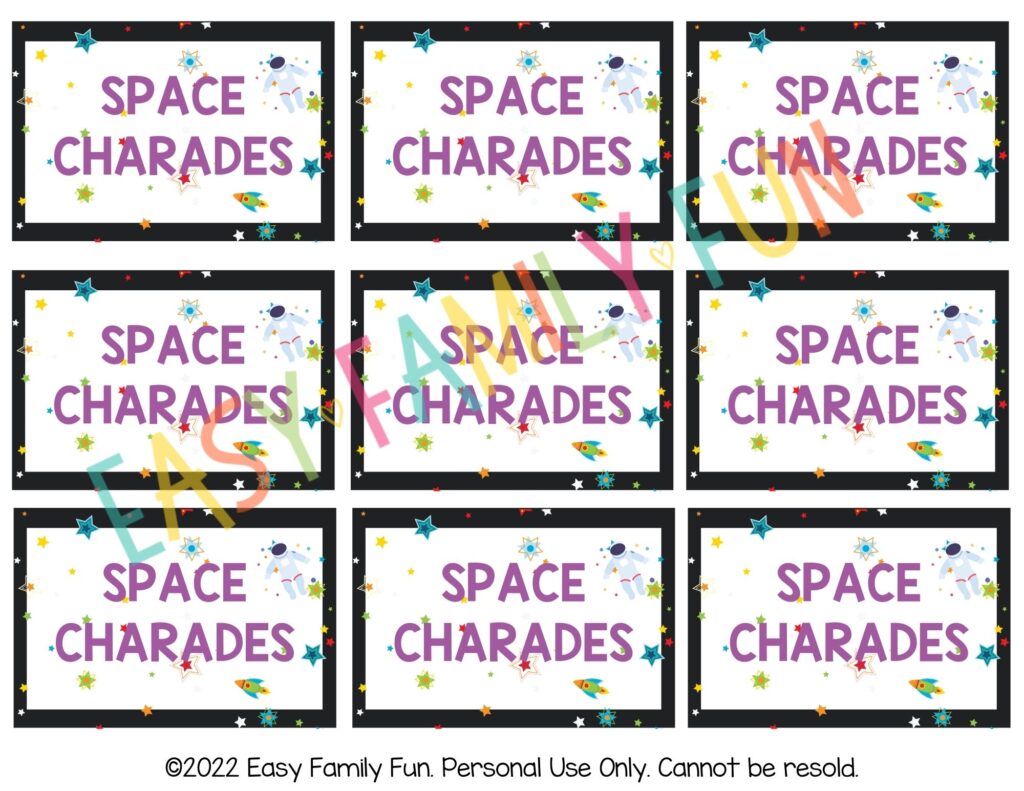 How to Play Space Charades
First, divide your group into at least two teams. If you have a very large group, consider dividing into multiple teams. This can make the game go smoother, and ensure that everyone gets a turn to act.
Next, determine which team will go first.
You can decide this however you want! Flip a coin, play paper-rock-scissors, see who can stand on one leg the longest, or any other fun way you come up with!
Someone from the first team, the actor, chooses a card and then acts it out while the rest of the team guesses.
The actor must not use their mouth at all to speak, make sounds, or mouth the words.
If their team guesses the right answer in 1 minute or less, they get a point! If they don't, the other team gets one chance to guess.
Now it's the next team's turn!
Each team takes a turn until the cards are gone, each person has had a turn acting, or when a team has reached a predetermined amount of points.
Tips and Tricks for Playing Space Charades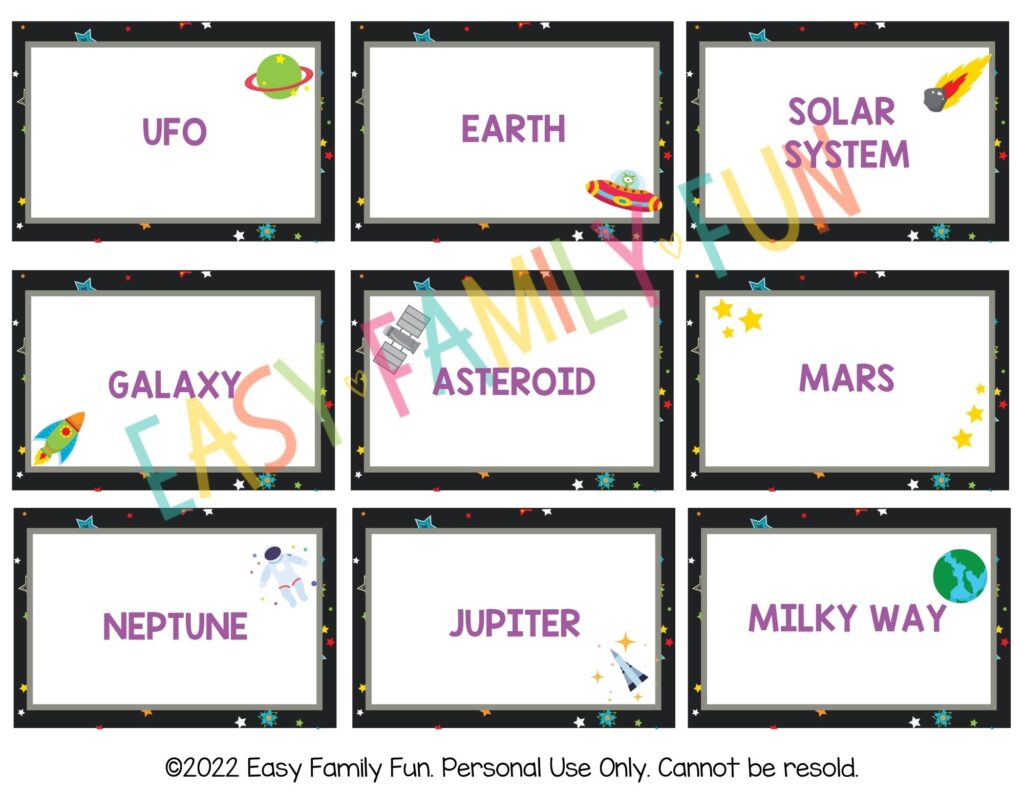 Make sure everyone understands the rules before playing. This can help avoid any confusion or frustration during the game.
Use a timer to help you keep track of each team's turn.
It can really help for the actors to use their hands to indicate how many words the guesser should guess.
Don't be afraid to be silly! The more you are willing to act out each card, the better your team will do, and the more fun you will have!
Space Charades List
UFO
Earth
Solar System
Galaxy
Asteroid
Mars
Neptune
Jupiter
Milky Way
Mercury
Saturn
Pluto
Satellite
Space shuttle
NASA
rocket
Gravity
Planets
Eclipse
Sky
Astronaut
Stars
Orbit
Moon
Shooting Star
Sun
Alien
Meteor
Moon Walk
Spaceship
Universe
Outer space
Scientist
Cosmos
Lunar Eclipse
Astronomy
Uranus
Comet
Meteoroid
Constellation
Ecosphere
Nebula
Rotation
Zodiac
Crater
Dust
Half Moon
Crescent Moon
Full Moon
New Moon
Telescope
Apollo
Houston
Shooting Star
Grab your Space Charades
Ready to get your Space Charades printable cards? Be sure to sign up below for our free email list and grab them today! We'll send you exclusive offers and freebies that you won't want to miss!
Does your family love this game? We'd love to see it! Be sure to tag us on Instagram using #easyfamilyfun!
Love Charades? Try these charades games!
How Do I Access My Free Printables?
Fill in the form above. You will receive an email in your inbox. If you don't see it, check your spam folder! You will then click to confirm your subscription. Once confirmed, you will be taken to Airtable (a different website), where all our free printables will be waiting for you! It is free to sign up for Air Table!
How Do I Print A PDF?
You'll need a program that supports PDFs. Adobe Acrobat is a great option. Open the program, click file, then print. Select your printer and the number of copies you want to print. Be sure you click double-sided if you want it to print on both sides. 
Can I Resell These?
You may not resell any printable that you find on our website or in our resource library. You may use them for class parties, at church, at home, or in the classroom. You may get these printed at an office supply store or copy center at your own expense.