Animal Charades for kids is a fun and educational game that combines the classic game of charades with the fascinating world of animals. Perfect for encouraging creativity, teamwork, and critical thinking skills while providing a fun and engaging way to learn about different animals and their characteristics
Charades is the perfect game to play as a family because everyone, from the kids to the grandparents can play and have fun together. It's also a great game to pull out when you just have a few minutes to kill before your next activity. You can play a quick round and enjoy the laughs!
Once your kids have gotten good at Charades, they'll want more! Try our Summer Charades or Nature Charades next!
Why I Love Charades
Charades is such a blast to play. We always end up laughing so hard at the acting. I love that everyone can participate. Anyone who isn't comfortable acting can still be part of the team, guessing away. I love to see everyone's creativity and the way the teams work together and support each other.
Ultimate Charades Bundle!
Grab our ultimate charades bundle that includes over 23 charades games for one very low price! Your friends and family will love playing charades at all your get together and parties!
What You Need To Play Charades
Charades is a simple game, and has very few pieces. All you need are some willing participants, these printable charade cards, a timer of some kind, and a way to keep score. I like to use a large whiteboard, chalkboard, or piece of paper taped to the wall.
How To Play Animal Charades
Divide your group into at least two teams and decide who will go first.
The first team will choose an actor to go first. The actor will come to the front of the room and pick a card. The timekeeper will start the timer.
The team has one minute to guess the clue on the card. The actor is not allowed to make any sounds or to mouth words.
If the clue is guessed correctly before the timer is up, that team gets a point. If the clue is not guessed, the other team gets one try to guess the clue. If they do it, they get a point, if they do not, no one gets the point.
The game ends when all the cards are gone!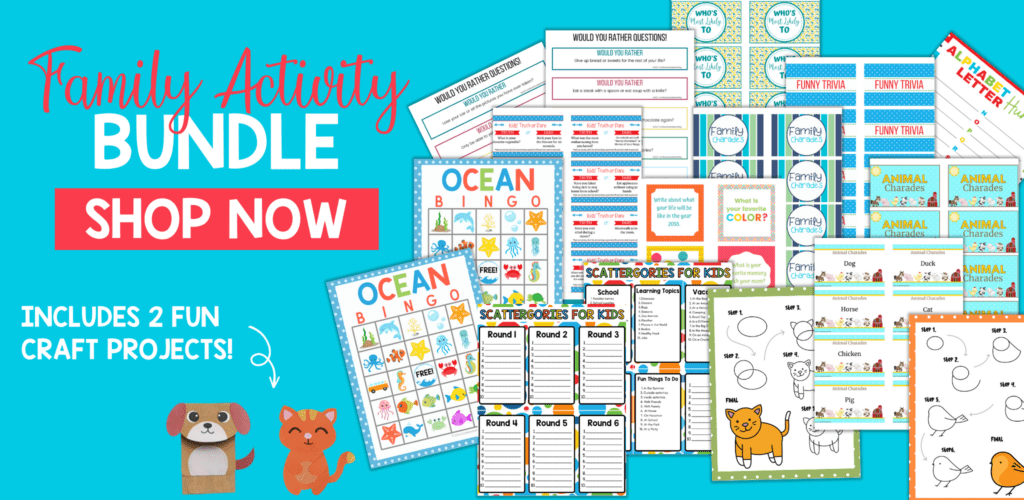 Tips And Tricks For Playing Charades
Younger children sometimes have a hard time figuring out how to act out something without using any sounds. For Animal charades, let your youngest kids make the sound of the animal they are acting out.
Allow props for your charades – this adds another element of creativity and can be so funny!
Use a large visual timer on a TV screen so everyone can easily see how much time is left.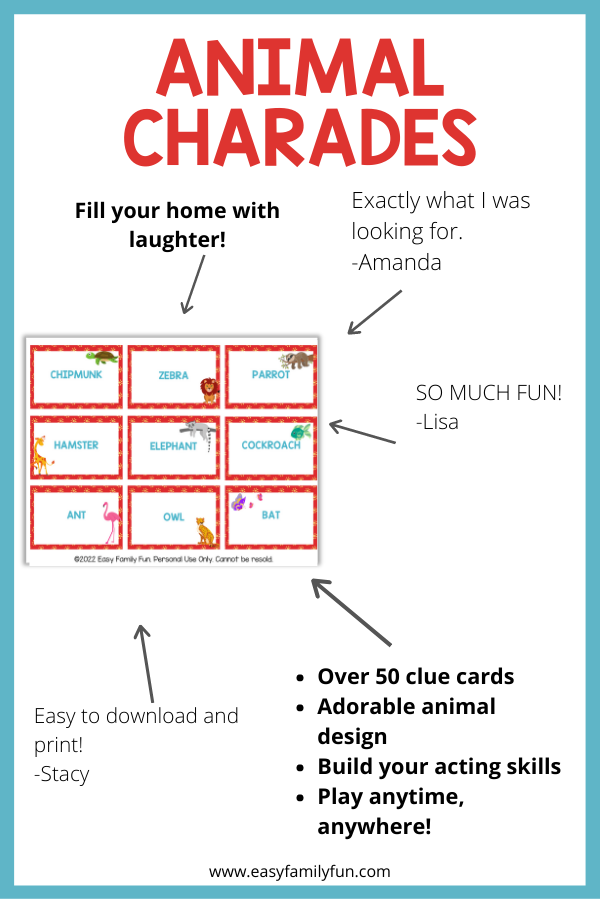 Animal Charades Ideas
We know that life is busy and there are so many things to do. Family games shouldn't be complicated. Simply grab our animal Charades cards, print, cut and you're ready to start playing in minutes!
Camel
Spider
Goldfish
Donkey
Penguin
Monkey
Mouse
Orangutan
Cheetah
Lizard
Caterpillar
Butterfly
Panda
Tiger
Alligator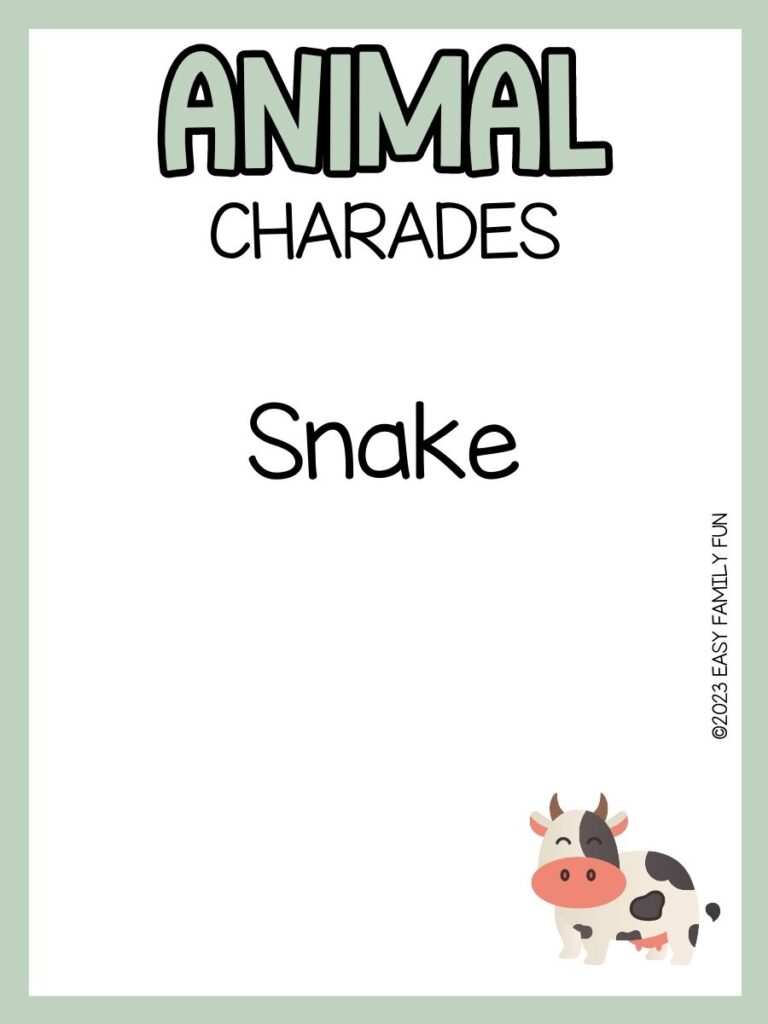 Snake
Kangaroo
Gorilla
Koala
Eagle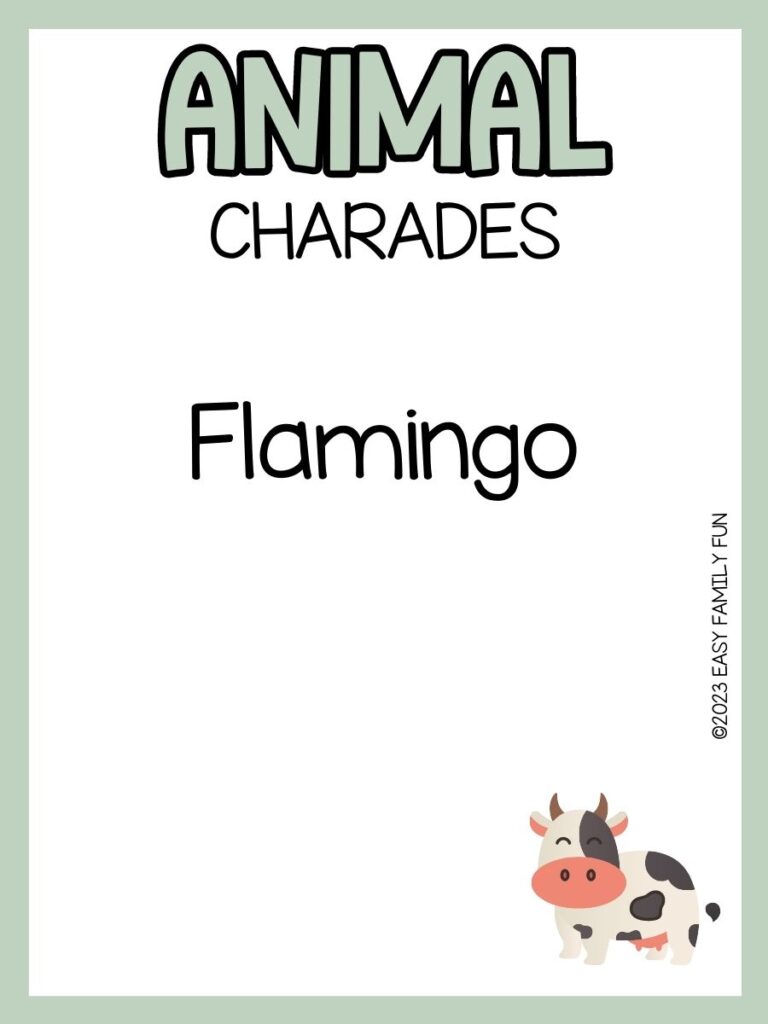 Flamingo
Duck
Rabbit
Rooster
Dolphin
Cat
Chipmunk
Zebra
Parrot
Hamster
Elephant
Cockroach
Ant
Owl
Bat
Panther
Bear
Wolf
Snail
Shark
Swan
Worm
Crab
Jellyfish
Guinea Pig
Love Charades? Try these charades games!
How Do I Access My Free Printables?
Fill in the form above. You will receive an email in your inbox. If you don't see it, check your spam folder! You will then click to confirm your subscription. Once confirmed, you will be taken to Airtable (a different website), where all our free printables will be waiting for you! It is free to sign up for Air Table!
How Do I Print A PDF?
You'll need a program that supports PDFs. Adobe Acrobat is a great option. Open the program, click file, then print. Select your printer and the number of copies you want to print. Be sure you click double-sided if you want it to print on both sides. 
Can I Resell These?
You may not resell any printable that you find on our website or in our resource library. You may use them for class parties, at church, at home, or in the classroom. You may get these printed at an office supply store or copy center at your own expense.