Birthday charades are the perfect way to celebrate another year! It is the perfect game for fun and entertainment everyone can enjoy together! Just download, print, and start playing in no time.
Charades are one of the best ways to create long-life memories that involves everyone! It is such a fun game that gets everyone moving and laughing! Birthday Charades is perfect for birthday parties, gatheerings, or celebrating your unbirthday! You can even check out our Charades For Kids , Zoo Charades, and The Best Nature Charades for more great ideas and lots of fun for everyone!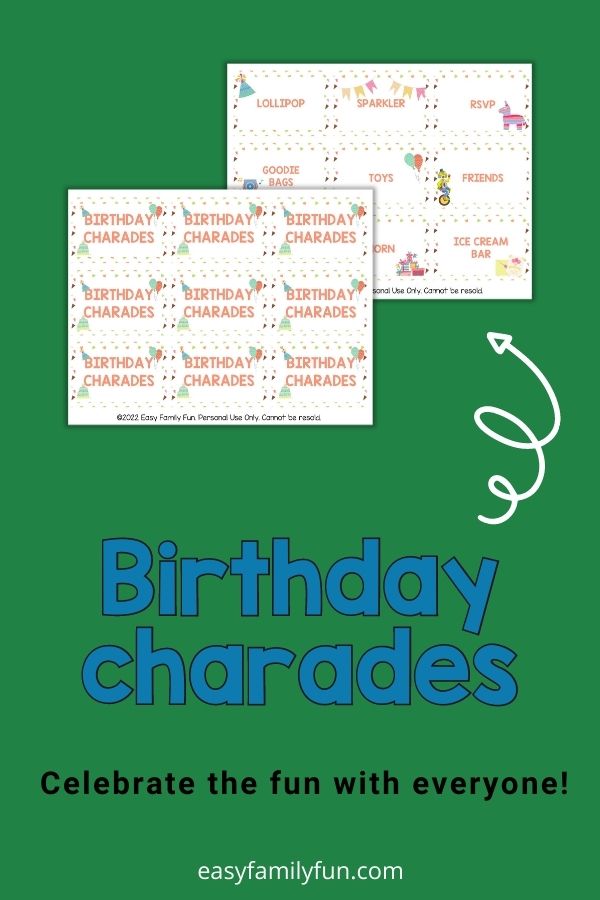 Why I Love Birthday Charades
Charades is a game that has been past down for generations of bringing our family together through laughter. I remember playing as a child with my parents and we have carried this same tradition to our own family.
It holds a special place in my heart as I have seen it create lifelong memories that we have gotten to share with our kids.
It is an excellent game to have on hands so you can play it at a moments notice because it requires no set-up time!
If your family loves teamwork and a little friendly competition, you will see how quickly this becomes one of your favorite go-to games!
Charades is the perfect game to bring people together.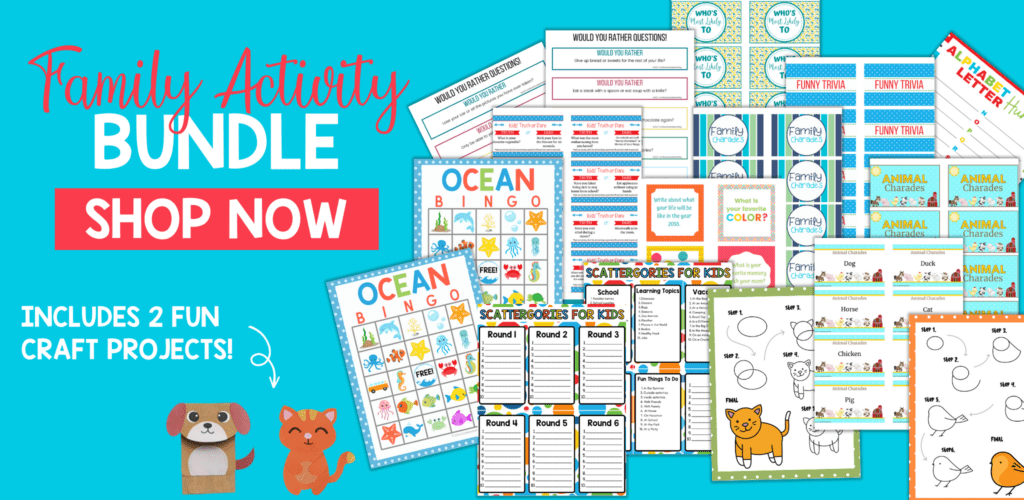 What You Need To Play Charades
When it comes to charades there is not much that you need.
Birthday charades ideas.
Timer
A way to keep score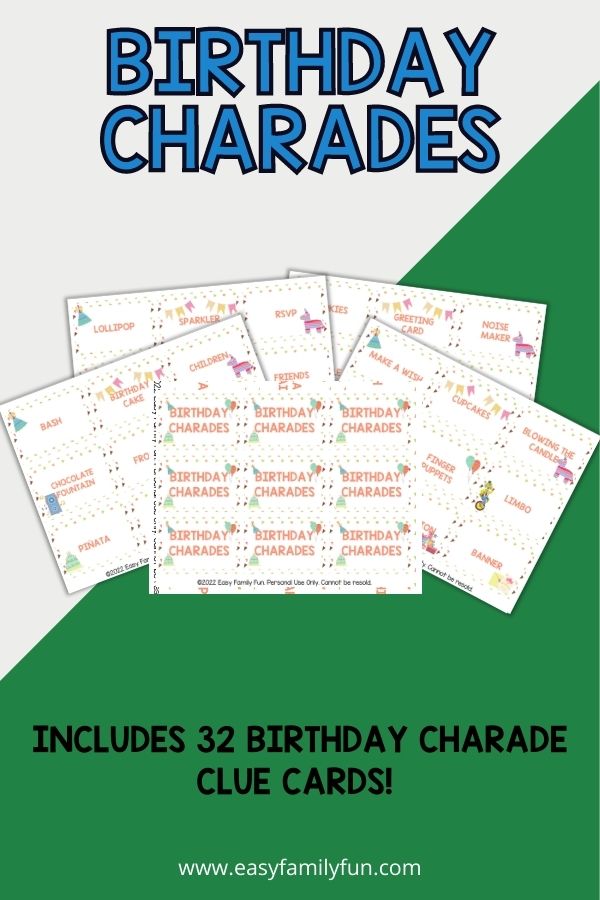 How To Play Birthday Charades
Playing birthday charades is easy!
Gather everyone together and then make two teams. This can be done by picking a team caption and have someone call names or the good ol count off of group 1 and 2. You can then flip a coin or play paper rock scissors to see who goes first.
Next, choose your first actor on that team. They will pick the top card off the stack and look at the word. Once they have a chance to look, the timer will then start.
They will have one minute to try and get their team to guess the clue. Be sure you don't move your lips, make sounds, or say any words. Only actions.
If your team gets it right within the time, they will get a point. If you don't get it right, then the other team gets one guess to see if they can get it right. If they do, they get the point. If no one answers it correctly, no points are awarded.
The game ends when a team reaches a predetermined amount of points or you use up all the cards.
Tips And Tricks For Play Charades
Be sure that you divide the teams fairly. Pair younger kids with older kids to ensure everyone has fun playing.
Don't be afraid to be silly, this allows you to really have fun and create memories with one another.
For younger kids, you may want to add about 10-15 seconds to their acting time.
For non-readers have someone read the clue to them so they can act it out.
Birthday Charades Ideas
Ready to get started? Grab these birthday charades cards that you can download, print, and start playing now.
Bash
Birthday Cake
Children
Chocolate Fountain
Frosting
Party Hat
Pinata
Juice
Pizza
Lollipop
Sparkler
RSVP
Goodie Bags
Toys
Friends
Party Dress
Horn
Ice cream bar
Magician
Barbecue
Pirate themed
Presents
Greetings
Inflatable Castle
Blowing up Balloons
Birthday song
Ice cream
Clown
Treasure Hunt
Pin the tail on the donkey
Icing
Age
Birth date
Balloons
Birthday Card
Confetti
Cookies
Greeting card
Noise Maker
Popsicle
Party Favors
Love Charades? Try these charades games!
How Do I Access My Free Printables?
Fill in the form above. You will receive an email in your inbox. If you don't see it, check your spam folder! You will then click to confirm your subscription. Once confirmed, you will be taken to Airtable (a different website), where all our free printables will be waiting for you! It is free to sign up for Air Table!
How Do I Print A PDF?
You'll need a program that supports PDFs. Adobe Acrobat is a great option. Open the program, click file, then print. Select your printer and the number of copies you want to print. Be sure you click double-sided if you want it to print on both sides. 
Can I Resell These?
You may not resell any printable that you find on our website or in our resource library. You may use them for class parties, at church, at home, or in the classroom. You may get these printed at an office supply store or copy center at your own expense.