If you are looking for a fun game for your St. Patrick's Day celebration, look no further than St. Patrick's Day Bingo. Perfect for at home or in the classroom, both kids and adults will love these festive bingo cards. Just download and print your cards, then get ready to play!
Regardless of heritage, St. Patrick's Day is one holiday that is often embraced by all. This St. Patrick's Day Bingo game is perfect for celebrating this lucky holiday with both kids in the classroom and families at home. These bingo cards, with their colorful, lively pictures, will definitely put you in the spirit of the holiday!
St. Patrick's Day Bingo
Despite the numerous times I have played bingo, I still love playing it. Maybe it is the nostalgia from playing it in my childhood with my family, or maybe it's because it is a game that everyone can play together.
These St. Patrick's-themed bingo cards are a perfect alternative to the traditional bingo game. Both younger and older children can play with the easy to find pictures.
Whether you are preparing for a classroom bash or a family party, you'll find it is easy to bring this bingo game to add some fun! It is perfect for kids and adults of all ages. Just don't forget to print and bring your bingo cards along!
If you're looking for some other really fun St. Patrick's Day activities, check out our St. Patrick's Day Charades. If you're having an adult party, our St. Patrick's Day Puns for Adults would be a hilarious addition to your gathering.
Love bingo? Be sure to check out these other fun games like our Fall Bingo Game, Halloween Bingo, and Thanksgiving Bingo.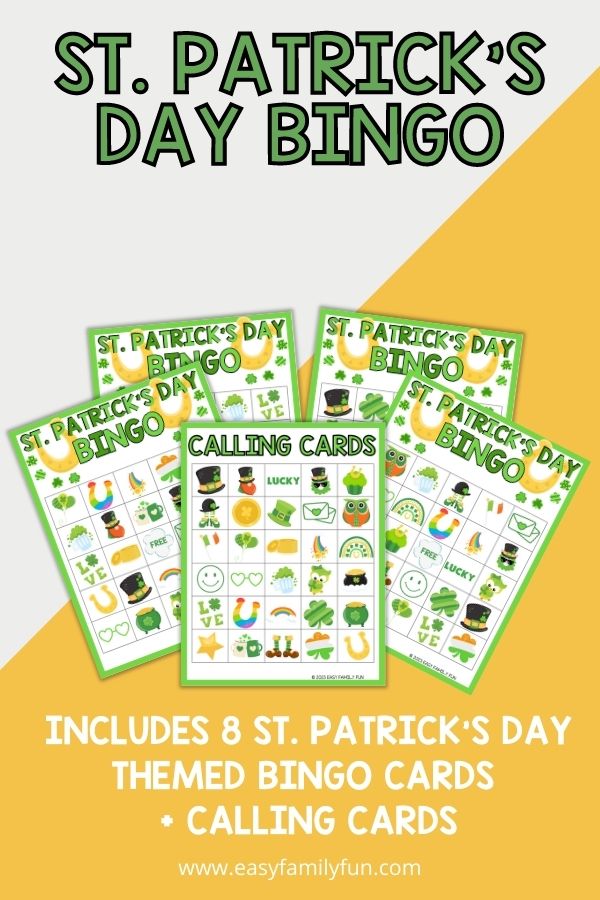 More St. Patrick's Day Fun!
Are you looking for more fun St. Patrick's Day activities with friends and family? You will want to grab our ultimate St. Patrick's Day bundle loaded with all kinds of fun activities to help you connect with the ones you love! Use these fun activities at home or in the classroom. This bundle comes with so many activities for one incredible price.
How to Play St Patrick's Day Bingo
Bingo is easy to set up and easily played in any setting. With this kid-friendly format suitable for all ages, you'll be having fun in no time.
Download our 8 St. Patrick's Day bingo cards. Print at home or send to your local printing store.
You will then cut out the calling card squares that are located on the last page of the St. Patrick's Day Bingo PDF, and you may want to laminate them for extra durability.
Grab some markers to cover your squares that are called. You can use chocolate gold coins, gold Hershey's kisses, or any assortment of St. Patrick's Day-themed candy.
Provide each person with a bingo card and markers to use with their cards. Remember to have everyone put a marker on their "Free Space."
The caller will then draw a card. They will describe and show the picture to everyone playing. The players will then mark their cards.
The first player to get 5 markers in a row (horizontal, vertical, or diagonal) and yells "Bingo!" wins the game.
After a player wins, the cards can be cleared to start a new game.
Tips for Using St Patrick's Day Bingo
While printer paper works, bingo cards will look much better and last longer on cardstock and also laminate them.
If you to choose to laminate the cards, you can use dry-erase markers. These make a great alternative to using other markers.
Keep playing after the first player has won to see who can have two bingos on one board.
Consider having prizes for the winners. Here are some ideas:

Four Leaf Clover Glasses
A goodie bag of chocolate coins
Green bead necklace
Leprechaun stickers
Benefits of Playing Bingo
You'll find so many benefits from playing bingo with your family.
Helps encourage cooperative play.
Promotes good listening skills.
Allows for practicing fine motor skills.
Fosters self-regulation.
Promotes good sportsmanship when winning and losing.
Provides opportunities for laughter.
Encourages social interaction with others.
What's Included in St Patrick's Day Bingo
Eight bingo cards – each is unique but not different enough to play blackout bingo.
Calling card sheet – you will have one page of calling card squares that need to be cut out to use as your drawing pile for the caller.
Can I use these St Patrick's Day Bingo Cards in the classroom?
Yes, you can use these bingo cards in the classroom. When playing bingo with an entire class, it helps to divide the kids into small teams so you can use the eight cards for the classroom.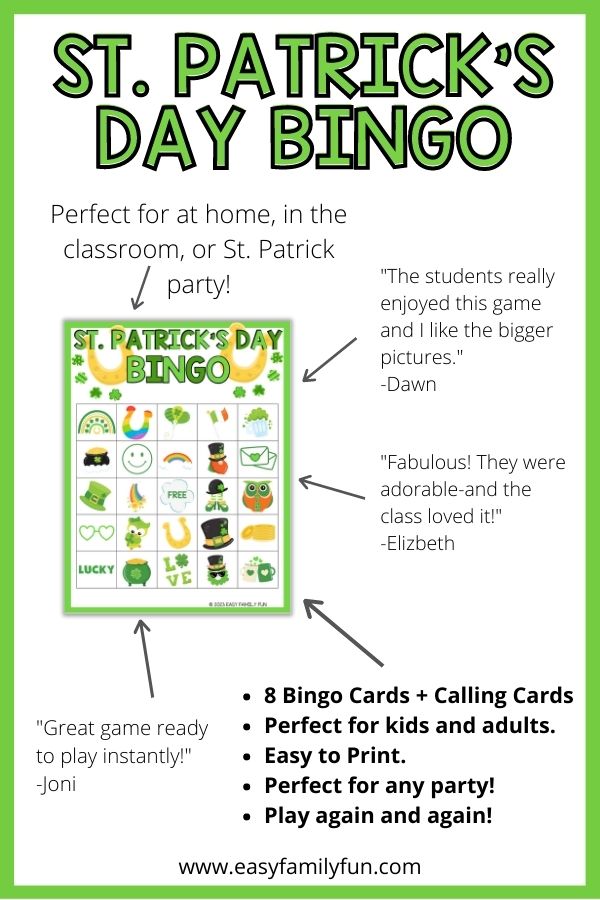 How to Print Your St Patrick's Day Bingo Cards
You will want to print these on a heavy-weight cardstock at home. You can also print them at a local print shop. It is pretty low-cost to get them printed that way if you choose that option.
Laminating your bingo cards are also something to consider to make them more durable.
Printable St Patrick's Bingo Game Boards
You can grab your St Patrick's Day bingo game by joining our email lists. You can also buy them here if you aren't quite ready to join our email list.
Looking for More Bingo Fun? Check These Out!
How Do I Access My Printable?
Fill in the form above. You will receive an email in your inbox. If you don't see it, check your spam folder! You will then click to confirm your subscription. Once confirmed, you will be taken to Airtable (a different website) where all our free printables will be waiting for you! It is free to sign up for Air Table!
How Do I Print A PDF?
You'll need a program that supports PDFs. Adobe Acrobat is a great option. Open the program, click file, then print. Select your printer and the number of copies you want to print. Be sure you click double-sided if you want it to print on both sides.
Can I Resell These?
You may not resell any printable found on our website or in our resource library. You may use them for class parties, at church, at home, or in the classroom. You may get these printed at an office supply store or copy center at your own expense.