Do your kids love dinosaurs? If you answered yes, then these dinosaur bingo cards are just what you are looking for! Grab your set of 8 cards and get playing in no time. Perfect to use in the classroom or at home.
Dinosaur Bingo
Bingo is a family favorite in our home! It is perfect for kids and adults of all ages which is perfect for our family. Recently our youngest has become obsessed with dinosaurs, so I knew we had to create this fun dinosaur bingo game for family game night.
This dinosaur bingo is perfect for families, in the classroom, and for dinosaur themed birthday parties. If you love dinosaurs, then you will want to check out our other Dinosaur activities that can make the day fun like our Dinosaur riddles, Dinosaur Jokes for kids, or even our Dinosaur Charades.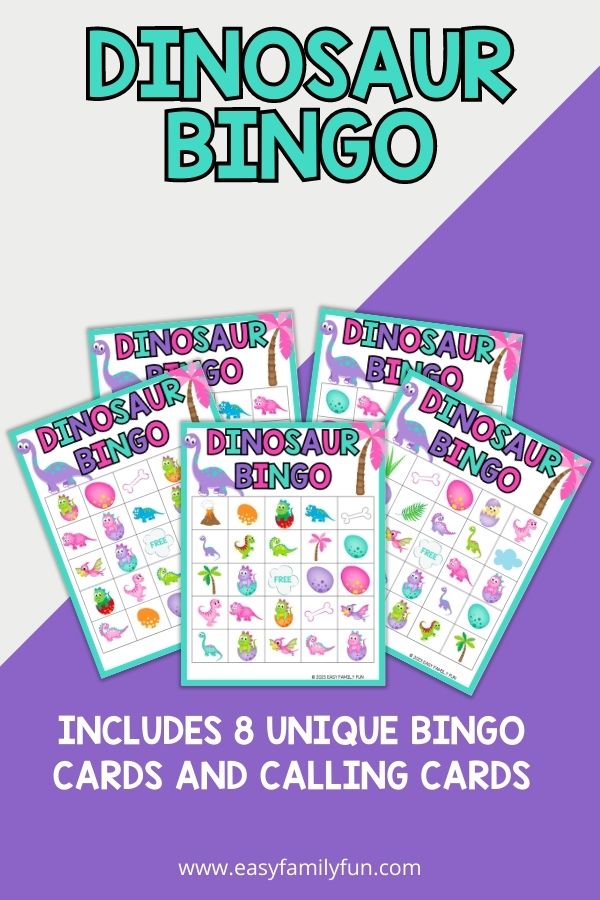 How to Play Dinosaur Bingo
Bingo is easy to set up and play.
First, you will want to download and print the 8 Dinosaur Bingo Cards. You can do this at home or you can send it to your local print shop. Make sure you have printed enough for your whole group.
Next, you will want to cut out the calling card squares. They are on the last page of the Dinosaur Bingo PDF. You may want to laminate the bingo cards as well as the calling cards so you can use them again and again without them getting damaged.
Grab some markers to mark your bingo squares. This can be candy, cereal pieces, pom pom balls, or paper. Anything really will work.
Give everyone a bingo card and markers.
The caller then draws a calling card and describes and shows the pictures to those playing. If they have it on your card, you will want to mark it.
The first player to get 5 markers in a row wins and yells "Bingo!". These can be diagonal, horizontal, or vertical.
After someone wins, you can clear your cards to start a new game.
These dinosaur bingo cards are not designed to play blackout.
Tips for Using Dinosaur Bingo
You may want to use heavier paper like cardstock when you print so they are more durable. Laminating the cards is another great option for added durability. 
Use little dinosaurs as markers to make your kids go crazy with excitement. 
You may want to give out prizes to the winners. Here are a few ideas:

A package of Dinosaurs
Coloring book with Dinosaur pictures
Dinosaur stickers

Sometimes it is fun to keep playing the same after someone has won to see if you can get more than one Bingo.
Benefits of Playing Bingo
Bingo is a great game; it is simple to learn but also because it has so many benefits. 
Boosts Fine Motor Skills and Pincer Grasp: It's an engaging way for kids to refine their motor abilities, honing their pincer grasp as they excitedly place their markers on the called-out numbers.
Cultivates Good Sportsmanship: Through healthy competition, children learn the art of winning with grace, losing with dignity, and understanding that the true victory lies in the joy of the game.
Enhances Observational Skills: Bingo teaches kids attention to detail as players attentively listen and promptly spot the announced numbers on their cards.
Fosters Focus: The dynamic pace of Bingo encourages children to concentrate and focus on the game.
Heightens Hand-Eye Coordination: As eyes scan the card while hands move to mark the right spots, children unknowingly develop excellent hand-eye coordination.
Fosters Social Interaction: A game of Bingo is a social activity at its heart, encouraging communication, cooperation, and camaraderie among peers.
Packs Loads of Fun: Last but certainly not least, Bingo brings laughter, cheer, and a whole lot of enjoyment, creating memories that kids will cherish.
Printable Dinosaur Bingo Game Boards
You can grab your dinosaur bingo game by joining our email list below. You can also buy them here if you aren't ready to join our email list.
What's Included in Dinosaur Bingo
Eight bingo cards – There are 8 dinosaur themed bingo cards; they are unique enough that you can play a game but cannot be used to play blackout bingo.
Calling card sheet
Can I use these Dinosaur Bingo Cards in the classroom?
Yes, you can use these bingo cards in the classroom. When playing bingo with an entire class, it helps to divide the kids into small teams so you can use the eight cards for the classroom.
How to Print Your Dinosaur Bingo Cards
You will want to print these on heavy-weight cardstock at home. You can also print them at a local print shop. It is pretty low-cost to get them printed that way if you choose that option.
Laminating your bingo cards is also something to consider to make them more durable.
Looking for More Bingo Fun? Check These Out!
How Do I Access My Printable?
Fill in the form above. You will receive an email in your inbox. If you don't see it, check your spam folder! You will then click to confirm your subscription. Once confirmed, you will be taken to Airtable (a different website) where all our free printables will be waiting for you! It is free to sign up for Air Table!
How Do I Print A PDF?
You'll need a program that supports PDFs. Adobe Acrobat is a great option. Open the program, click file, then print. Select your printer and the number of copies you want to print. Be sure you click double-sided if you want it to print on both sides.
Can I Resell These?
You may not resell any printable found on our website or in our resource library. You may use them for class parties, at church, at home, or in the classroom. You may get these printed at an office supply store or copy center at your own expense.