Are you ready to shamrock and roll? Well, you are in luck with these St. Patrick's Day Puns. You better beer-lieve that these puns will have your friends chuckling all night long.

We love a good pun, and these St. Patrick's Day puns are perfect for sharing with your friends. You can't pinch this because there is no denying that these are funny and make everyone laugh.
Be careful though; while most of our puns are kid-friendly, there are a few St. Patrick's Day puns on the list that are for mature eyes only. So go on and enjoy, and Irish you a whole pot of gold at the end of the rainbow!
For more puns be sure to check out our Hiking Puns and our Cat Puns.

St Patrick's Day Puns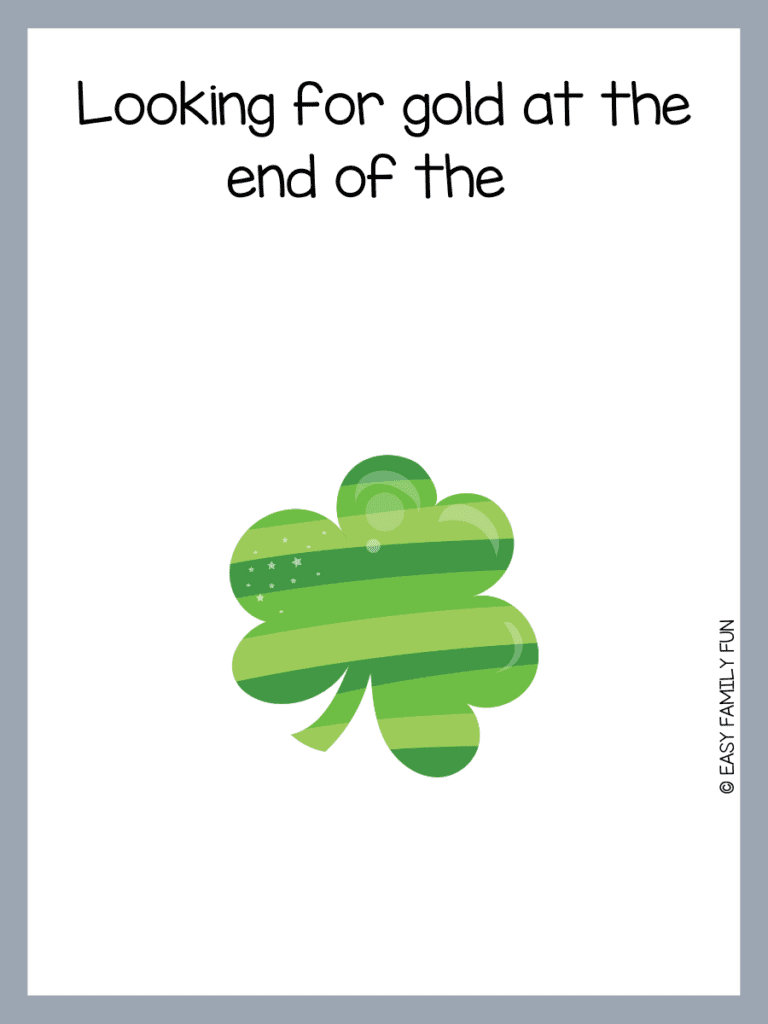 Looking for gold at the end of the 🌈
Top of the morning! 🎩
Hanging with these leprechauns 💚
A 🍀 in a patch of ☘️
Feeling lucky🤞
You're my lucky charm.
I'm ready to shamrock and roll.
Irish I may, Irish I might.
Don't worry, be happy.
It ain't over till it's clover.
You're the cutest clover in the patch.
Just brew it!
Irish you a happy St. Patrick's Day!
worth a shot.
I'm feelin' green.
Don't give into beer pressure.
You shamrock my world.
I'm a clover, not a fighter.
My boyfriend/girlfriend is green-tastic!
You're brew-tiful!
Drink happy thoughts.
Just me and my lucky charms.
Irish you a whole pot of gold!
Shake your shamrocks.
Life is brew-tiful!
Irish you were here.
You are un-beer-lievable!
Zero lucks given on St. Patrick's Day.
Can't pinch this.
The lager you wait, the better it tastes.
We are looking pitcher-perfect.
You better beer-lieve it!
You'll be Dublin your fortune soon.
I'm pure gold.
I'm going green, if you know what I mean.
Have a green-iffic day!
This is brew-tastic!
Wear green or leaf.
I'll be there in a pinch.
Irish you were mine.
I'm in pursuit of hoppiness.
He's my pinch charming.
I see green people.
You are spud-tacular.
Irish I was drinking.
People are always after me lucky charms.
The pint's the limit.
The paddy don't start till I walk in.
Dublin over in laughter.
I'm so lepre-gone right now.
Gold riddance.
Happy St. Cat-rick's day!
Sips getting real.
You're my pot of gold.
Look for a rainbow connection.
Get clover it, babe.
Dublin' the fun.
Irish I was back in bed.
Let's have a shamrockin' good time tonight!
We've made a jig mistake.
Don't you a-green?
Who's your paddy?
Take off all your cloves.
Deja brew all over again.
We're in a-green-ment.
You raise the bar.
You have me greening from ear to ear.
We've reached the pint of no return.
Ireland you money, if you'll pay me back.
Do you beer-lieve in magic?
Shamrocks and shenanigans for all!
Beer-lieve it or not!
If it ain't brogue, don't fix it.
Happy St. Pat-rex Day.
Here today, leprechaun tomorrow.
I'm Dublin down on what I said before.
You are pitcher perfect.
Burst into cheers!
Paddy like a rockstar.
I just want to say, "I love brew."
We like to paddy.
It's the most wonderful time of the beer.
Irish you luck.
Be-leaf me, you look great in green.
Thank brew very much.
Seeing green.
Sometimes you have to green and bear it.
Irish every day could be St. Patrick's Day.
I'm in a parade and paddy mode.
I'm here to paddy.
To beer or not to beer… That is the question.
Ready to get sham-rocked?
Beauty is in the eye of the beerholder.
You snooze. You booze.
Distill my beating heart.
Don't ever trust a leper-con!
We're getting shamrocked tonight.
Sip, sip, horray!
I call the shots.
Who's ready to party their shamrocks off?
Don't act draft.
Life of the paddy.
Paddy it up!
Kiss me, I'm Irish!
It's time to Paddy.
I'm clover the rainbow for you.
Cutest clover in the whole patch.
Third time's a charm.
I'm not Irish, but I still pinch!
You're pure gold.
Luckier than a four-leaf clover.
Irish you were mine.
We're always Dublin the fun.
Yeah, we're cute, get clover it.
You raise the bar.
Shamrocks and shenanigans for all, especially the Hannigans!
We are pitcher-perfect.
Seeing green.
Can't pinch this.
Irish you a happy St. Patrick's Day!
You're my lucky charm.
Any day is a good day to be Irish.
You shamrock my world.
Let's sham-rock!
Lucky, blessed, and all the rest.
Everyone's Irish today
Erin go Bragh!
Green Glory.
You're my pot of gold.
Irish it was always St. Patrick's Day.
Wishing on every four leaf clover.
Sassy lass.
Your Galway girl forever.
A good friend is like a four leaf clover: hard to find and lucky to have.
I've got the luck of the Irish in me.
Not lucky, just blessed.
Gingers unite!
Who needs luck with friends like these!
Everyone loves an Irish girl.
Eat, drink, and be lucky!
Green's my favorite color.
Shenanigans 2023.
Just took a DNA test—turns out I'm 100% Irish.
Not your average lucky charm.
I be-leaf in the magic of St. Patrick's Day.
I just want to say, I love brew.
Sip, sip, hooray!
That last dance was a jig mistake.
He's my pinch charming.
Feeling brew-tiful.
The leprechauns made me do it.
I'm not Irish, but my coffee is.
The paddy don't start 'til I walk in.
This is the only green shirt I have.
Don't worry, beer happy.
I pinch back.
What a brew-tiful day!
I'm not Irish, but kiss me anyway.
Shamrockin' and rollin'.
Forget luck, give me beer.
Magically delicious!
Take a pitcher, it'll last longer.
Can't pinch this.
It's easy being green today.
Will pinch for beer.
Who needs luck when you have plenty of charm?
Ginger hair, don't care.
"Don't throw away luck on little stuff. Save it up." —Tim O'Brien
"Be still and know that I am. Be still and know. Be still. Be." —St. Patrick
"Yeah, it's St. Paddy's Day. Everyone's Irish tonight." —The Boondock Saints
"Being Irish is very much a part of who I am. I take it everywhere with me." —Colin Farrell
"The only sure thing about luck is that it will change." —Wilson Mizner
"If you're Irish, it doesn't matter where you go—you'll find family." —Victoria Smurfit
"Ireland is a land of poets and legends, of dreamers and rebels." —Nora Roberts
"For the whole world is Irish on the seventeenth o' March!" —Thomas Augustine Daly
"Whether I drink often or just once in a while; I'm always sure to raise a glass to the dear old Emerald Isle." —Pat Maloney
"If you're enough lucky to be Irish, you're lucky enough!" —Irish Saying
Irish Blessings for Instagram Captions
"May the road rise up to meet you. May the wind be always at your back."
"May your blessings outnumber the shamrocks that grow. And may trouble avoid you wherever you go."
"For each petal on the shamrock, this brings a wish your way: Good health, good luck, and happiness for today and every day."
"May your pockets be heavy and your heart be light, may good luck pursue you each morning and night."
"Wishing you a rainbow for sunlight after showers—miles and miles of Irish smiles for golden happy hours."
"May the Irish hills caress you. May her lakes and rivers bless you. May the luck of the Irish enfold you. May the blessings of Saint Patrick behold you."
"Hills as green as emeralds cover the countryside. Lakes as blue as sapphires and Ireland's special pride."
Do you know some more St. Patrick's Day puns that will make your friends laugh? Be sure to share them in the comments.
Love Jokes? Laugh with These!
Don't forget to subscribe to our email list so that you know when we add more great jokes to the site that will leave you laughing for hours!
How Do I Access My Joke Cards?
Fill in the form above. You will receive an email in your inbox. If you don't see it check your spam folder! You will then click to confirm your subscription. Once confirmed, you will be taken to Airtable (a different website) where all our free printables will be waiting for you! It is free to sign up for Air Table!
How Do I Print A PDF?
You'll need a program that supports PDFs. Adobe Acrobat is a great option. Open the program, click file, then print. Select your printer and the number of copies you want to print. Be sure you click double-sided if you want it to print on both sides. 
Can I Resell These?
You may not resell any printable that you find on our website or in our resource library. You may use them for class parties, at church, at home, or in the classroom. You may get these printed at an office supply store or copy center at your own expense.