Looking for some oink-tastic humor and snort-worthy fun? Well, you've come to the right place! We've gathered 120 hilarious pig names that will have you squealing with laughter. Whether you're looking for a comical name for your pet pig or simply want to add some appeal to a pig-themed event or story, these funny pig names are sure to bring a smile to your face.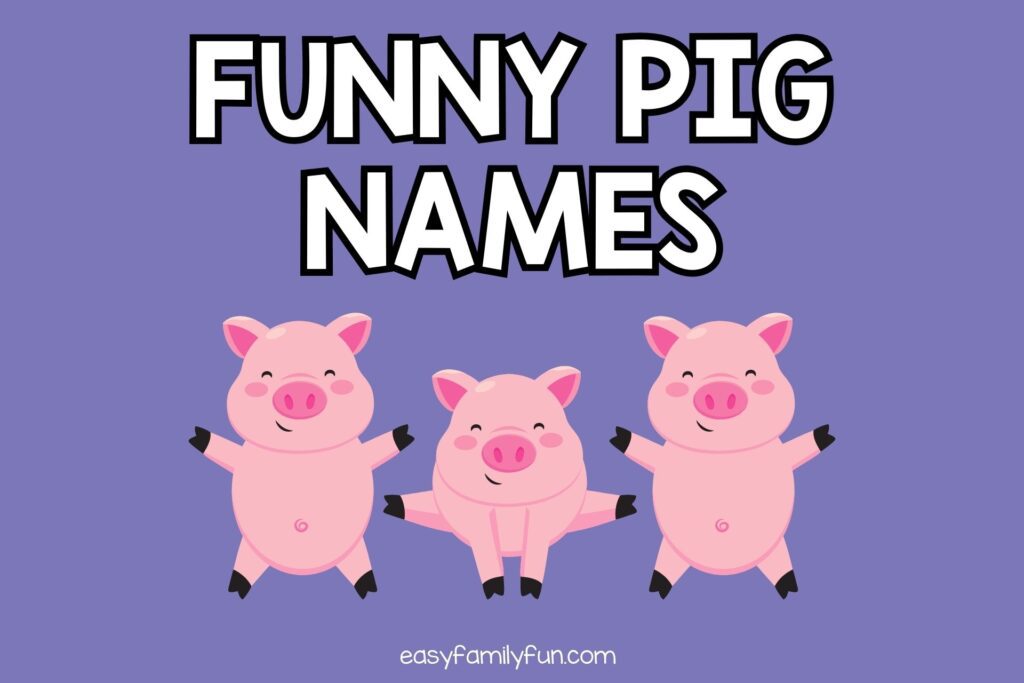 Funny Pig Names
From names using wordplay to whimsical references, prepare yourself for a hog-load of laughter as we embark on this swinetastic journey of comedic pig names. So buckle up and get ready to snort with delight at these side-splittingly funny pig names!
Abra-ham Lincoln
Amy Swinehouse
Anduille
Arnold Przenegger
Autumn
Ava Gaboar
Bacon
Baconator
Banana
Banjo
Barack Oboarma
Beatrix Trotter
Big Belly Nelly
Big Boy
Biscuit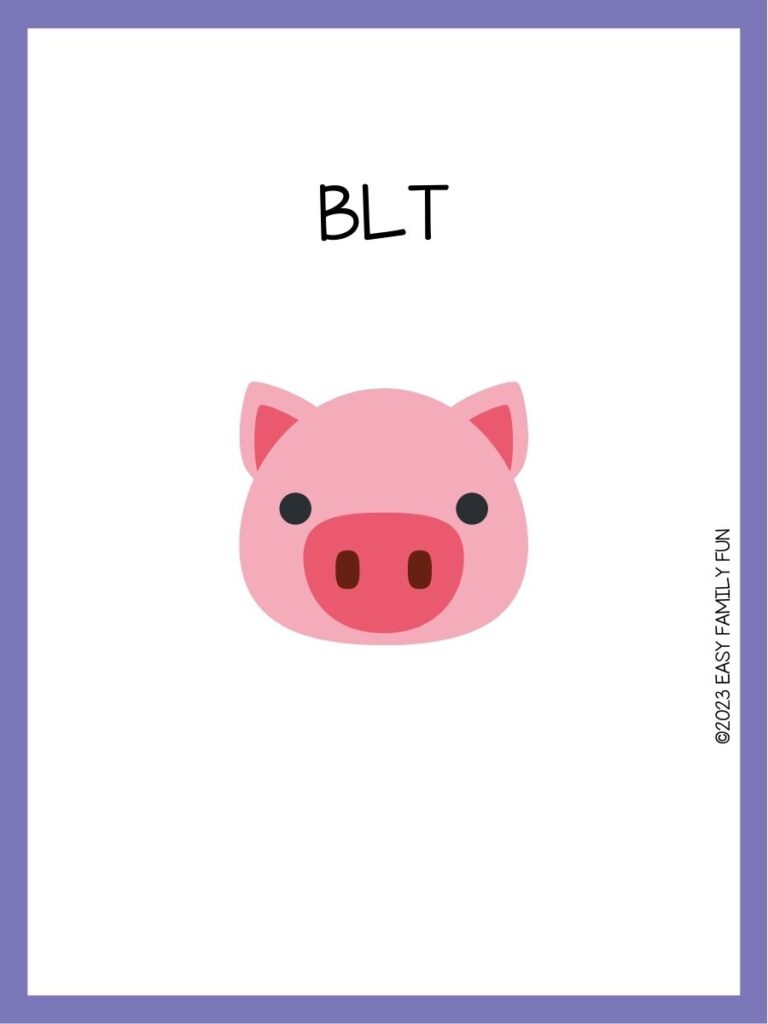 BLT
Boaris Johnson
Boss Hog
Bratwurst
Calvin Swine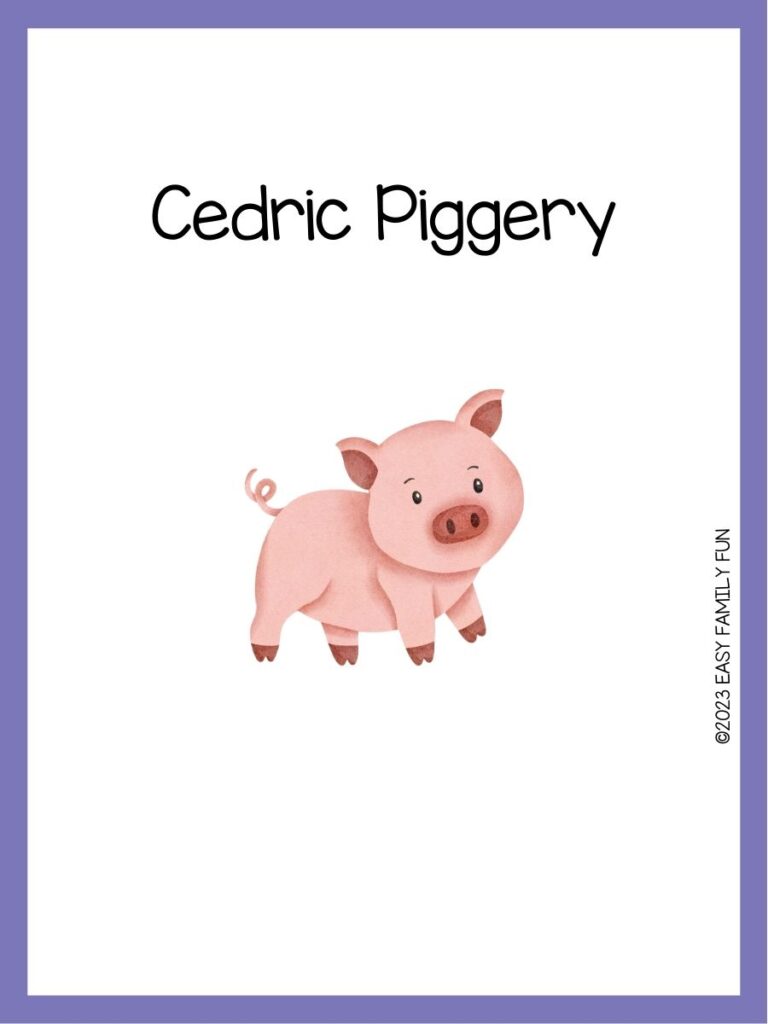 Cedric Piggery
Chewbacon
Chicharrones
Chops
Chorizo
Chris P. Bacon
Chubbs
Colonel Bacon
Corn chips
Count Prokulaa
Crispy
Curly
Domino
Duchess of Pork
Duke of Pork
Elvis Pigsley
Frank Swineatra
Frankenswine
Frankfurter
Good Chop
Gorger
Ham Solo
Hambo
Hambone
Hamlet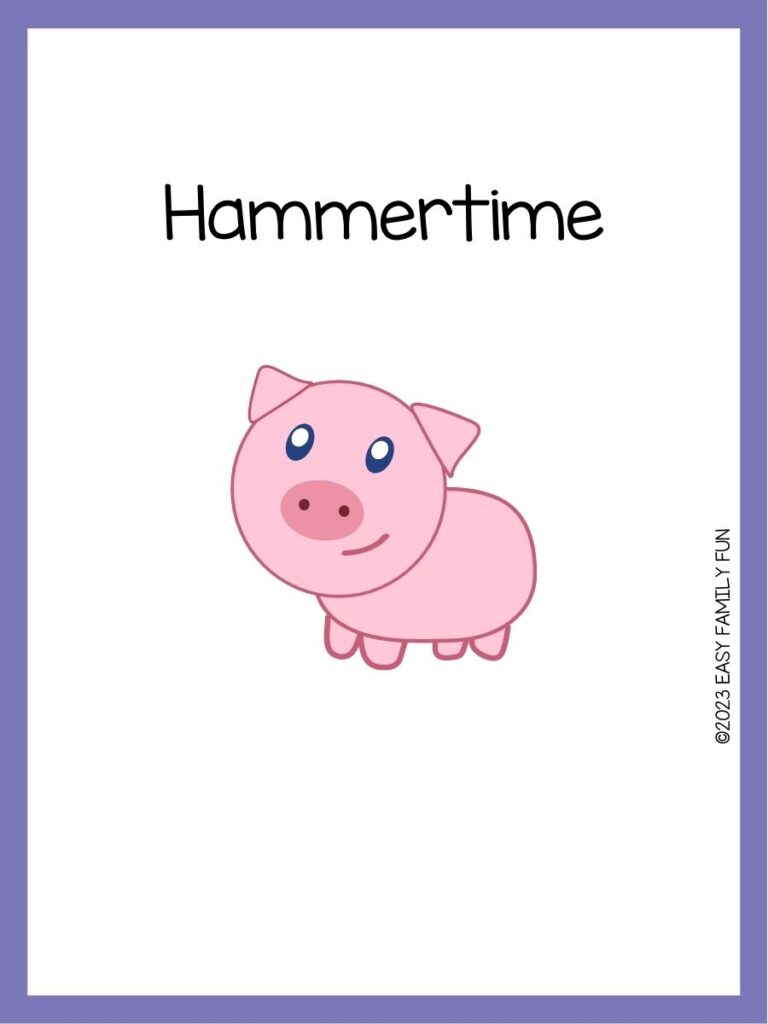 Hammertime
Hamton
Han Solo
Harry Porker
Harry Trotter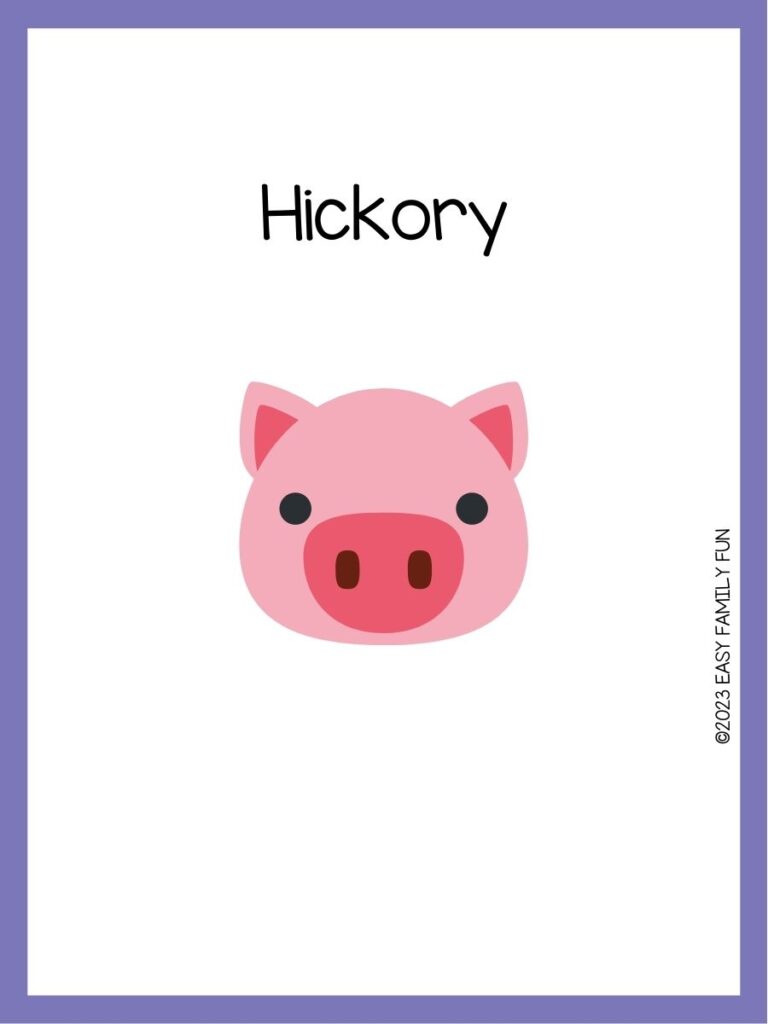 Hickory
Hippo
Hogsmeade
Hogwart
Hogwarts
Hogwash
Hogzilla
Jennifer Lopig
Jerky
Jimi Hamdrix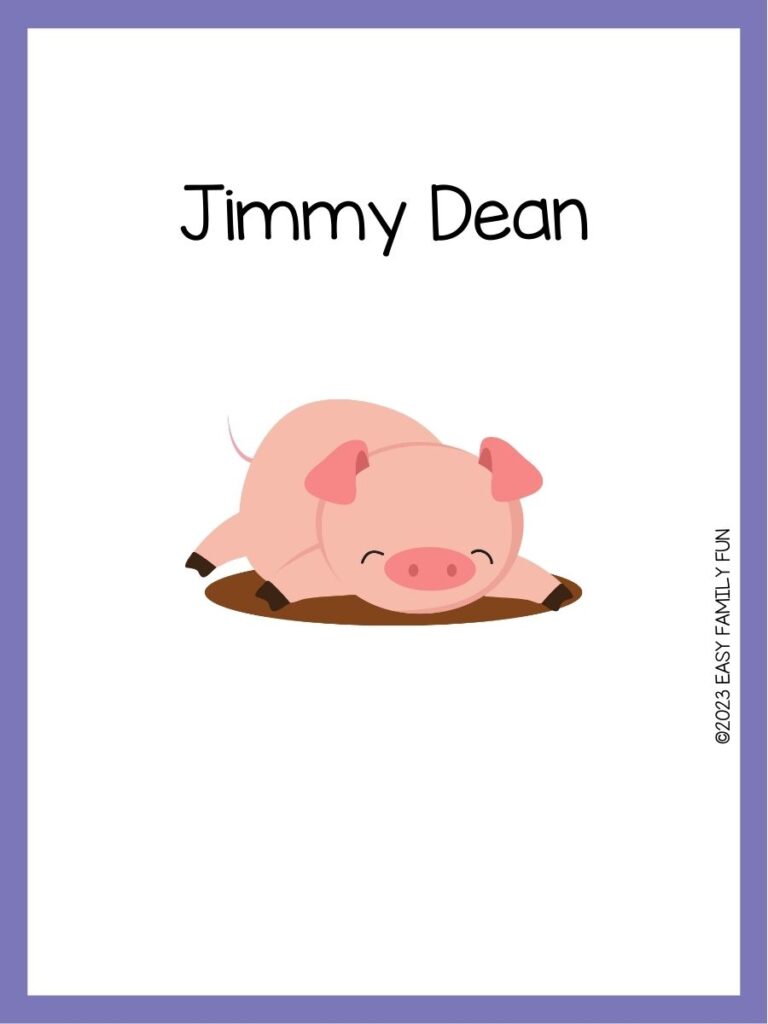 Jimmy Dean
Kevin Bacon
Kevin Bacon
Lil' Ham
Lindsay Loham
Lollipop
Lou Lou
McRib
Mesquite
Miss Piggy
Mudpie
Oinker
Oinksalot
Ouohog
Pancetta
Pansey
Patsy Swine
Periwinkle
Peter Porker
Pickle
Pied Piper of Hamlin
Pig Mac
Pig Newton
Pig Pen
Pigachu
Pigasso
Pigasus
Piggie Smalls
Piggly Wiggly
Piggy Azalea
Pigtails
Pink Wiggles
Pinky
Plopper
Pork N Beans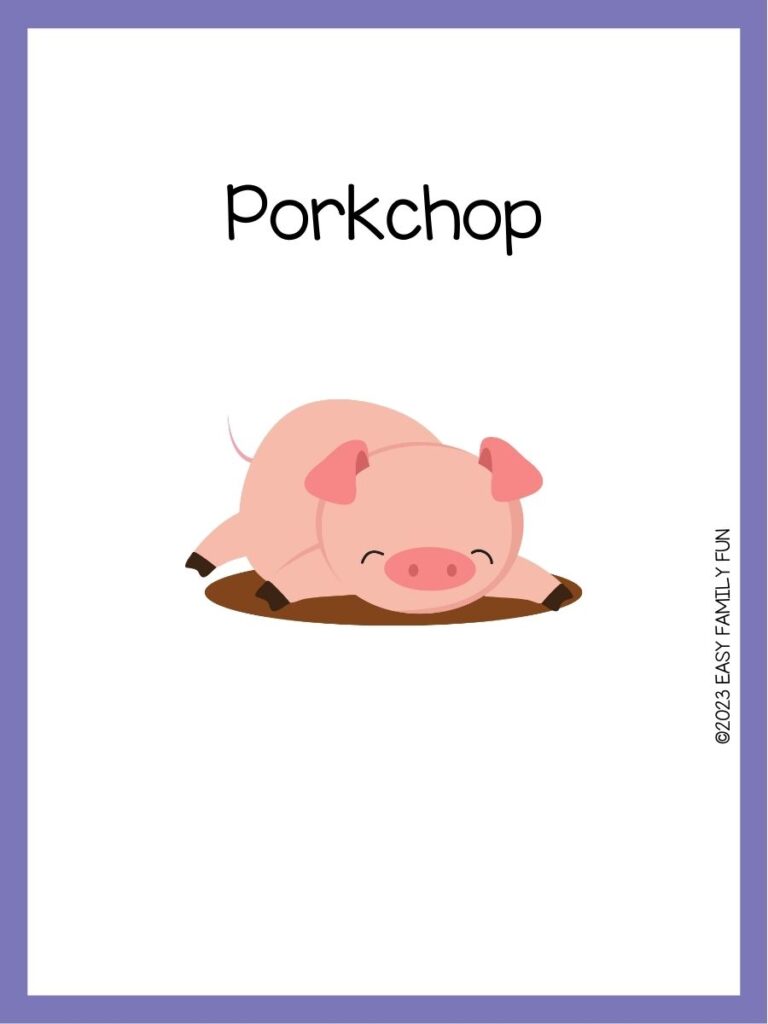 Porkchop
Porn "N Beans
Sam the Ham
Scrapple
Short Rib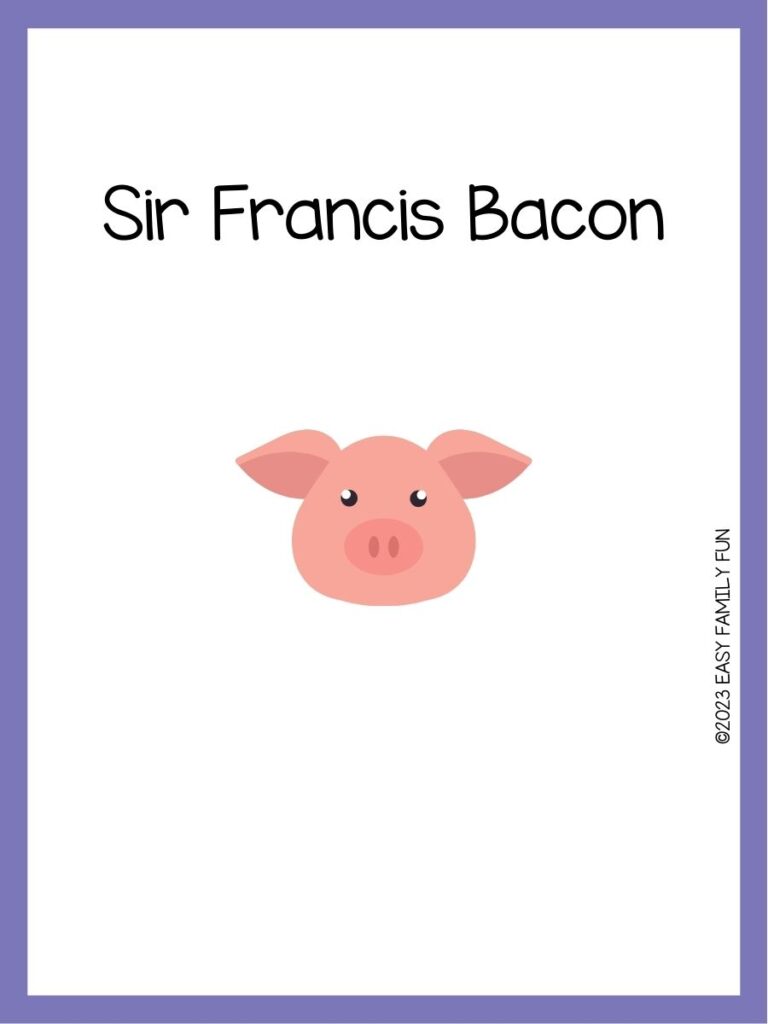 Sir Francis Bacon
Sizzle
Skillet
Slop
Smurf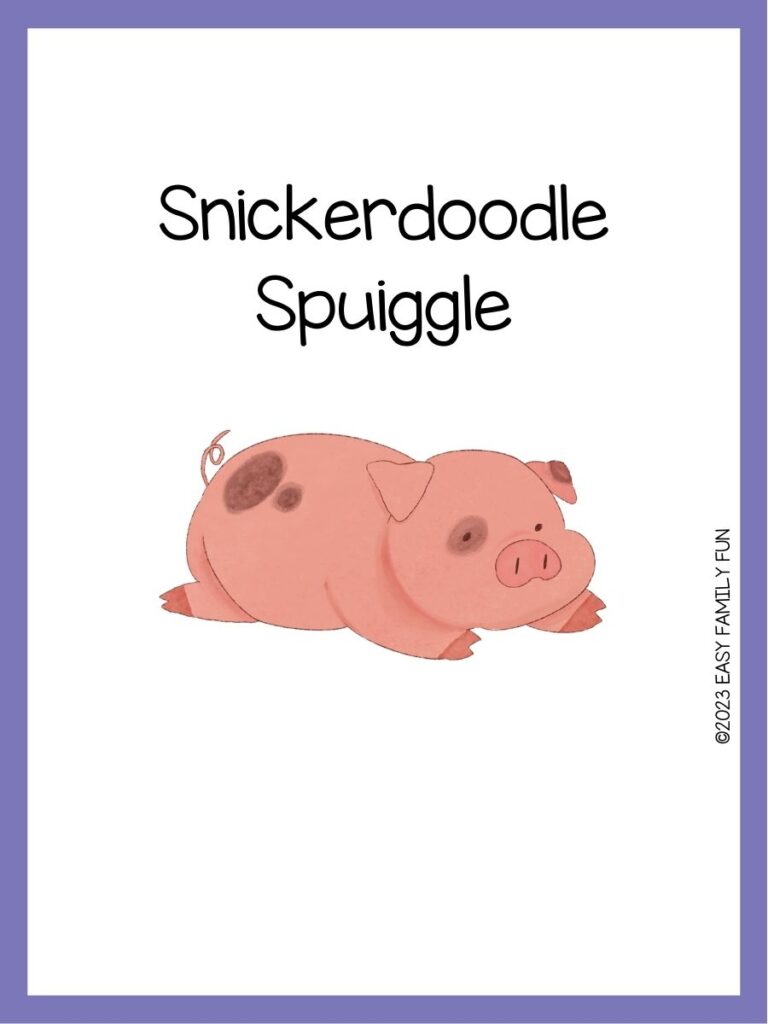 Snickerdoodle Spuiggle
Snortin' Norton
Sooey
Spam
Spampela Hamderson
Stinker
Sumo
Tommy Hilpigger
Trashcan
Webber
Know any other hilarious Pig Names? Be sure to leave them in the comments so we all can laugh along with you!
Love Jokes? Laugh with These!
Don't forget to subscribe to our email list so that you know when we add more great jokes to the site that will leave you laughing for hours!
How Do I Access My Joke Cards?
Fill in the form above. You will receive an email in your inbox. If you don't see it check your spam folder! You will then click to confirm your subscription. Once confirmed, you will be taken to Airtable (a different website) where all our free printables will be waiting for you! It is free to sign up for Air Table!
How Do I Print A PDF?
You'll need a program that supports PDFs. Adobe Acrobat is a great option. Open the program, click file, then print. Select your printer and the number of copies you want to print. Be sure you click double-sided if you want it to print on both sides. 
Can I Resell These?
You may not resell any printable that you find on our website or in our resource library. You may use them for class parties, at church, at home, or in the classroom. You may get these printed at an office supply store or copy center at your own expense.