Let the good times roll with these epic Music Trivia Questions! You may love rock and roll, but put another dime in the jukebox and try your hand at these fun trivia questions! These music trivia questions are perfect for people of all ages.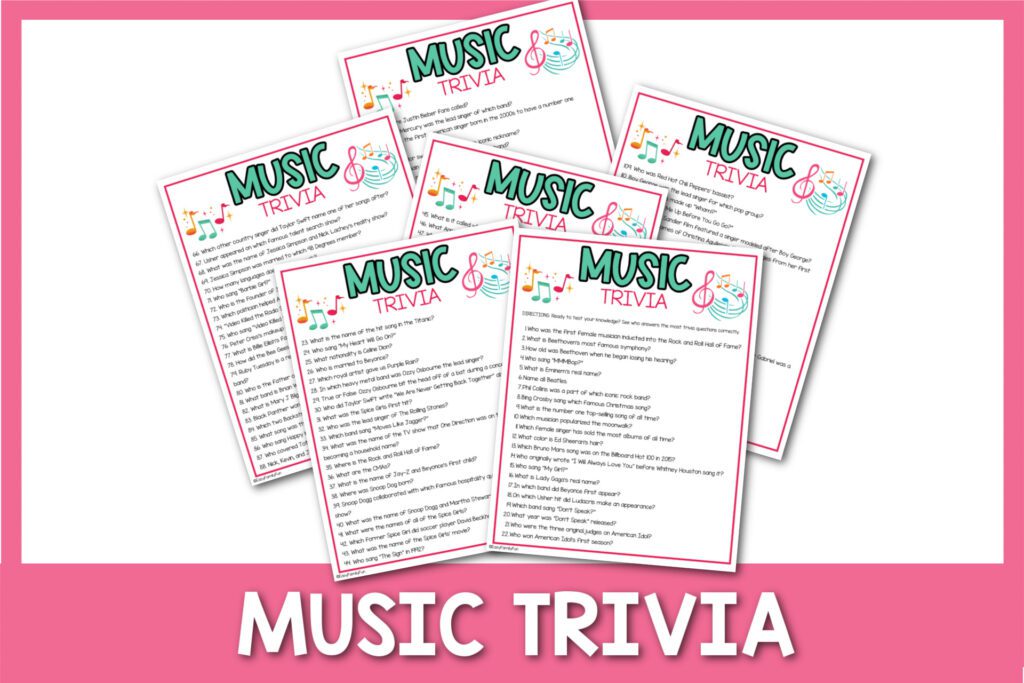 My family loves to gather around the table and quiz each other with trivia games. We have a wide variety of skill levels in our home, but everyone loves chiming in with an answer to see if they are the trivia champion of the night. We are constantly looking for new trivia topics to try!
Some of our favorite trivia games are Kids Trivia Questions, Teen Trivia, and Outdoor Trivia Questions. It doesn't matter how busy we are; there is always time to ask a few trivia questions!
With a family on the go, trivia games are perfect for connecting with your kids. I love playing trivia with my teens because it gets them off their phones and hanging out with the whole family.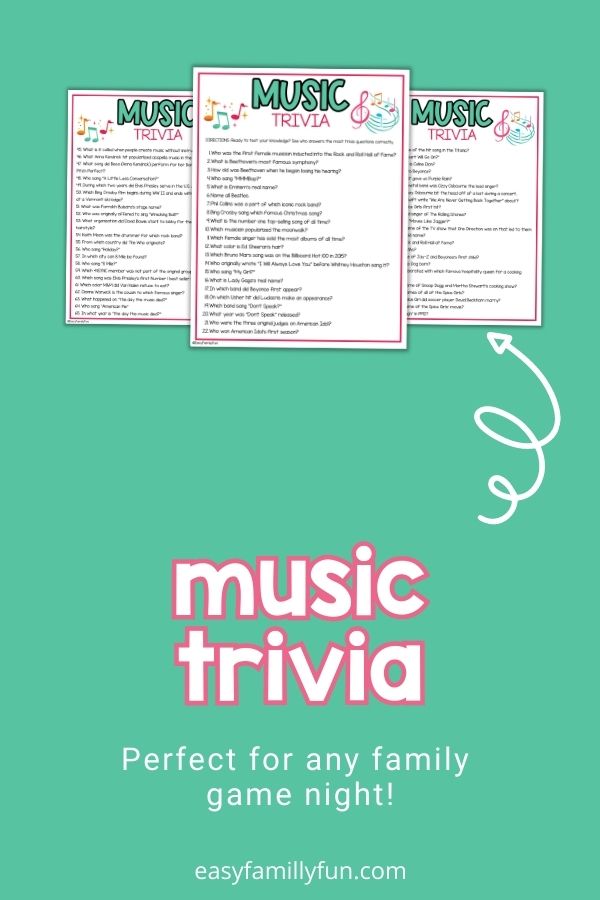 Why I Love Trivia Games
As a mom, I place a lot of value in activities that have a dual purpose. Trivia games are perfect for that because they combine learning while having a ton of fun!
Even though trivia can get pretty competitive in my house, we all have fun playing together. One of my favorite parts of playing trivia games is that my kids remember the facts they're learning even weeks later!
Trivia games are a great way to learn how to work together as a team, practice good sportsmanship, and learn how to cope with failure in a protective environment. Also, trivia questions are great starting points for family conversation.
(trivia HTML block–Store Image)
How To Play Music Trivia
You can play trivia games in lots of different ways. First, download these Music Trivia Questions and print them or save them to your computer and have them ready to play for family game night!
Trivia can be played individually or as teams. One way to divide teams up might be to pair an older child or adult with a younger child. Or, you could even do boys versus girls or adults versus kids!
Choose one person to read the questions and keep score. The first team or individual with the right answer wins the point.
The game is over when a team reaches a certain number of points or all of the questions have been answered. Whoever has the most points wins!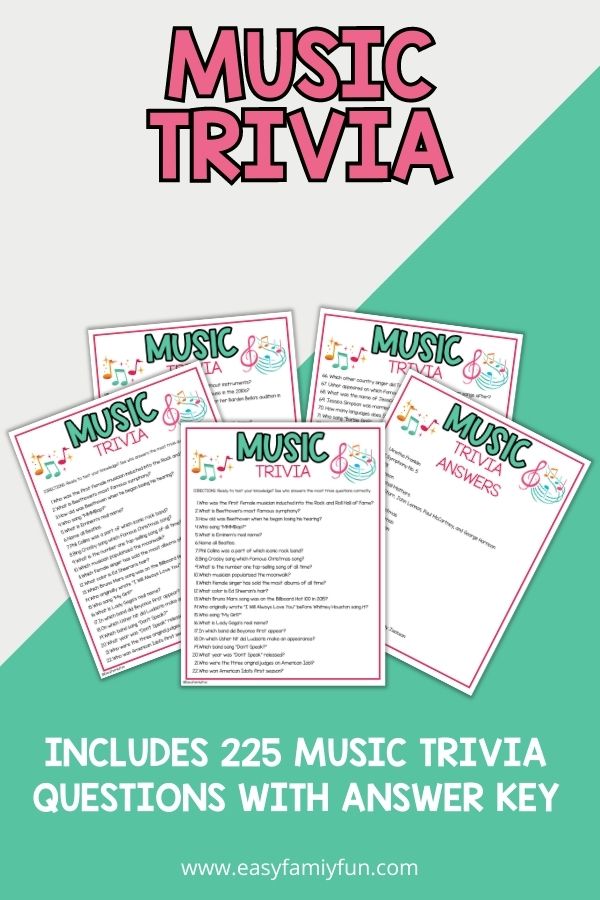 Benefits Of Trivia Games
Having a trivia game night with the family is full of benefits!
Kids learn how to be good sports and support all players.
Each question is a great opportunity to learn something new.
Everyone can play trivia games, and they are fun for families with kids of all ages.
Trivia games help kids learn how to get along with their siblings and work together.
Trivia games are easy to download and great for on-the-go families.
Tips And Tricks
The variations are endless when playing trivia games.
Put the questions in a bowl and have players draw out a question to answer.
Keep a running scoreboard on your phone for infinite playing time.
Think of off-the-wall team names to increase the fun.
Have players say a buzz word or phrase before they answer the question.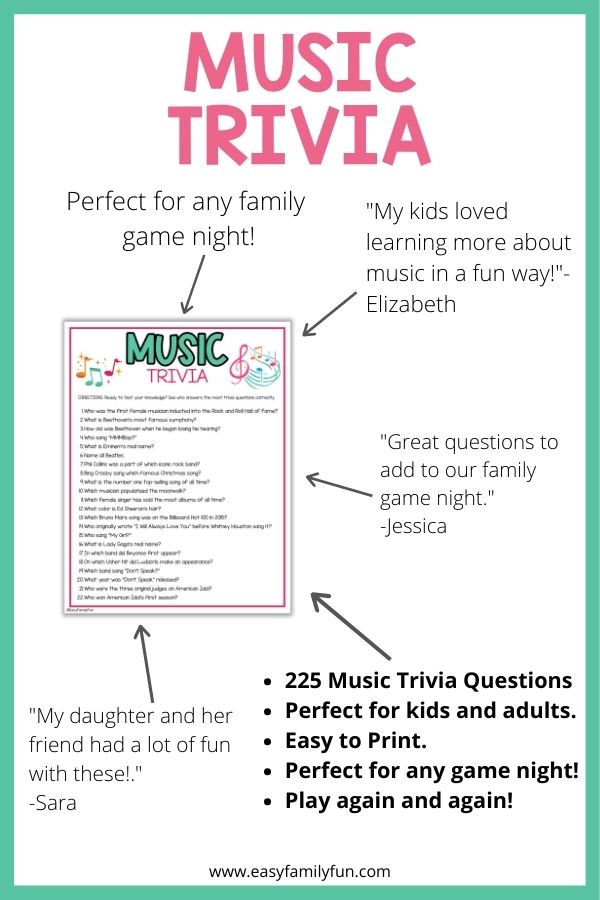 225 Best Music Trivia Questions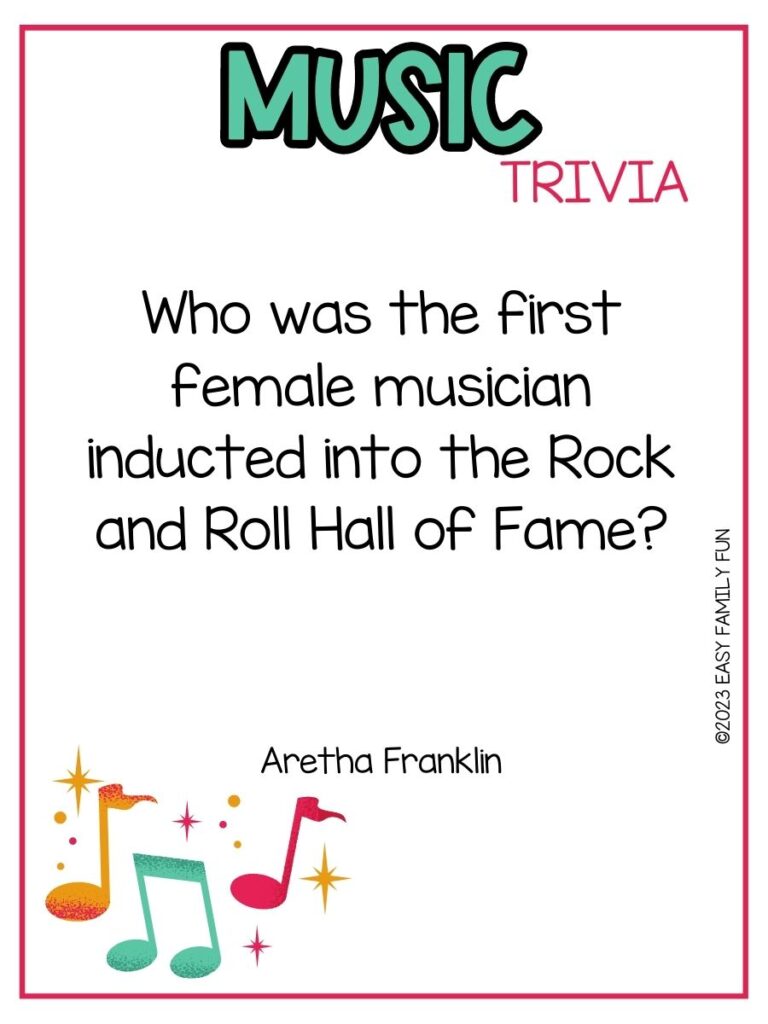 Who was the first female musician inducted into the Rock and Roll Hall of Fame?

Aretha Franklin
What is Beethoven's most famous symphony?

Symphony No. 5
How old was Beethoven when he began losing his hearing?

28
Who sang "MMMBop?"

Hanson
What is Eminem's real name?

Marshall Mathers
Name all Beatles.

Ringo Starr, John Lennon, Paul McCartney, and George Harrison
Phil Collins was a part of which iconic rock band?

Genesis
Bing Crosby sang which famous Christmas song?

White Christmas
What is the number one top-selling song of all time?

White Christmas
Which musician popularized the moonwalk?

Michael Jackson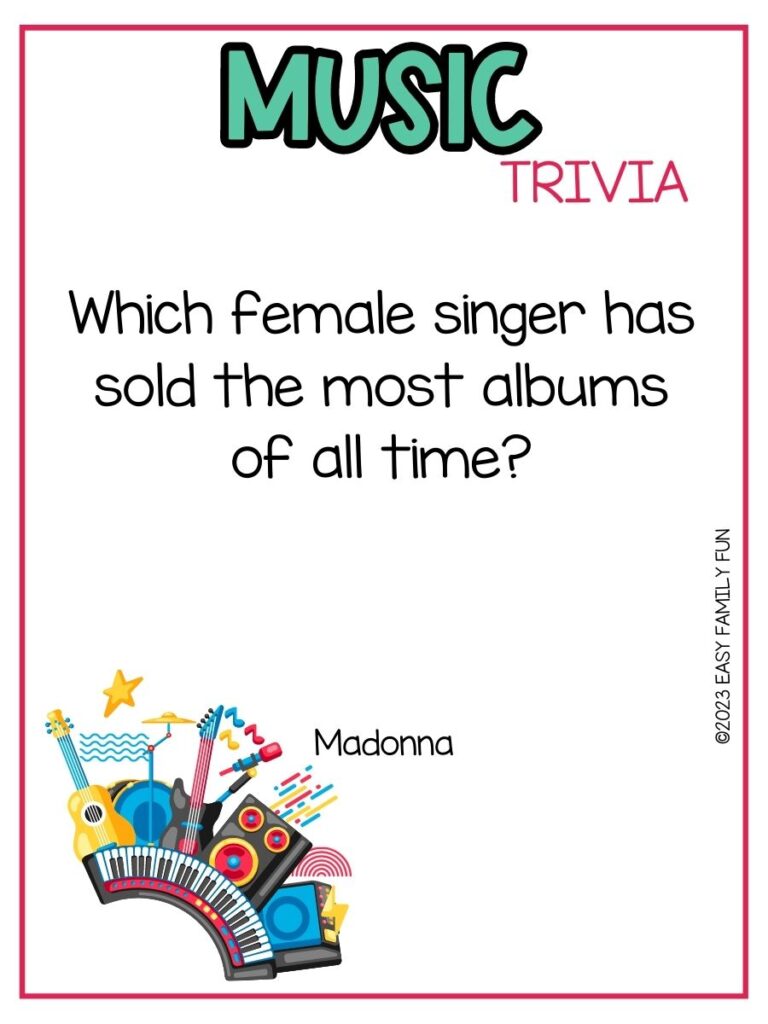 Which female singer has sold the most albums of all time?

Madonna
What color is Ed Sheeran's hair?

Red
Which Bruno Mars song was on the Billboard Hot 100 in 2015?

Uptown Funk
Who originally wrote "I Will Always Love You" before Whitney Houston sang it?

Dolly Parton
Who sang "My Girl?"

Temptations
What is Lady Gaga's real name?

Stefani Germonotta
In which band did Beyonce first appear?

Destiny's Child
On which Usher hit did Ludacris make an appearance?

Yeah
Which band sang "Don't Speak?"

No Doubt
What year was "Don't Speak" released?

1998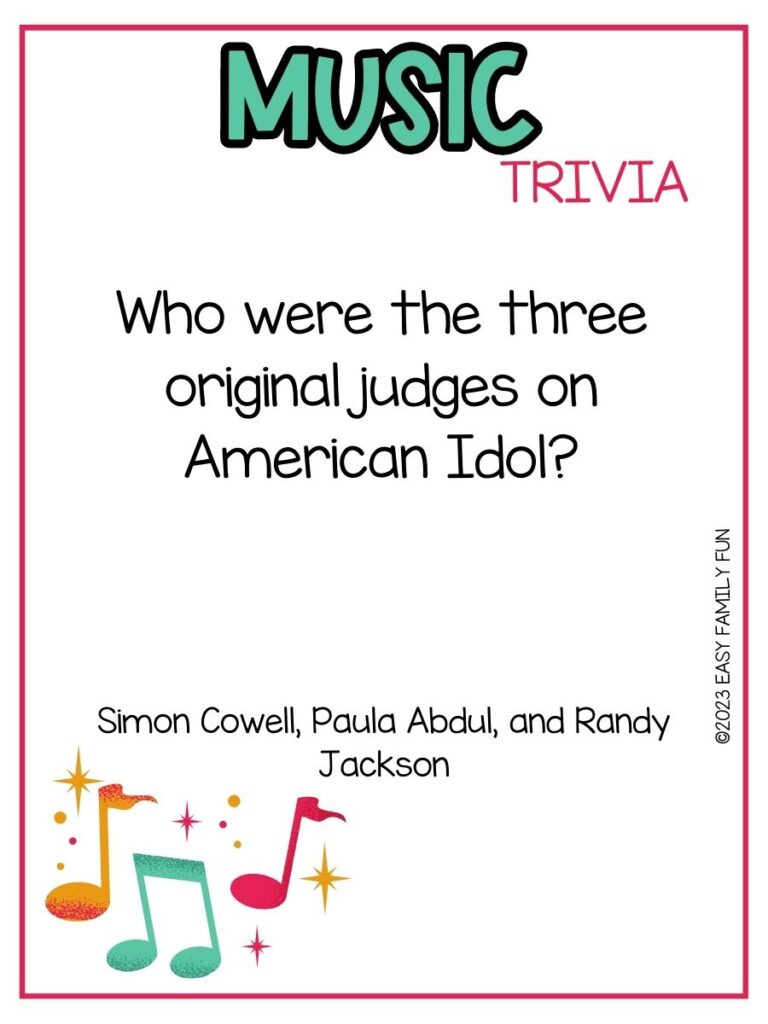 Who were the three original judges on American Idol?

Simon Cowell, Paula Abdul, and Randy Jackson
Who won American Idol's first season?

Kelly Clarkson
What is the name of the hit song in the Titanic?

My Heart Will Go On
Who sang "My Heart Will Go On?"

Celine Dion
What nationality is Celine Dion?

Canadian
Who is married to Beyonce?

Jay-Z
Which royal artist gave us Purple Rain?

Prince
In which heavy metal band was Ozzy Osbourne the lead singer?

Black Sabbath
True or False: Ozzy Osbourne bit the head off of a bat during a concert.

True; in a 1982 concert, he bit the head off of a bat that he thought was plastic.
Who did Taylor Swift write "We Are Never Getting Back Together" about?

Jake Gyllenhaal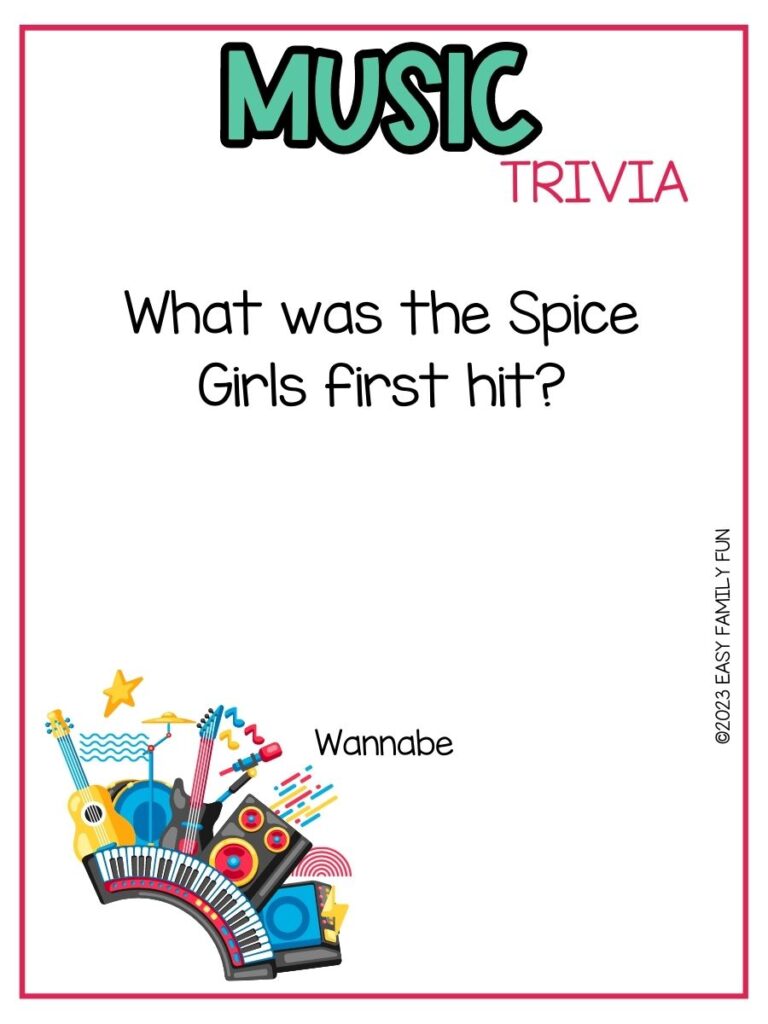 What was the Spice Girls first hit?

Wannabe
Who was the lead singer of The Rolling Stones?

Mick Jagger
Which band sang "Moves Like Jagger?"

Maroon 5
What was the name of the TV show that One Direction was on that led to them becoming a household name?

The X-Factor
Where is the Rock and Roll Hall of Fame?

Cleveland, Ohio
What are the CMAs?

Country Music Awards
What is the name of Jay-Z and Beyonce's first child?

Blue Ivy Carter
Where was Snoop Dog born?

Long Beach, California
Snoop Dogg collaborated with which famous hospitality queen for a cooking show?

Martha Stewart
What was the name of Snoop Dogg and Martha Stewart's cooking show?

Martha and Snoop's Potluck Dinner Party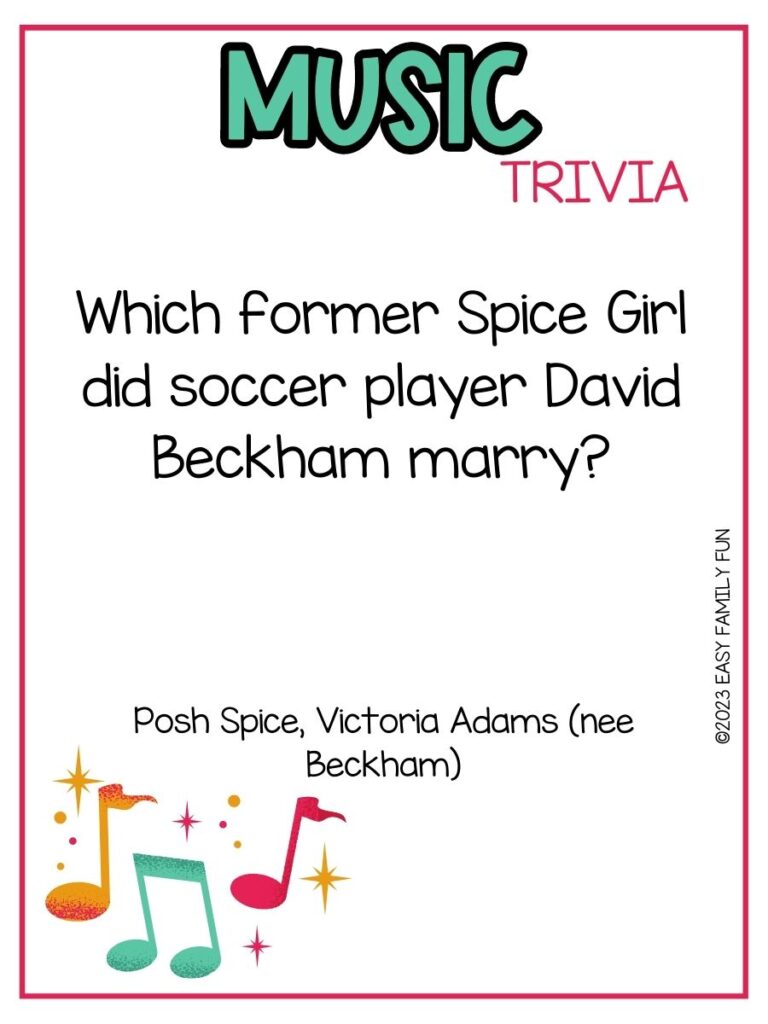 Which former Spice Girl did soccer player David Beckham marry?

Posh Spice, Victoria Adams (nee Beckham)
What were the names of all of the Spice Girls?

Baby (Emma Bunton), Scary (Melanie Brown), Sporty Melanie Chisholm), Ginger (Geri Halliwell), Scary, and Posh (Victoria Beckham)
What was the name of the Spice Girls' movie?

Spice World
Who sang "The Sign" in 1992?

Ace of Base
What is it called when people create music without instruments?

Acapella
What Anna Kendrick hit popularized acapella music in the 2010s?

Pitch Perfect
What song did Beca (Anna Kendrick) perform for her Barden Bella's audition in Pitch Perfect?

Cups
Who sang "A Little Less Conversation?"

Elvis Presley
During which two years did Elvis Presley serve in the U.S. Army?

1958-1960
Which Bing Crosby film begins during WW II and ends with a Christmas concert at a Vermont ski lodge?

White Christmas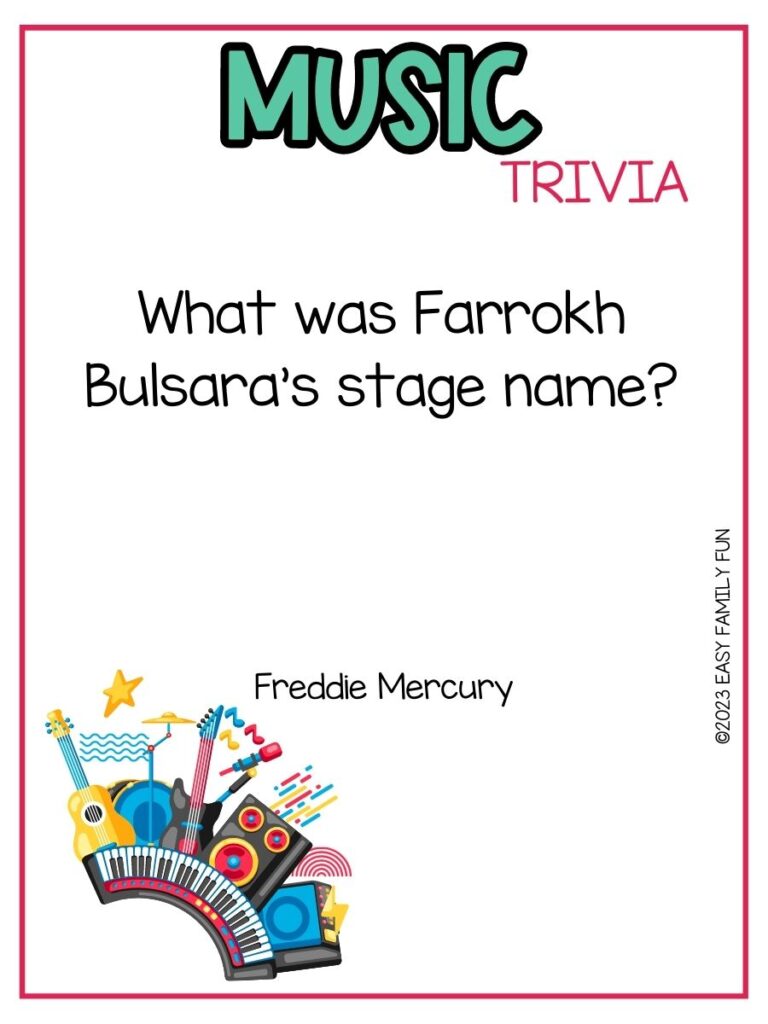 What was Farrokh Bulsara's stage name?

Freddie Mercury
Who was originally offered to sing "Wrecking Ball?"

Beyonce
What organization did David Bowie start to lobby for the rights to a certain hairstyle?

The Society for the Prevention of Cruelty to Long-Haired Men
Keith Moon was the drummer for which rock band?

The Who
From which country did The Who originate?

England
Who sang "Holiday?"

Madonna
In which city can 8 Mile be found?

Detroit
Who sang "8 Mile?"

Eminem
Which *NSYNC member was not part of the original group?

Lance Bass
Which song was Elvis Presley's first Number 1 best seller in the United States?

Heartbreak Hotel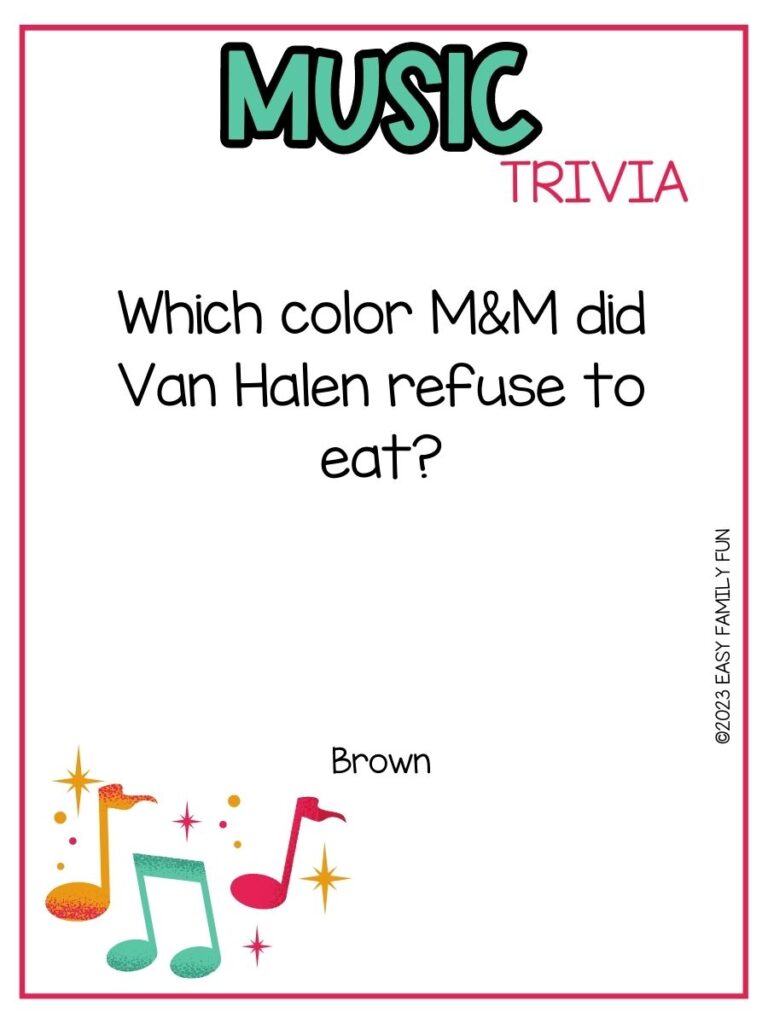 Which color M&M did Van Halen refuse to eat?

Brown
Dionne Warwick is the cousin to which famous singer?

Whitney Houston
What happened on "the day the music died?"

Buddy Holly, Ritchie Valens, and J.P. Richardson died in a plane crash.
Who sang "American Pie"

Don Mclean
In what year is "the day the music died?"

1959
Which other country singer did Taylor Swift name one of her songs after?

Tim McGraw
Usher appeared on which famous talent search show?

Star Search
What was the name of Jessica Simpson and Nick Lachey's reality show?

Newlyweds: Nick and Jessica
Jessica Simpson was married to which 98 Degrees member?

Nick Lachey
How many languages does Shakira speak?

Six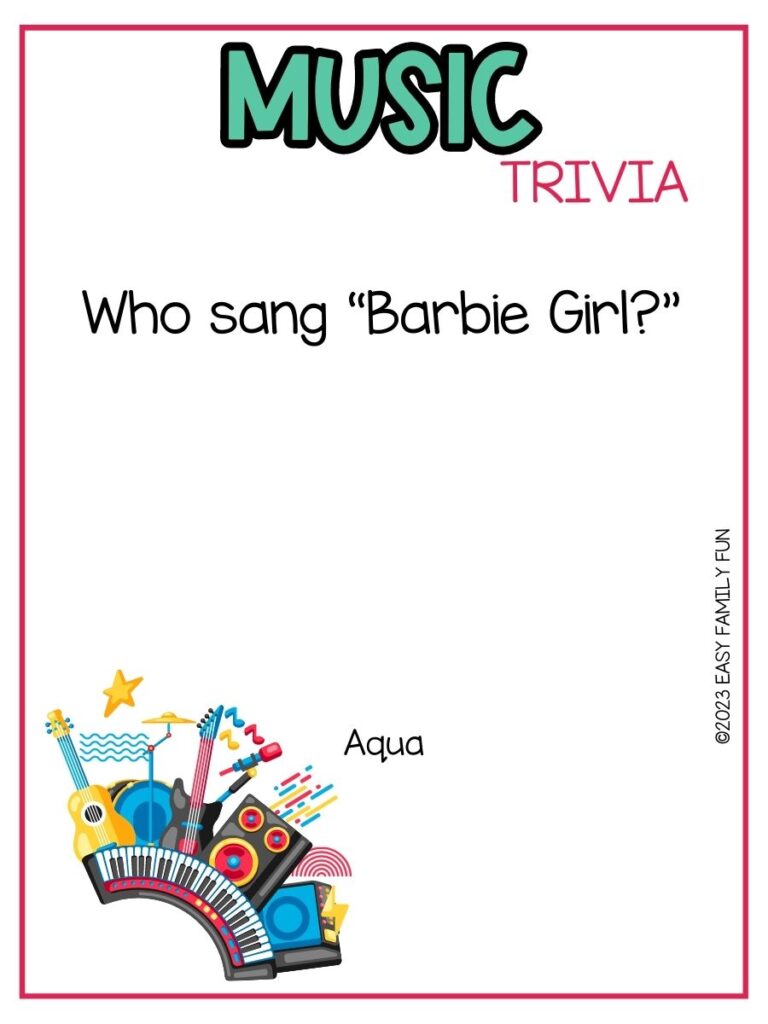 Who sang "Barbie Girl?"

Aqua
Who is the founder of 30 Seconds to Mars?

Jared Leto
Which politician helped Adele become famous?

Sarah Palin
"Video Killed the Radio Star" was the first song to appear on which TV channel?

MTV
Who sang "Video Killed the Radio Star?"

The Buggles
Peter Criss's makeup made him look like what kind of animal?

Cat
What is Billie Eilish's favorite TV show?

The Office
How did the Bee Gees get their name?

They were comprised of three of the brothers Gibb.
Ruby Tuesday is a restaurant chain that is also the title of a song by which band?

Rolling Stones
Who is the father of the Wilson sisters from Wilson Phillips?

Brian Wilson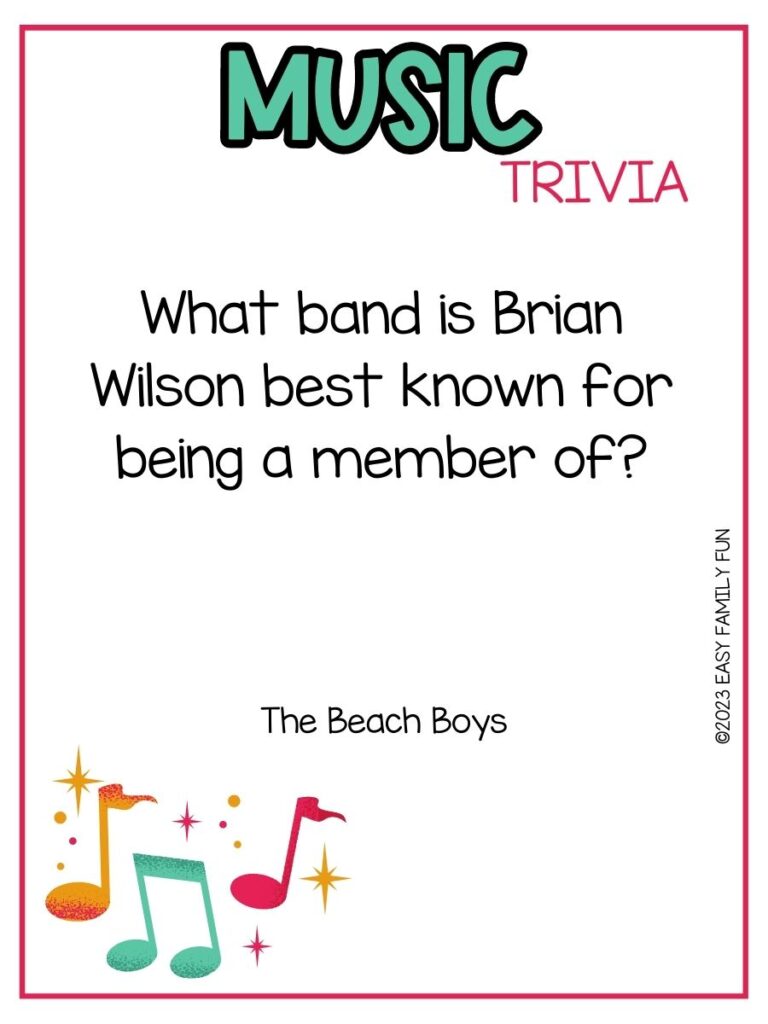 What band is Brian Wilson best known for being a member of?

The Beach Boys
What is Mary J Blige's middle name?

Jane
Black Panther won two of which music award?

The Grammys
Which two Backstreet Boys are cousins?

Brian Littrell and Kevin Richardson
What song was the main theme song for Despicable Me 2?

Happy
Who sang Happy in 2014?

Pharrell Williams
Who covered Toto's "Africa" in 2018?

Weezer
Nick, Kevin, and Joe are family members who formed which band?

The Jonas Brothers
What are Justin Bieber fans called?

Beliebers
Freddie Mercury was the lead singer of which band?

Queen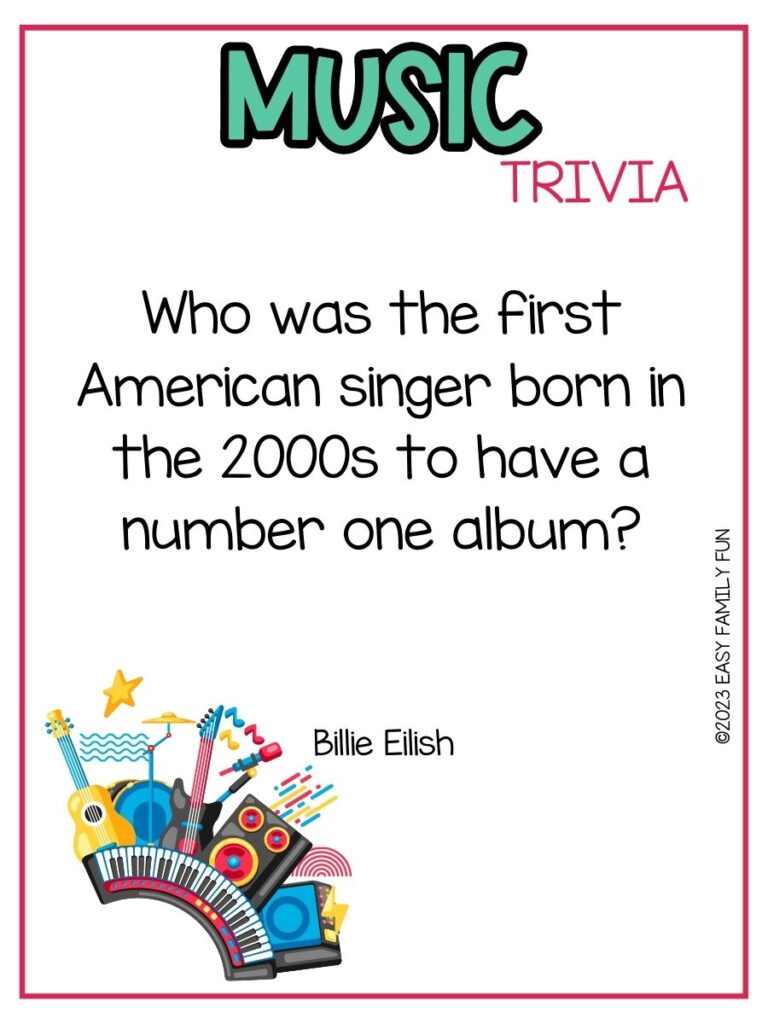 Who was the first American singer born in the 2000s to have a number one album?

Billie Eilish
What color sweaters gave Sting his iconic nickname?

Yellow and black stripes
Kurt Cobain was the lead singer of which band?

Nirvana
Who was married to Kurt Cobain?

Courtney Love
What year did Kurt Cobain die?

1994
Who is the "Queen of Christmas?"

Mariah Carey
How many octaves does Mariah Carey's vocal range span?

Five
What type of award is given at the VMAs?

Small statue of an astronaut
Which girl band has the honor of being known as the best-selling girl group of all time?

The Spice Girls
Where is Britney Spears' hometown?

Kentwood, Louisiana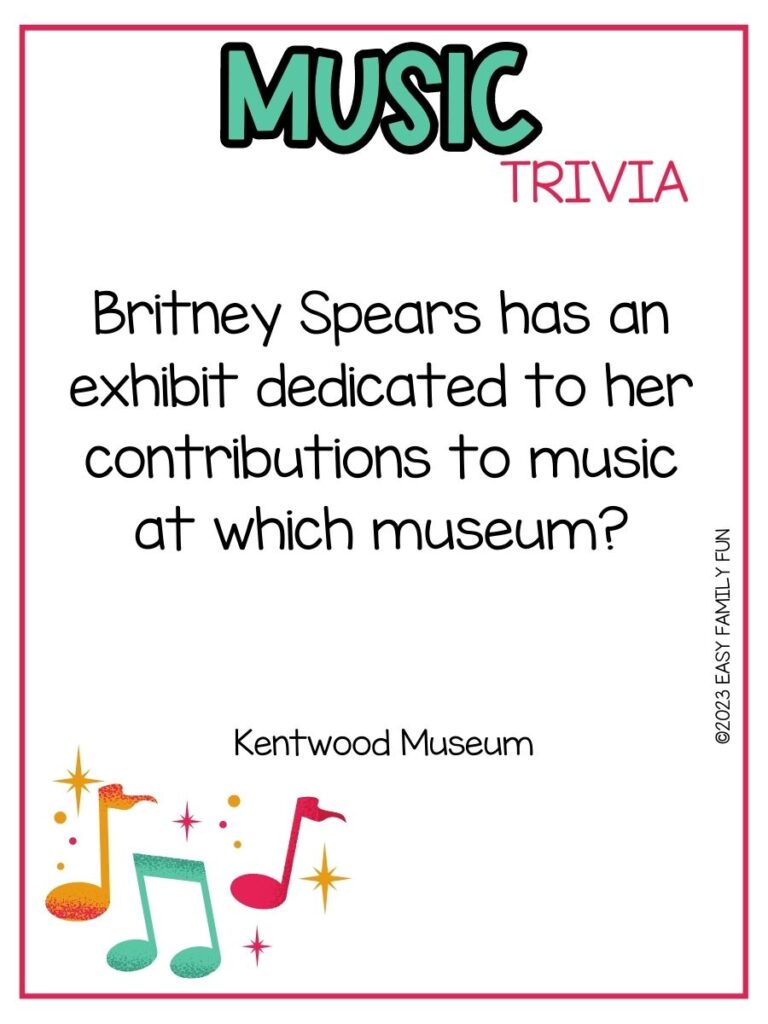 Britney Spears has an exhibit dedicated to her contributions to music at which museum?

Kentwood Museum
Which actor dueted with Lady Gaga to sing "Shallow?"

Bradley Cooper
Bradley Cooper and Lady Gaga acted together in which romantic movie remake?

A Star is Born
Which singer/actress starred in the original "A Star is Born" film?

Judy Garland
Who is Liza Minnelli's mother?

Judy Garland
"All Star" appeared in which 2001 animated film?

Shrek
Who sang "All Star?"

Smash Mouth
Which "AstroWorld" rapper is a Texas native?

Travis Scott
Who was Red Hot Chili Peppers' bassist?

Flea
Boy George was the lead singer for which pop group?

Culture Club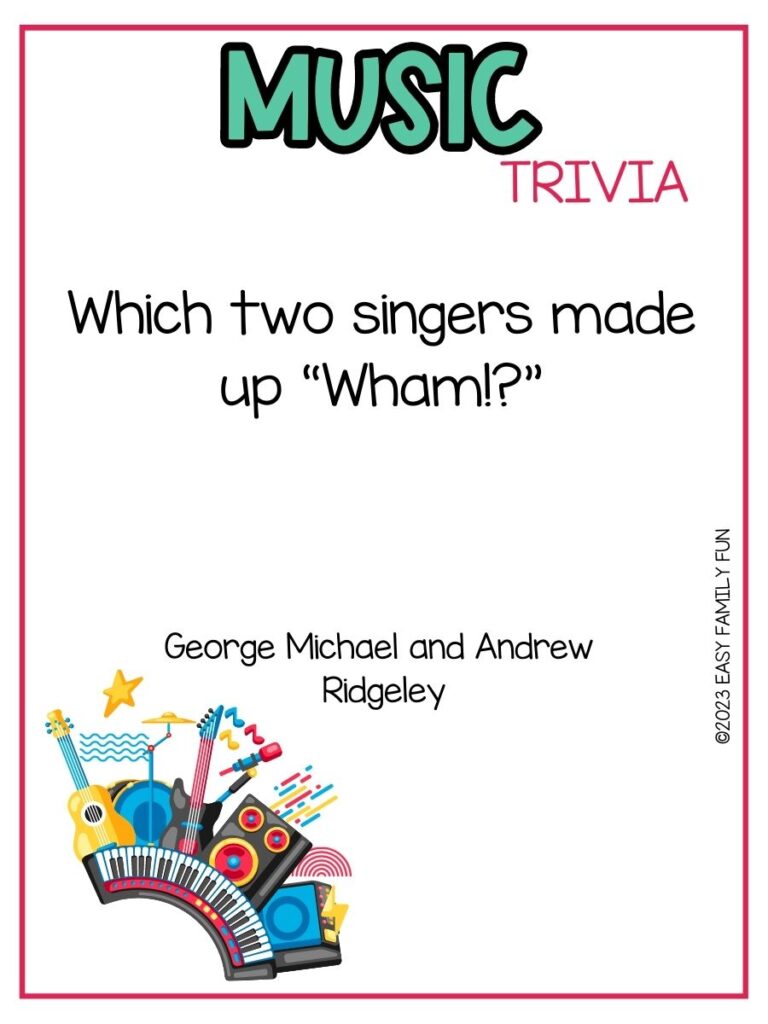 Which two singers made up "Wham!?"

George Michael and Andrew Ridgeley
Who sang "Wake Me Up Before You Go Go?"

Wham!
Which 1998 Adam Sandler film featured a singer modeled after Boy George?

The Wedding Singer
What were the names of Christina Aguilera's three hit singles from her first album?

"Genie in a Bottle," "What a Girl Wants," and "Come on Over Baby."
Who sang "Reflection" in Disney's Mulan?

Christina Aguilera
Which singer asked if Annie was ok?

Michael Jackson
What 80s musical group is named after an interjection?

A-ha
Which Korean singer popularized Gangam Style?

PSY
What is PSY's real name?

Park Jae-sang
When was PSY born?

December 31, 1977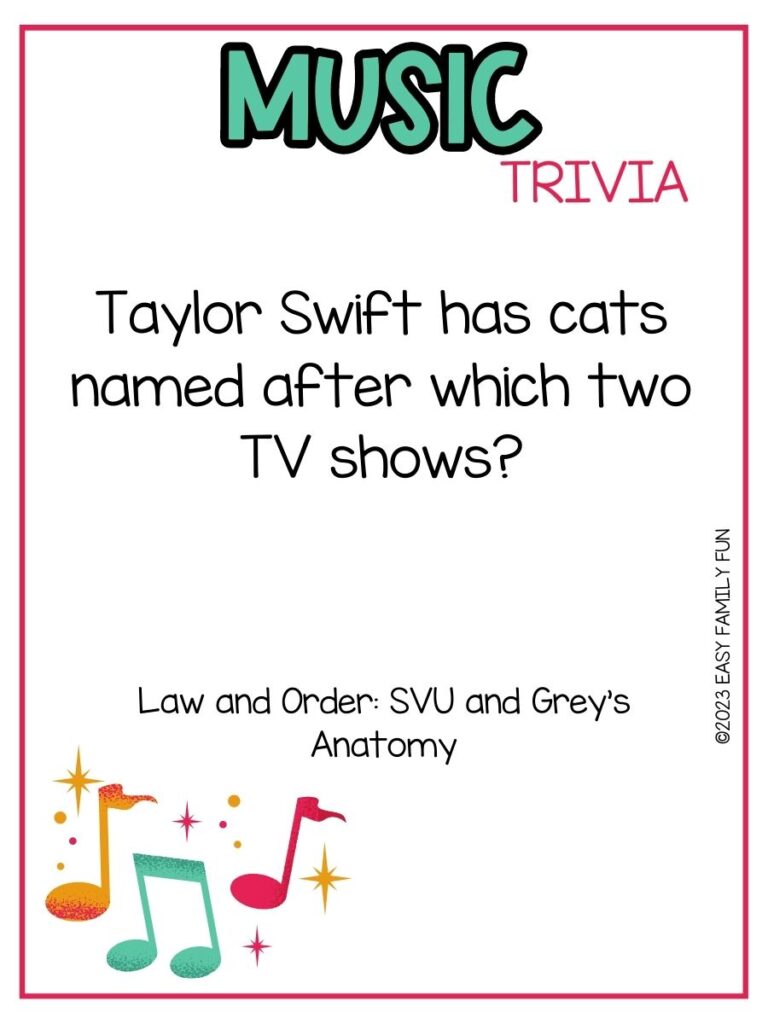 Taylor Swift has cats named after which two TV shows?

Law and Order: SVU and Grey's Anatomy
Who kissed a girl, and liked it?

Katy Perry
Which book in the Bible is the same name as the band that Peter Gabriel was a lead singer?

Genesis
Who is Jenny from the block?

Jennifer Lopez
In which Canadian city was Alanis Morissette born?

Ottawa
Which Backstreet Boys' real life brother sang "I Want Candy?"

Nick Carter
Which boy band was Aaron Carter's brother a part of?

Backstreet Boys
Which famous saxophone player was from Seattle, Washington?

Kenny G
Who sang "Havana?"

Camila Cabello
Where was Fifth Harmony from originally?

Miami, FL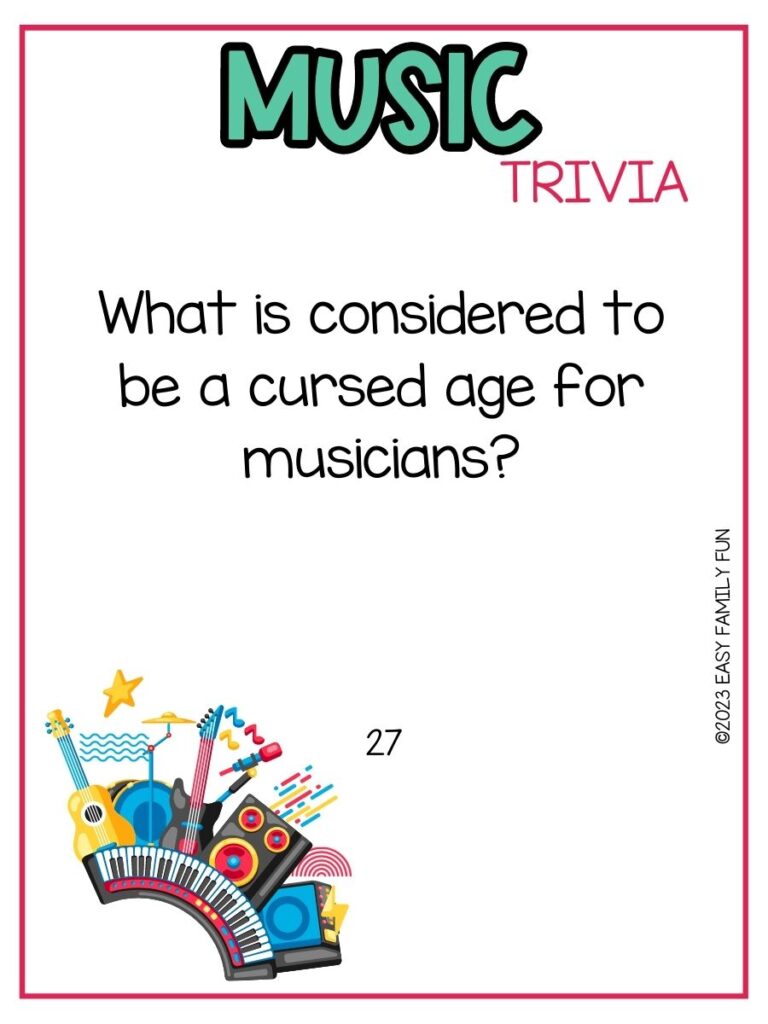 What is considered to be a cursed age for musicians?

27
What is Georgia's state song?

Georgia On My Mind by Ray Charles
Where was Ray Charles born?

Albany, Georgia
In 1989, which band was caught lip syncing their songs at a concert?

Milli Vanilli
Who sang "Chandelier?"

Sia
Which group sang the popular dance hit "The Macarena?"

Los del Rio
What was the name of Hanson's debut album?

Boomerang
What coming of age movie did Britney Spears star in in 2002?

Crossroads
Who are the five members of One Direction?

Harry Styles, Niall Horan, Zayn Malik, Louis Thomlinson, and Liam Payne
Which 2021 Olivia Rodrigo song won the record for the most streamed song in a week?

Driver's License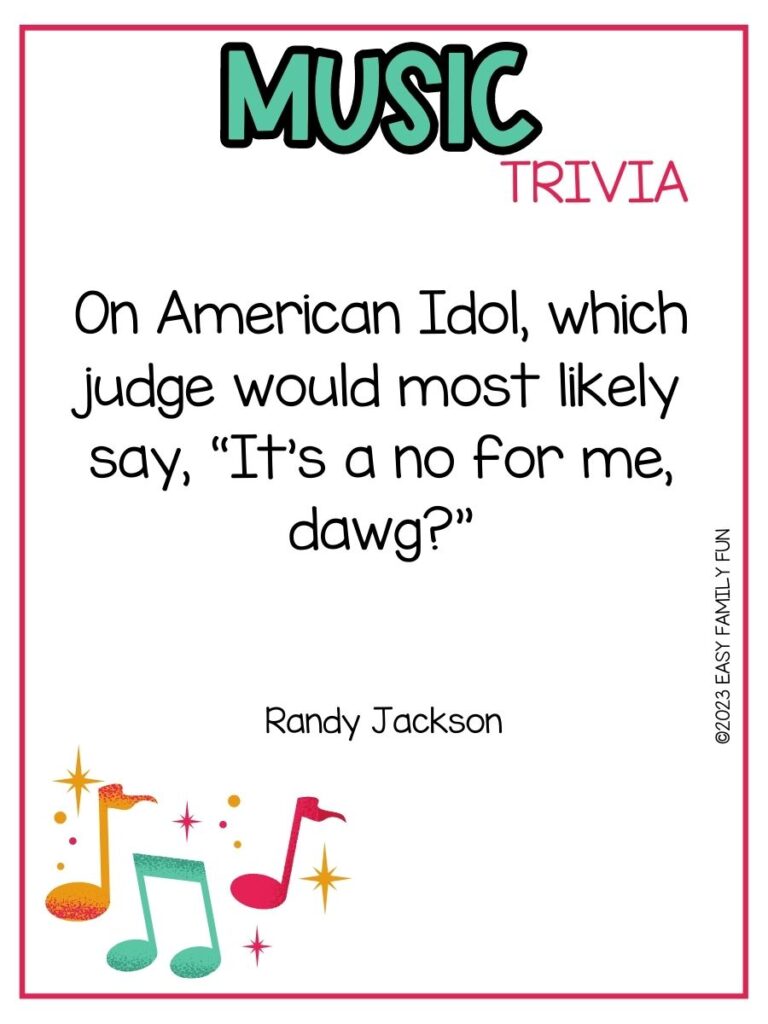 On American Idol, which judge would most likely say, "It's a no for me, dawg?"

Randy Jackson
Who wrote "Philadelphia Freedom" after Billie Jean King?

Elton John
How many weeks did "Call Me Maybe" stay at number one on Billboard's Top 100 list?

9 weeks
Who sang "Call Me Maybe?"

Carly Rae Jepsen
Where does AC/DC get it's name?

Alternating Current/Direct Current electricity
Where is AC/DC from?

Australia
What do Australian's call AC/DC?

Acca Dacca
Kanye West was born in which midwestern city?

Chicago, IL
When was "Love Shack" released?

June 20, 1989
Where does the didgeridoo instrument come from?

Australia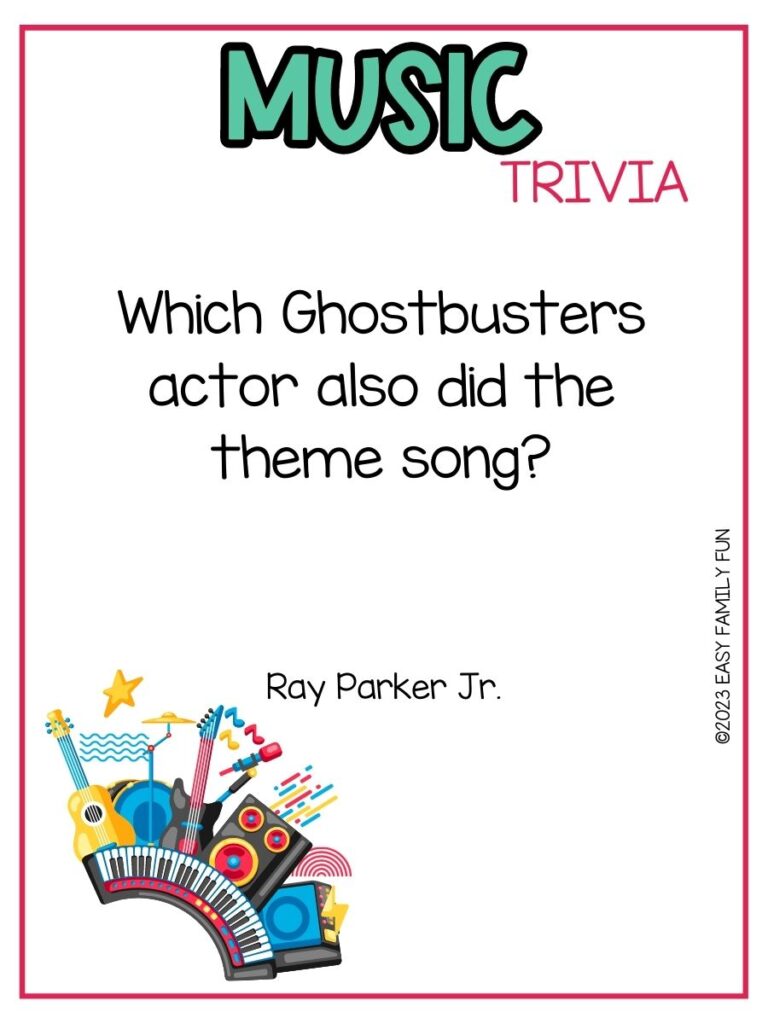 Which Ghostbusters actor also did the theme song?

Ray Parker Jr.
Where was Taylor Swift discovered?

Nashville, TN at The Bluebird Cafe
In 1985, what record won the Grammy for Record of the Year?

"What's Love Got to Do with It" by Tina Turner
What family band was Michael Jackson originally a part of?

The Jackson 5
Who sang "Life is a Highway?"

Rascal Flatts
Who played Simba and Nala in the 2019 remake of "The Lion King?"

Donald Glover and Beyonce
What was Kelly Clarkson's final song on American Idol?

A Moment Like This
What country is ABBA from?

Sweden
The A-Team covered which band's songs?

Abba
Stacie Ann Ferguson is the real name of which singer?

Fergie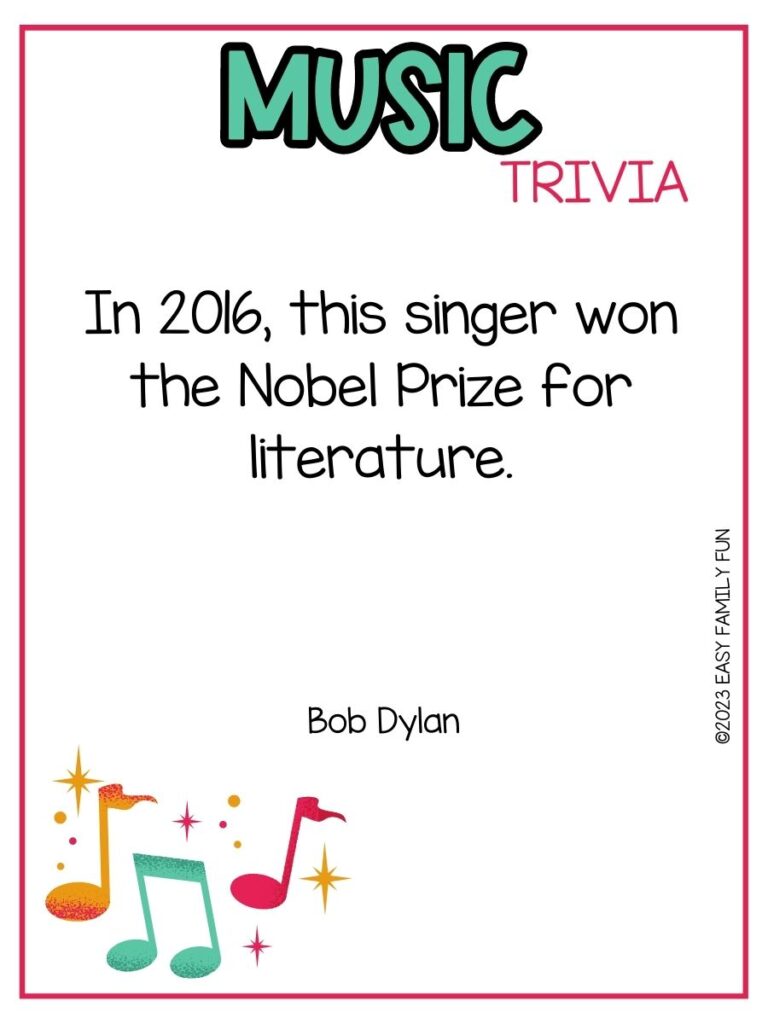 In 2016, this singer won the Nobel Prize for literature.

Bob Dylan
Keith Urban is married to which Australian actress?

Nicole Kidman
Nicole Kidman starred with Ewan McGregor in what 2001 musical?

Moulin Rouge!
Iggy Pop popularized which hardcore concert move?

Stage diving
Which Beatles album was their best seller?

Sgt. Pepper's Lonely Hearts Club Band
Sheryl Crow was a back-up singer for which pop singer?

Michael Jackson
Which *NSYNC member brought "sexy back?"

Justin Timberlake
Who was the King of Pop?

Michael Jackson
Which Rick Springfield song was number one in 1981?

Jessie's Girl
Which Grease actress later rose to fame with hits like "Xanadu" and "Physical?"

Olivia Newton-John
Which MC Hammer hit does "Hammer Time" come from?

"You Can't Touch This"
The Roots performs on which long-running talk show?

The Tonight Show with Jimmy Fallon
Which 12 year old Welsh singer was the youngest person with a number one classical album?

Charlotte Church
Amy Lee is the lead singer of which group?

Evanescence
What instrument does Jamie Foxx play?

The piano
Jamie Foxx played which blues singer in the titular role?

Ray Charles, in Ray
Which band plead "Stop in the Name of Love?"

The Supremes
"Moon River" was the theme song for which Audrey Hepburn classic?

Breakfast at Tiffany's
Bono is the lead singer for which band?

U2
In which Britney Spears song does she carry a snake?

"I'm a Slave 4 U"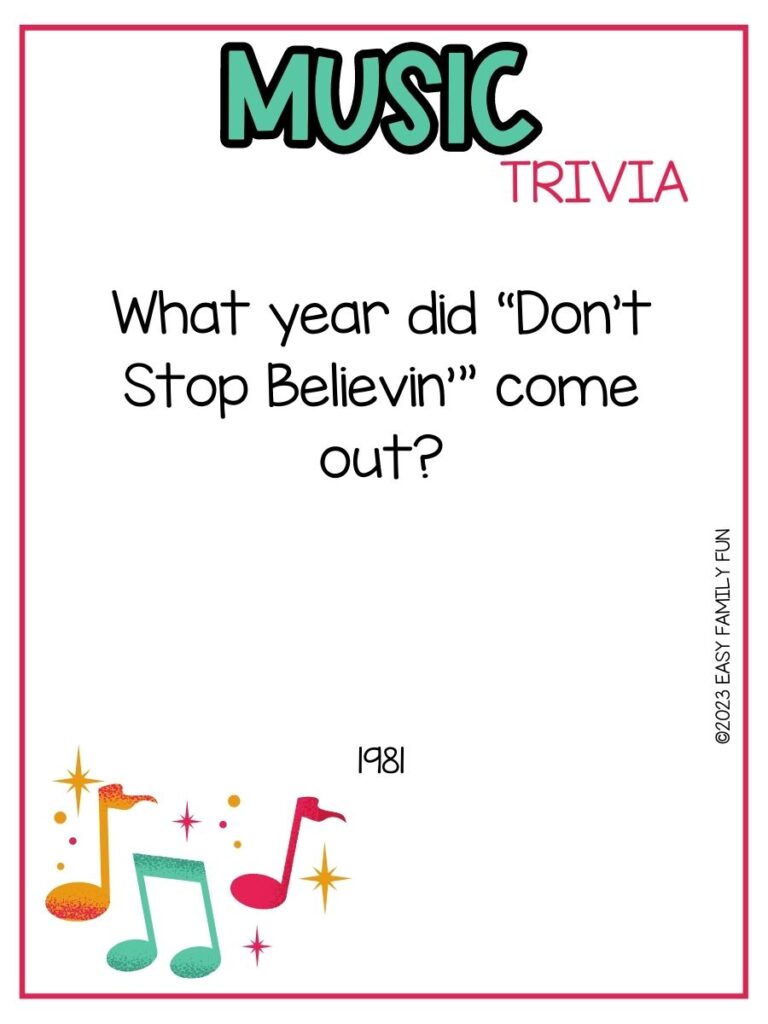 What year did "Don't Stop Believin'" come out?

1981
Who leads an orchestra?

The conductor
Who was "the man in black?"

Johny Cash
Who sang "Despacito?"

Justin Bieber
"Girls Just Want to Have Fun" was the first hit by which 1980s singer?

Cyndi Lauper
"I Believe I Can Fly" was popularized by which Michael Jordan movie?

Space Jam
Who sang "I Believe I Can Fly?"

R. Kelly
The 2018 film "Bohemian Rhapsody" was the story of which British band?

Queen
Which composer created musical masterpieces for Disney in the early 90s and worked on movies such as "The Little Mermaid" and "Aladdin?"

Alan Menken
Who sang "Santa Baby?"

Eartha Kitt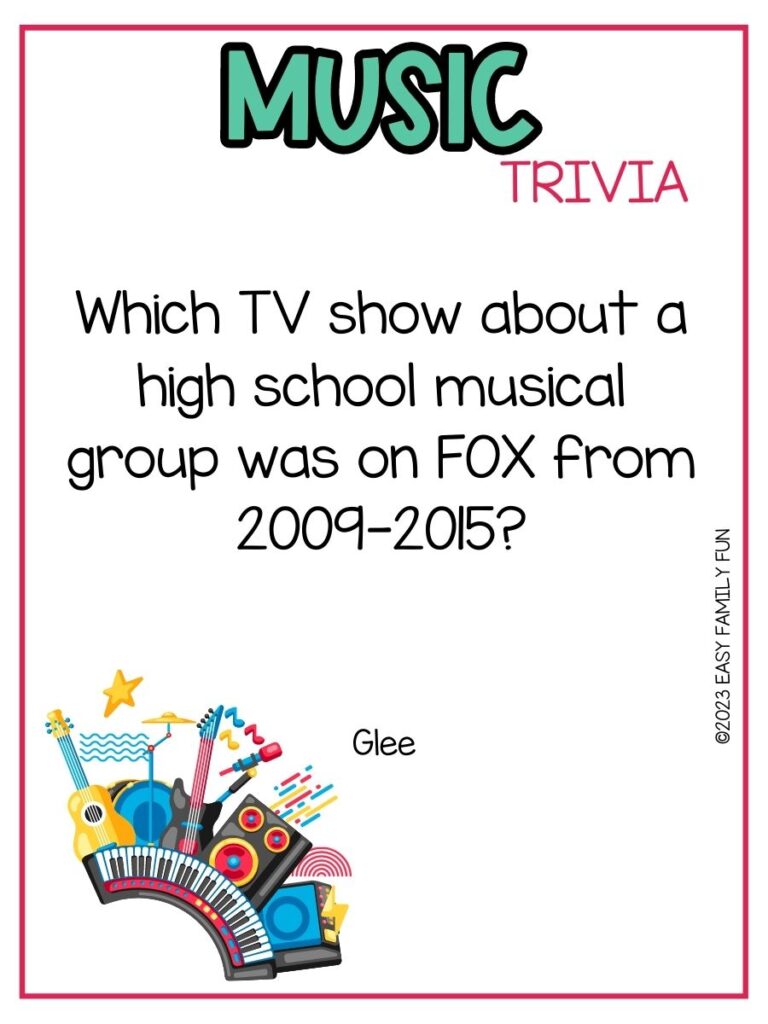 Which TV show about a high school musical group was on FOX from 2009-2015?

Glee
Who is Miley Cyrus' godmother?

Dolly Parton
In "The Music Man," how many trombones led the parade?

76
Louis Armstrong played which brass instrument?

Trumpet
Jimmy Buffett often wrote songs about drinking. Which song inspired the name of his restaurant chain?

Margaritaville
What is the alternate name for the United States Marine Band?

The President's Own
What does a fermata symbol do?

Tells the singer to hold a note longer than normal
Which saxophone is the largest: Soprano, Alto, Tenor, or Baritone?

Baritone Saxophone
Which vocal part has the lowest range?

Bass
How many parts are there in a barbershop chorus?

Four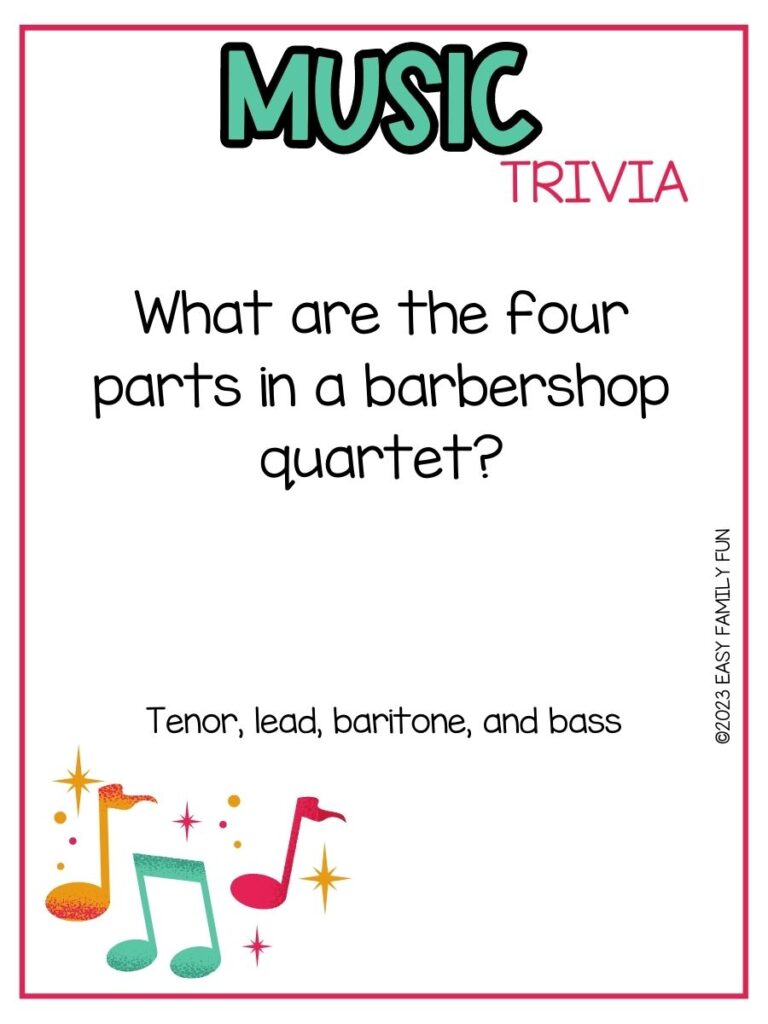 What are the four parts in a barbershop quartet?

Tenor, lead, baritone, and bass
True or False: Barbershop is sung acapella.

True
"Piccolo" means little in what language?

Italian
What type of instruments use a reed?

Woodwinds
What is a reed used for?

Reeds vibrate and produce a new variety of sounds
How many strings are on an acoustic guitar?

Six
The metal strips on a guitar are called what?

Frets
What is the name of the sheet music that a conductor uses to lead an orchestra?

A score
What are the formations used by marching bands in their performances?

Drills
What is the leader of a marching band called?

Drum major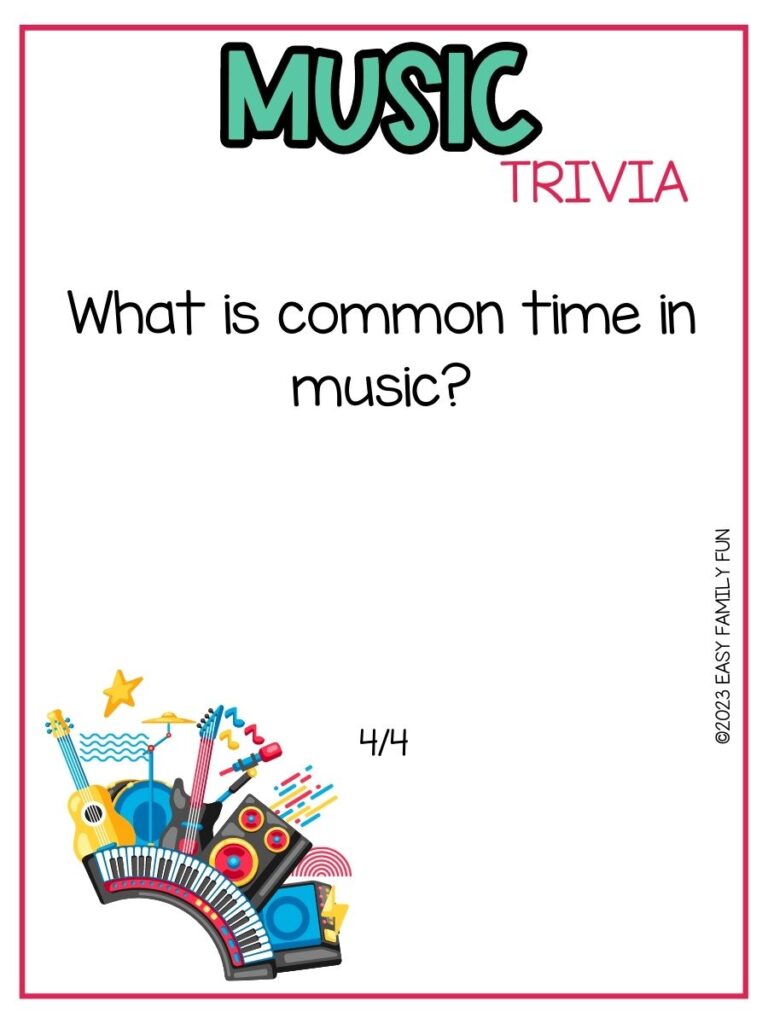 What is common time in music?

4/4
What is the term for when music is played loudly?

Forte
What stringed instrument is often heard in bluegrass music?

Banjo
How many keys are on a piano?

88
Who composed the music for the original Star Wars trilogy?

John Williams
When did the Sydney Opera House open?

1973
Who composed the "New World Symphony (Symphony No. 9)" that Neil Armstrong brough to the moon?

Antonin Dvorak
Wiegenlied, Op. 49. No. 4 is a childhood song composed by Johannes Brahms and better known by what name?

Brahm's Lullaby
What does Op. stand for?

Opus, translated from Latin to mean "work."
Which musician composed "Swan Lake" and "The Nutcracker?"

Tchaikovsky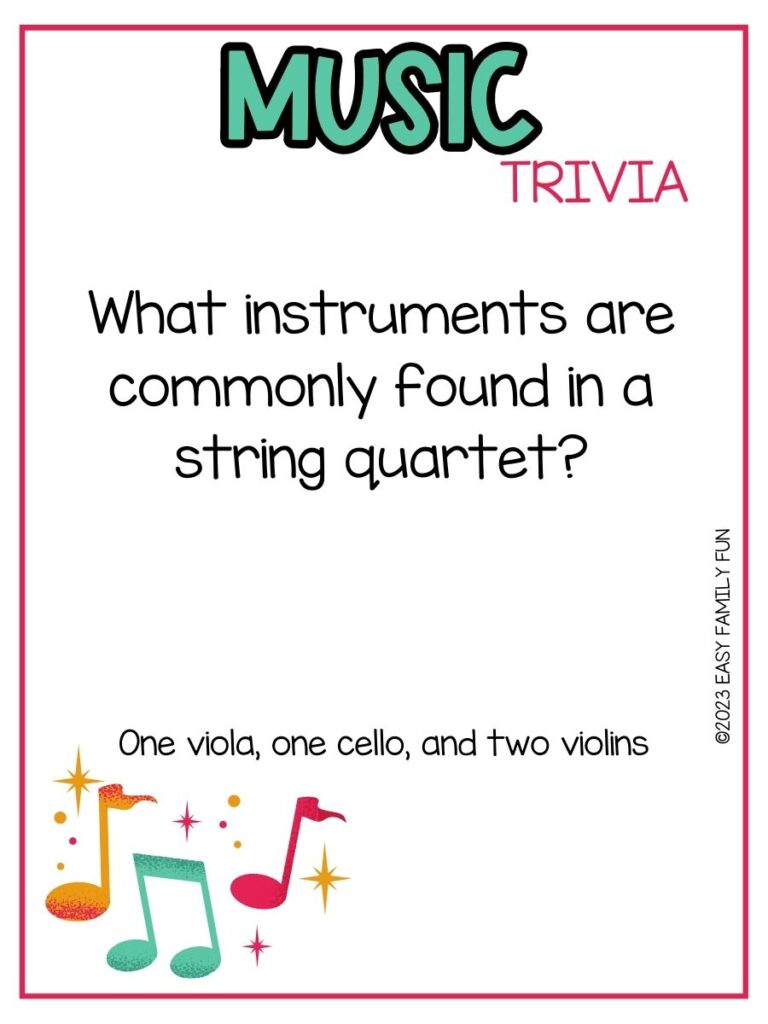 What instruments are commonly found in a string quartet?

One viola, one cello, and two violins
Vivaldi's "Four Seasons" highlights which stringed instrument?

Violin
Who were the three "Bs" of classical music?

Bach, Beethoven, and Brahms
Bagatelle No. 25 in A Minor, better known as Fur Elise, was discovered after the death of which German composer?

Ludwig von Beethoven
What is the official anthem of the European Union?

Ode to Joy
Do you have some music trivia questions that are sure to stump the competition? Share them in the comments so we can try and solve them!
Are you a fan of trivia? Check out our other awesome trivia questions now!
If you're ready to show off your trivia skills, make sure to subscribe to our email list! That way, you'll be the first to know when we've added new topics for even more brain-teasing fun.
How Do I Print A PDF?
You'll need a program that supports PDFs. Adobe Acrobat is a great option. Open the program, click file, then print. Select your printer and the number of copies you want to print. Be sure you click double-sided if you want it to print on both sides.
Can I Resell These?
You may not resell any printable that you find on our website or in our resource library. You may use them for class parties, at church, at home, or in the classroom. You may get these printed at an office supply store or copy center at your own expense.