Swing, Hit, Home Run!! These Baseball Trivia Questions are sure to keep your player on the edge of their seat. See if your family are true baseball fans with these baseball questions.
These Baseball Trivia questions will test everything you think you know about the baseball world if you are a Barry Bonds, Babe Ruth, or a Yankees fan. Baseball Trivia will be perfect for your kids to test their Dad or Grandpa in their pro knowledge of all baseball legends. How much do you know? Scroll to find out!
Baseball Trivia
Trivia is a favorite in our house! We find ourselves sitting around the dinner table quizzing each other on the latest facts on all our favorite topics. Some of our favorite trivia question topics have to be outdoor trivia questions, Winter sports trivia questions, and my personal favorite chick flick movie trivia!
If you are ready to test your baseball trivia knowledge step right up and take a swing at these questions.
How to Play Trivia Games?
Baseball trivia is a simple, no-prep activity. I like to look at it as my own personal BFF! All you have to do is read one of these baseball-themed questions and see who gets the correct answer.
For every correct answer, they get the point. The person with the most points at the end of the game wins!
You can also play on teams if you prefer.
We love printing out the baseball trivia questions so we can always have them with us!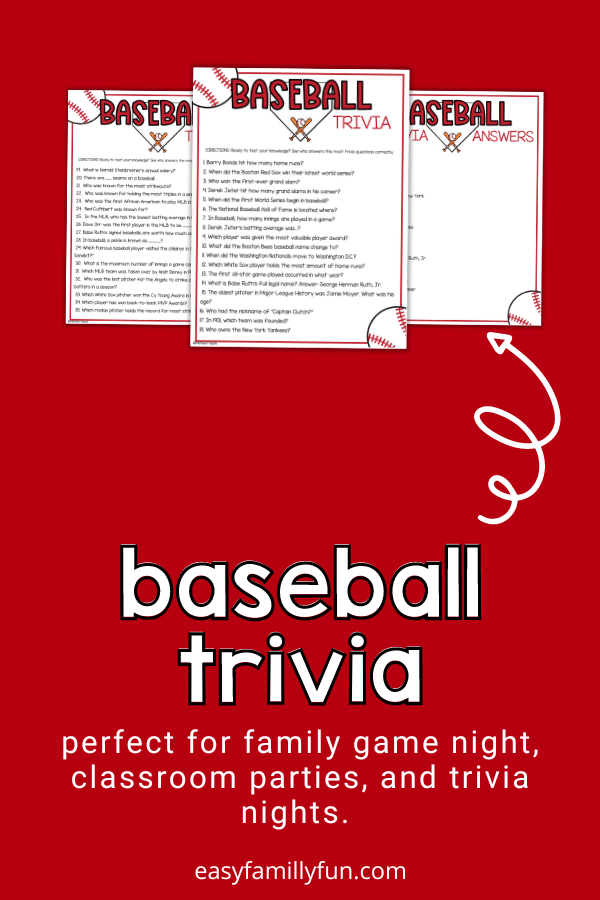 Why I love trivia games?
We love trivia for so many reasons.
We can play anytime, anywhere, with anyone. Think around the dinner table, in the car, playing games as a family.
It encourages learning while having fun.
Helps your family bond in a fun new way.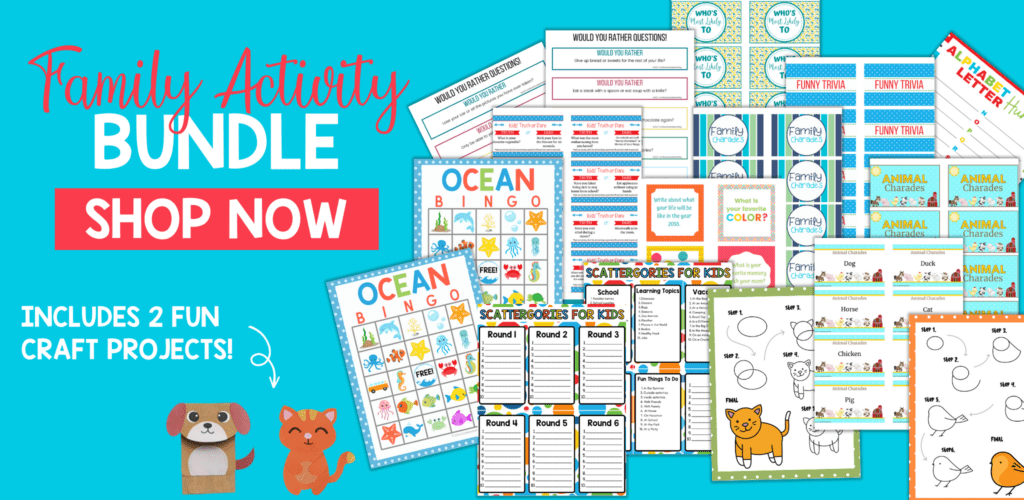 Love Trivia Questions? Grab this ultimate trivia bundle!
Baseball Trivia Questions
Grab your complete list of baseball trivia questions for one low price right here, or refer back to the list of baseball questions below as you play with your friends and family.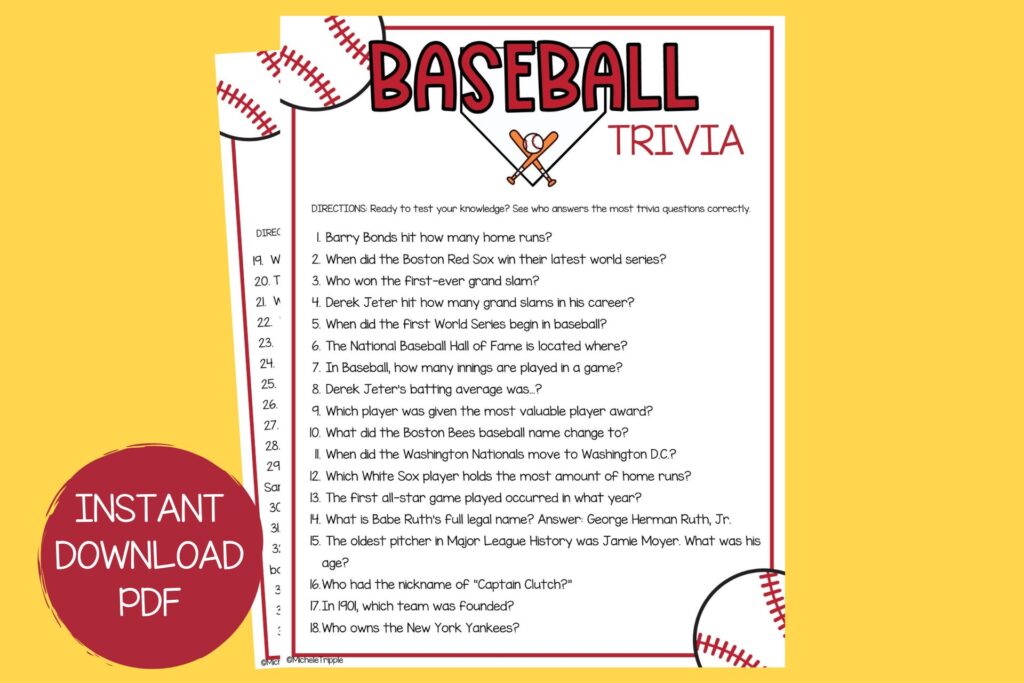 Barry Bonds hit how many home runs?

Answer: 762
When did the Boston Red Sox win their latest world series?

Answer: 2004
Who won the first-ever grand slam?

Answer: Roger Conner
Derek Jeter hit how many grand slams in his career?

Answer: 1
When did the first World Series begin in baseball?

Answer: 1903
The National Baseball Hall of Fame is located where?

Answer: Cooperstown, New York
In Baseball, how many innings are played in a game?

Answer: 9
Derek Jeter's batting average was…?

Answer: 0.31
Which player was given the most valuable player award?

Answer: Barry Bonds
What did the Boston Bees baseball name change to?

Answer: The Boston Braves'
When did the Washington Nationals move to Washington D.C.?

Answer: 2005
Which White Sox player holds the most amount of home runs?

Answer: Frank Thomas
The first all-star game played occurred in what year?

Answer: 1933
What is Babe Ruth's full legal name?

Answer: George Herman Ruth, Jr.
The oldest pitcher in Major League History was Jamie Moyer. What was his age?

Answer: 49 years old
Who had the nickname of "Captain Clutch?"

Answer: Kayte Hunter
In 1901, which team was founded?

Answer: Minnesota Twins
Who owns the New York Yankees?

Answer: Harold Steinbrenner
What is Harold Steinbrenner's annual salary?

Answer: $12,000,000
There are ___ seams on a baseball.

Answer: 108
Who was known for the most strikeouts?

Answer: Randy Johnson
Who was known for holding the most triples in a single season of MLB?

Answer: Chief Wilson
Who was the first African American to play MLB in the US?

Answer: Jackie Robinson
Ned Cuthbert was known for?

Answer: Being the first player to steal a base
In the MLB, who has the lowest batting average in history?

Answer: Chris Davis
Dave Orr was the first player in the MLB to be ______?

Answer: Ejected from a game
Babe Ruth's signed baseballs are worth how much as of 2021?

Answer: Roughly $15,000
In baseball, a pickle is known as ______?

Answer: When a player tries to steal a base and is then caught between two bases.
Which famous baseball player visited the children in the 1990 movie, "The Sandlot?"

Answer: Babe Ruth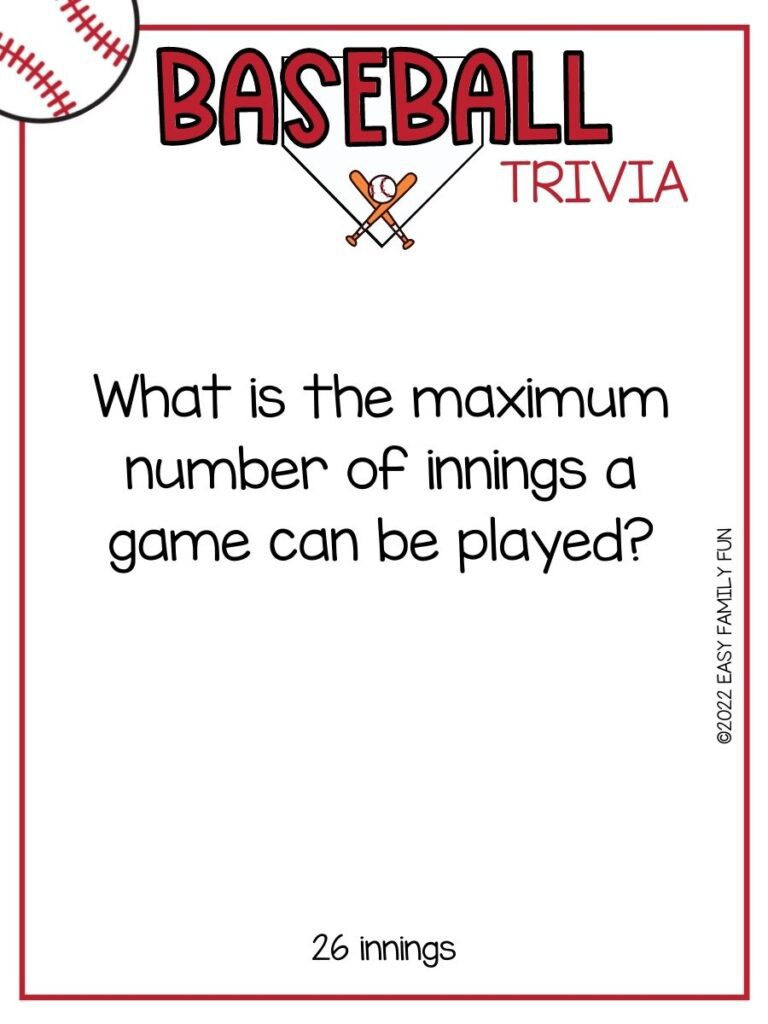 What is the maximum number of innings a game can be played?

Answer: 26 innings
Which MLB team was taken over by Walt Disney in 1996?

Answer: California Angels
Who was the last pitcher for the Angels to strike out more than 200 batters in a season?

Answer: Jered Weaver in 2010 with 233.
Which White Sox pitcher won the Cy Young Award in 1993?

Answer: Jack McDowell
Which player has won back-to-back MVP Awards?

Answer: Miguel Cabera in 2012-2013
Which rookie pitcher holds the record for most strikeouts in a game?

Answer: Kerry Wood with 20 in 1998
Are you a fan of trivia? Check out our other awesome trivia questions now!
How Do I Access My Free Printables?
Fill in the form above. You will receive an email in your inbox. If you don't see it, check your spam folder! You will then click to confirm your subscription. Once confirmed, you will be taken to Airtable (a different website), where all our free printables will be waiting for you! It is free to sign up for Air Table!
How Do I Print A PDF?
You'll need a program that supports PDFs. Adobe Acrobat is a great option. Open the program, click file, then print. Select your printer and the number of copies you want to print. Be sure you click double-sided if you want it to print on both sides. 
Can I Resell These?
You may not resell any printable that you find on our website or in our resource library. You may use them for class parties, at church, at home, or in the classroom. You may get these printed at an office supply store or copy center at your own expense.