Whether you're a fan of a good chick flick or not, there's no denying that they can be pretty entertaining. If you're ready to test your knowledge of how well you remember these films then enjoy these chick flick trivia questions. So put on your thinking caps and get ready to learn some fun facts!
Chick Flick Trivia
Trivia is a great way to pass time while waiting for dinner at a restaurant. It can be fun to try to answer the questions yourself, or you can team up with different family members and see who gets the most right. Either way, it's a great way to kill some time while you're waiting for your meal.
If your family is really competitive you might enjoy challenging each out with our 60+ Winter Sports Trivia Questions + Answers as well as these 135 Best Outdoor Trivia Questions with Answers for Kids.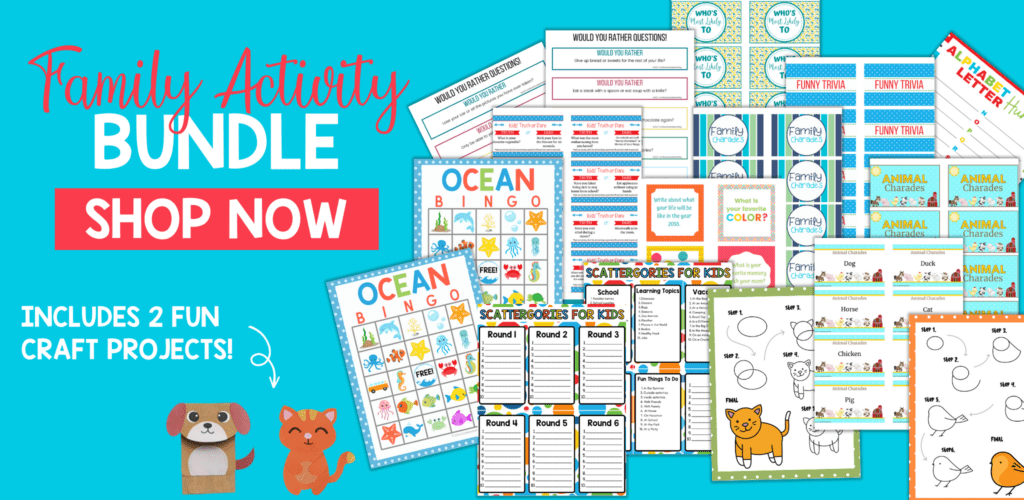 How Do You Play Trivia?
There are so many different ways to play trivia games and to use these winter chick flick trivia questions.
You can divide into equal teams or go head to head.
Each person or team will then read the other group a question. They have 1 minute to answer it or whatever amount of time you decide. If they get it right they get a point. The other team then goes.
When you run out of trivia questions or you reach a predetermined score a winner is declared!
Just remember to have a great time and enjoy laughing and competing together!
Love Trivia Questions? Grab this ultimate trivia bundle!
Chick Flick Trivia
Q: We start our tour of "won't-be" weddings with this 1999 offering that reunites Richard Gere and Julia Roberts, the stars of 1990's "Pretty Woman". What film, from director Garry Marshall, also included appearances by "Pretty Woman" alums Hector Elizondo and Kathleen Marshall?

A: Runaway Bride
Q: Number 10 is a story about girls on the run. After accidentally killing a man, these two best friends hit the road… and just keep going.

A: Thelma and Louise
Q: Number 20 is a 2005 film which earned an Oscar nomination for its twenty-year old star. She plays a headstrong girl who refuses to marry for money, and instead tries to find her own husband. But when her choice of husband runs off with her younger sister she discovers that a handsome stranger (who she has hated since first sight) just may be her true love.

A: Pride and Prejudice
Q: Number 30 premiered in 1996 and helped Leonardo DiCaprio shoot to stardom as one of two star crossed lovers. An adaptation of a classic play, this film co-stars Paul Rudd as DiCaprio's rival for his beloved's affection.

A: Romeo and Juliet
Q: In this comedy Tom Hanks finds love… with a fish.

A: Splash
Q: In movie 50, a fashion designer gets engaged to the Mayor of New York's son. The only problem… she isn't divorced from the husband she married in high school. What movie revolves around this woman's journey to her hometown?

A: Sweet Home Alabama
Q: In this 1995 film, Sandra Bullock falls in love with Peter Gallagher, a man she's never really spoken to but has taken his token every morning at the Chicago subway station where she works. What is it?

A: While You Were Sleeping
Q: What movie, that I am thinking of, stars Brittany Murphy as a nanny who acts like a child, looking after a child who acts like an adult?

A: Uptown Girls
Q: Ok, so you've just had the worst day ever. The photocopier wouldn't work, your clothes won't fit and you missed the bus, amongst other things. You flip on the television and discover that the movie channel is running an all-night, chick flick, movie marathon. The first movie shows a man and a woman typing e-mails to each other. Of course, what neither of them knows is that in everyday life they are business rivals, at heads over his new bookstore. Starring Meg Ryan and that guy from "Forrest Gump," what movie are you watching?

A: You've Got Mail
Q: "Bridget Jones's Diary" author Helen Fielding used elements of which British literary classic in her novel and subsequent film?

A: Pride and Prejudice
Q: What are the names of the stars which play the love couple in "Moulin Rouge"?

A: Ewan McGregor and Nicole Kidman
Q: A single father gets dating help from his son. What movie is this?

A: Sleepless in Seattle
Q: Couple: Francesca Johnson and Robert Kincaid. Chick Flick ?

A: Bridges of Madison County
Q: Cute on-screen couple Tom Hanks and Meg Ryan have appeared together in many movies. Can you name the first?

A: Joe Versus the Volcano
Q: A question from the ultimate chic film, 'Steel Magnolias'. What are Shelby's wedding colors?

A: blush and bashful
Q: In the film Muriel's Wedding, what is Muriel's favorite band?

A: ABBA
Q: Singing the hits of the 1980s at other people's weddings is a tough enough job. But when singer Robbie is left at the altar by his fiancée, he is singing "Love Stinks" instead of "White Wedding". In what 1998 offering does Adam Sandler play the lovelorn singer Robbie Hart?

A: The Wedding Singer
Q: Number 9 is really two love stories in one. An old man in a nursing home reads the story of two young lovers to a fellow resident, while we simultaneously see the young lovers meet and separate as teenagers only to reunite several years later when she is engaged to another man.

A: The Notebook
Q: Number 19 is a witty, romantic look at life in the corporate jungle. Tess is a secretary with big ideas, and when her boss takes a leave of absence Tess discovers that her boss has stolen one of her great ideas and passed it off as her own. Tess then begins to take over her boss' job, her apartment, her wardrobe and may even be moving in on her boyfriend. Will she succeed in taking over her boss' life, or will she return to her days as a lowly secretary? What 1988 film is this?

A: Working Girl
Q: Number 29 is an independent film that went on to be the highest grossing romantic comedy of its time. Starring an unknown actress, it includes all the elements of a good romantic comedy; a transformation from mousy girl to pretty girl, finding love and independence, and a big wedding.

A: My Big Fat Greek Wedding
Q: In this film Geena Davis, Rosie O'Donnell and Madonna team up to help out their men while they're off at war. But they don't take over their jobs, they instead take a more sporting route.

A: A League of Their Own
Q: In movie 49, three waitresses at a Connecticut pizzeria try to navigate life in a small town. One dates a rich boy, one dates a man whose children she baby-sits for and the third tries to decide whether or not she wants to marry her longtime boyfriend. What 1988 movie is this?

A: Mystic Pizza
Q: In this 1999 film Drew Barrymore gets a second chance at high school, but must deal with the mean girls (like Jessica Alba), the geeks (Leelee Sobieski) and cute teachers (Michael Vartan). What is the name of this movie?

A: Never Been Kissed
Q: What is the chick flick called that stars Jennifer Garner with the mental age of a 13 year-old?

A: 13 Going On 30
Q: Okay, so you're starting to feel a bit better. But you're still upset about the way your boss yelled at you. So you decide to keep watching. The next film seems a bit older. It is about a man who moves into the apartment in the same building as a beautiful woman with an affinity for eating her morning meals outside a jewellery store. Starring Audrey Hepburn, what are you watching?

A: Breakfast At Tiffany's
Q: In the movie, "When Harry Met Sally", Marie tells Sally that someone from what section of the bookstore is staring at her?

A: Personal Growth
Q: What were the names of the characters played by Patrick Swayze and Demi Moore in "Ghost"?

A: Sam and Molly
Q: In 1985, Sidney Pollack directed this wonderful movie, starring Meryl Streep and Robert Redford.

A: Out Of Africa
Q: A rich business man discovers a new outlook on life and falls in love after meeting a prostitute. What movie is this?

A: Pretty Woman
Q: Couple: Holger Brandt and Anita Hoffman. Chick Flick ?

A: 'Intermezzo'
Q: In the third Hanks and Ryan movie, the two main characters were involved in the same industry. What was it?

A: Books
Q: What actor of prime time fame appeared in 'Girls Just Want to Have Fun'?

A: Helen Hunt
Q: What is the slogan for Muriel's father's campaign?

A: You can't stop Progress
Q: Sometimes it is the groom who bolts before the wedding. Believing that his one true love is happily married to another, Hugh Grant sets to tie himself to his safe, former girlfriend but leaves her at the altar for Andie McDowell, in what 1994 classic?

A: Four Weddings and a Funeral
Q: In number 18 we see dozens of characters, with interwoven stories, experience love at Christmas time, reminding us that love, like Christmas, is all around.

A: Love Actually
Q: Number 28 stars Diane Keaton, Bette Midler and Goldie Hawn as three women who find support in each other when their husbands leave them for younger women. It has the tagline "Don't Get Mad, Get Everything".

A: The First Wives Club
Q: Cher won an Academy Award for her role in this movie, opposite Nicolas Cage.

A: Moonstruck
Q: In movie 48, an exchange student from Africa tries to infiltrate her high school's most notorious clique "The Plastics". What 2004 teen-centered film is this?

A: Mean Girls
Q: In this 1998 film Meg Ryan and Nicholas Cage play a couple faced with huge obstacles. She's a super busy doctor, and he, technically, doesn't exist. What is the name of this movie?

A: City of Angels
Q: This movie stars Reese Witherspoon as a ghost; what is it?

A: Just Like Heaven
Q: So the layers of stress and upset are slowly starting to fall away, but you think that you're going to have to watch a bit more of this chick flick phenomena. The next movie looks to be set around the American Civil War and follows the lives of four sisters, one who has a knack for writing. It stars that girl who was in "Edward Scissorhands" and "The Crucible". What movie are you watching?

A: Little Women
Q: Love, a sinking ship and a huge diamond describes which movie?

A: Titanic
Q: Couple: Rachel Marron and Frank Farmer. Chick Flick ?

A: The Bodyguard
Q: In the movie 'Ever After,' Drew Barrymore played Cinderella-character Danielle. Which character filled the category of the 'Fairy Godmother'?

A: Leonardo da Vinci
Q: What song plays during the opening credits of 'Shirley Valentine'?

A: The Girl That Used to be Me
Q: In "Breakfast at Tiffany's", what is the name of Holly Gollightly's cat?

A: Cat
Q: 1967's "The Graduate" jumpstarted the career of Dustin Hoffman. As the movie nears its end, Hoffman's character, Ben, runs into the church to stop the wedding of his true love Elaine. What young actress played the part of Elaine Robinson?

A: Katherine Ross
Q: Number 7 is a movie that shows us that love can survive anything… even death. After Sam is killed by a mugger while out with Molly, he tries desperately to get in contact with her, even using a crazy psychic as a go-between.

A: Ghost
Q: Number 17 is a rare chick flick in which the main character doesn't get the guy. Even though she tries to break up his impending wedding (for which she is the maid of honor… or rather dis-honor) she doesn't get her man.

A: My Best Friend's Wedding
Q: Number 27 is a 1993 film that follows four young Chinese-American women who, through a series of flashbacks, come to understand the lives and troubles of their mothers who grew up in China. This search helps them understand their difficult mother/daughter relationships and the differences they have from their mothers.

A: The Joy Luck Club
Q: This 1995 movie starred Clint Eastwood as a photographer from "National Geographic" and Meryl Streep as a married woman with whom he has a brief affair.

A: The Bridges of Madison County
Q: In movie 47, a cheer-ific comedy, Torrance Shipman leads the Rancho Carne cheerleaders to the National finals, in hopes of crushing their opponents the East Compton Clovers who have accused them of stealing their cheers.

A: Bring it On
Q: In this movie, real life ex-couple Ben Affleck and Gwyneth Paltrow play blossoming couple Buddy and Abby, but Buddy is hiding a big secret. At the start of the movie Buddy gives up his seat on an airplane to a stranger named Greg, so the man can get home to his family before Christmas; unfortunately the plane crashes and all the passengers, including Greg, die. A few months later Buddy pays a visit to Greg's widow Abby, but begins to fall in love with her before he can tell her their tragic connection. What is the name of this film?

A: Bounce
Q: What chick flick is about a girl who is dying, when she finally finds love? Hint: It stars a singer.

A: A walk to Remember
Q: Okay quickly now, before the next movie starts, go and fill up your popcorn bowl and ring your friends and tell them to come over for a girlie session. This next movie is in black and white. It's about two musicians on the run from gangsters. In desperation they disguise themselves as women and join a female band. It stars the father of Jamie Lee Curtis, and Jack Lemmon. What movie are you watching?

A: Some Like It Hot
Q: Which actors played young lovers in the film "Bed of Roses"?

A: Christian Slater and Mary Stuart Masterson
Q: Vivien Leigh and Clark Gable starred in this American southern romance directed by Victor Fleming.

A: Gone With the Wind
Q: A straight man pretends to be gay to get a job and get closer to his boss's mistress in this movie. What is the name of this movie?

A: Three To Tango
Q: The couple: Claire Gregory and Mike Keegan. Chick Flick ?

A: 'Someone to Watch Over Me'
Q: What was the name of the Julia Roberts character in 'Notting Hill'?

A: Anna Scott
Q: 'Nobody puts Baby in a corner.' What movie is this line from?

A: Dirty Dancing
Q: 'She's a brain-trapped in the body of a game show hostess.' What movie is this line from?

A: Say Anything
Q: I think we can all agree that hiring a male escort as your date at your sister's wedding, to make the man who dumped you at the altar jealous, is a bad idea. However, it is a wonderful premise for a comedy movie. What star of television's "Will & Grace" plays the jilted bride who hires "The Wedding Date"?

A: Debra Messing
Q: Number 6 takes place in the Catskills during a summer in the '60s, and shows us that even a safe little Daddy's girl can get a guy from the wrong side of the tracks if she learns to do the mambo.

A: Dirty Dancing
Q: Number 16 involves a sports agent who grows a conscience and loses his job. His assistant is a single mom with an adorable son whom the agent falls for, and though he eventually marries the woman, she wonders if he loves her or her son. What is the name of this movie?

A: Jerry Maguire
Q: Number 26 stars Julia Roberts as (surprise!) the most famous actress in the world. She had a chance meeting with a regular guy when he spills orange juice on her on the street and so begins this great love story as he copes with her fame and she must figure out her priorities. What is the name of this movie, and the neighborhood where it was set and shot?

A:Notting Hill
Q: Christian Slater gets a baboon heart? Really. That's what this 1992 film was about.

A: Untammed Heart
Q: Movie 46, a 1999 teen comedy, is based on a Shakespearean play. In the film, Bianca Stratford can't go out on a date until her older sister Kat does, but Kat has no interest in dating. So Bianca's potential boyfriends pay a guy to take out Kat in hopes that Bianca will be allowed out of the house as well.

A: 10 Things I Hate About You
Q: In this Julia Roberts classic, she very convincingly plays the most famous actress in the world who falls in love with a normal man, the owner of a travel book shop in England. What is the name of this movie and the London neighborhood in which it is set?

A: Notting Hill
Q: What chick flick is about an amazing dancer who wants to make it big in the dance business and finally does it with help of Lil Romeo?

A: Honey
Q: So, now your friends are over and it seems that you aren't the only one in need of the satisfaction that you get from a good (or even a bad) chick-flick. Sally just got dumped and Kiki got fired! So, as a group you decide to keep watching. This next one stars the woman from "Double Jeopardy", and the guy who was in "X-Men". It is about a woman who, after she gets dumped, pretends to be a doctor who compares men to cows. What movie are you watching?

A: Someone Like You…
Q: In the movie "My Big Fat Greek Wedding", Toula's future mother-in-law's name was spelled incorrectly on the wedding invitations. How did her name appear on the final version of the invitation?

A: Harry
Q: Nickie Ferrante and Terry McKay meet and fall in love during an ocean cruise. To validate their affair, they promise each other to meet again at the end of six months at the top of Empire State Building. Who were they in real life?

Q: Cary Grant and Deborah Kerr
Q: A woman poses as a fiancee to a man in a coma, while she falls in love with his brother. What is this cute comedy?

A: While You Were Sleeping
Are you a fan of trivia? Check out our other awesome trivia questions now!