Christmas is all about spending time with your family, and this Bible Christmas Charades is a great way for you and your children to have fun and learn about the reason for the season. Just download, print, and start playing!
Charades is a great way to have fun and teach things at the same time. That is why bible Christmas Charades is such a great game to play with your kids. They have fun and learn more about Jesus and what the Bible says about Christmas. They will not even realize they are learning something because they will be having so much fun playing.
If you like this game and are looking for more charades ideas you can check out our kids' charades, our Winter Charades, or our New Year's Eve Charades. Any of these are a fun way to spend some family time together during the holidays.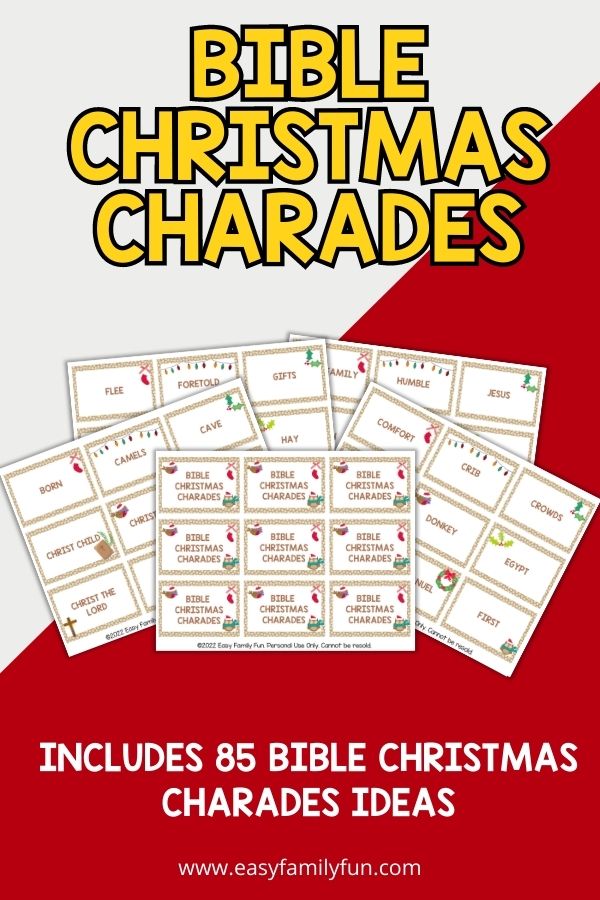 Why I Love Bible Christmas Charades
We love Charades because it is a fun game that brings people together. Family time is special and playing Charades is a great way to spend that family time having fun. It is a game that people of all ages can play and enjoy.
Ultimate Charades Bundle!
Grab our ultimate charades bundle that includes over 23 charades games for one very low price! Your friends and family will love playing charades at all your get together and parties!
What You Need To Play Charades
Download and print the cards provided.
Divide into two teams, once that is done you will need to figure out which team will go first.
Each team will choose which order people will take turns acting out the words on the cards. The team that was chosen to go first starts the game.
The person acting out the word gets one minute to get their team to guess what it is, they can not speak but can use their fingers to show the number of phrases or how many words. Once they look at the card the timer will start.
If the guessing team gets the word right before the time is up they get one point if they do not the other team gets a chance to guess and if they get it right they get the point. If no one gets it right then no points are given.
Play continues until the predetermined point limit is met.
Tips And Tricks For Playing Charades
It's ok to be silly, this will make it more fun.
Team up small children with those that might know the words and can help the team.
Have fun, it is a great way to show your kids that you can have a good time and enjoy time together.
Make sure everyone can have a turn acting words out even if that means a young child has a team member help them.
Bible Christmas Charades Ideas
Advent
Halleluiah
Angels
Appear
Baby
Behold
Bethlehem
Bible
Birth
Born
Camels
Cave
Christ Child
Christmas
Christmas Eve
Christ the Lord
Church
City of David
Comfort
Crib
Crowds
Divine
Donkey
Egypt
Elizabeth
Emmanuel
First
Flee
Foretold
Gifts
Glorious
Glory
Hay
Heavenly Host
Herod
Holy
Holy Family
Humble
Jesus
Joseph
Journey
Kings
Kneel
Lamb
Manger
Mary
Mass
Messiah
Midnight
Miracle
Nativity
Nazareth
Night
Praise
Pray
Presence
Prophecy
Prophets
Redeemer
Rejoice
Sacred
Salvation
Save
Savior
Scriptures
Service
Shepherds
Son
Star
Story
Straw
Swaddling Clothes
Tax
Tidings
Travelers
Visit
Wisemen
Worship
Wrap
Wreath
Candles
Carols
Hymns
Songs
Spirit
Do you have more Bible Christmas Charades ideas? Share them in the comments!
Love Charades? Try these charades games!
How Do I Access My Free Printables?
Fill in the form above. You will receive an email in your inbox. If you don't see it, check your spam folder! You will then click to confirm your subscription. Once confirmed, you will be taken to Airtable (a different website), where all our free printables will be waiting for you! It is free to sign up for Air Table!
How Do I Print A PDF?
You'll need a program that supports PDFs. Adobe Acrobat is a great option. Open the program, click file, then print. Select your printer and the number of copies you want to print. Be sure you click double-sided if you want it to print on both sides. 
Can I Resell These?
You may not resell any printable that you find on our website or in our resource library. You may use them for class parties, at church, at home, or in the classroom. You may get these printed at an office supply store or copy center at your own expense.