You'll get a kick out of these hilarious ostrich jokes for kids! These clean and family-friendly jokes are guaranteed to make everyone beak out into laughter!
Looking for some great jokes that will get the whole herd laughing? You won't need to wing it with our awesome collection of ostrich jokes for kids!
Each knee-slapping punchline is just what you need to get everyone giggling endlessly! Grab these ostrich jokes for kids today and share them with all of your family and friends!
You don't need to worry about fowl jokes here; our ostrich jokes for kids are appropriate for all ages. You won't be tempted to bury your head in the sand when you hear your kids memorizing them and repeating them to all of their friends.
Run over to these zoo jokes for kids and camel jokes for kids for more good, clean animal laughs!
Do your kids love jokes?
Grab these fun joke cards for them to laugh at all the time! These make great lunch box jokes, joke card series, bedtime laughs, and more!
Grab your set now! There are over 50+ pages of jokes included! This is a digital download, so it is easy! Just download, print, and enjoy!
Best Ostrich Jokes For Kids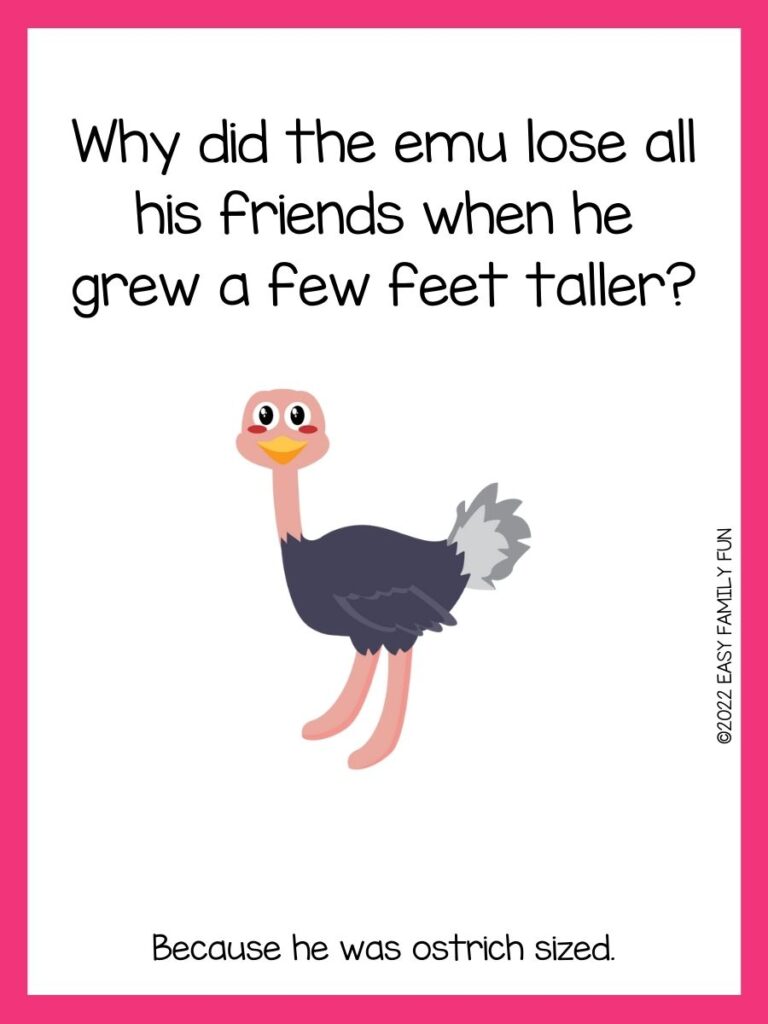 Q: Why did the emu lose all his friends when he grew a few feet taller?

A: Because he was ostrich sized.
Q: Did you hear about that large flightless bird that was excluded from societal norms?

A: Apparently it was ostrich sized.
Q: Why is an ostrich wealthy?

A: Because if it wasn't it would be an ostpoor.
Q: What did the French ostrich say after laying a 4lb egg?

A: Big oeuf
Q: Why couldn't the ostrich fit in with the rest of the chickens?

A: It was ostrich-cized from the chicken coop.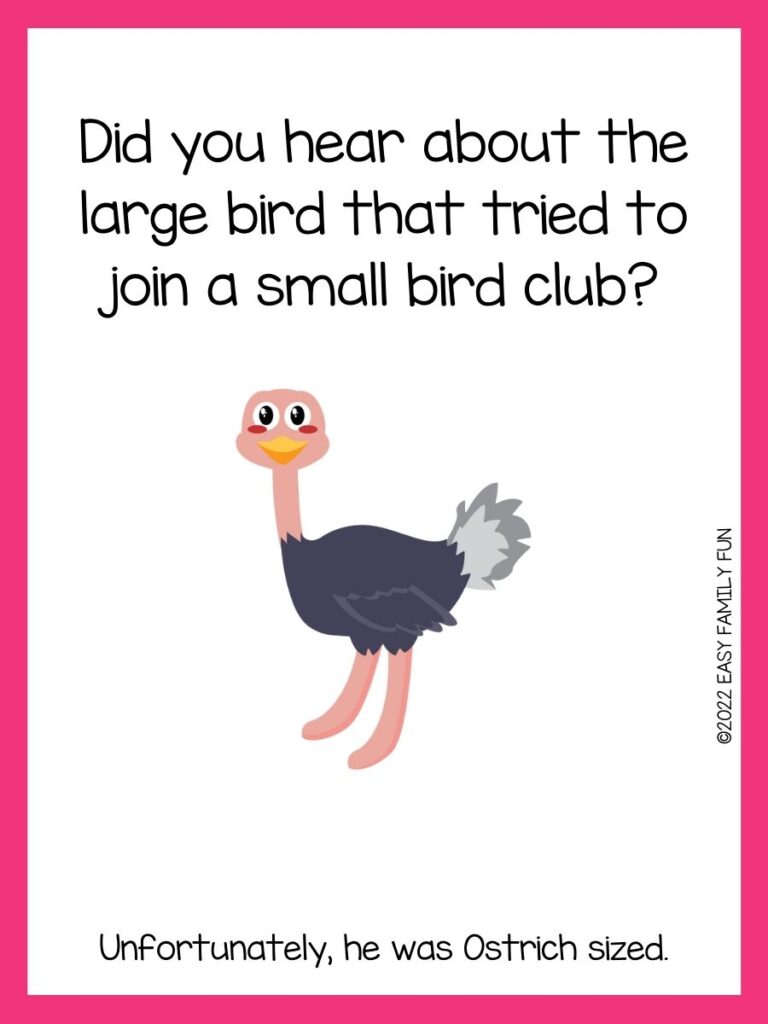 Q: Did you hear about the large bird that tried to join a small bird club?

A: Unfortunately, he was Ostrich sized.
Q: What do you call an ostrich going trough their emo stage?

A: An emu.
Q: What do you get when a condor, an ostrich, and an eagle walk into a bar?

A: Three golfers lying about their game.
Q: What do you call an ostrich that practices magic?

A: An ostwitch
Q: What do you get when you cross an ostrich with a female dog?

A: An osbitch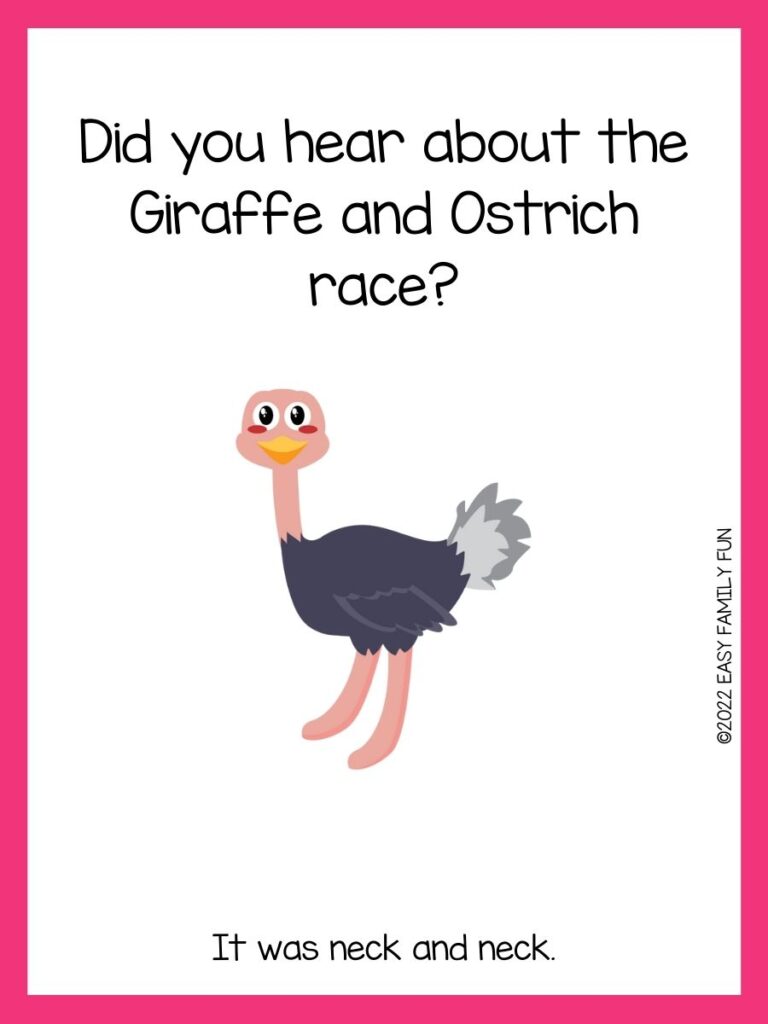 Q: Did you hear about the Giraffe and Ostrich race?

A: It was neck and neck.
Q: Did you know that the fastest animal on land is the ostrich?

A: Actually, it's not but the fastest one is a cheetah.
Q: Why did the judge set the bail so low for the ostrich charged with assault?

A: He wasn't a flight risk.
Q: What do you call an ostrich that doesn't have a father?

A: A bostrich
Q: What did the camel say to the ostrich?

A: Nothing, it can't speak.
Q: Did you hear about the man who was cancelled for pretending to be an emu?

A: He was ostrich-sized.
Q: Why did everyone ignore the tall flightless bird?

A: Because he was Ostrich-sized.
Q: Why did the big bird feel left out?

A: Because he was ostrich sized
Q: Did you hear about the emu that was taller than all of his friends?

A: He was ostrich-sized
Q: Did you hear the one about the turkey that was so big none of the other turkeys would play with him?

A: He was ostrich-sized.
Q: Why were the camels wearing sandals?

A: To stop themselves sinking into the sand.
Q: Why did the ostrich cross the road?

To stick his head in the sand.
Q: Why couldn't the ostritch hear the rhino coming?

A: Because his head was in the sand.
I used to love telling jokes about penguins and ostriches.

But it turns out they don't really fly around here.
A man hit a bird while skydiving and short after he died. Why?

The bird was an ostrich.
Giant bird goes to a psychiatrist…

"I feel like I'm ignored all the time. Maybe it's because you're ostrich sized"
A buddy of mine is working on a program to fit large birds with new clothes, but he only gives them to birds with black feathers.

I said "Wow, that's some ostracizing ostrich-sizing!"
When birds embarrass themselves..

…it's very hawkward.
He said I could take the ostriches but not the ducks.

Because he never gave a flying flock.
There's an ongoing armed seige occurring at at the zoo…

The gunmen have taken a number of ostriches.
Ostrich meat would be a market I could get into to make some good money…

but it probably wouldn't take off.
For over 30,000 years humans gave each other social "likes" by sharing beads made from ostrich eggs.

I guess you might call them emu-jis.
Q: Where do Ostriches come from?

A: Austria
I got head in the sand.

Im an embarrassed ostrich.
A great big bird with a long neck strapped me into a chair and put a gun to my head.

I guess you could say I was held ostrich.
I decided to keep an ostrich as a pet.

But after a few weeks I felt I was being ostracized and thought it best to give him to another home.
The French chef's apprentice really messed up when he dropped an ostrich egg on the floor.

Big ouef
When ostriches are in a group it's called a flock.

But if they go at it alone they are ostracized.
I put a " No Flyers" sign on my front door

The next day I was sent Two Emus and an Ostrich
The world's largest egg is laid by the Ostrich…

And the world's largest woman is laid by your dad.
Do you have some favorite ostrich jokes for kids? Share in the comments so we can add them to the list!
Love Jokes? Laugh with These!
Don't forget to subscribe to our email list so that you know when we add more great jokes to the site that will leave you laughing for hours!
How Do I Access My Joke Cards?
Fill in the form above. You will receive an email in your inbox. If you don't see it check your spam folder! You will then click to confirm your subscription. Once confirmed, you will be taken to Airtable (a different website) where all our free printables will be waiting for you! It is free to sign up for Air Table!
How Do I Print A PDF?
You'll need a program that supports PDFs. Adobe Acrobat is a great option. Open the program, click file, then print. Select your printer and the number of copies you want to print. Be sure you click double-sided if you want it to print on both sides. 
Can I Resell These?
You may not resell any printable that you find on our website or in our resource library. You may use them for class parties, at church, at home, or in the classroom. You may get these printed at an office supply store or copy center at your own expense.