Cane you believe it is Christmas already? There are some things that are mint to laugh, and these candy cane puns are one of them. They are like a breath of fresh air that fills our hearts with joy and our souls with laughter. These candy cane puns are sure to pack a peppermint punch of humor and a belly full of laughs.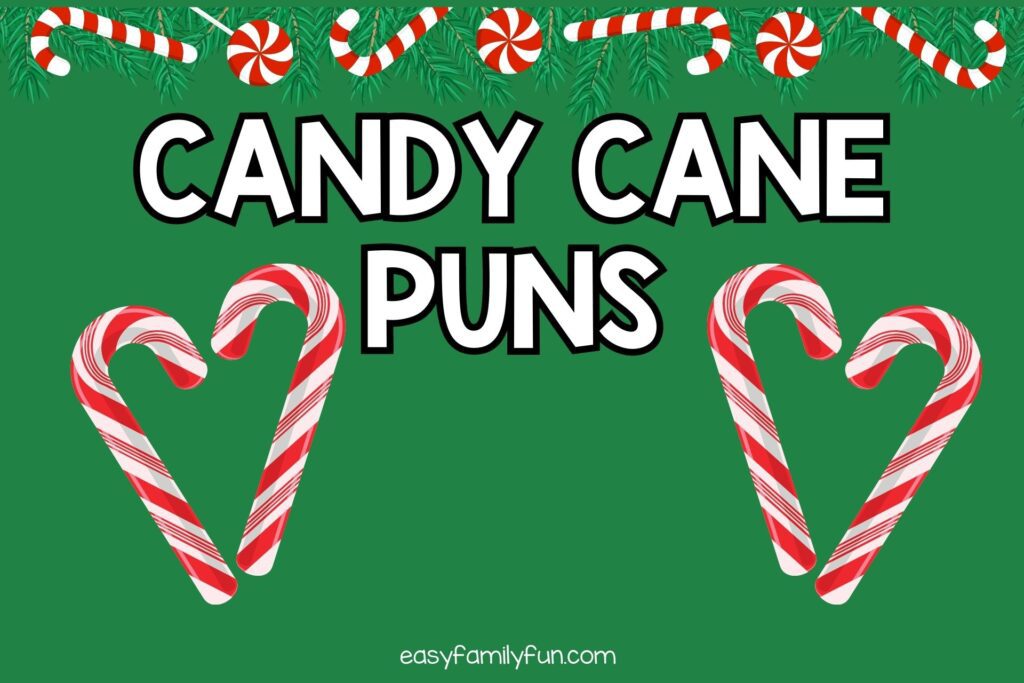 Jokes and puns are the secret to connecting with friends and family around the holidays. They make for the perfect icebreaker or tension-breaker when the holiday drama hits. We love these candy cane puns to add a little humor to our days. We stick them in kids' lunches, tell them around the dinner table or when one of us needs a little laugh.
Once you start laughing with these candy cane puns, you won't want to stop! Pair these with our Christmas Jokes for Kids and our Elf Jokes For Kids for even more laughter and fun this holiday season.
80 Hilarious Candy Cane Puns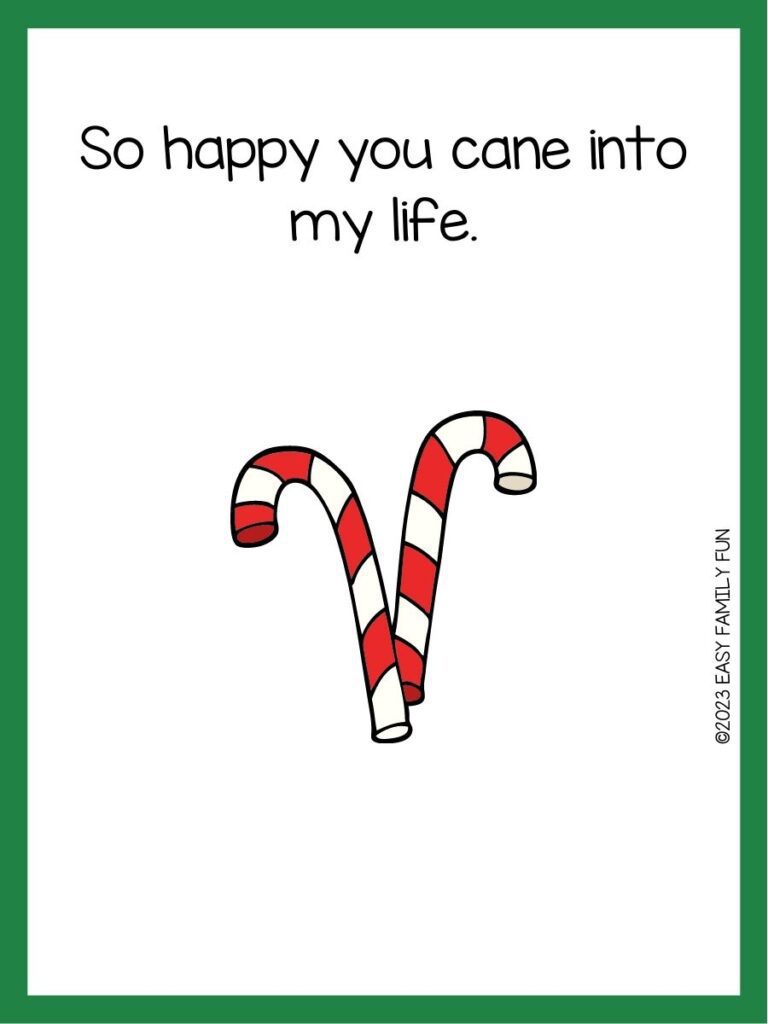 So happy you cane into my life.
I cane believe how lucky I am to have you!
Cane you believe it's already Christmas?
We were Peppermint to be
Felt like the right mo-mint for a gift!
I'm hooked on you!
Thanks for always being so sweet.
Hope your Christmas is in Mint condition.
A gift for always being Minty fresh.
This year, you've earned your stripes!
I candy cane, I candy saw, I candy conquered.
Cane you believe it's Christmas time again?
I love candy canes. Guess you can say I'm… hooked.
I know I'm eating too many candy canes but if you could please hook the other way, that'd be great.
Have a magical Christmas? Yes, we Cane!
Earned my stripes this year.
Having a mint-al breakdown.
Savoring the mo-mint.
What did the limping gingerbread man use to walk?
Did you hear about the collector's item candy cane?

I heard it's in Mint condition.
What do you call a dog made out of candy?

A candy canine.
Why did the collector like to collect candy canes?

Every single one is in mint condition.
Did you hear about the dad who has the world's largest candy cane collection?

They're all mint condition
I knew a guy who collected candy canes.

The were all in mint condition.
I am going to decorate my next christmas tree with miniature tnt sticks instead of candy canes

Oh tannen-bomb oh tannen-bomb…
What did the doctor give the lollipop when he broke his leg?

A candy cane
A coca cola candy cane

it's a Coke-cane
I discovered some unopened candy canes from the previous year.
I've started to collect candy canes; all of them are in excellent condition!
Instead of using candy canes to decorate my Christmas tree, I'm thinking of using miniature TNT sticks.
This holiday season, you've truly earned your stripes!
Christmas always puts me in the mood to misbehave.
Let's stay together this holiday season.
Wishing you a sweet and unforgettable Christmas.
My affection for you is sweeter than candy—almost too sweet to handl
May your holiday season be filled with sugary goodness.
'Tis the season for candy canes!
I desire to be intimate with you.
Our connection was meant to be.
You have me completely captivated.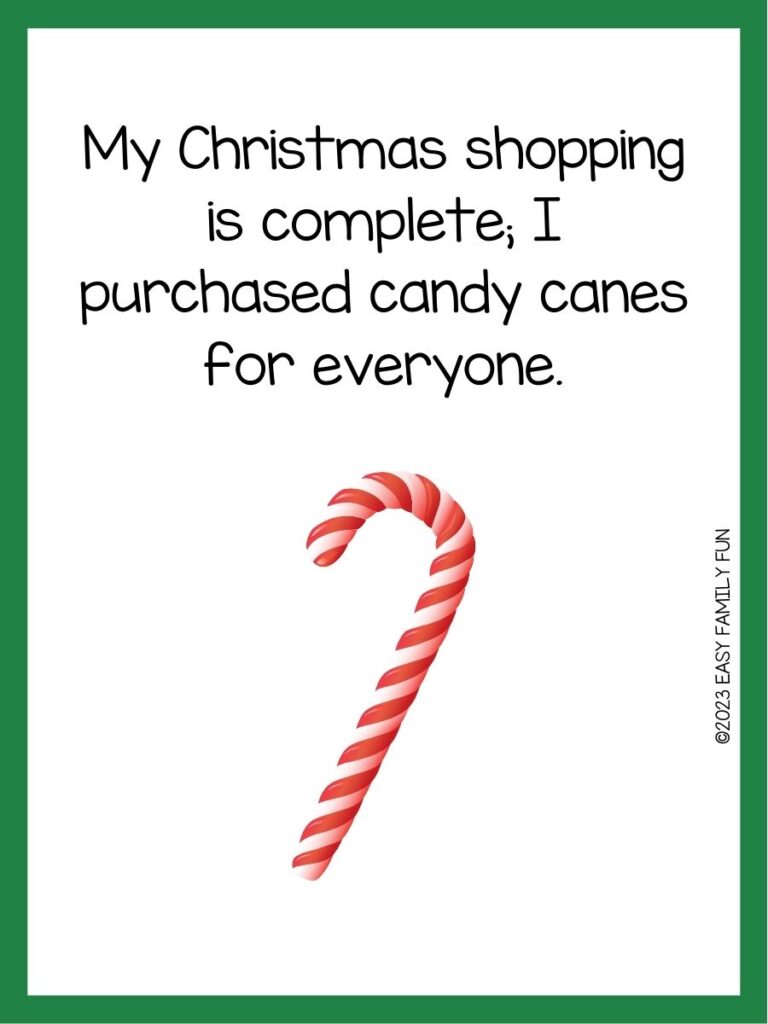 My Christmas shopping is complete; I purchased candy canes for everyone.
You remind me of a candy cane – sweet with a twist!
May your holiday season be delightful and sweet.
You have earned your stripes this Christmas season!
You're like a combination of sweet and edgy, just like a candy cane.
While some folks prefer Christmas cookies, I have a soft spot for candy canes.
"Yes We Cane" – a nod to the power of perseverance.
Candy canes remind us to stay strong, even when we face challenges.
My selfie game is limited, but when I do snap a pic, it's with a candy cane in hand.
The scents of the holiday season take me back to my childhood memories.
A group of sweet and slightly twisted candy canes, that's what we are.
Mistletoe kisses and candy cane wishes to all.
Love and candy are the only two things you need to make life sweeter
I can't believe my luck in having someone like you!
I saw candy canes, conquered candy canes, and now I'm hooked!
Hope your Christmas is as fresh as a mint.
I adore candy canes. You might say I'm addicted.
I know I've had too many candy canes, but if you could look the other way, I'd appreciate it.
Feeling a bit overwhelmed, but trying to stay minty fresh.
May your December be filled with mistletoe kisses and candy cane dreams.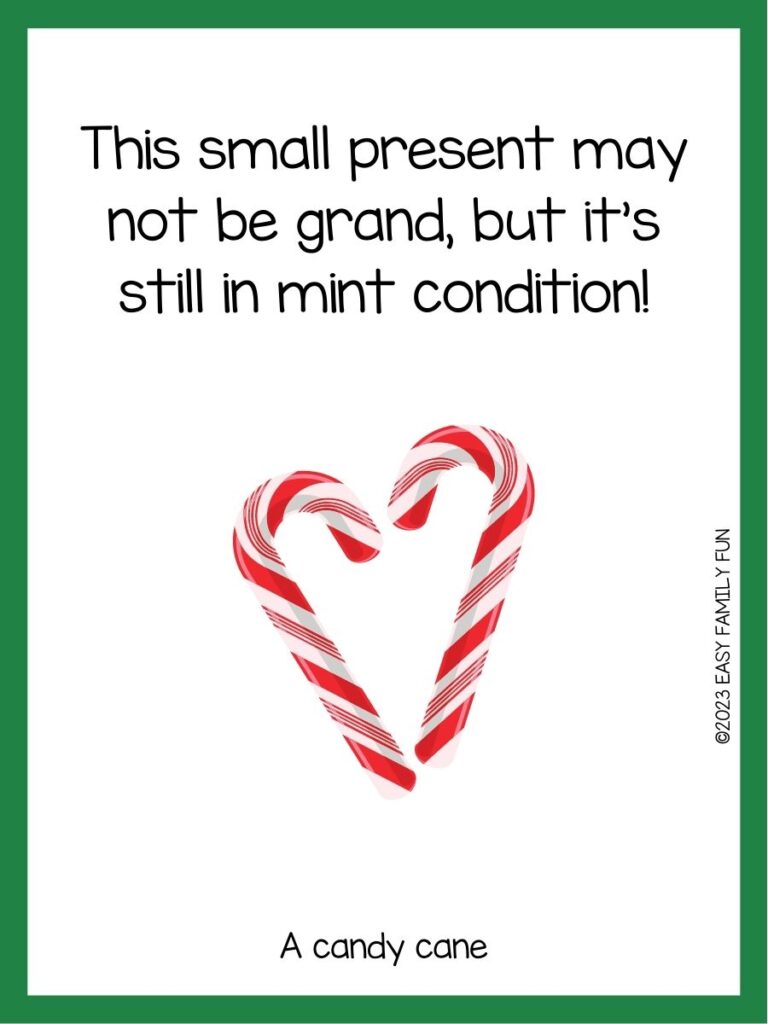 This small present may not be grand, but it's still in mint condition!
Wishing you the sweetest holiday season.
Christmas cookies are fantastic, but my heart is hooked on candy canes
Candy canes are an absolute must-have during the holiday season.
I can't resist the temptation of candy canes this time of year!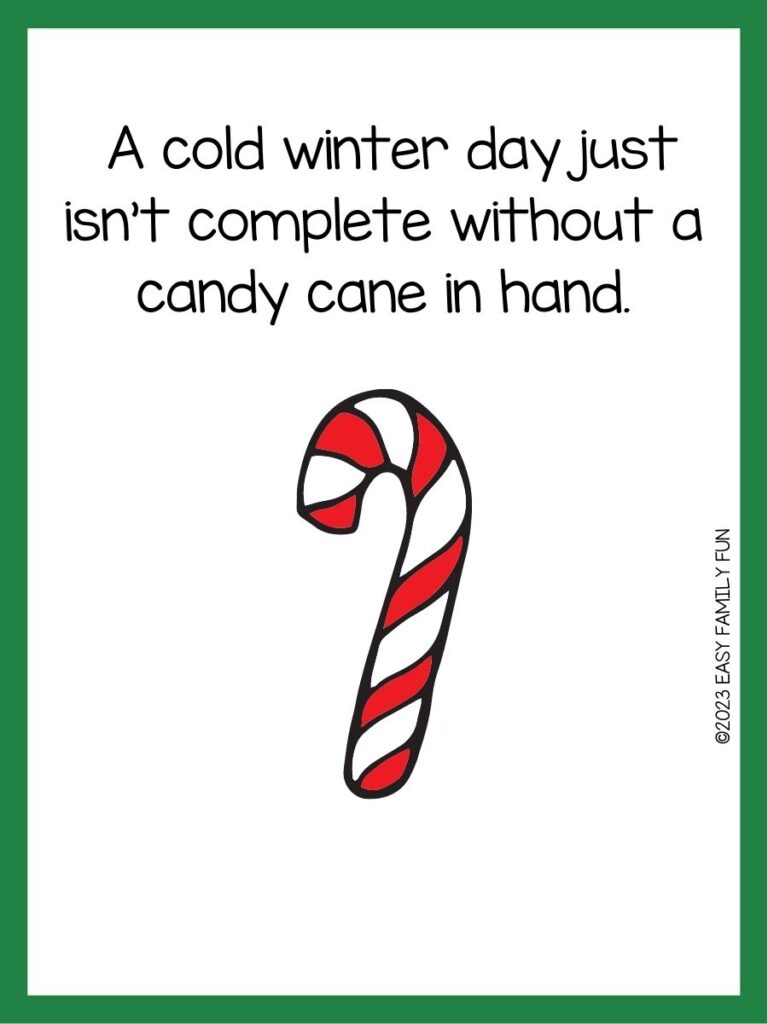 A cold winter day just isn't complete without a candy cane in hand.
The combination of peppermint and sugar in candy canes is simply irresistible.
To fully embrace the holiday spirit, a candy cane is a must-have.
From their flavor to their aroma, candy canes have my heart.
Yum, there's nothing quite like a candy cane to invoke the holiday mood.
Discovering candy canes in my Christmas stocking is a true joy.
Candy canes never fail to satisfy my sweet tooth during the holidays.
You've been good this Christmas – you've earned your stripes!
What is red, white, and blue?

A sad candy cane
Candy Cane Pun Candy canes may be a classic Christmas treat, but they don't have to be boring! …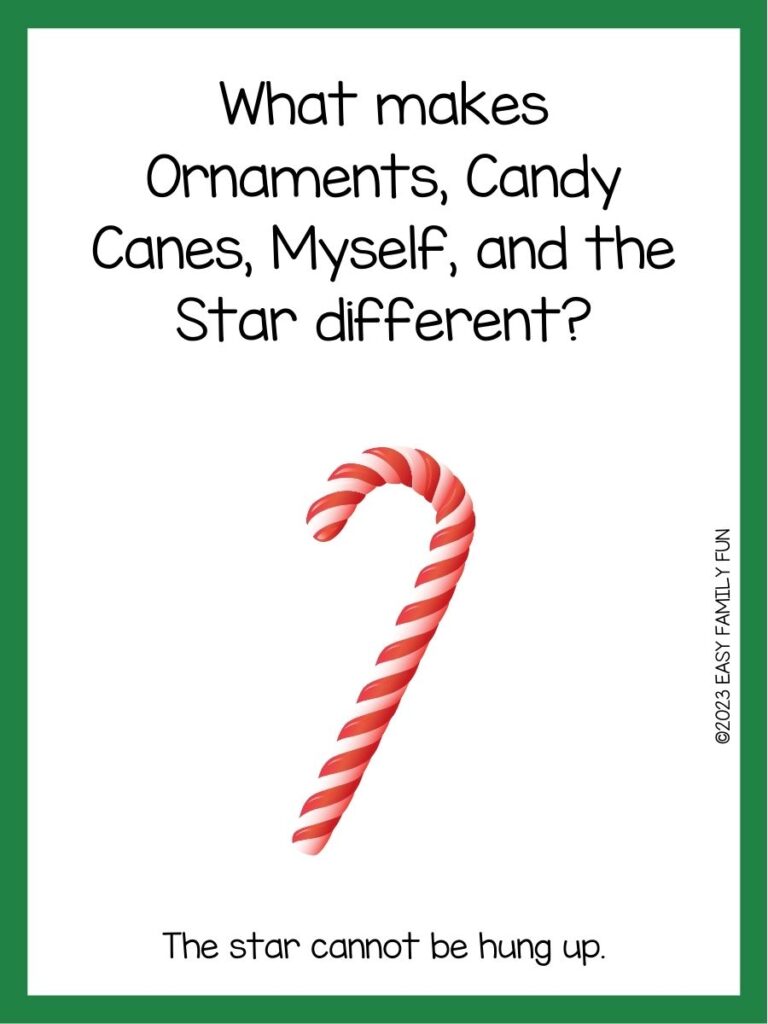 What makes Ornaments, Candy Canes, Myself, and the Star different?

The star cannot be hung up.
Are you a candy cane?

Your curves are as sweet as candy.
Why did the person keep refreshing the candy cane picture at the potluck?

To ensure that the refresh mints were in stock.
What does a dog sound like after eating a candy cane?

Like peppermint bark.
Have you heard about the father with the world's largest collection of candy canes?

They're all in pristine condition.
There you have it! Do you know any other hilarious candy cane puns? Add them to the comments so we can all laugh together!
Love Jokes? Laugh with These!
Don't forget to subscribe to our email list so that you know when we add more great jokes to the site that will leave you laughing for hours!
How Do I Access My Joke Cards?
Fill in the form above. You will receive an email in your inbox. If you don't see it check your spam folder! You will then click to confirm your subscription. Once confirmed, you will be taken to Airtable (a different website) where all our free printables will be waiting for you! It is free to sign up for Air Table!
How Do I Print A PDF?
You'll need a program that supports PDFs. Adobe Acrobat is a great option. Open the program, click file, then print. Select your printer and the number of copies you want to print. Be sure you click double-sided if you want it to print on both sides. 
Can I Resell These?
You may not resell any printable that you find on our website or in our resource library. You may use them for class parties, at church, at home, or in the classroom. You may get these printed at an office supply store or copy center at your own expense.