Looking for something to keep the family entertained on your next hike? Check out these hilarious hiking puns!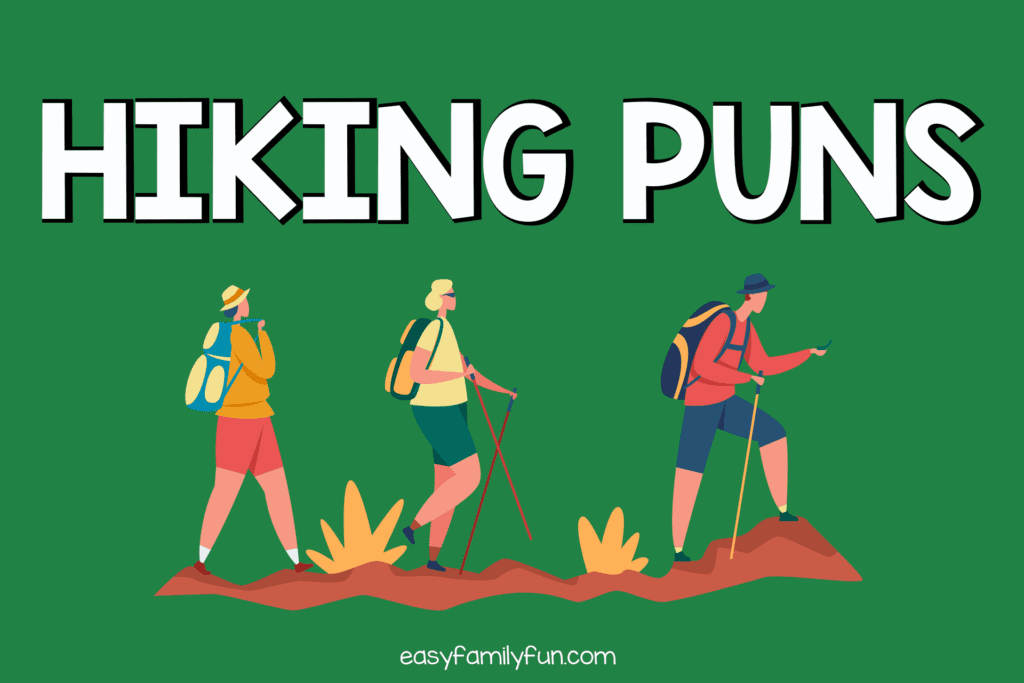 Spending time outdoors is such a wonderful thing to do together as a family – and it can be even more fun with some witty hiking puns to keep you giggling while you explore. Whether you take a leisurely meander through the countryside or attempt to climb the highest peak around, let us give the kids (and maybe the adults, too) something to chuckle about on your trip.
We've got plenty of great puns like Silly Helicopter Puns and Outer Space Puns that will lift everyone's spirits and lighten things up as you enjoy nature in all its glory. So grab those water bottles, lace up those boots and get ready for an adventure with adventuresome laughs along the way!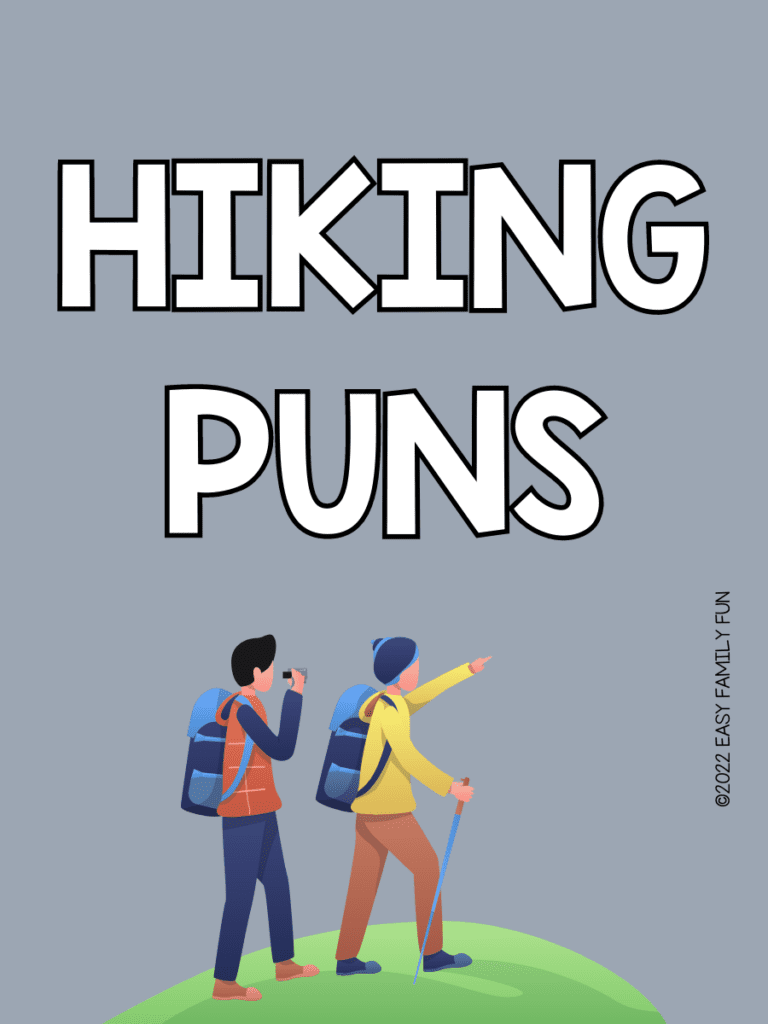 Hiking Puns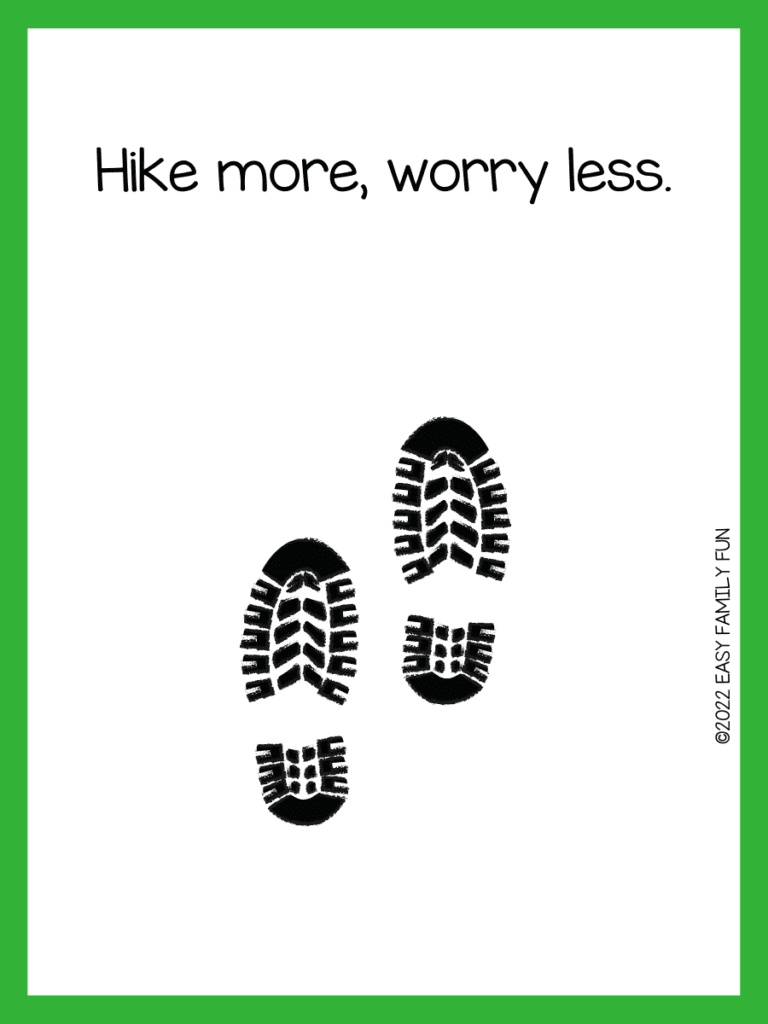 Hike more, worry less.
Sky above, earth below, peace within.
Too much fresh air is not a thing.
Wonder. Wander. Repeat.
Dear mountains, I think about you all the time.
Hiking is my therapy.
All good things are wild and free.
I know I hike like a girl, try to keep up.
I don't need therapy I just need to go hiking.
All I need is a mountain breeze & tall trees.
Let's wander where the WiFi is weak.
You are never too old to play outside.
Life is better in hiking boots.
I'm not lost. I'm exploring.
Life should have more mountains and less stress.
Go wild for a while.
Some of the best memories are made in hiking shoes.
One, two, three steps more to the top.
Out here, I feel alive.
Hiking is cheaper than therapy.
The best view comes after the hardest climb.
The view is always worth the climb.
We have nothing to lose and a world to see.
When life gives you mountains, put on your boots and hike.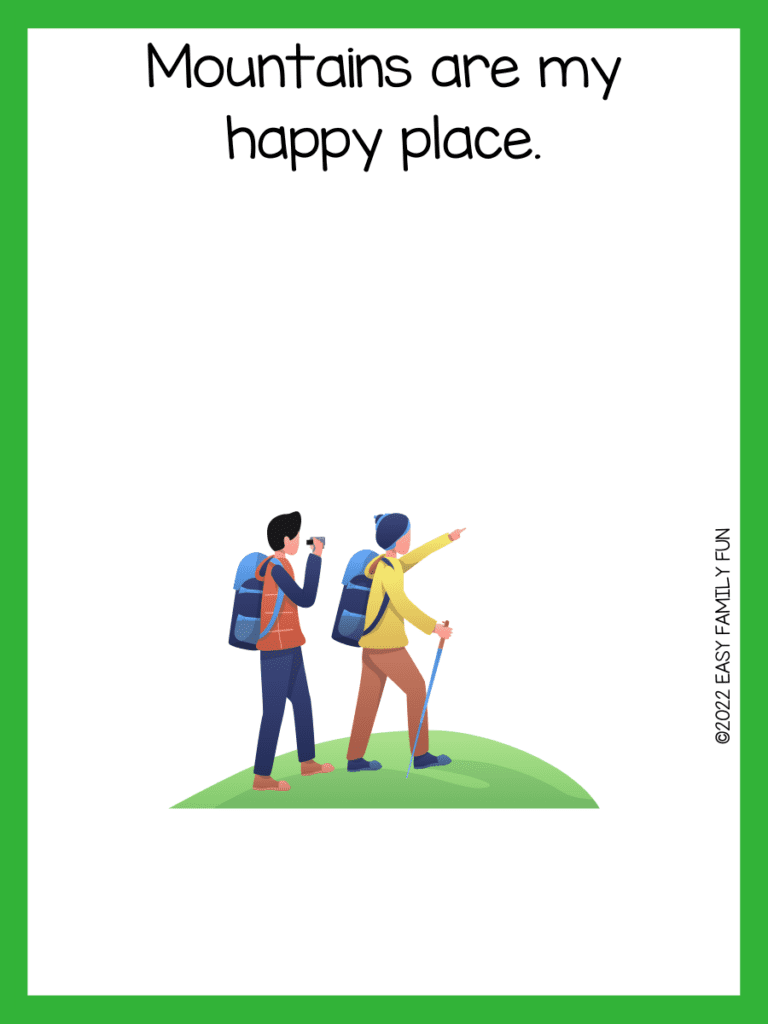 Mountains are my happy place.
Leaf all your worries behind
Hiking with my birches.
Nature is cheaper than therapy.
Main-stream.
Come hill or high water.
Peaks or it didn't happen.
Two's a company, trees a crowd.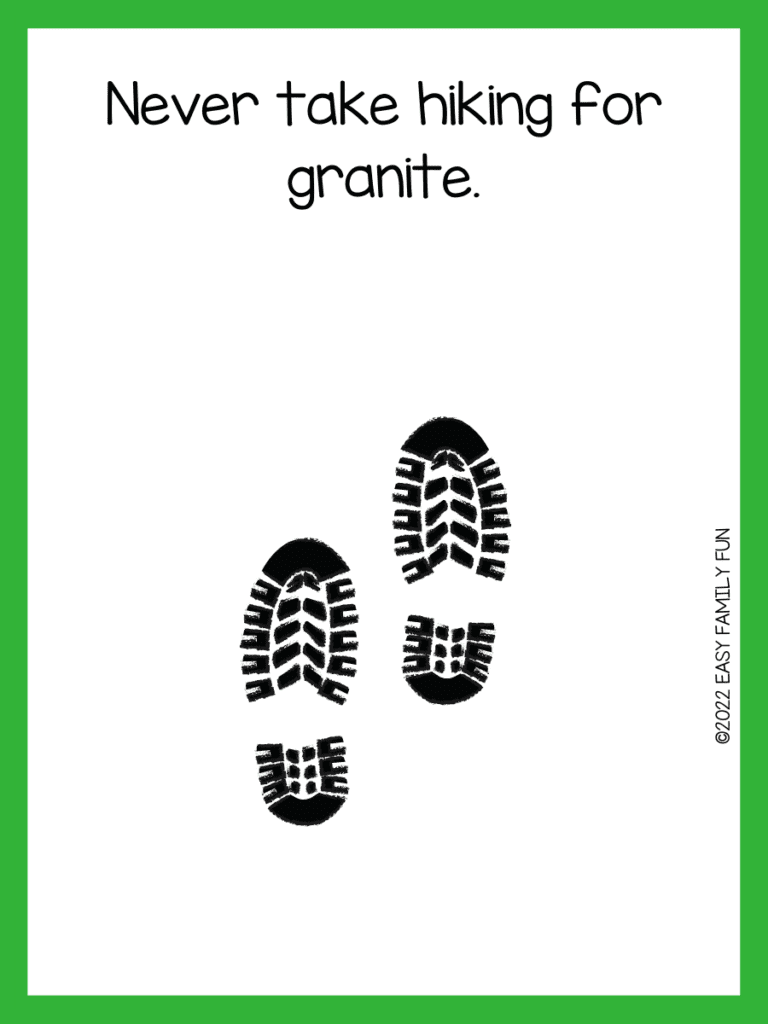 Never take hiking for granite.
Let's wander where the WiFi is weak.
I'm not lost. I'm exploring.
Hiking hair, don't care.
Speechless (and breathless).
Netflix and chill? More like trail mix and hill.
Hoping this trail leads somewhere.
In the woods with my birches.
Just lost my terrain of thought.
Are we there yet?
Try to keep up.
Views? I am the view.
Hiking: the best way to avoid people
Some people peak in high school. Me? I peak all the time.
I don't get it — the map made the trail look so flat!
I should've broken in these shoes more.
After all of this exercise, I'm gonna need extra-fries.
Yeah, I've been around the rock once or twice.
Hiking is the answer. Who cares what the question is?
Feelin' just pine.
Mountain air, don't care.
Netflix and chill? More like sunsets on a hill.
This hike really peaked my interest.
I'm not lost, I am geolocating.
I tried to move mountains, but they just wouldn't budge!
I'd be lost without my friends (and our GPS).
Over the river and through the woods.
Wild is my favorite way to be.
Happy trails!
Life's a climb but the view is great.
Not all who wander are lost.
Always one step ahead.
Walking the trials and trails of life.
Always take the scenic route.
Never stop exploring.
The Great Outdoors was even greater today.
Wild and free — exactly how life should be.
Mother Nature was really showing off today.
Nothing to lose and a whole world to see.
Sky above, earth below.
Pack lighter, go further.
Go wild for a while.
Took a detour.
Life was meant for good friends and great adventures
The mountains are calling.
How long have you got? I can go for hours.
Trailing behind.
Adventure awaits.
Livin' in a daydream.
Gone wild.
If you haven't been here, you haven't lived.
Life is such a fun adventure when you have a hiking buddy.
All good things are wild and free.
Live your life by a compass, not a clock.
Different altitude, different attitude.
Embrace the detours.
It's not where you go, but who you go with.
You keep me safe, I'll keep you wild.
A journey well shared is a journey well enjoyed.
Wish you were here.
Move the body, still the mind.
Tree's company.
Think outside – no box required.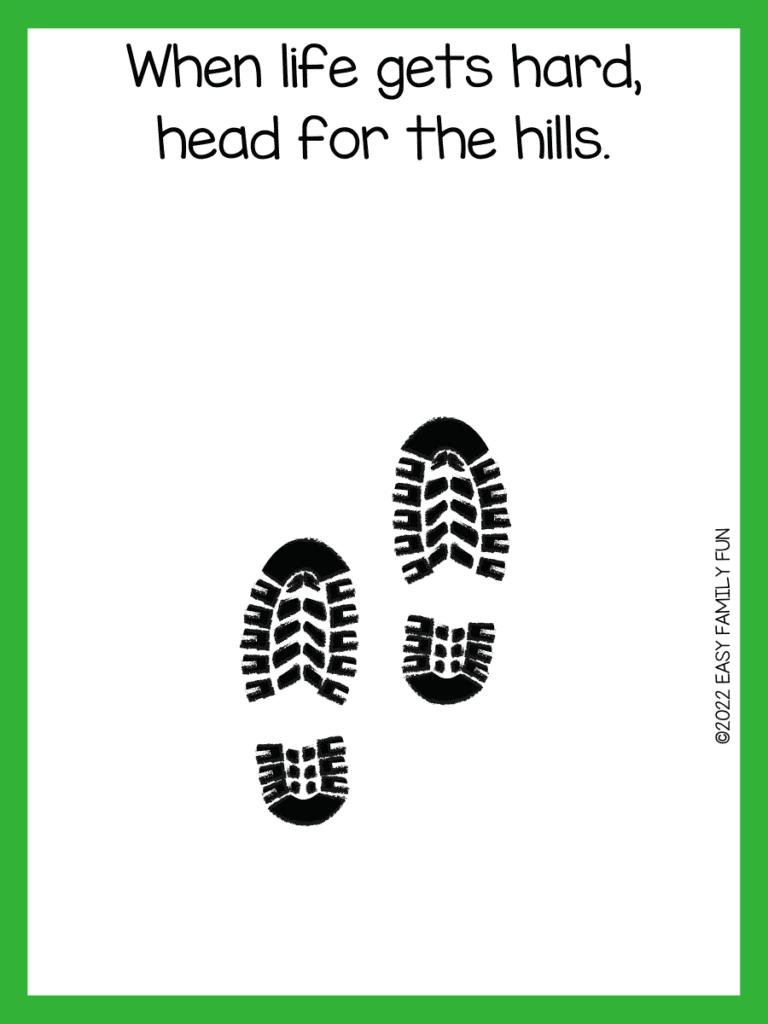 When life gets hard, head for the hills.
Open hearts, open minds, and open trails.
Mountains aren't just funny. They're hill-areas.
What do you call a deer with no eyes? No eye deer!
What do you call a dead deer with no eyes? Still no eye deer!
Plateaus are the highest form of flattery.
See those rocks? Don't take 'em all for granite.
Hiked it, liked it.
This hike rocked.
Why did the hipster die? He got caught in the mainstream.
This is my kind of streaming.
Manic pixie stream girl
My kind of Laker girls
Side rustle
Hey, did you hear the joke about the hill? I couldn't get over it!
These boots were made for hikin'
May the forest be with you.
To summit all up…we had a great time 🙂
Leaf your troubles behind and go on a hike
These trees are unbe-leaf-ably beautiful!
Two's a company, tree's a crowd
Wood you like to go camping with me?
First branch, then brunch
What did you say? I lost my terrain of thought!
This hike really peaked my interest.
Dew-n't you love to walk in the woods?
Gorge-ous views as far as the eye canyon see
Come hill or high water, we'll keep hiking
I could bear-ly finish this hike
Searching for the mountain of youth
Bear with me here…
You trek a lot. Don't you Everest?
You need a change of altitude!
This hike was climb and punishment
Actions peak louder than words
Keep your eyes on the rise!
Don't get your slopes up
These boots were made for hikin'
I'm all a-boot hiking
Hiking really Alps clear my mind
I'm a succa for the yucca
Are you oak-ay? Yeah, I'm pine!
These are my buds
These are my birches
I fernly beleaf my puns are qualitree
Last bud not least, we went hiking
Make like a tree and leaf!
Getting to the top was such a re-leaf
This is Andes-cent exposure
Hiking and happiness go hand in hand…or foot in boot.
Hey, water you doing tonight?
She told me to take a hike, so I did.
Put the petal to the metal
You grow, girl
Putting the "bliss" in blisters
Getting blisters with my sisters
Toe-ing the line between fun and torture
You need special gear for hiking…and a bit of a special soul as well.
These people are my sole-mates.
Resting beach face.
Love these gulls and buoys
I'd be lost without these friends (and our GPS)
I like big buttes and I cannot lie
A great place to hit rock bottom
Let's rock and roll!
Adventure, served on the rocks
This was a pretty gneiss hike
Power to the pebbles
I don't wanna chalk about it
I'm sensing some tents-ion
Packing up camp really raises the stakes
Missed-stakes were made
For all in-tents and purposes, camping is pretty cool
I could go camping forest of my life
The s'more, the merrier!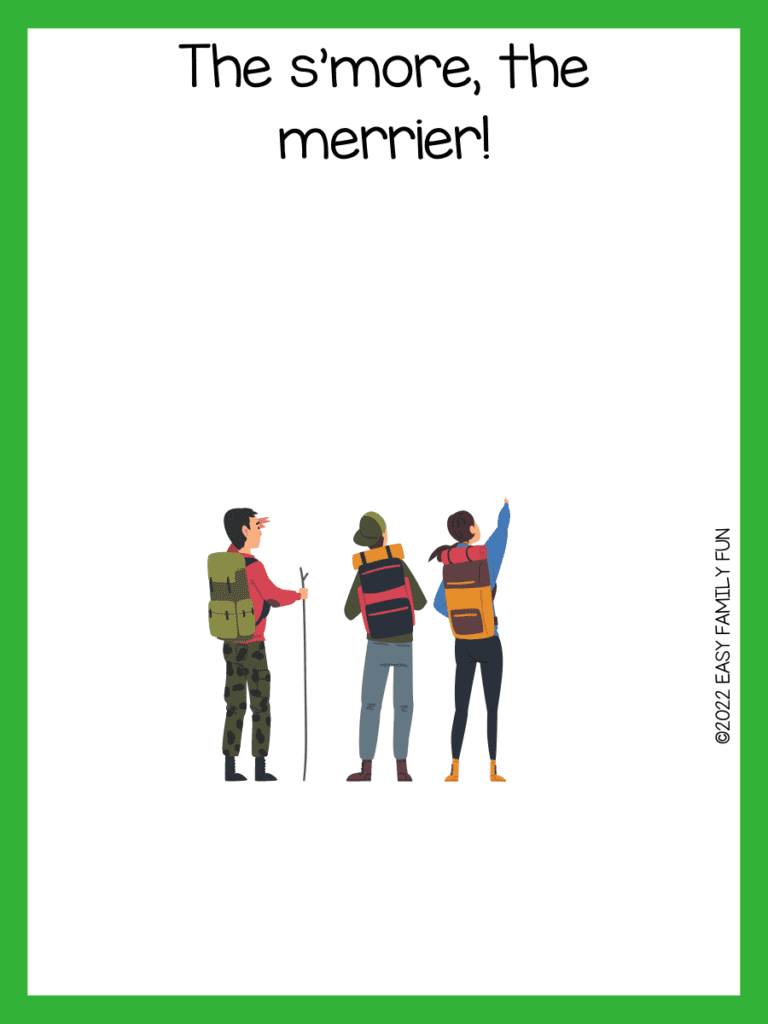 Love Jokes? Laugh with These!
Don't forget to subscribe to our email list so that you know when we add more great jokes to the site that will leave you laughing for hours!
How Do I Access My Joke Cards?
Fill in the form above. You will receive an email in your inbox. If you don't see it check your spam folder! You will then click to confirm your subscription. Once confirmed, you will be taken to Airtable (a different website) where all our free printables will be waiting for you! It is free to sign up for Air Table!
How Do I Print A PDF?
You'll need a program that supports PDFs. Adobe Acrobat is a great option. Open the program, click file, then print. Select your printer and the number of copies you want to print. Be sure you click double-sided if you want it to print on both sides. 
Can I Resell These?
You may not resell any printable that you find on our website or in our resource library. You may use them for class parties, at church, at home, or in the classroom. You may get these printed at an office supply store or copy center at your own expense.