Do you have a frown that you want to turn upside down? These smile riddles are just what you have been searching for! They are fun and get your brain thinking while laughing and smiling. No bad mood exists with these smile riddles.
Riddles are the best way to make kids and adults smile. Riddles take time, energy, and thought to solve, so it helps take kids' minds off what is troubling them. We love these smile riddles just for that very reason. When you introduce these fun riddles to kids, you are bound to have them leave the situation they are in with a better outlook on life.
Use these at home, in the classroom, or in the car. These smile riddles just may inspire ear-to-ear smiles in no time.
The great thing about riddles is that they are great for all ages. Sure, a small child might not know the answer to the riddle but their answer may be priceless and get a few laughs. I remember my grandma loved trying to solve riddles with me; it was such a fun way to bond with her.
After you solve all these smile riddles, be sure to move on to some other fun riddles, like our book riddles or our space riddles, to test your skill a little bit more!
Best Smile Riddles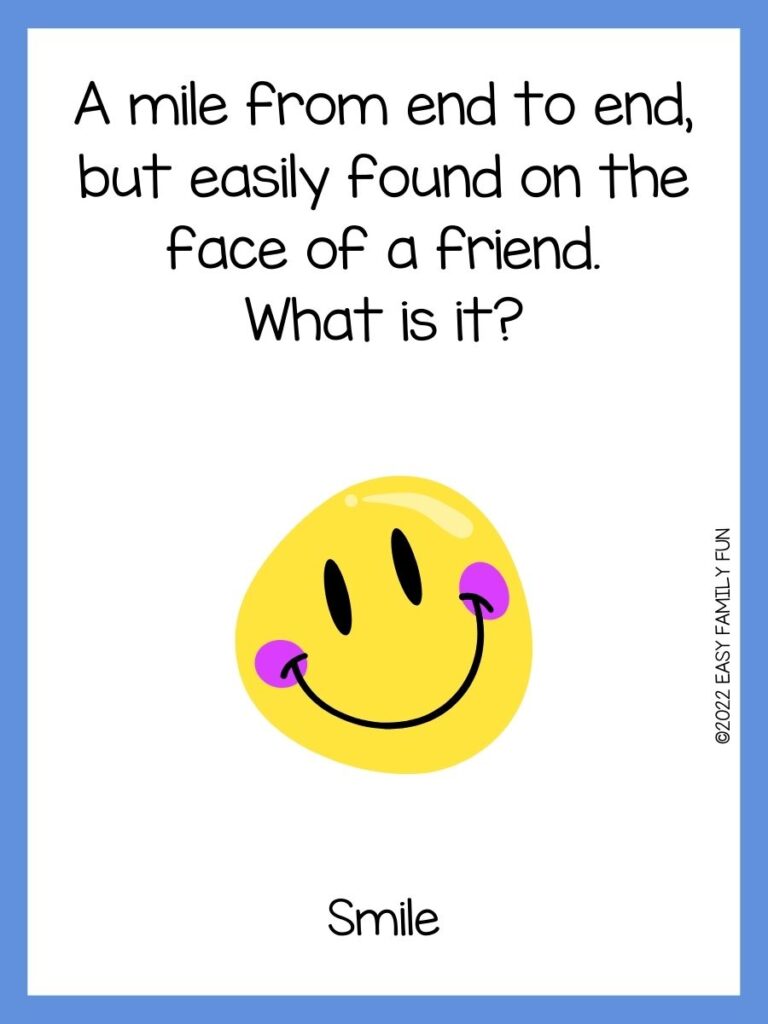 Q: A mile from end to end, but easily found on the face of a friend.

What is it?

A: Smile
Q: A mile from end to end, yet as close to as a friend a precious commodity, freely given seen on the dead and on the living found on the rich, poor, short and tall but shared among children most of all.

What is it?

A: Smile
Q: Though I do not speak, I oft impart the secret wishes of the heart; I may deceive, may make amends, may create foes, and yet make friends the harshest anger I can disarm, such is the power of my charm.

What am I?

A: Smile
Q: What is the longest word in the dictionary?

A: Smile (Because it has a mile between each s!)
Q: A full one puts a smile on your face. You keep on going like it's a race. But as my contents start to diminish, you'll start to think if you're ready to finish.

What am I?

A: A plate
Q: If you drop me I'm sure to crack. But give me a smile and I'll always smile back.

I am a…?

A: Mirror
Q: Guys that laugh and don't make you frown make you smile and never let you far.

Who is it?

A: A clown
Q: I'm a unit that measures length
Although Im not a mile
Theres two of me on your body
But Im not used to smile

I am?

A: Feet
Q: I can bring a smile to your face, a tear to your eye or even a thought to your mind, but I can't be seen.

What Am I?

A: Memory
Q: King Arthur, Merlin, Sir Lancelot, Sir Gawain, and Guinevere decide to go to their favorite restaurant to share some mead and grilled meats. They sit down at a round table for five, and as soon as they do, Lancelot notes, "We sat down around the table in age order! What are the odds of that?"

Merlin smiles broadly. "This is easily solved without any magic." He then shared the answer. What did he say the odds were?

A: The odds are 11:1. (The probability is 1/12.)
Q: I can bring a smile to your face,
A tear to your eye,
Or even a thought to your mind.
But, I cant be seen.

What am I?

A: A baby!
Q: We are a pair, We can dart here and there, Though we always stay in one place. We can smile or shed tears, Show our pleasure or fears, And you'll find us on everyone's face.

What are we?

A: Two eyes
Q: I asked a woman how old she was, she smiled and said cryptically: "The day before yesterday I was 22, but next year I'll be 25." What is her birthday and when was the date of our conversation?

A: We conversed on January 1 and her birthday is on December 31.
Q: My dewy voice and sappy smile
Will lure you to my tower,
But do not tardy, for you can't be late,
And the walk is half an hour.

Who am I?

A: Professor Sybil Trelawney
Q: I have a face that does not smile or frown. I have no mouth, but I make a familiar sound. I have hands, but fingers I do not.

I'm a…?

A: Clock
Q: Look for pairs within my tiles
I am a game that brings fun and lots of smiles

What am I?

A: Mahjong
Q: I can open a place or close empty space; show you behind to put a smile on your face. I am both figurative and literal, solid or thought- to choose to enter or to think naught. I'm a gateway that you pass through every day- though you forget how I affect the path that you stay on. For, though the scenes change and turn into dreams, I am a constant with you, forever it seems.

A: I am a door
Q: How do you get a group of personal injury lawyers to smile for a picture?

A: Just say "Fees!"
Q: At times they are green; at times they are brown,
and both of these times, they cause me to frown.
But just in between, for a very short while,
they're perfect and yellow, and cause me to smile.

They are?

A: Bananas
Q: According to a Harvard study, this particular day of the week is so depressing that the average person doesn't crack a smile until 11:38 a.m.

What day is it?

A: Monday
Q: It grows and blossoms it dies and wilts it happens in the beginning and happens in the end, it can make you cry it can make you sad it can make you smile and can make you brave. What is it?

A: Love
Q: I have two hands. I have a face.
My hands go round and round.
I have the numbers 1 to 12
Instead of smiles and frowns.
Find me in the classroom.

What am I?

A: A clock
Q: When I look at her, she smiles at me. When I wink at her, she winks at me. When I kiss her, she kisses me back. When I say I love you, she says it back.

Who am I?

A: Your own reflection in the mirror.
Do you have some favorite smile riddles that we can add to the list? Share them in the comments so we can try to solve them!
Love Riddles? Check out these!
How Do I Access My Riddle Cards?
Fill in the form above. You will receive an email in your inbox. If you don't see it check your spam folder! You will then click to confirm your subscription. Once confirmed you will be taken to Airtable (a different website) where all our free printables will be waiting for you! It is free to sign up for Air Table!
How Do I Print A PDF?
You'll need a program that supports PDFs. Adobe Acrobat is a great option. Open the program, click file then print. Select your printer and the number of copies you want to print. Be sure you click double-sided if you want it to print on both sides.
Can I Resell These?
You may not resell any printable that you find on our website or in our resource library. You may use them for class parties, at church, at home, or in the classroom. You may get these printed at an office supply store or copy center at your own expense.