Ice cream, you scream, we all scream for these Ice cream riddles! These are perfect for any hot summer day waiting for the ice cream truck to come by. It's much more fun than spending time trying to find moose tracks!
Ice Cream Riddles
Ice cream seems to be perfect for all occasions, from family game night to an after-school treat. Riddles are a perfect way to add extra scoops of fun while eating ice cream, especially when reading these amazing ice cream riddles. There's no better cherry on top than having these ready for parties and sundae making time.
No need to freeze up over these riddles; our funny ice cream riddles for kids are 100% clean and family-friendly. Once you start reading these riddles, you won't be able to stop!
For more riddles that you will love be sure to check out Sweet Candy Riddles, Halloween Riddles, and Thanksgiving Riddles to gobble up!
Do your kids love jokes?
Grab these fun joke cards for them to laugh at all the time! These make great lunch box jokes, joke card series, bedtime laughs, and more!
Grab your set now! There are over 50+ pages of jokes included! This is a digital download, so it is easy! Just download, print, and enjoy!
Ice Cream Riddles For Kids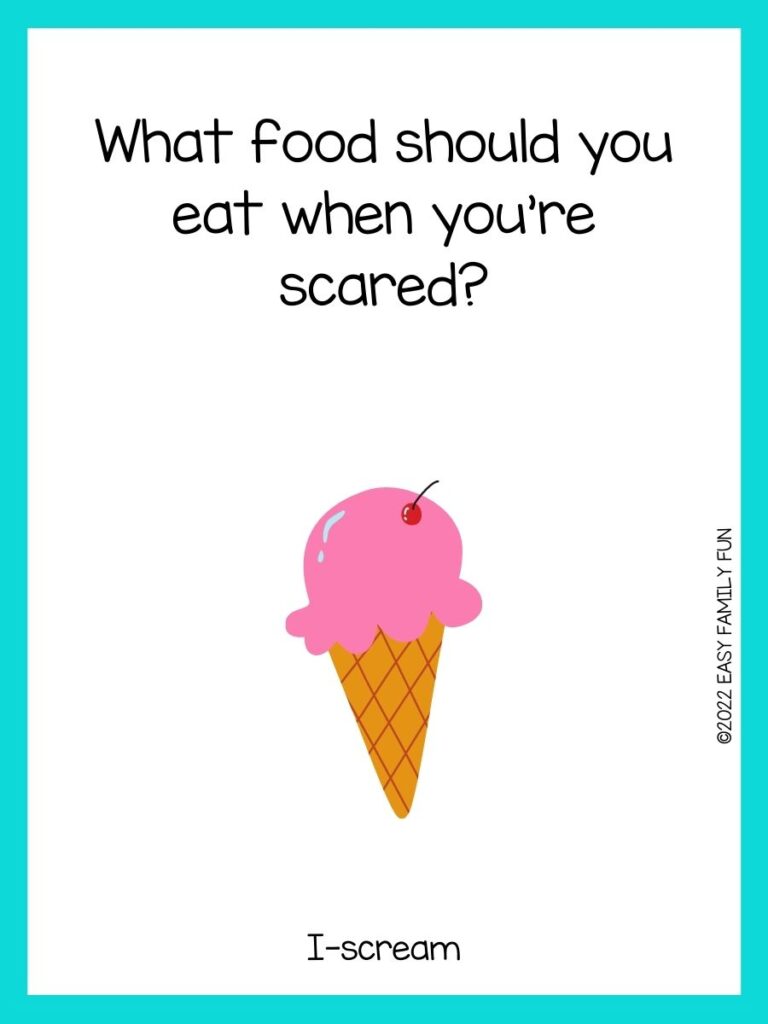 What food should you eat when you're scared?

A: I-scream
What does Ban Ana mean?

A: Banana Split
A Geologist goes to buy ice cream. What flavor does he pick?

A: Rocky Road
Why do we make ice cream from cow milk?

A: It's an udderly good idea!
Where do you learn to make ice cream?

A: Sundae School
What do you get from a frozen cow?

A: ICE cream
How do you make a banana split?

A: Cut it in half
What do you call people who like to eat Rocky Road ice cream all year long?

A: Cocoa-Nuts
What is Chewbacca's favorite ice cream?

A: Wookie-dough ice cream
What is it called when you find a freezer with no Moose Tracks Ice Cream in it?

A: A Moose-take
What flavor of ice cream is never on time?

A: Choco-Late
What flavor of ice cream is a sheep's favorite?

A: Baaaaaterscotch
There are 12 ice cream cones in a freezer, you take away 5. How many do you have left?

A: 5 because you take away 5. The other 7 aren't yours.
What flavor of ice cream will make you sad?

A: Blueberry ice cream
What is a Yeti's favorite sandwich?

A: Ice cream sandwich
Where do reindeer get their favorite ice cream?

A: Deery Queen
What do zombies that are vegan like to mix in their ice cream?

A: Graaaaiiiinnssss
Why did the Moose make a mess in his room?

A: To leave Moose Tracks
Guess how Reese eats her chocolate ice cream.

A: Witherspoon
What do you think would be a golfer's favorite ice cream?

A: An ice cream sand-wedge
What's the best dessert served at the Super Bowl?

A: Sundays
Why did Mrs. Waffle scold her students?

A: She couldn't cone-done her students behavior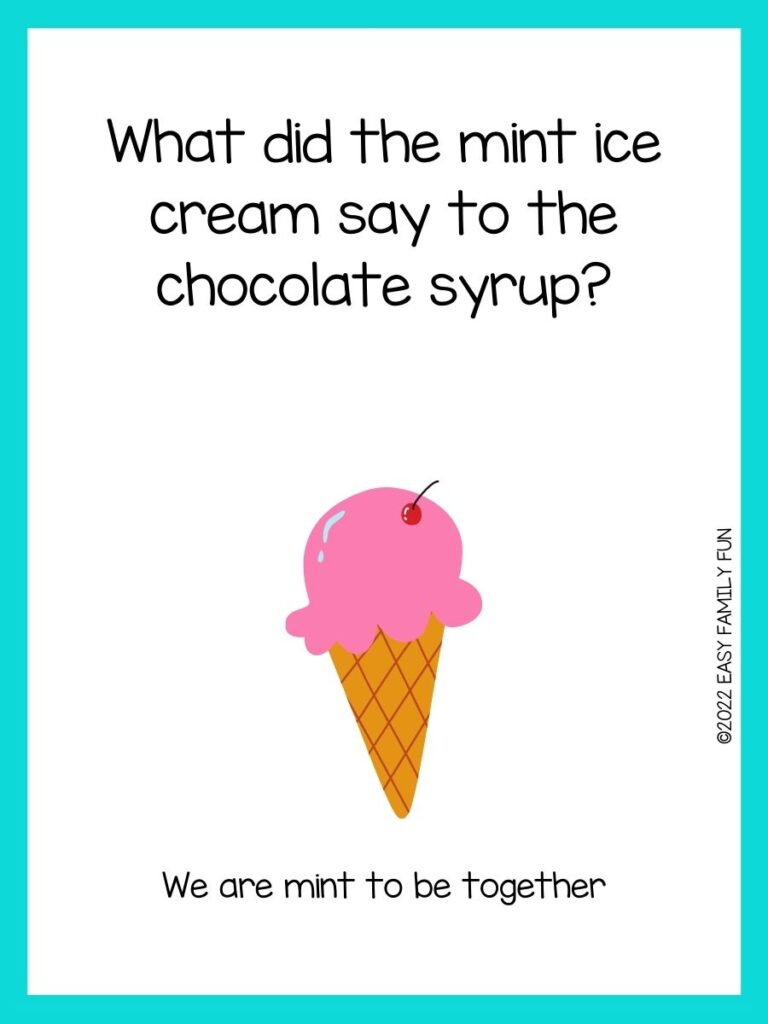 What did the mint ice cream say to the chocolate syrup?

A: We are mint to be together
What is Dracula's go to ice cream flavor?

A: Veinilla
What did the ice cream cake say to the birthday boy?

A: It's sherbert day!
How do geometry students eat ice cream?

A: In a cone
What does the newspaper say to the ice cream in the mornings?

A: What's the scoop?
How did Ernie respond when Bert asked if he wanted ice cream?

A: Sure, Bert
How do you make a baby float?

A: Put two scoops of ice cream on them
How is melted ice cream like music?

A: If you don't C Sharp, you'll B flat!
How do you make a blueberry shake?

A: You tell it a scary story
What can you make from an Alaskan cow?

A: Frozen yogurt
What can happen if you eat a gallon of 'Natural Vanilla' ice cream?

A: You can get Breyer's remorse
When flavors are added, I can turn into a shake. In a bottle I am stored, but when churned, butter you can make. What am I?

A: Milk
Why do people like ice cream in any size, shape, or form?

A: You can't help but love it un-cone-ditionally
Why was the ice cream so optimistic?

A: He thought anything was popsicle
Why does ice cream like to visit Italy?

A: It's gelato fun over there!
What award did ice cream win at school?

A: "The Coolest" award
What is black and white with a cherry on top?

A: A police car
What is a dad's favorite treat in the summer?

A: A Pop-sicle
Do you have some favorite ice cream riddles for kids that we missed? Share them in the comments so we can add them to the list!
Love Riddles? Check out these!
How Do I Access My Riddle Cards?
Fill in the form above. You will receive an email in your inbox. If you don't see it check your spam folder! You will then click to confirm your subscription. Once confirmed you will be taken to Airtable (a different website) where all our free printables will be waiting for you! It is free to sign up for Air Table!
How Do I Print A PDF?
You'll need a program that supports PDFs. Adobe Acrobat is a great option. Open the program, click file then print. Select your printer and the number of copies you want to print. Be sure you click double-sided if you want it to print on both sides.
Can I Resell These?
You may not resell any printable that you find on our website or in our resource library. You may use them for class parties, at church, at home, or in the classroom. You may get these printed at an office supply store or copy center at your own expense.