If you love to make all your friends laugh, our candy riddles for kids are a real treat! These clean, wholesome jokes will have everyone asking for more!
My family loves riddles. We have a big book full of a whole bunch of riddles, including some of our family favorites, like best riddles for teenagers, or best dad riddles. These candy riddles for kids was an easy addition to our family favorites list because it's so much fun! I love to try to stump my family and friends, and then see them melt into giggles when they hear the punchline! You won't want to miss out on these hilarious candy riddles for kids!
No need to worry; our candy riddles for kids are kid-friendly and appropriate for everyone, so you won't feel sour when you hear them coming out of your kids' mouths. They'll love memorizing them and sharing them with all of their friends!
For more yummy riddles, be sure to check out our chair riddles, clock riddles, golf riddles, beach riddles, riddles about the library, food riddles, map riddles, spring riddles, tree riddles, sun riddles, or moon riddles for more riddle fun! There is sure to be something that you and your family love.
Candy Riddles For Kids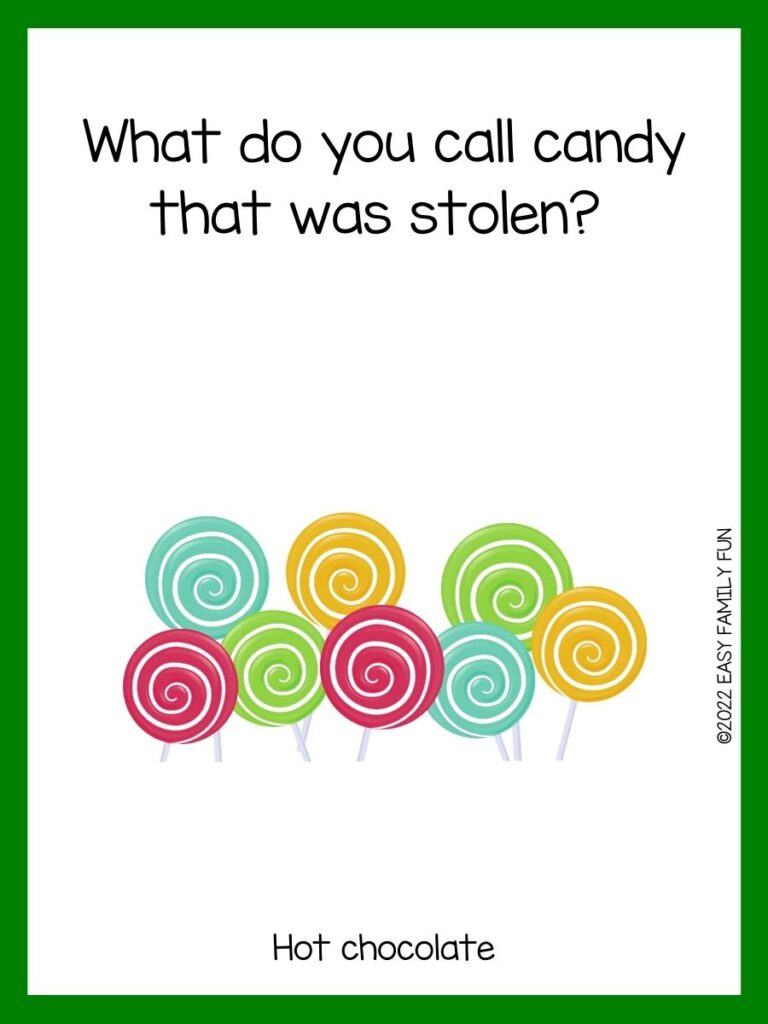 Q: What is a martians favorite chocolate bar?

A: A mars bar
Q: What kind of candy does a zombie refuse to eat?

A: Lifesavers
Q: What kind of beans don't grow in garden?

A: Jelly beans
Q: What do you call a crab that doesn't share his Valentine candy?

A: A sellfish shellfish
Q: I am a food that is so sweet…a red and white curled big or little holiday treat.

A: Candy cane
Q: What is black and sticky?

A: Licorice
Q: What do you call a sheep covered in chocolate?

A: A candy baa
Q: What candy is named after a famous former baseball player?

A: Baby Ruth
Q: What candy bar is like the red planet?

A: Mars bar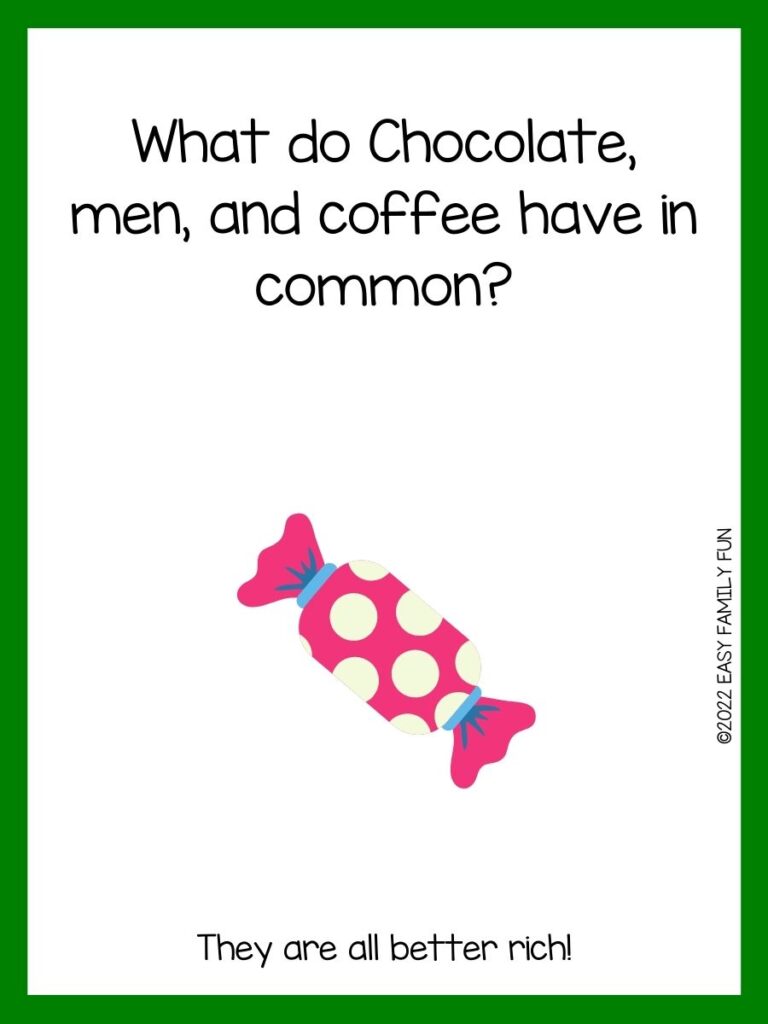 Q: What candy is a happy nut?

A: Almond Joy
Q: What's the candy that is a favorite day for working people?

A: Pay Day
Q: What candy has two female pronouns?

A: Hershey's
I have stripes but Im not a zebra
I look like a hook but have nothing to do with Peter Pan
Im normally red and white but Im not the Canadian flag
I can be eaten but Im not a strawberry jelly sandwich
Im minty but Im the opposite of toothpaste

What am I?

A: A candy cane!
If you took 5 chocolates from a box which contained 21 chocolates, how many chocolates would you have?

A: 5. You took 5 chocolates, so you would have 5.
Q: What do Chocolate, men, and coffee have in common?

A: They are all better rich!
Q: How does the recipe for German chocolate cake begin?

A: First, invade ze kitchen.
Q: What do you call Chewbacca when he has chocolate stuck in his hair?

A: Chocolate Chip Wookiee.
Q: What kind of candy is never on time?

A: ChocoLATE
Q: What kind of bars won't keep a prisoner in jail?

A: Chocolate bars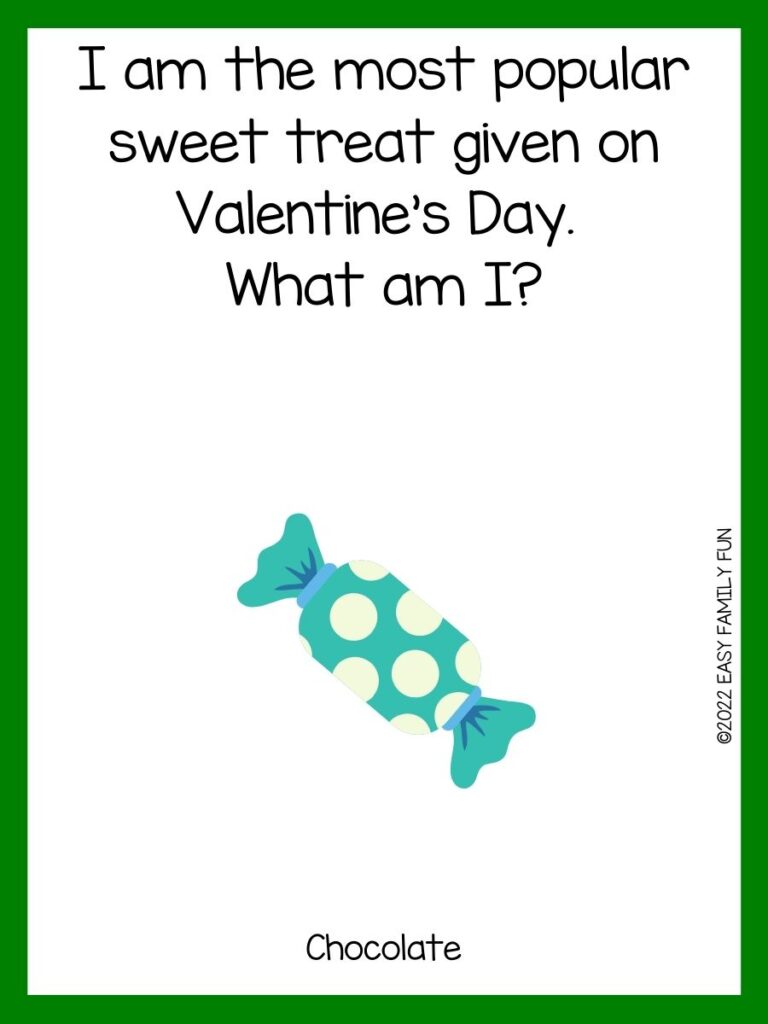 Q: I am the most popular sweet treat given on Valentine's Day.

What am I?

A: Chocolate
Q: What candy is a famous swashbuckling trio of old?

A: Three Musketeers Bar
It sometimes comes as a slab
And sometimes comes as a chip
And sometimes it is a bar
Or fondue in which to dip

What could it be?.

A: Chocolate
You might look just like a shepherd

If you hold a big one of me

The stripy colors make it look

As though Canada's my country

What am I?

A: Candy cane
Q: Sneers or chuckles in an evil way

A: Snickers
Q: Not the rapper, but a whole lot nuttier

A: Peanut M & M's
Q: What a magician with a speech problem performs.

A: Twix
Q: Someone who drops things.

A: Butterfinger.
Q: Where Earth can be found.

A: Milky Way
Q: Small hills in a field

A: Mounds
Q: Best day of the week

A: Pay Day
Q: An animal that you have to build

A: Kit Kat
Q: A Pennsylvania town.

A: Hershey
Do you have some awesome candy riddles for kids that you love? Share them in the comments so we can add them to the list!
Love Riddles? Check out these!
How Do I Access My Riddle Cards?
Fill in the form above. You will receive an email in your inbox. If you don't see it check your spam folder! You will then click to confirm your subscription. Once confirmed you will be taken to Airtable (a different website) where all our free printables will be waiting for you! It is free to sign up for Air Table!
How Do I Print A PDF?
You'll need a program that supports PDFs. Adobe Acrobat is a great option. Open the program, click file then print. Select your printer and the number of copies you want to print. Be sure you click double-sided if you want it to print on both sides.
Can I Resell These?
You may not resell any printable that you find on our website or in our resource library. You may use them for class parties, at church, at home, or in the classroom. You may get these printed at an office supply store or copy center at your own expense.