Campfires, candles, fireworks, and our Sun are the subject of this riddles collection. These Fire riddles for kids will make you warm inside. They will spark your love for riddles and canny wordplay.  
When the power goes out, or your family is around the campfire, these fire riddles will be great fun for the kids. They will kindle the conversation in a fun and wholesome way. Each clever punchline burns brightly and will light a room. The kids will find these entertaining and will keep the fire going by sharing them with their friends.
These riddles are kid-friendly and appropriate for everyone, so you don't need to throw them into the fire. You can try to stump your friends and family. You will be able to feed their need for humor and bright riddles. They will burst into giggles.
But you don't have to burn out on these fire riddles for kids. You can keep your warm and fuzzy feelings with these Rabbit riddles with a side of sweetness with these Candy riddles. 
Do your kids love jokes?
Grab these fun joke cards for them to laugh at all the time! These make great lunch box jokes, joke card series, bedtime laughs, and more!
Grab your set now! There are over 50+ pages of jokes included! This is a digital download, so it is easy! Just download, print, and enjoy!
The Best Fire Riddles for Kids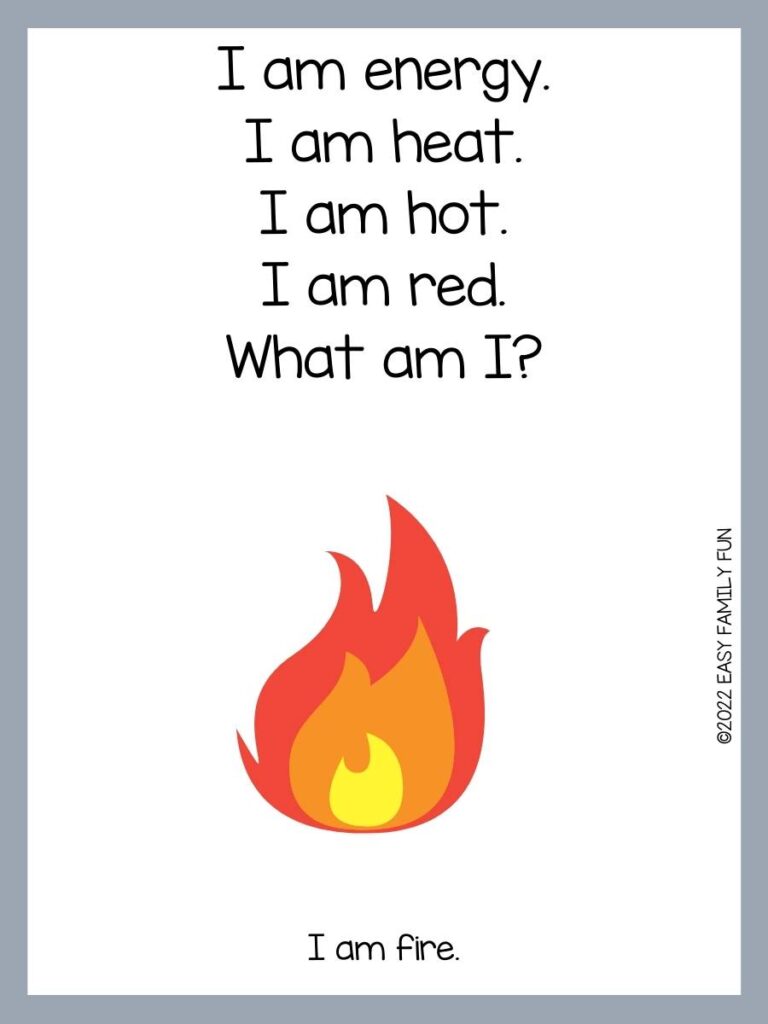 I am energy.
I am heat.
I am hot.
I am red.
What am I?

I am fire
When people can control me, people love me.
When people lose control of me, people fear me.
I cast shadows, but have no shadow myself.
What am I?

Fire
What did one campfire say to the other?

Shall we go out tonight?
Crimson I am born, yellow I dance, ebony I die.
What am I?

Fire
You are in a cabin and it is pitch black. You have one match on you. Which do you light first, the newspaper, the lamp, the candle, or the fire?

You light the match first
This can be found inside some homes
But can you work out its name?
Surrounded by a mantelpiece
It has logs that are aflame

Fireplace
A spirited jig it dances bright,
Banishing all but the darkest night.
Give it food and it will live;
Give it water and it will die.

Fire
What is the fire God lit and never put out?

The Sun
Put into a pit, locked beneath a grate, guarded through the night, yet it still goes out.

Fire
Why is the letter F like an incendiary?

Because it makes ire fire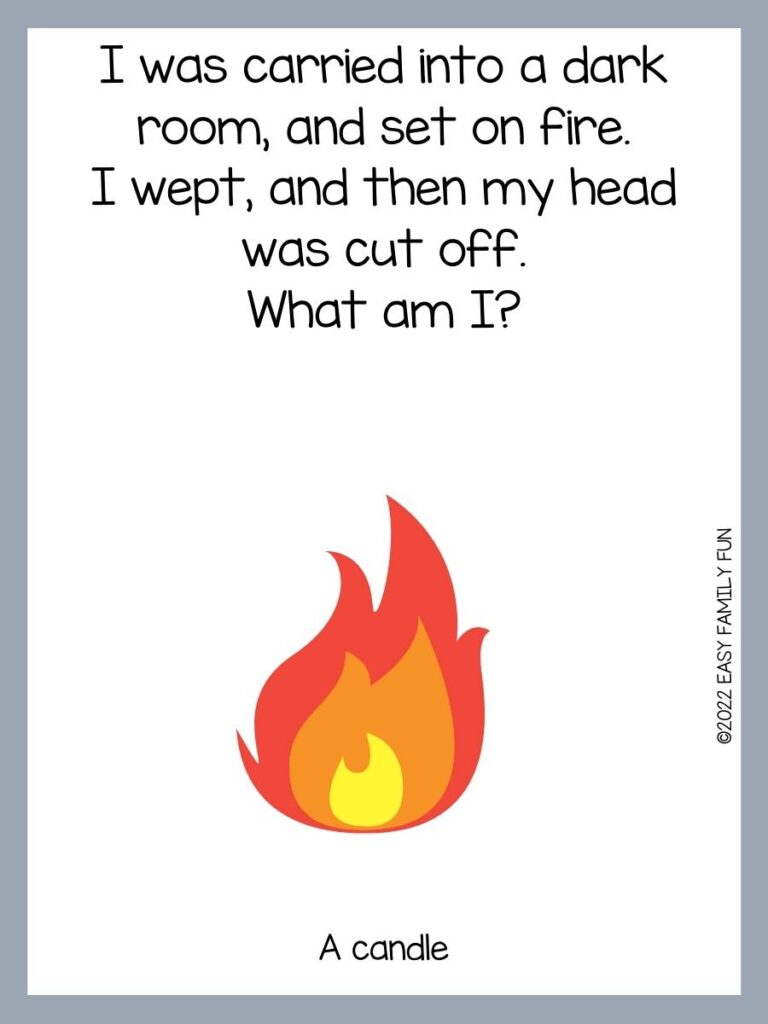 I was carried into a dark room, and set on fire.
I wept, and then my head was cut off.
What am I?

A candle
What's the answer to this rhyme?
I am found beneath a chimney
And when it is Christmas time
I have stockings hung over me

Fireplace
I am a precious little thing, dancing and eating all the time.
Watch me from a distance, so you can feel my warm and gentle love.
But don't come too close or my next meal you could be!

Fire
How can you start the fire using two pieces of wood?

Make sure one them is a matchstick
What happened to the plastic surgeon as he sat by the fire on a cold winter night?

He melted
If you travel overseas
Then you need to buy a case
If you want log flames at home
Then you need a?

Fireplace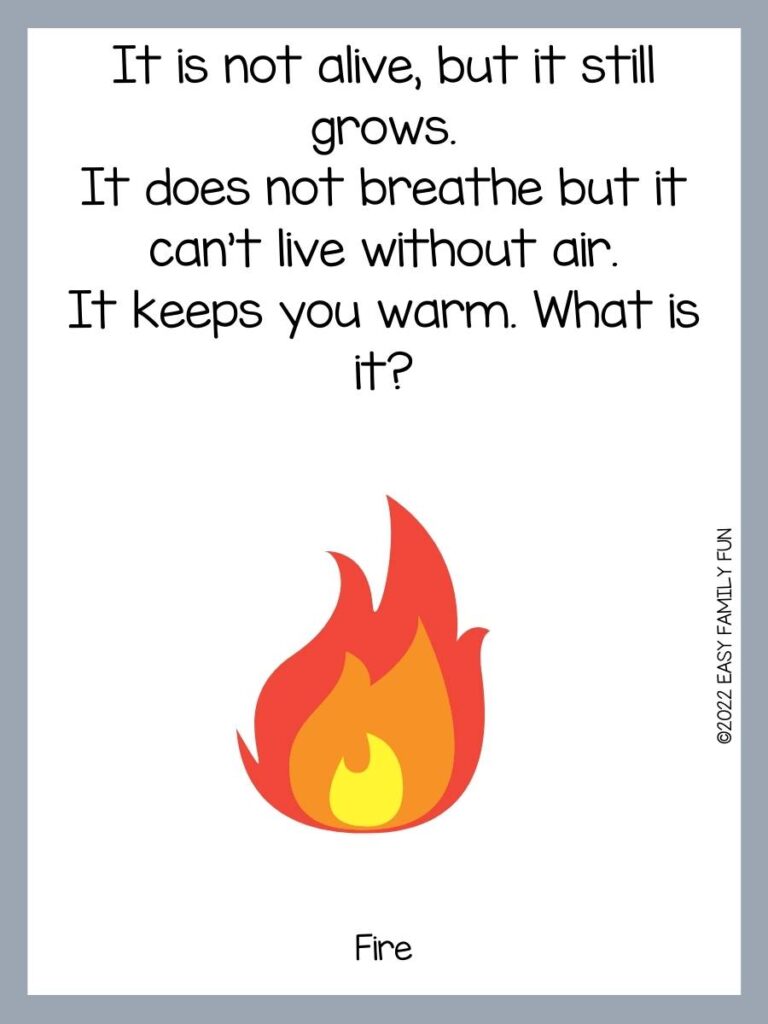 It is not alive, but it still grows.
It does not breathe but it can't live without air.
It keeps you warm. What is it?

Fire
Man's most important invention

Fire
What grows in grass and shrinks in water?

Fire
Touch this and you'll regret it. But if it's cold, you won't forget it. What is it?

Fire
No legs have I to dance,
No lungs have I to breathe,
No life have I to live or die
And yet I do all three.
What am I?

Fire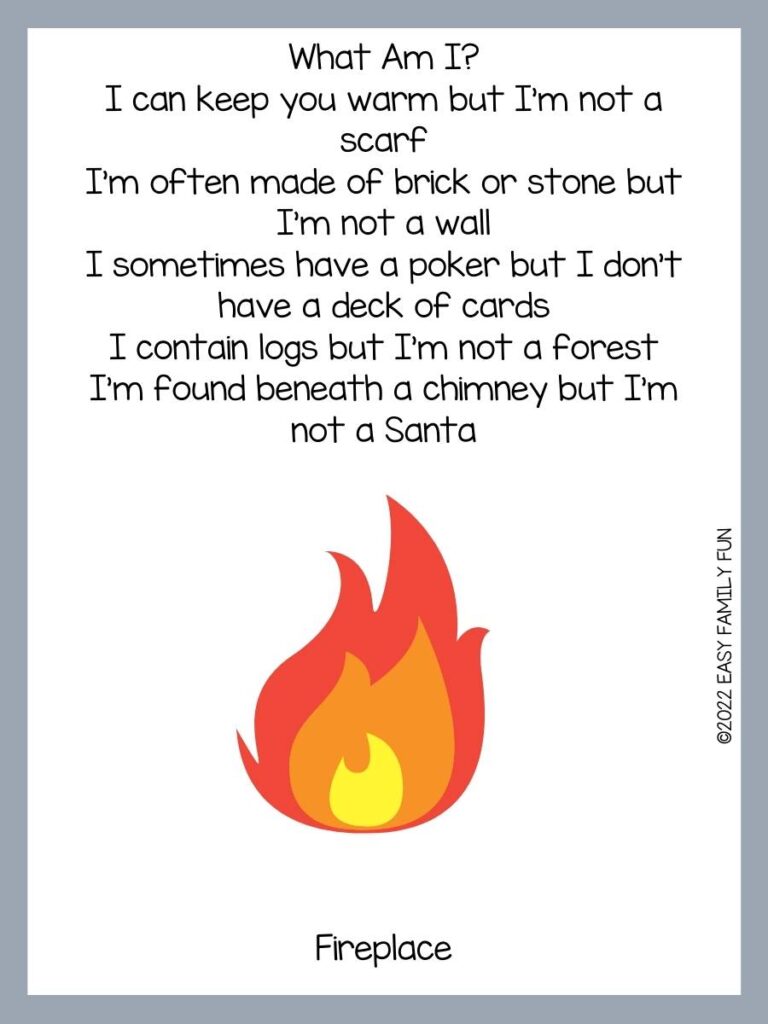 What Am I?
I can keep you warm but I'm not a scarf
I'm often made of brick or stone but I'm not a wall
I sometimes have a poker but I don't have a deck of cards
I contain logs but I'm not a forest
I'm found beneath a chimney but I'm not a Santa

Fireplace
A tool stolen but still must be made, used to explore, protect, and create. What am I?

Fire
What is black when you buy it, red when you use it, and gray when you throw it away?

Charcoal!
Feed me and I live,
Give me a drink and I die.
What am I?

Fire
There are four brothers in this world that were all born together.
The first runs and never wearies.
The second eats and is never full.
The third drinks and is always thirsty.
The fourth sings a song that is never good.
What are the four brothers?

Water, Fire, Earth and Wind
What is dressed when night falls and undressed when day breaks?

Fire
Screaming, soaring, seeking sky.
Flowers of fire flying high,
Eastern art from ancient time,
Name me now and solve this rhyme

Fireworks
As destructive as life,
As healing as death;
An institutioner of strife,
Just as prone to bless.
It is all that is good,
Yet with an evil trend;
As it was the beginning of things,
It can also be the end.
What is it?

It is fire!
When used it can warm you up
But try not to burn your hand
When he comes down a chimney
This is where Santa would land

Fireplace
I am always hungry and will die if not fed, but whatever I touch will soon turn red.
What am I?

Fire
I produce ash but I'm not a bonfire.
I can throw rocks great distances but I'm not a slingshot.
I'm often a mountain but I'm not in the Himalayas.
I have a crater but I'm not the moon.
I erupt but I'm not someone with a bad temper

A Volcano
I give you a group of three.
One is sitting down and will never get up.
The second eats as much as is given to him yet is always hungry.
The third goes away and never returns.
What are they?

A stove, fire, smoke
What insect does a blacksmith manufacture?

Firefly
When is a ship at sea not on the water?

When she is on fire
A wonderful warrior exists on earth. Two dumb creatures make him grow bright between them. Enemies use him against one another. His strength is fierce but a woman can tame him. He will meekly serve both men and women if they know the trick of looking after him and feeding him properly. He makes people happy. He makes their lives better. But if they let him grow proud this ungrateful friend soon turns against them.

Fire
The shape of my form will waver and bend from the things I'm destroying and the things I will rend. My color will vary from bright red and blue, the power I'm using will dictate my hue. What am I?

Flame
Your power just shut off. There is only 1 match. So, which item do you light first the oil lantern, candle or the hand torch?

The match!
Searing 'cross the pitch-black skies, I scream in celebration, yet moments later, my outburst through, I am naught but imagination.

Firework
Name three things that?
1) Are red
2) Can swim
3) Give off heat

Answers may vary 1) Apples, Roses, Stop signs 2) Fish, Dogs, Snakes 3) Sun, Fire, Your Body
If I drink, I die.
If I eat, I am fine.
What am I?

Fire
There is a man that can never enjoy the fireplace, who is this man?

Snowman
A group of men is suddenly awakened by a loud, piercing, continuous sound. They all scramble out of their beds, get dressed, grab a pole, and disappear into a hole.
What in the world are these men doing?

These men are firemen
An old man wanted to leave all of his money to one of his three sons, but he didn't know which one he should give it to. He gave each of them a few coins and told them to buy something that would be able to fill their living room. The first man bought straw, but there was not enough to fill the room. The second bought some sticks, but they still did not fill the room. The third man bought two things that filled the room, so he obtained his father's fortune. What were the two things that the man bought?

The wise son bought a candle and a box of matches. After lighting the candle, the light filled the entire room.
Red through and through,
it has no mouth.
But it eats many things;
it fears water but not wind.

Fire
I am not alive, but I grow;
I don't have lungs, but I need air;
I don't have a mouth, but water kills.
What am I?

Fire
If a fire hydrant has H2O inside, what does it have on the outside?

K9P—you'll get it eventually
What can't be burned in a fire, nor drowned in water?

Ice
What did the firecracker say to the other firecracker?

"My pop is bigger than your pop."
I truly am cause for alarm. When you see me you can lose your house or your life. When you hear me you can also lose your job. What am I?

Fire
I am hewn from Earth and Fire;
But to the sky, I aspire.
I am nothing but contented;
Until my patient rage is vented.
What am I?

A volcano
I can make many people scream yet I can still be seen.
I make many things grow yet still I can melt the snow.
What am I?

I am fire
In me a gas is confined, upon my head a pot, and out of me is fire. What am I?

A gas cooker
What did the parrot say on the 4th of July?

"Poly wants a firecracker!"
Inside a burning house, this thing is best to make.
And best to make it quickly, before the fire's too much to take!
What is it?

Haste!
Do you have some favorite fire riddles that you love? Share them in the comments so we can add them to the list.
Love Riddles? Check out these!
How Do I Access My Riddle Cards?
Fill in the form above. You will receive an email in your inbox. If you don't see it check your spam folder! You will then click to confirm your subscription. Once confirmed you will be taken to Airtable (a different website) where all our free printables will be waiting for you! It is free to sign up for Air Table!
How Do I Print A PDF?
You'll need a program that supports PDFs. Adobe Acrobat is a great option. Open the program, click file then print. Select your printer and the number of copies you want to print. Be sure you click double-sided if you want it to print on both sides.
Can I Resell These?
You may not resell any printable that you find on our website or in our resource library. You may use them for class parties, at church, at home, or in the classroom. You may get these printed at an office supply store or copy center at your own expense.