Get ready to be blown away by our pig-tastic post full of jaw-dropping facts about pigs! These oink-some creatures are not just cute, they're incredibly smart and social too! We're spilling the beans on their brilliant communication skills and their nose that's oh-so-powerful!
Hold your horses, or should we say, hold your pigs! We've got all the deets on the various pig breeds, and trust us; it's more exciting than you think. They're not just bacon-makers; they play a crucial role in agriculture and the ecosystem!
But that's not all! We're diving into their curious behavior, from playful antics to heartwarming maternal instincts. Brace yourself for a rollercoaster of fun as you uncover the hidden depths of piggy personalities.
If you're ready for some other awesome facts, check out our Facts about Raccoons or Turtles for more animal fun!
Facts About Pigs for a Mud-Rolling Good Time
Piglets like to stay warm, so they often sleep in a piggy pile.
Pigs love to play!
Pigs are typically brown, black, yellow, or pink.
Pigs have no sweat glands, so they use mud. There is no way to "sweat like a pig."
A pet pig can live to be 20 years old.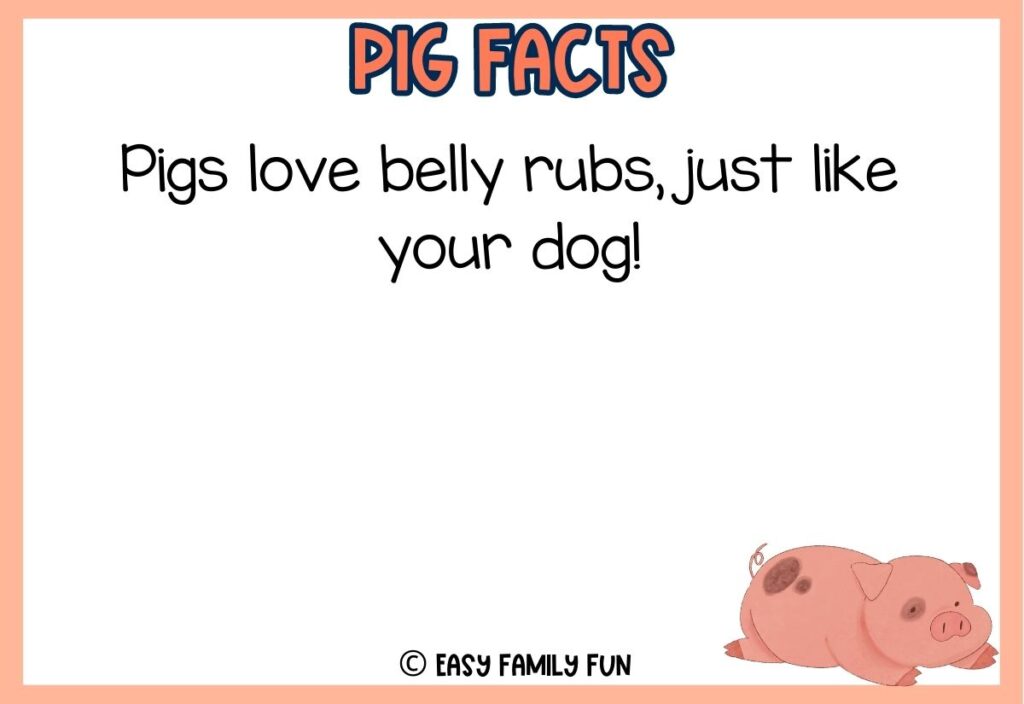 Pigs love belly rubs, just like your dog!
Pigs have 44 teeth.
March 1st is National Pig Day.
Pigs have poor eyesight, but an amazing sense of smell.
Pig hearts have been used in place of a human heart in a transplant.
Pigs have been trained to sniff out landmines.
Piglets can see, walk, and run within hours of being born.
Pigs can dream just like humans.
Pigs are omnivores, which means they eat plants and meat.
Each Piglet has their own teat to drink from; they go to the same one each time.
Pigs squeal loudly when they feel threatened. It is so loud that it measures higher than a jet plane engine.
There are over 600 Million pigs around the world.
Pigs are very intelligent, and it has been shown they are smarter than dogs.
Pigs can be trained to do the same commands as a dog and will learn them faster than the dog!
Pigs are very clean animals, despite rolling in the mud.
Pigs have been domesticated for over 6,000 years.
Pigs are very clean animals, despite rolling in the mud.
Pigs can trot at around 11 miles per hour, despite their little legs.
Pigs do not poop where they eat or sleep.
Sows (female pigs) can start having piglets at 12 months old.
Pigs have four toes.
Pigs can drink up to 5 gallons of water a day.
Rolling in the mud is actually how pigs keep cool.
There are 18 different species of pigs.
Sows can give birth to up to 10 piglets in one litter.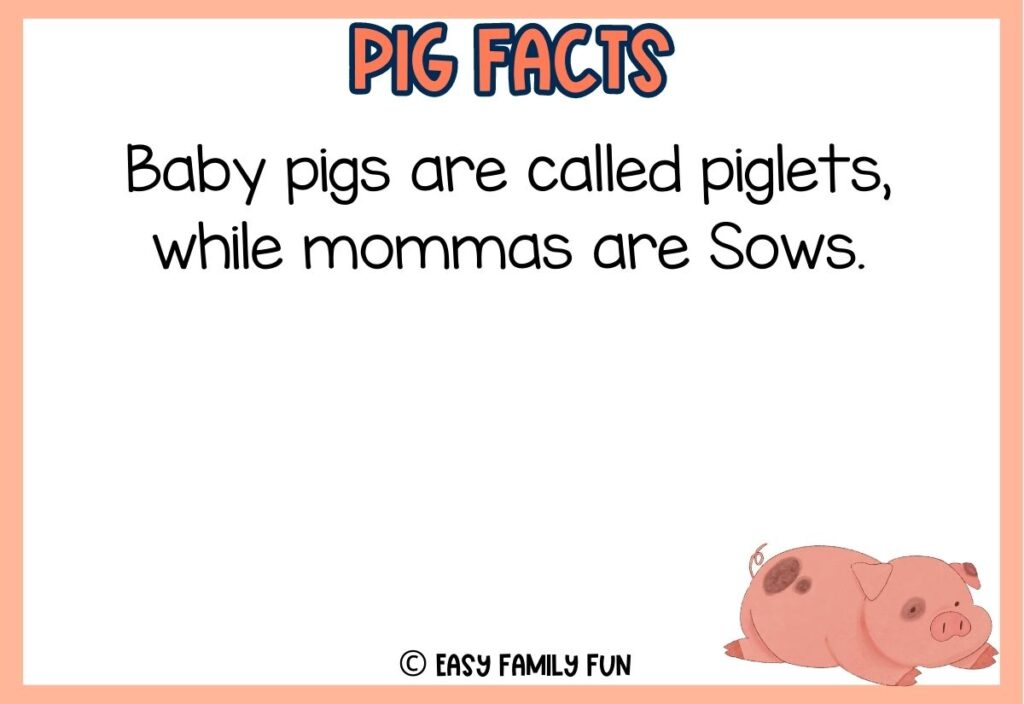 Baby pigs are called piglets, while mommas are Sows.
Male pigs are called Boars.
Pig hair has been used for paintbrushes in the past.
There is one breed of pig called the Mangalica that has hair like a sheep.
Piglets, like humans, can see, walk, and run within hours of being born.
There you have it! Pigs are amazing, huh? If you learned anything new, add it to the comments! We'd love to hear.
Are you looking for more fun and engaging facts to share with your family? Check out these other posts for more facts!
How Do I Access My Printable?
Fill in the form above. You will receive an email in your inbox. If you don't see it, check your spam folder! You will then click to confirm your subscription. Once confirmed, you will be taken to Airtable (a different website) where all our free printables will be waiting for you! It is free to sign up for Air Table!
How Do I Print A PDF?
You'll need a program that supports PDFs. Adobe Acrobat is a great option. Open the program, click file, then print. Select your printer and the number of copies you want to print. Be sure you click double-sided if you want it to print on both sides.
Can I Resell These?
You may not resell any printable found on our website or in our resource library. You may use them for class parties, at church, at home, or in the classroom. You may get these printed at an office supply store or copy center at your own expense.