From its iconic Colosseum and awe-inspiring Vatican City to the mouthwatering delights of Italian cuisine, cultural treasures, and lesser-known wonders that make Rome a city like no other. Let's peel back the layers of history and immerse ourselves in the captivating world of facts about Rome.
Fun Facts about Ancient Rome
One of Rome's nicknames is The City of Seven Hills.
The Seven Hills Rome is nicknamed after, including Palatine, Aventine, and Capitoline, played significant roles in Rome's foundation and growth, offering strategic advantages and breathtaking views of the city.
5 ancient Roman bridges can still be found in Rome today.
Over 500,000 people and 1 million wild animals have been killed in battles at the Colosseum.
St Peter's Basilica in Rome took 150 years to build.
The city of Rome is older than the country of Italy.
Vatican City is a small country inside Rome. It is the smallest country in the world.
Vatican City serves as the spiritual and administrative headquarters of the Roman Catholic Church and is home to St. Peter's Basilica and the Sistine Chapel, adorned with Michelangelo's breathtaking frescoes.
The Pantheon has survived the test of time thanks to a mixture of limestone and volcanic ash that was used to create its stones.

Rome has more Egyptian obelisks than Egypt does.
Big Roman homes had special kitchens, called a careale, just for making cheese during the Roman Empire.
The Roman Forum was the heart of ancient Rome and served as the city's political, social, and commercial hub. Today, visitors can explore the ruins of temples, basilicas, and government buildings, gaining insight into the daily life of the ancient Romans. Julius Caesar was never a Roman emperor, just a general who became a dictator.
Ancient Romans used urine to bleach and deep clean their clothes.
Bruschetta originated in ancient Rome.
Roman mythology dates the founding of Rome by Romulus and Remus to 753 B.C.
The only time Rome hosted the Olympics was the 1960 Summer Olympics.
The eruptions of Mount Vesuvius in 1906 prevented Rome from being able to host the 1908 Summer Olympics.
Rome boasts an unparalleled artistic heritage, with countless museums and galleries showcasing masterpieces from renowned artists such as Michelangelo, Raphael, and Bernini.
Rome has a secret passage that leads from Castel Sant'Angelo to Vatican City.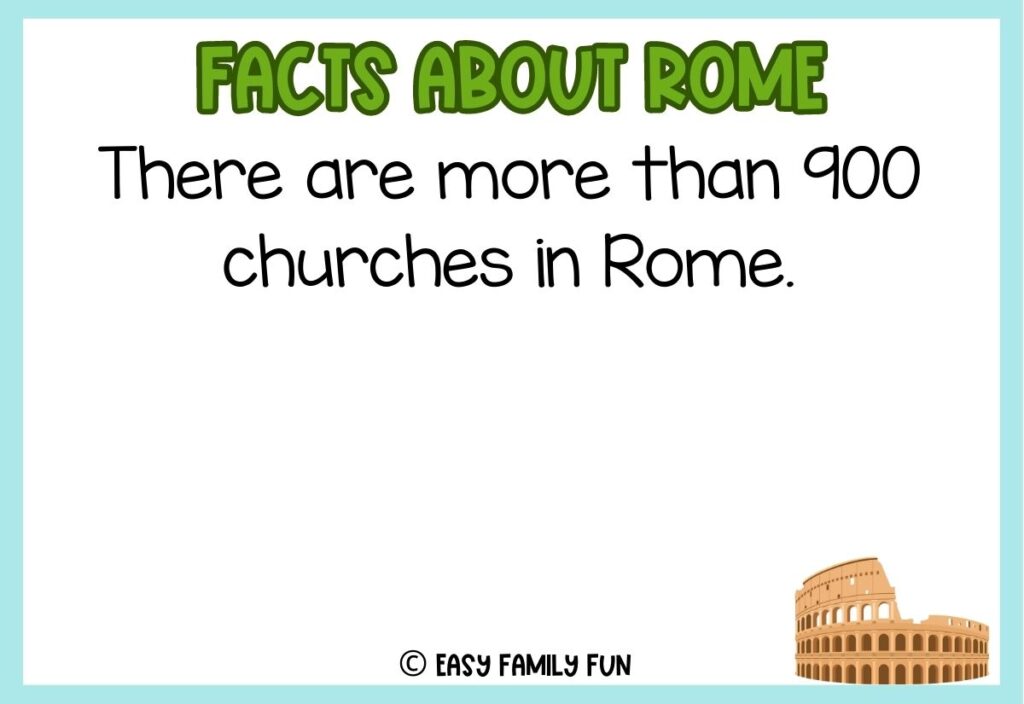 There are more than 900 churches in Rome.
The Colosseum was originally called the Flavian Amphitheatre.
The earliest record of the use of the word Colosseum for the Flavian Amphitheatre is from a 7th Century prophecy written by Venerable Bede.
The Romans were renowned for their engineering prowess, and Rome boasts an impressive network of aqueducts.
Roman aqueduct structures, built over 2,000 years ago, transported water from distant sources to the city, ensuring a steady water supply for its residents.
In Rome, you can find half a dozen "talking statues" where residents have put up political grievances since the 16th century.
Wild cats can be found roaming the walls of the Colosseum because Roman laws protect cats from being disturbed where they were born.
Tripa alla Romana is a local dish in Rome that consists of tripe (cow stomach lining) stewed in an Italian tomato sauce and topped with pecorino cheese.
Ancient Romans ate flamingo tongues as a delicacy.
The modern city of Rome is home to around 2.6 million people.
Beneath the streets of Rome lie a network of ancient catacombs, used as burial grounds by early Christians.
These subterranean passageways provide a glimpse into Rome's early Christian history and offer a hauntingly fascinating experience for visitors.

Rome's La Sapienza University is Europe's largest university.

The average life expectancy of an Ancient Roman was between 25 to 30 years old.
The Bocca della Verita, aka The Mouth of Truth, is a marble sculpture of Rome that people believe to be a lie detector.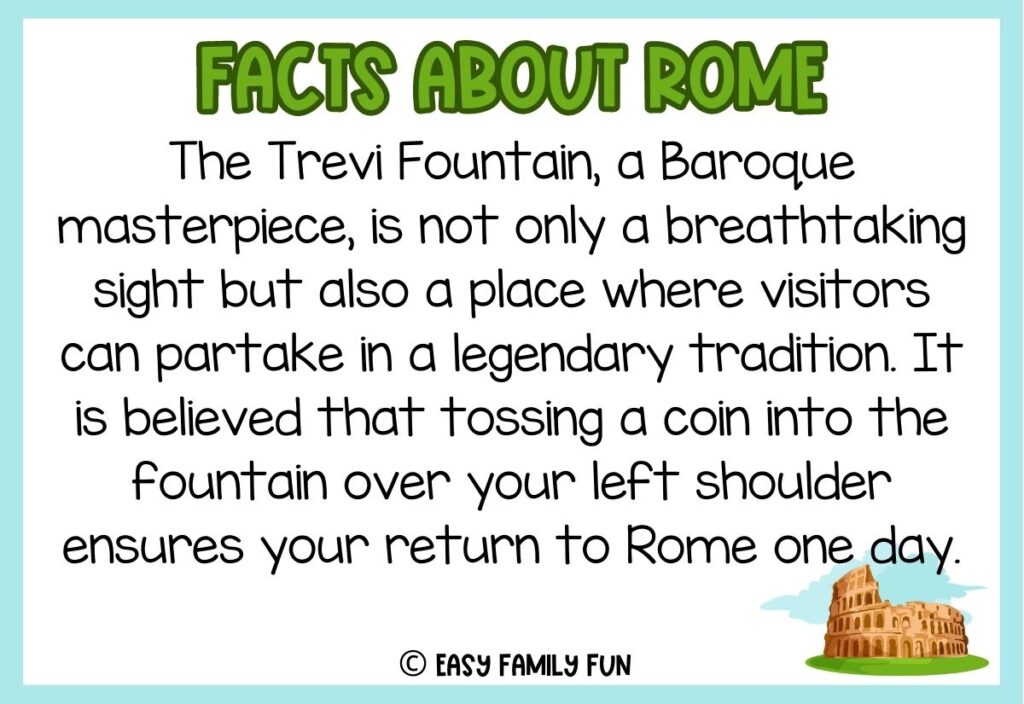 The Trevi Fountain, a Baroque masterpiece, is not only a breathtaking sight but also a place where visitors can partake in a legendary tradition. It is believed that tossing a coin into the fountain over your left shoulder ensures your return to Rome one day.
Almost 700,000 euros worth of coins are tossed into Trevi Fountain in Rome every year, which gets donated to help those in need.
The Colosseum in Rome is the 37th most visited tourist attraction in the world.
Romans did not use tomatoes in their food until the late 15th to early 16th century.
Most of ancient Rome is still buried underground, about 30 feet under the modern streets of Rome.
Rome has not only been the capital of the Italian Republic since 1946, but it was also the capital of the Roman Kingdom, Roman Republic, Roman Empire, Papal States, and the Kingdom of Italy.
The Tiber River that flows through Rome has 30 bridges that cross over it.
Ancient Romans believed gladiator blood increased fertility.
In Rome and across Italy, it is an unspoken rule that milk-based coffees should not be ordered before 11 in the morning.
The Spanish Steps do not actually have anything to do with Spain or the Spanish. 
There are more fountains in Rome than in any other city in the world, numbering over 2,000 fountains.
In ancient Roman times, between 50 to 90 million people are believed to have lived in the empire around Rome.
Pecorino Romano cheese comes from the countryside around Rome.
Ancient Romans used sundials and a 12-hour clock.
Rome was the first city in the world to reach 1 million residents.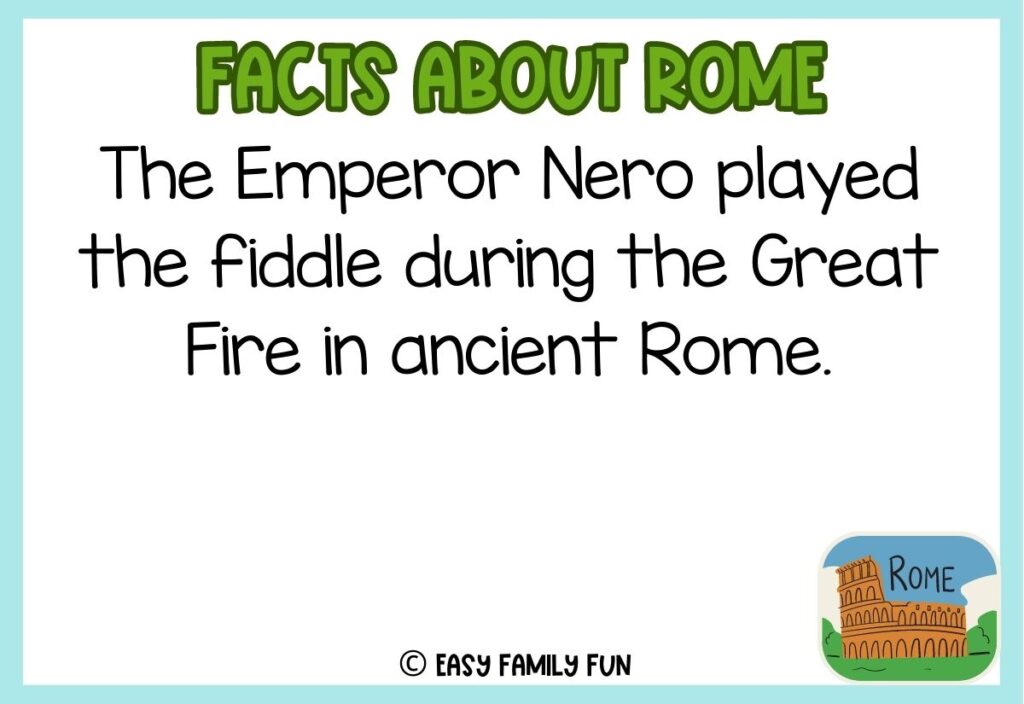 The Emperor Nero played the fiddle during the Great Fire in ancient Rome.
The Italians call their capital "Roma" instead of Rome.
Rigatoni Carbonara pasta originated in Rome and has no cream in it.
Romans prefer driving scooters rather than cars.
Rome has over 40 McDonald's, but none in the historic center due to being barred.
Rome's first shopping mall was built between 107 to 110 AD by the Emperor Trajan.
The only restaurant in Rome with three Michelin stars is Heinz Beck's La Pergola.
Rome's National Museum of Pasta is the only pasta museum in the world.
In ancient Rome, women used goat fat and beech wood ashes to dye their hair.
Do you know any other fun facts about Rome? Leave them below so we can all learn together!
Are you looking for more fun and engaging facts to share with your family? Check out these other posts for more facts!
How Do I Print A PDF?
You'll need a program that supports PDFs. Adobe Acrobat is a great option. Open the program, click file, then print. Select your printer and the number of copies you want to print. Be sure you click double-sided if you want it to print on both sides.
Can I Resell These?
You may not resell any printable that you find on our website or in our resource library. You may use them for class parties, at church, at home, or in the classroom. You may get these printed at an office supply store or copy center at your own expense.