Discover all the magnificent animals that start with the letter M. From majestic mammals to mesmerizing marine creatures, explore the wonders of nature with these extraordinary animals. Uncover fascinating facts and learn about the diversity and beauty of the animal kingdom. Get ready for an immersive journey through the wild world of animals that will leave you in awe.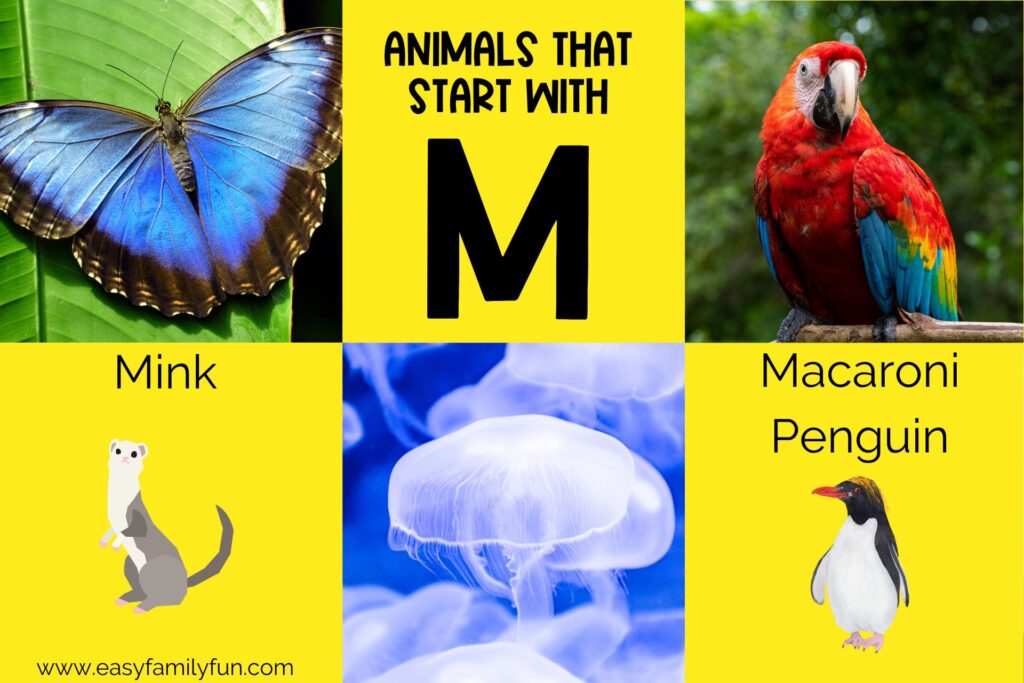 Commonly Known Animals That Start With M
Magpie
Magpies are birds that are considered highly intelligent. They are one of the few nonmammals that can recognize themselves in a mirror. They live in North America, Asia, and Europe. They come in many different species and vary in size and color.
Maggot
Maggots, or grubs, are the larva of a fly. They are not the technical term but are what most people call them. Maggots are used as bait in fishing, healing wounds, and many other valuable things. They eat rotting flesh, garbage, or anything that you might find flies eating. They can cause problems with animals when they are bred and cause infections.
Mallard
Mallards are ducks that live all over the world. They live in wetlands. They eat water plants and small animals. The male has a green head, and the females are brown. They pair up and can lay up to 13 eggs at one time. Many people keep them as pets.
Maltese
Maltese is a small white dog that has long fur. Their fur is soft and silky and does not shed. They are great pets that are calm, and loving. They only need a little exercise such as daily walks or just bouncing around at home. They can be hard to train because of their intelligence. They take a bit of work.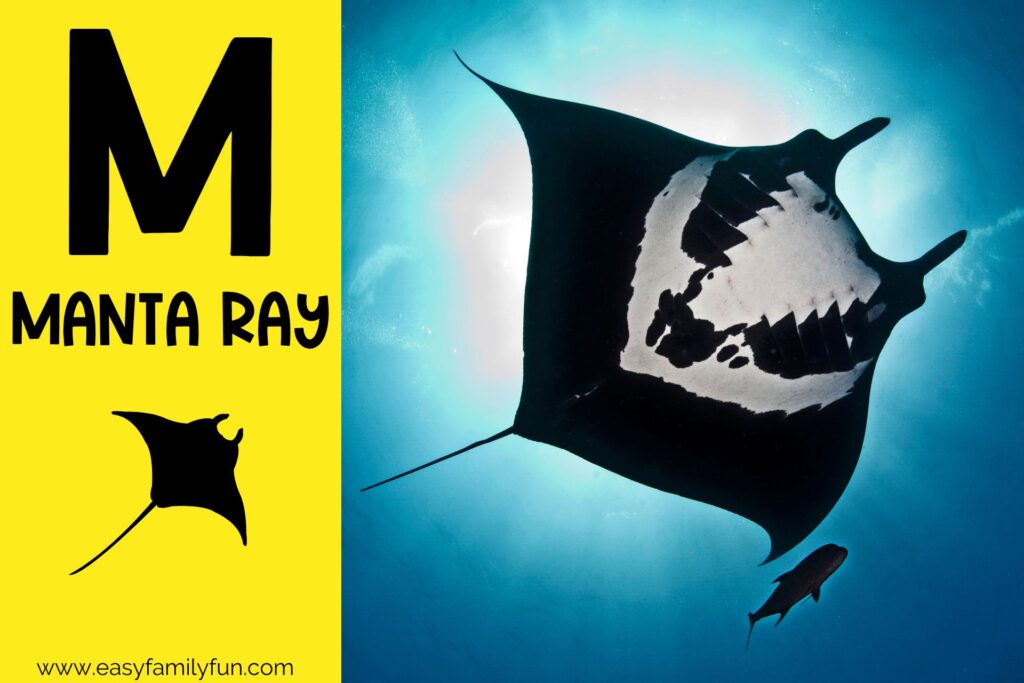 Manta Ray
Manta Rays are large rays. They can be between 23 to 18 feet wide. They live in warm temperate, subtropical, and tropical waters. They are filter eaters that eat big amounts of zooplankton that they gather while swimming with their mouths open. They have been known to breach like whales for no known reason.
Mastiff
Mastiffs are some of the largest dogs. They have big heads and big feet. They have been guard dogs that people keep to guard their homes. Many different breeds fall under the mastiff breed type like American Bulldogs, Boxers, Bullmastiff, and many others.
Mayfly
Mayflies are a type of waterbug. Found in water such as streams or lakes, decaying vegetation, or in sediments. They eat mostly plants like algae. Fly fishermen try to make fishing flys that look like them to use to catch fish.
Mealworm Beetle
Mealworm Beetles have several stages: egg, larva, pupa, and adult. We use mealworms to feed reptiles, fish, and birds that are being kept as pets. Some people use them for bait for fishing. They are considered a pest because they feed on grains.
Miniature Pinscher
Miniature Pinscher is a small dog. They are full of energy and take an experienced dog owner to take care of them. They are outgoing and active and need a good yard to run in. They will bark at things they see go by their house and be good watchdogs. They are better with older kids.
Mockingbird
Mockingbirds are named that because they make the noises of other things, such as birds or insects. I have heard a mockingbird sound like a car alarm. They usually sing late at night, even past midnight. Charles Darwin saw them and started to form his theories about evolution because of them.
Monarch Butterfly
Monarch Butterflies are orange, black, and white. They are known to migrate each year in the late summer or fall. It is named after King William the Third of England who was also called Prince of Orange. They, like other butterflies start out as caterpillars and then make a cocoon that they then turn into a butterfly.
Mole
Moles live underground. They have small eyes and ears, and back legs. They have bigger front legs with claws to dig well. They are found all over North America, Europe, and Asia. They eat earthworms and other small insects found in the ground. Their saliva contains a toxin that paralyzes earthworms.
Mongoose
A mongoose small animal that lives on the ground. They have long faces and bodies. They mostly eat insects, crabs, earthworms, lizards, birds, and rodents. Some people tame them so they can help control vermins.
Moose
Moose is the largest and heaviest of the species of deer. The males have very specific shape antlers that look a bit like an open hand. They live in the northern parts of the world. They eat plants and fruit. Unlike other deer species, they are not known to be in herds but usually are alone. Even though they are usually slow, they can move fast when they are angered.
Moray Eel
Moray Eels are found all over the world in both fresh and saltwater. They like to live in shallow waters. They eat smaller fish, crabs, and octopuses. Even though they can live in both freshwater and saltwater, most are found in saltwater with reefs. These reefs are not typically still living either.
Mosquito
Mosquitoes are a insect that when they bite you their saliva can cause you to itch. They feed on blood. They can also carry diseases that they can pass on to you when they bite you. They have been around since the days of the dinosaurs and have been found in amber.
Moth
Moths are a group of insects that look like butterflies and have similar lifecycles but are not butterflies. One rule you can use to tell the difference between a butterfly and a moth is that butterfly antennae are thin with a ball at the end and moths are feathery with no ball.
Mouse
A mouse is a small rodent. They are told the difference between the mice and rats by the size. As rats tend to be larger. They eat plants and fruits. Even with all the cartoons that way they like cheese that is not really true. They like to live in burrows.
Mule
Mules are what is made when a male donkey and female horse mate and have a baby. They can carry heavy loads up to 353 pounds. They can be packed with up to 20% of their body weight. This makes them great pack animals that people use to carry their things on a long trips through the mountains.
Mule Deer
Mule deer live in western North America. They are able to run but most of the time they are seen doing something called stotting, which is them having all four feet coming down together. They eat plants that they would find wherever they live. They are known to migrate from low to high elevations in the winter and summertime.
Zoo Animals That Start With M
Macaroni Penguin
Macaroni Penguin is found in the sub-antarctic and antarctic. They are one of the crested penguins. They have bright yellow feathers on their heads. They eat mostly krill but will also eat small fish, squid, and octopus. They are the most numerous penguins. They lay two eggs the first one is larger and the second one is smaller and most likely will not survive.
Madagascar Hissing Cockroach
Madagascar Hissing Cockroaches are one of the largest cockroaches. They make a hissing sound by expelling air through their bodies. Unlike other roaches, they do not have wings. Many people think that the hissing sound is more like a rattlesnake's tail or a rainstick. Some people keep them as pets.
Macaw
Macaws are parrots. They are colorful and eat seeds, nuts, fruits, palm fruits, leaves, flowers, and stems, as well as a variety of vegetables. They are endangered and it is because of deforestation and illegal trapping in the bird trade. They come in different sizes and colors some are as small as the parakeet.
Mahi Mahi
Mahi Mahi is also known as the common dolphinfish. They are mostly found in the waters around the Gulf of Mexico, Costa Rica, Hawaii, and the Indian Ocean. They are not related to dolphins even though they have that name. They are a popular fish to eat in the US and the Caribbean.
Malayan Tiger
Malayan Tigers are from Malaysia. They are very endangered and are not found as much in the wild as they used to be. They like to eat deer, wild boar, pigs, and serow. Some will even prey on young elephants and rhinos. They are known to help keep the population of wild boar down.
Manatee
Manatees are also called sea cows. They live in shallow, marshy coastal areas and rivers of the Caribbean Sea, the Gulf of Mexico, The Amazon Basin, and West Africa. They typically only have about six teeth in each jaw of their mouth. They eat about 60 different fresh and saltwater plants.
Mandrill
Mandrills are a monkey that is found in west central Africa. They live mostly in tropical rainforests but have been known to travel across the savannas. They have brightly colored faces with blue and red skin, as well as their bottoms. They eat mostly plants.
Meerkat
Meerkats are small mongooses that live in southern Africa. They are very social and live in packs of 2 to 30 individuals. They are dominated by the females and the dominant female is the one that gets to have babies. The others do all they can to help take care of the babies. They are active during the early morning and late afternoon and do not go far from their burrows.
Millipede
Millipedes are just a bug that has two pairs of jointed legs on each segment of their bodies. They eat decaying plants and leaves. They are not required to have 1000 legs, They live everywhere except in Antarctica.
Mexican Red Knee Tarantula
Mexican Red Knee Tarantulas are from Mexico. They have to molt their skin as they grow as their skin does not grow bigger. They will not eat for days to months after molting because their fangs are still tender as they were part of the molt they just did. They throw hairs from their abdomen when they are disturbed instead of biting.
Mink
A mink is a member of a family with weasels, otters, and ferrets. Their fur has been highly wanted to make clothes. They eat fish and other things that live in water, small animals, birds, and eggs. The adults may even eat the young minks. They live near water such as riverbanks, lakes, or marshes.
Monitor Lizard
Monitor Lizards are from Africa, Asia, and Oceania which are New Zealand and Australia. They have long necks and powerful tails and claws. They like to eat eggs, smaller reptiles, fish, birds, insects, and small mammals they may even eat fruits and plants if they live in a place where they need to eat that.
Monkey
Monkey covers a lot of species of animals. They usually live in trees and are active during the daytime. They are usually the ones that have tails. Groups of monkeys can be called a tribe or a troop. Some are used as pets and help those that need help with daily activities.
Mountain Gorilla
Mountain Gorillas have thicker hair than other gorillas so they can withstand cooler temperatures. Each Gorilla's nose print is unique to that individual Gorilla. They eat leaves, shoots, and stems. They live in groups and will leave their groups after a certain age to form their own groups.
Mountain Lion
Mountain Lions are also known as Cougars. They live alone and typically only out at night, but you can see them during the day once in a while. They mostly eat deer. They like to stock their prey and pounce when the time is right. They are territorial and try to live in low-populated areas. That means that they try to avoid humans but because we are getting into their habitat more we will see more attaches.
Other Animals That Start With M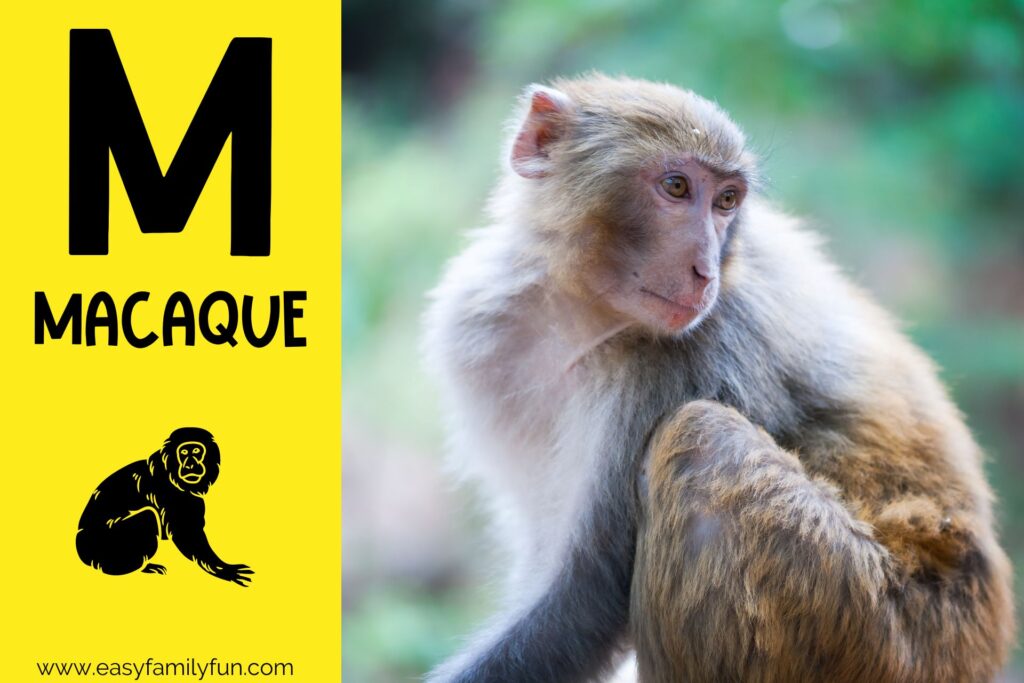 Macaque
MacGillivray's Warbler
Machaeroides
Mackenzie Valley Wolf
Macrauchenia
Madagascar Jacana
Madagascar Tree Boa
Madora Moth
Magellanic Penguin
Maghreb Magpie
Magnolia Warbler
Magyarosaurus
Maiasaura
Maine Coon
Mal Shi
Man of War Jellyfish
Malayan Civet
Malayan Krait
Malayan Tiger
Malchi
Malteagle
Maltese Mix
Maltese Shih Tzu
Maltipom
Maltipoo
Mamba
Mamushi Snake

Manchester Terrier

Mandarin Rat Snake
Maned Wolf
Mangrove Snake
Mangrove Snapper
Mantella Frog
Marabou Stork
Marans Chicken
Marble Fox
Maremma Sheepdog
Margay
Marine Iguana
Marine Toad
Markhor
Marmoset
Marmot
Marsh Frog
Marsican Brown Bear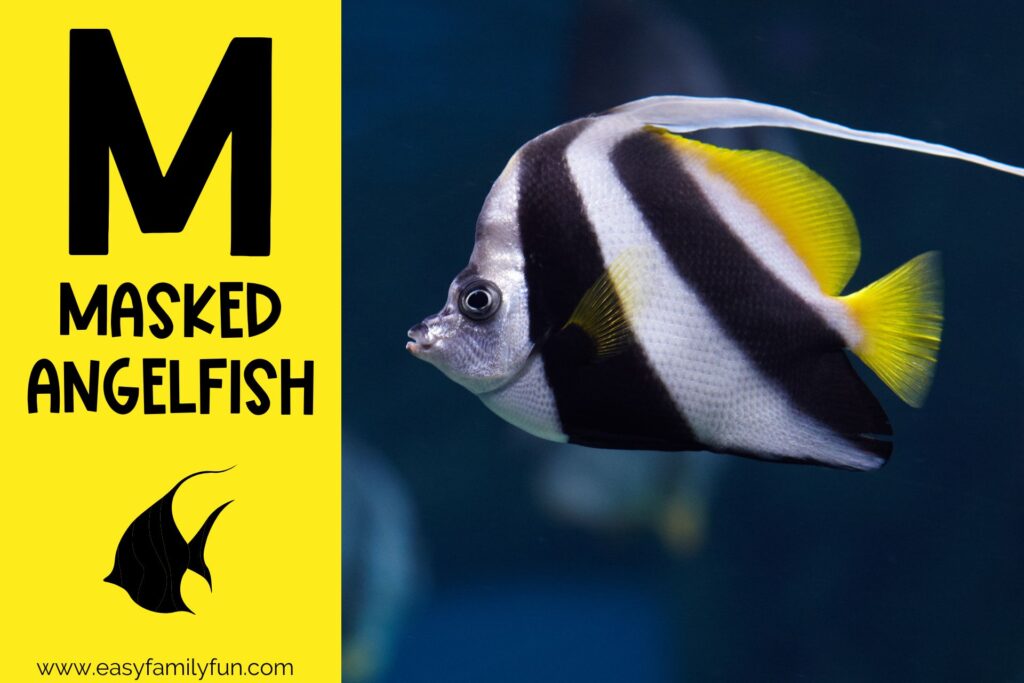 Masked Angelfish
Masiakasaurus

Masked Palm Civet

Mason Bee
Massasauga
Mastador
Mastiff Mix
Mauzer
May Beetle
Mayan Cichlid
Meagle
Mealybug
Megalania
Megalochelys
Megalodon
Mekong Giant Catfish
Megamouth Shark
Meganeura
Megatherium
Meiolania

Merganser

Mexican Alligator Lizard
Mexican Black Kingsnake
Mexican Eagle (Northern crested caracara)
Mexican Fireleg Tarantula
Mexican Free-Tailed Bat
Mexican Mole Lizard
Microraptor
Midget Faded Rattlesnake
Miki
Mockingbird
Military Macaw
Milk Snake
Milkfish
Milkweed aphids
Mini Labradoodle
Mini Lop
Miniature Bull Terrier
Miniature Husky
Minke Whale
Mississippi Kite
Moccasin Snake

Modern Game Chicken

Mojarra
Mojave Ball Python
Moon Jellyfish
Mojave Rattlesnake
Mola mola (Ocean Sunfish)
Mole Crab (Sand Flea)
Mole Cricket
Mole Snake
Mollusk
Molly
Monkfish
Mongrel
Monocled Cobra
Monte Iberia Eleuth

Moonglow Boa

Moorhen
Morkie
Morpho Butterfly
Mosasaurus
Moscow Watchdog
Mountain Beaver
Mountain Bluebird
Mountain Cur
Mountain Feist
Mourning Dove
Mourning Warbler
Mouse Spider
Mouse-Deer (Chevrotain)
Mozambique Spitting Cobra
Mud Snake
Mudi
Mudpuppy
Mudskipper
Mulga Snake
Mullet Fish
Muntjac
Muscovy Duck
Musk Deer
Muskellunge (Muskie)
Muskox
Muskrat
Mussurana Snake

Muttaburrasaurus

Mute Swan
There are so many Animals that Start with M! Do you know any others? Leave them in the comments. We'd love to hear about them.
Be sure to check out our other animal lists.