Ready to embark on a thrilling journey through the animal kingdom? Let's dive into the world of animals that start with the letter Y. Whether they live in the depths of the ocean or roam the vast landscapes, we will discover some of the most captivating animals that start with Y. Come explore with us.
Did you realize that the animal kingdom holds some many interesting animals that start with the letter Y? Among them are familiar favorites like the Yellow Labrador Retriever, and others may be less renowned, such as the Yak.
As we venture into this fun list of animals that begin with Y, we will uncover intriguing facts and marvel at the wonders our world has in store. Let us embark on this enchanting expedition together and unravel the mysteries of the animal kingdom.
Looking to learn more about animals? Be sure to check out our Animals that Start with A and our Animals that Begin with E.
Commonly Known Animals That Begin With Y
These animals that begin with Y are some of the most commonly known animals throughout the world.
Yellow-headed Amazon Parrot
The Yellow-headed Amazon parrots are from Mexico and Central America. They have bright green bodies and yellow heads and legs with a spot of red on the wings where they bend. They live in the wild in Belize and Guatemala. They live alone, in pairs, in small groups, and even in large flocks at times. They are great pets if you can find them already owned.
Yellowjacket
Yellowjackets are a type of wasp. They are the same size as honey bees and similar in color which is why some people mistake them as honey bees for that reason. Yellowjackets are known to sting multiple times. They live in colonies like bees and have the same kind of workers and drones and queen jobs. They eat nectar, fruit, and insects. 
Yellow-naped Amazon Parrot
Yellow-naped Amazon parrots have green bodies and heads. They have a yellow band on the back part of their neck. They are found on the Pacific Coast from southern Mexico to Northern Costa Rica and live in dry forests. They have a great vocal call that allows them to communicate. As a pet, they are popular because they can talk to you and have great personalities.
Yellow-Necked Field Mouse
Yellow-Necked Field Mice are found in the mountains of Eastern Europe. They have a small patch of yellow fur that is right on their chest between the front legs. They are great climbers and run around in trees and bushes. They live in burrows at the base of trees. They are active at night and eat nuts, buds, fruits, plants, and insects. They do not hibernate.
Yellow-Pine Chipmunk
Yellow-Pine Chipmunks are dark red and brown and have five black lines and four white stripes on their back. They gather seeds and put them in stashes all over to find during the winter as they hibernate. They do not store fat like other hibernators so they need to have these seeds to stay alive.
Yellow-Nosed Cotton Rat
Yellow-Nosed Cotton Rats live in Mexico and Arizona, New Mexico, and Texas. They live in mountain grassland, scrub, and pinyon-juniper woodland. They eat mostly grass.
Yorkshire Terrier
Yorkshire Terriers are a type of dog breed and one of the smallest terriers. They are full of energy and love to play, making them perfect for kids and adults. They are very smart, making them easy to train. They live about 12 to 15 years. Yorkshire Terriers bark a lot making them good watchdogs.
Yellowfin Tuna
Yellowfin Tuna are called ahi and are one of the largest tuna species. They are found mostly in deep waters offshore. They like to travel in schools of fish. You will find them eating other fish, shellfish, and squid. Yellowfin Tuna are fast swimmers, so they can escape many predators swimming up to 47 mph. 
Zoo Animals That Start With Y
Headed to the zoo? There are some fun zoo animals that start with Y that can be found. On your next zoo trip, how many of these animals can you find?
Yak
Yaks are very hairy cattle that live throughout the Himalayans and as far north as Mongolia and Siberia. The female Yak has shorter horns than the males. The long hair helps them stay warm in the cold weather. You will find that Yaks grunt and squeak. 
Yellow Baboon
Yellow Baboons live in the savannas and light forests in eastern Africa. You will typically find them on the ground and active throughout the day. They live in large groups called troops of 8 to 200 baboons. They eat plants and animals; their favorites are leaves, seeds, grasses, bulbs, worms, grubs, and insects. They will eat pretty much whatever they can find.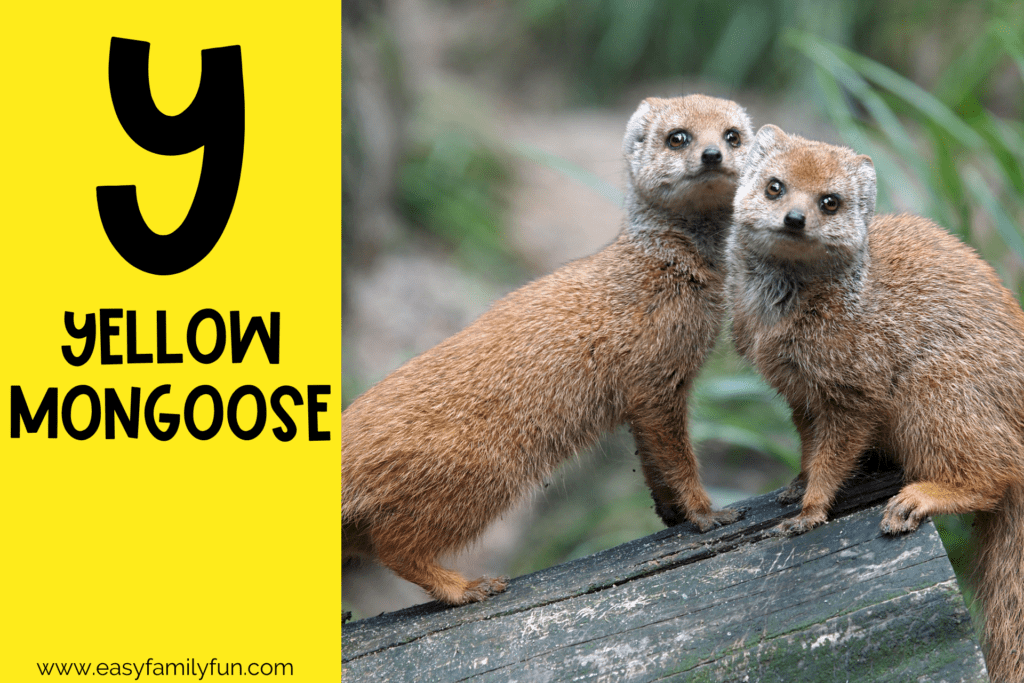 Yellow Mongoose
Yellow Mongooses are sometimes called red meerkats. They are typically active during the day but can be active at night as well. They live in a group of about 20 mongooses in a burrow for their whole lives. They like to eat insects and other small animals. 
Yellow-Eyed Penguin
Yellow-Eyed Penguins have a band of pale yellow feathers around their eyes and on the back of its head. Did you know that yellow-eyed penguins will dive all the way down to the bottom of the water to get their food off the bottom of the lake/ ocean? They do not nest close to each other, which is different than other penguins. They are considered one of the rarest penguins in the world.
Other Animals That Start With Y
Love learning about animals that start with Y? These are other animals that are less common throughout the world. How many of these animals have you seen or heard of?
Yabby (Common)
Yacare Caiman
Yapok
Yellow-backed duiker
Yellow-bellied marmot
Yellow-Bellied Sapsucker
Yellow-Bellied Weasel
Yellow-billed hornbill
Yellow-crowned night heron
Yellow-Footed Antechinus
Yellow-Footed Rock Wallaby
Yellowhammer
Yellow Sack Spider
Yellowtail damselfish
Yellow-Throated Marten
Yellow-Winged Bat
Yucatan Squirrel
Yuma Myotis
Yucatan Spiny Tailed Iguana
There you have it! A great list of animals that start with Y to expand your knowledge of all our favorite animals. Did we miss any? Share them in the comments so we can add them to the list.
Be sure to check out our other animal lists.