Let's dive into the animal kingdom and discover all the animals that start with the letter V. Whether they are found in the ocean or the mountains, we are about to discover some of the most captivating animals that start with V. Join us on this exciting adventure through the animal kingdom.
Did you know that remarkable animals that start with the letter V? Among them are familiar favorites like the Vulture, and others may be less renowned, such as the Vicuña.
As we explore these animals that begin with V, we will uncover interesting facts and marvel at the wonders our world has in store. Let's embark on this enchanting expedition together.
Love animals? Check out Animals that Begin with J and Animals that Start with A to learn even more about different animals.
Commonly Known Animals That Begin With V
These animals that begin with V are some of the most commonly known animals worldwide. 
Venus Flytrap
Venus Flytraps is a plant that eats insects that can be found on the east coast of the US in North Carolina and South Carolina. As a big spider lands on this plant, it snaps shut around it. Once this happens, the hairs in its mouth close and form a stomach that then digests the bug. 
Velociraptor
The Velociraptor lived about 71 to 75 million years ago. Velociraptors have wings but do not fly. They became more known from the movie Jurassic Park. They are small to medium-sized dinosaurs. Researchers believe that these dinosaurs had great hearing and could track prey well because of it. 
Vizsla
Vizslas are a type of dog breed. They are very trainable and have a great nose for smelling, making them great hunting dogs. They love people (including kids) and bond with their owners quickly. They have a lot of energy, loving and gentle. They do need a lot of exercise and attention. They can live for 12 to 14 years.  
Volcano Snail
Volcano Snails are sea snails that live near the vents (where the hot air escapes) on volcanos by the Indian Ocean. They get their nourishment through the bacteria that are around them. 
Variegated Squirrel
Variegated Squirrels are also known as tree squirrels. These squirrels live in Costa Rica, El Salvador, Guatemala, Honduras, southern Mexico, Nicaragua, and Panama. They are active during the day and usually stay in trees. They have nests that are built in trees, either in the leaves or in a hole within the tree. They like to eat seeds, fruit, and insects or eggs.
Virginia Opossum
Virginia Opossums are also known as North American opossums. These animals live alone, are active at night, and are usually spotted around trash cans, pet food, compost piles, and gardens. They are slow and will either run away or stand their ground when threatened. They may try to scare you off by baring their 50 teeth, snapping their jaw, hissing, drooling, and standing their fur on end to look bigger. If that doesn't work, they may pretend to be dead.
Zoo Animals That Start With V
Headed to the zoo? Some fun zoo animals start with V that you may discover. On your next zoo trip, how many of these animals can you find?
Vervet Monkey
Vervet Monkeys typically live in groups of 10 to 70 monkeys that live in the savanna, riverine woodland, coastal forest, and mountains up to 13,100 ft in Africa. The mothers can recognize their babies just by the sounds that they make. Vervet monkeys eat wild fruits, flowers, leaves, seeds, and seed pods.
Vulture
Vultures are scavenger birds that eat dead animals. Did you know that there are 23 different species of vultures? They pee on themselves to cool off. Most vultures are bald-headed and have no feathers on their head. Different words describe groups of vultures as they do different things. A "kettle" is a group in flight; a "committee" is a group at rest; a "wake" is a group eating.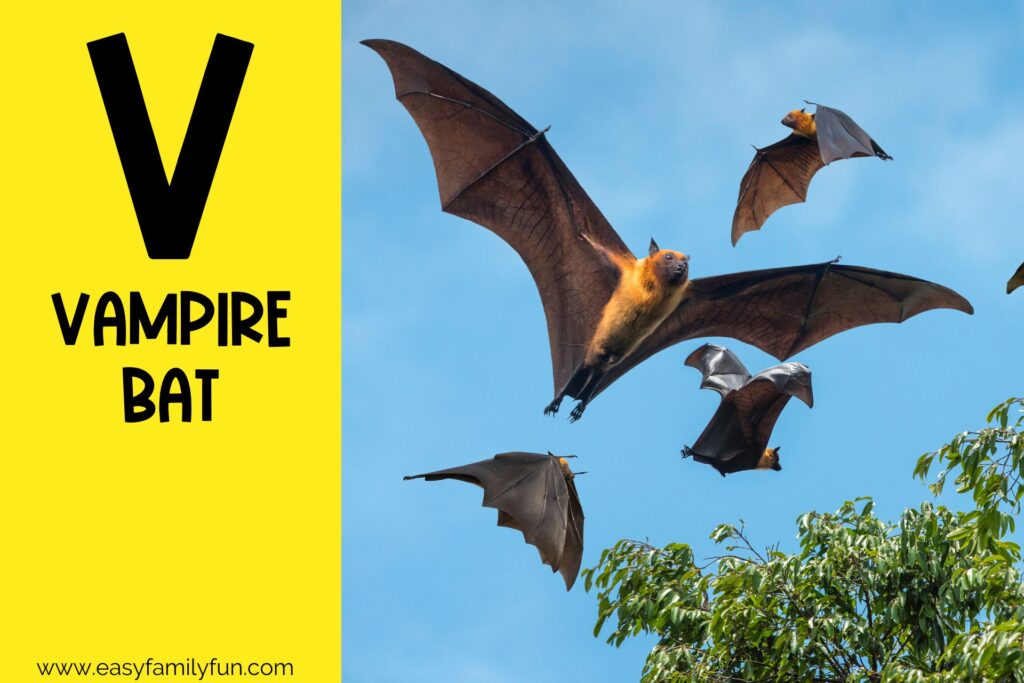 Vampire Bat
Vampire Bats eat the blood of other animals. Did you know that Vampire bats are the only mammals that can live on blood? They have noses that can sense places on the skin of their prey that the blood is close to. They live in colonies in completely dark places like caves, old wells, hollow trees, and buildings. They are found in Central and South America. They need to eat at least every two days; in fact, some bats will let other bats have some of their blood to stay alive.
Vole
Voles are rodents that look like moles, gophers, mice, rats, and shrews. They eat plants and dead animals like mice and rats. They also like to eat fruits, nuts, and even the bark of trees.  Voles live in burrows that give them convenient access to roots and flower bulbs, which they eat, often leading to the plant dying.
Other Animals That Start With V
Love learning about animals that start with V? These are other animals that are less common throughout the world. How many of these animals have you seen or heard of?
Valley Bulldog
Vampire Crab
Vampire Squid
Vaquita
Vegavis
Vermilion Flycatcher
Vestal Cuckoo Bumblebee
Vicuña
Vine Snake
Vinegaroon
Viper Boa
Viper Shark (dogfish)
Viperfish
Virgin Islands Dwarf Gecko
Volpino Italiano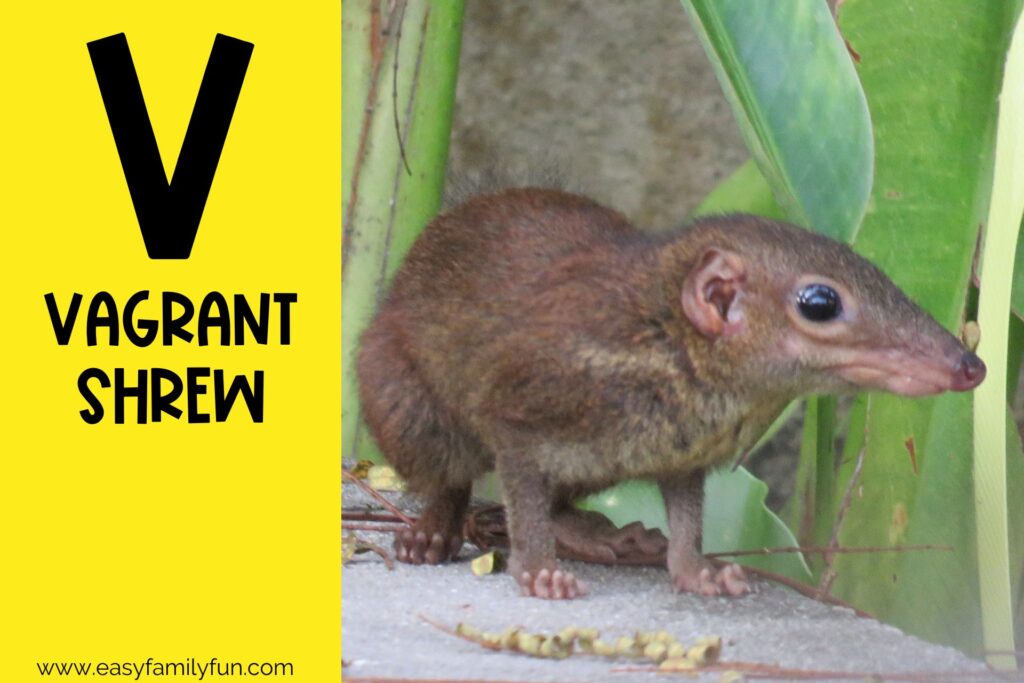 Vagrant Shrew
Val's Gundi
Van Deusen's Rat
Van Zyl's Golden Mole
Vanuatu Flying Fox
Vancouver Marmot
Vanikoro Flying Fox
Variable Flying Fox
Variable Grass Mouse
Variable Pocket Gopher
Veldkamp's Bat
Velvet Climbing Mouse
Velvety Fat-tailed Opossum
Velvety Myotis
Venezuelan Climbing Mouse
Victoria Collared Lemming
Venezuelan Fish-eating Rat
Venezuelan Spiny Rat
Verapaz Shrew
Verhoeven's Giant Tree Rat
Vermiculate Shrew
Vernay's Climbing Mouse
Verreaux's Sifaka
Vesper Rat
Vicugna
Vietnam Leaf-nosed Bat
Vietnam Warty Pig
Vincent's Bush Squirrel
Vinogradov's Jerboa
Vinogradov's Jird
Visagie's Golden Mole
Visayan Spotted Deer
Visayan Warty Pig
Viscacha Rat
Visored Bat
Vlei Rat
Voalavoanala
Voi Shrew
Volcano Harvest Mouse
Volcano Mouse
Volcano Rabbit
Volcano Shrew
Vordermann's Flying Squirrel
There you have it! A great list of animals that start with V to expand your knowledge of all our favorite animals. Did we miss any? Share them in the comments so we can add them to the list.
Be sure to check out our other animal lists.