How many animals come to mind when someone says, "Do you know any animals that start with R?" With this massive list of animals that start with R, you are sure to have a giant list to choose from in no time, including some really interesting facts about your favorites.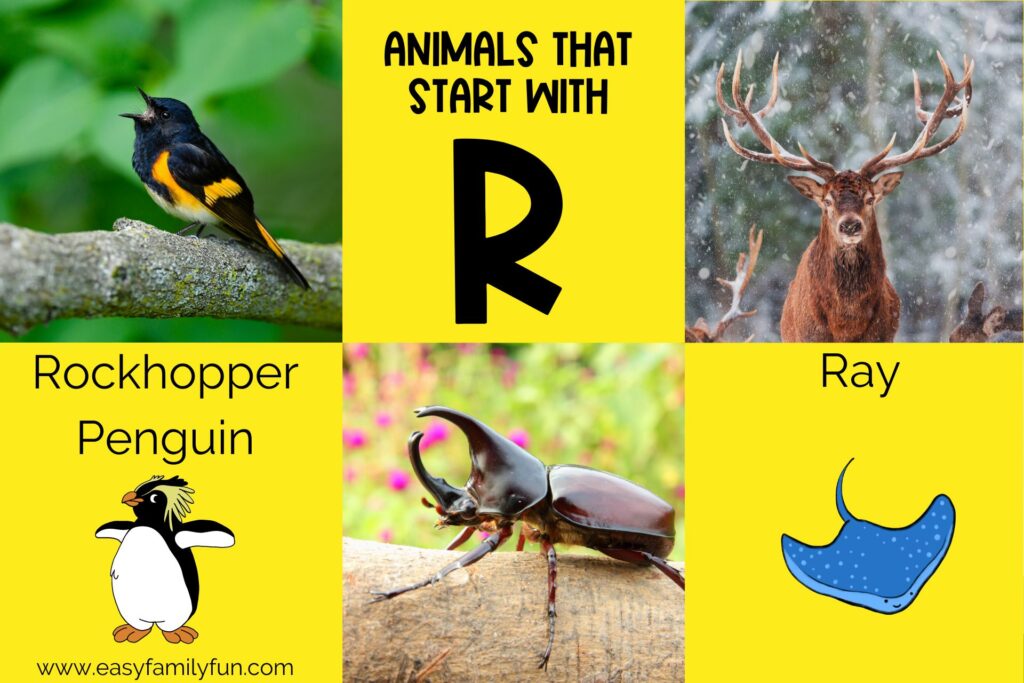 Looking to learn more about your favorite animals? Check out our Animals that Start with W and our Animals that Start with A.
Commonly Known Animals That Start With R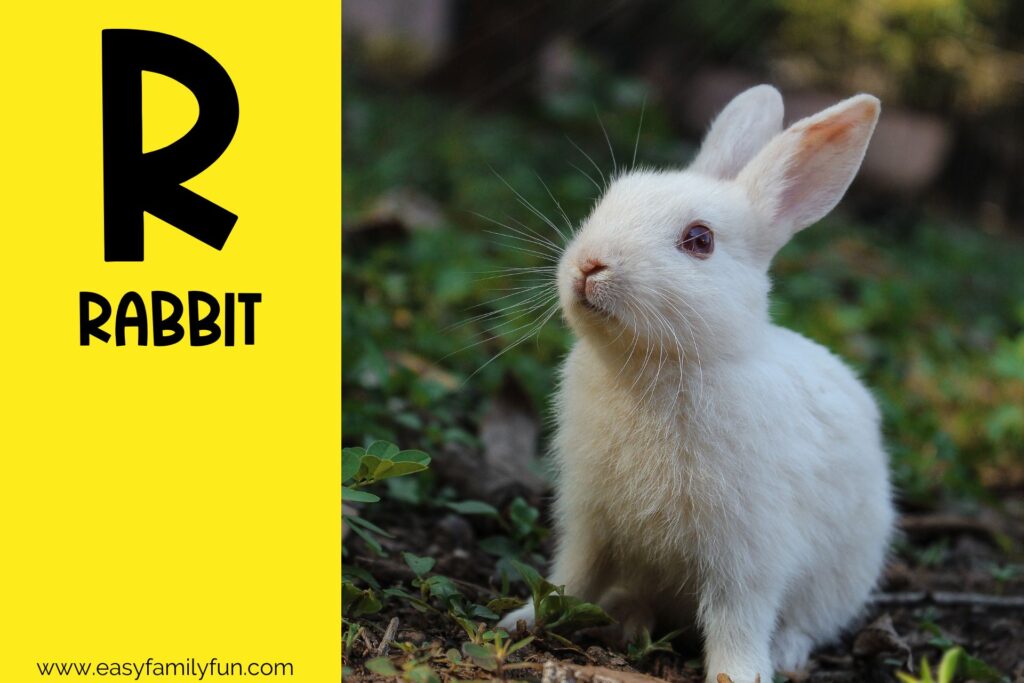 Rabbit
Rabbits are small mammals that live all over the world except Antarctica. A male rabbit is called a buck and a female is called a doe. Some call the babies bunnies. A group of rabbits is called a colony. They eat grass and other leafy plants. You may see rabbits out during the day but are most active at night.
Raccoon
Raccoons are from North America. Most people recognize them from the black rings on their tails and the black masks on their faces. They are active at night and are very smart. They have adapted to live in all sorts of habitats, including cities. Some people thought they lived alone, but it has been found that females and males group together by sex.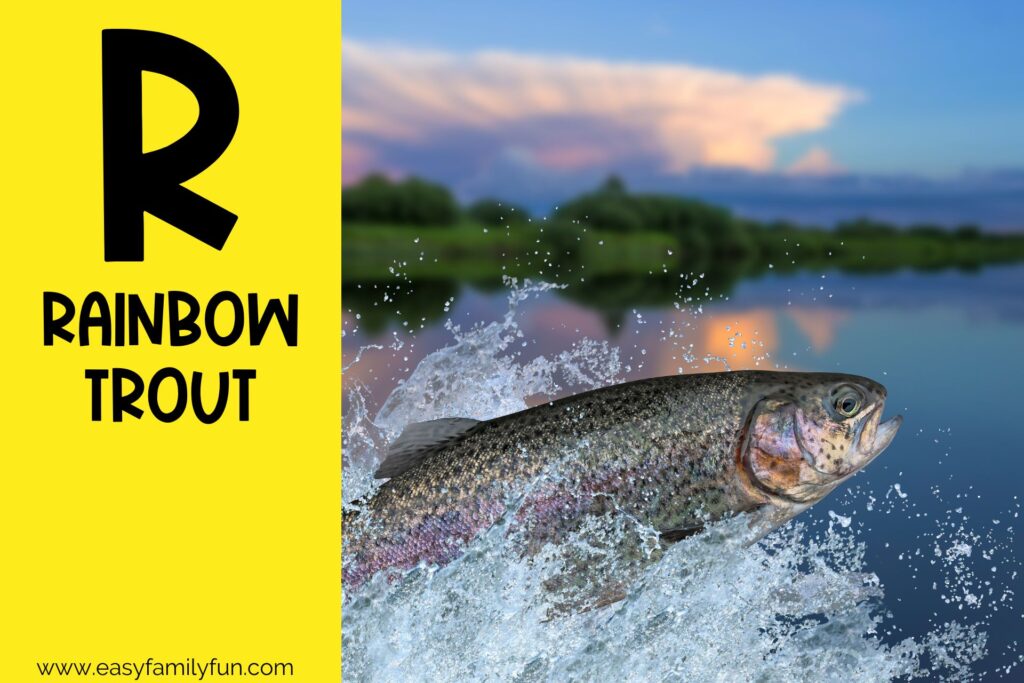 Rainbow Trout
Rainbow Trout are fish that live in oceans, lakes, and streams. They have been introduced to most continents as food or for sport fishing. They will eat almost anything they can capture. Many of them have a red line on them that you can see from head to tail.
Ram
Rams are the name of male sheep. There are many different species of sheep. Sheep eat grass and other short plants that grow from the ground. They love to eat hay. We will shave off their coats and use them to make wool into clothing. They live in flocks and do not like to be alone.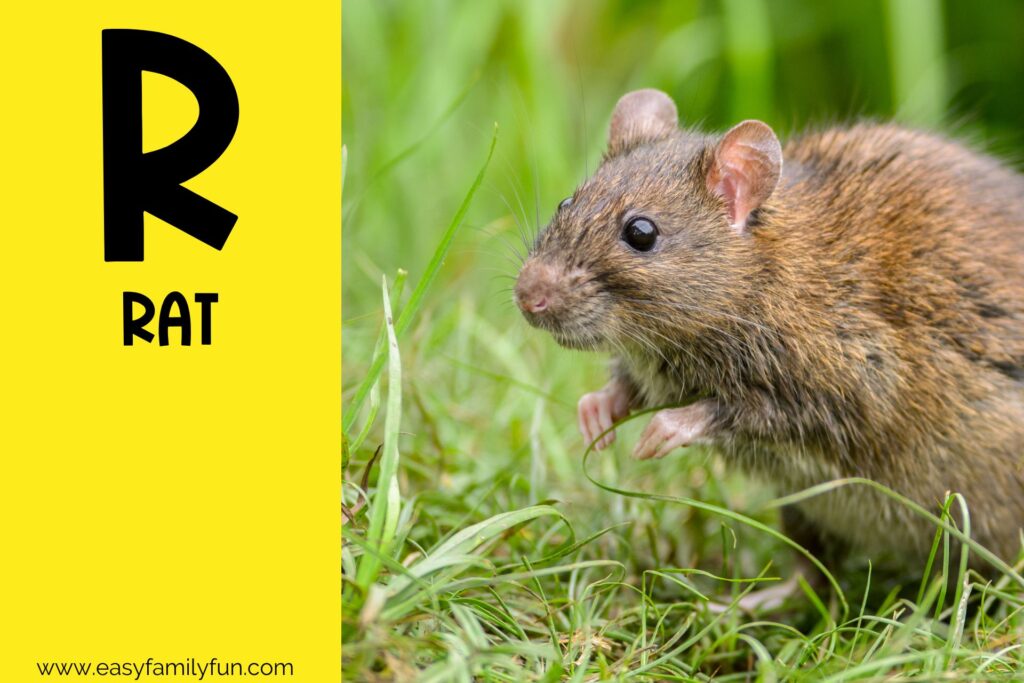 Rat
Rats are considered rodents. The most significant difference between rats and mice is size; rats are bigger. Some rats are kept as pets and are very different from wild rats. They are excellent pets and are very smart. Wild rats are found in almost any place where people live. They are known to carry diseases and not be good to have around if not bred for pets or scientific research.
Rat Terrier
Rat Terriers are a small breed of dog. They are good pets that are very smart and very active. They are happiest when they get a lot of exercise and a lot of mental stimulation. They usually live about 16 to 19 years. They were primarily bred for speed and helped farms eliminate vermin such as rats and hares.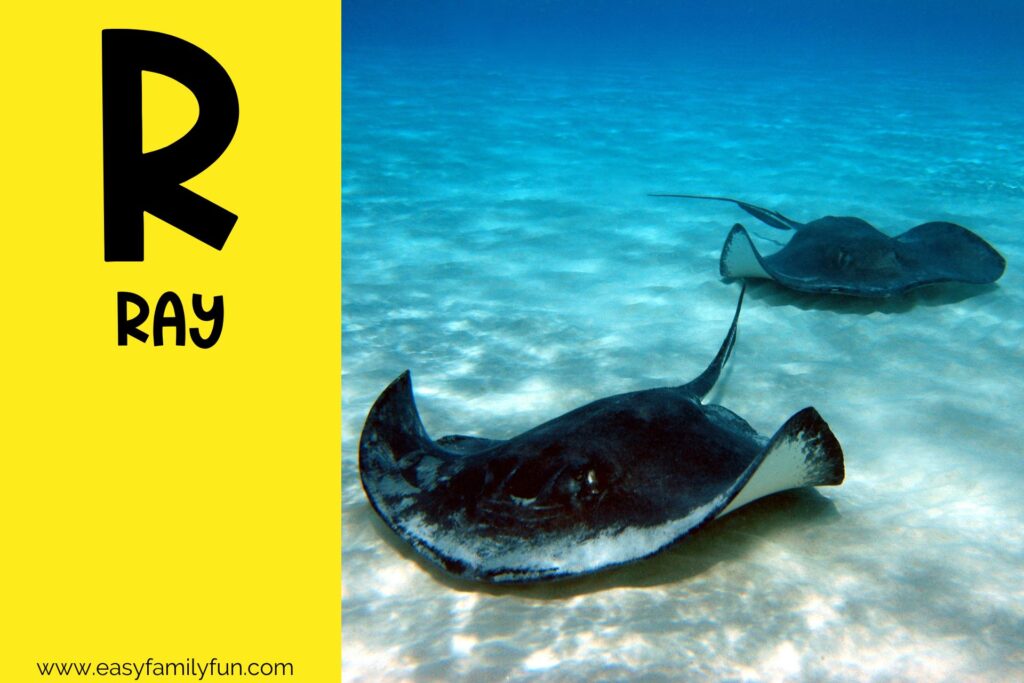 Ray
Rays have flat bodies made of mainly cartilage, like sharks. They have tails that look like wings. They eat snails, clams, oysters, crustaceans, and fish. They have heavy rounded teeth that they use to crunch the shells of their food. Most live on the sea floor in coastal waters but a few live elsewhere.
Red King Crab
Red King Crabs are the most prominent king crab. They can have legs that measure 5.9 feet long. They are named after the color they turn after they are cooked. They live in the Bering Sea and the North Pacific Ocean. Alaskan fishermen are working hard to fish for them, making it a dangerous job.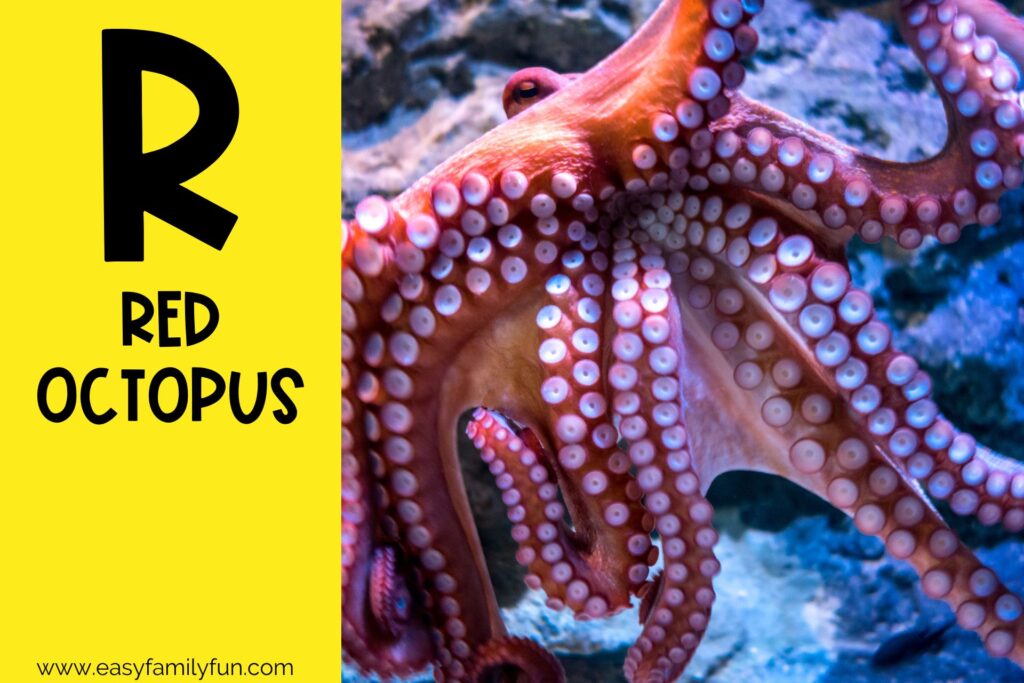 Red Octopus
Red octopuses, or the ruby octopus, are found in most North American West Coast. They eat snails, slugs, crabs, mussels, and barnacles. They will pounce on their prey and often change colors as they get ready to eat. They have been observed to have individual personalities.
Red Paper Wasp
Red Paper Wasps are found in the Eastern US. They make their nests by chewing plants and wood fibers and mixing them with their spit, creating a paper-like material. When their nests are dry, they look like an upside-down umbrella or dome shape with honeycomb-like cells on the bottom. They are not super aggressive and will only try to defend their nests. Females are the only ones that can sting. Wasps do not lose their stinger and can sting you multiple times.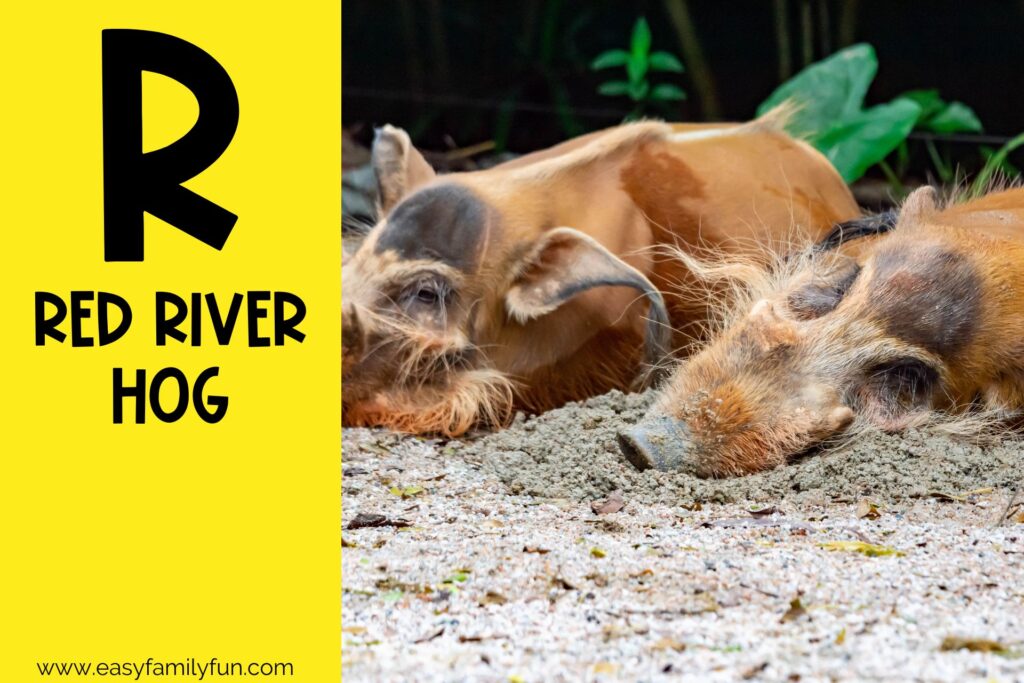 Red River Hog
Red River Hogs live in Africa. They are usually found in rainforests and mostly around rivers and swamps. They are rarely seen active during the day but usually at night or twilight. They live in groups of 6 to 10, with one male, and the others are all female and young. The male will defend the rest against predators.
Red Sea Urchin
Red Sea Urchins are found in the Northeastern Pacific Ocean from Alaska to Baja, California. They live on rocky shorelines in shallow waters, sheltering them from extreme waves and where kelp is available. They are covered in spines called the test, a hard shell covering the whole body.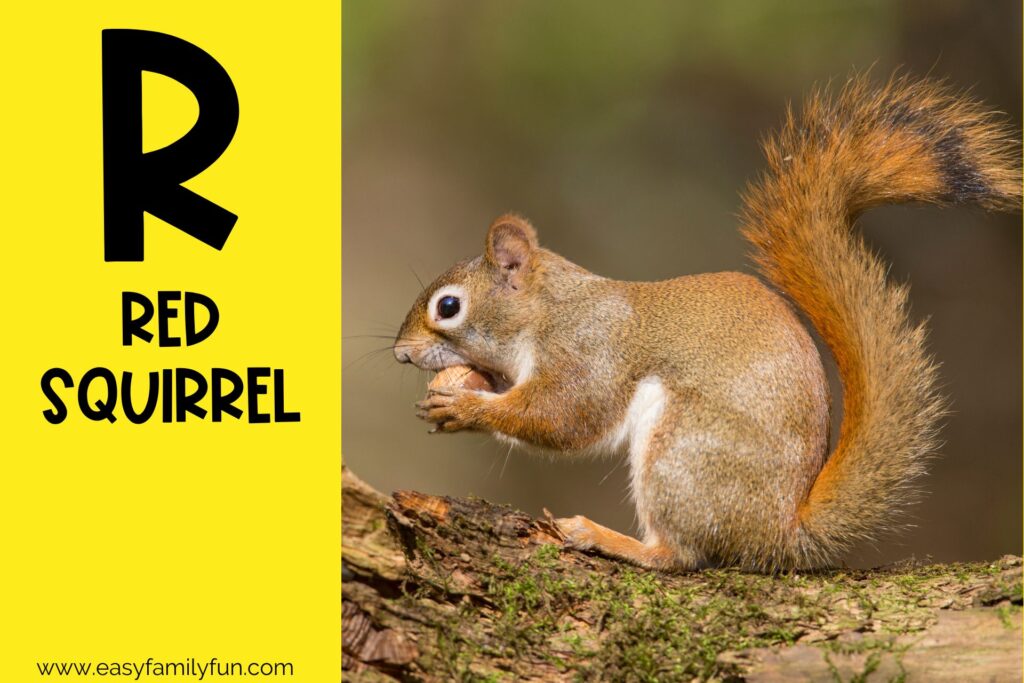 Red Squirrel
Red Squirrels are found in Europe, Asia, and North America. They live in a forest that has lots of evergreens. This is because they mostly eat the cones that fall from those trees. The ones in Europe and Asia are very different from those that are in North America. The North American red squirrel is in better shape population-wise than the European ones.
Red-Bellied Woodpecker
Red-Bellied Woodpeckers are medium-sized birds. They live in the east part of the US. They have orange-red tops on their heads. But they are not the same as the red-headed woodpecker with an entirely red head. They eat insects, nuts, fruit, and seeds. They live in hollowed-out trees and dig the nests themselves.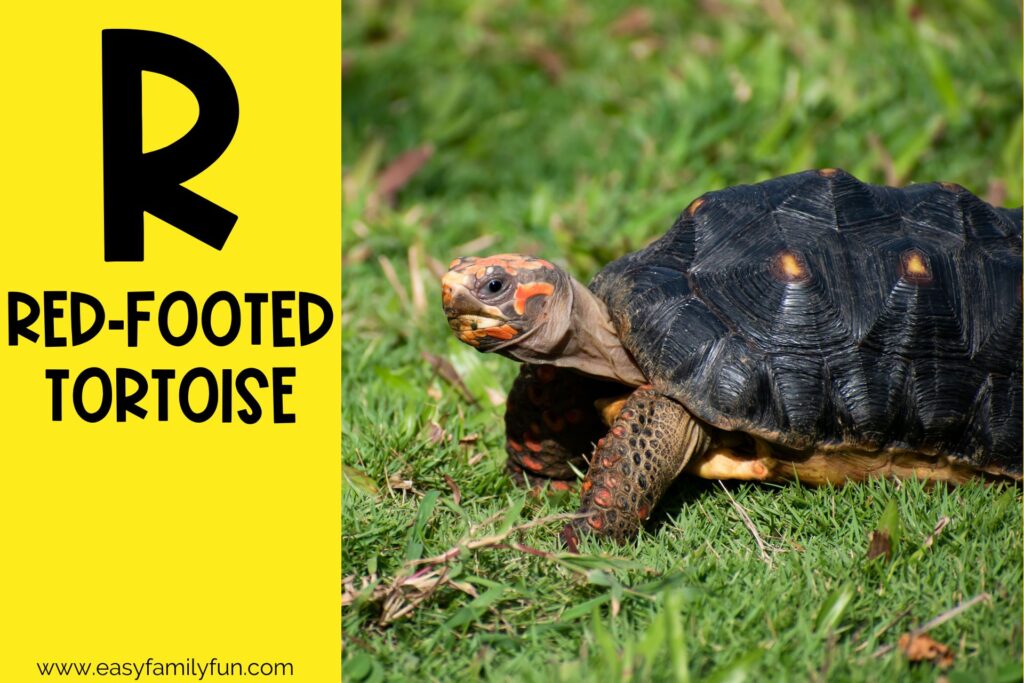 Red-footed Tortoise
Red-footed Tortoises live in northern South America. They can reach about 12 inches in length as an adult. They have red or yellow colored scales on their legs. Many people keep them as pets. They eat a variety of plants and fruits. They need to be kept in a warm, humid environment and should be kept outside if possible.
Red-headed Woodpecker
Red-headed Woodpeckers are found in the temperate parts of North America. They eat insects, seeds, fruits, berries, nuts, and sometimes small rodents. They are known to keep food caches or hoard food; this is not something most birds do. They will drill a nest out of trees if they do not see one readily available.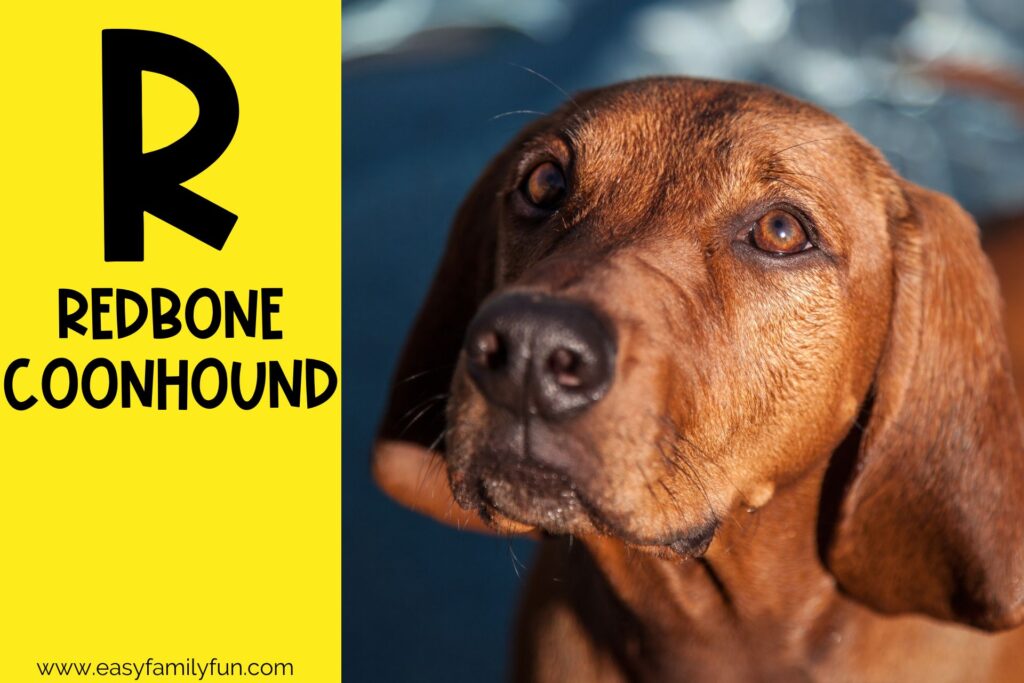 Redbone Coonhound
Redbone Coonhounds are dogs that are bred to hunt. They are very courageous and often used to track big animals like bears, boars, and cougars, but they can also be used to track deer. They have deep red coats. They are loving and gentle dogs that always want to please their owners.
Rex Rabbit
Rex Rabbits are a breed of rabbits that are kept as pets. They have plush velvety fur. They eat hay and pellets. Their teeth continue to grow throughout their lives, requiring that they have stuff to chewy on to help keep them short. When they are excited and happy, they do zoomies and binkies. Zoomies are when they run fast around the room, and binkies are sudden jumps.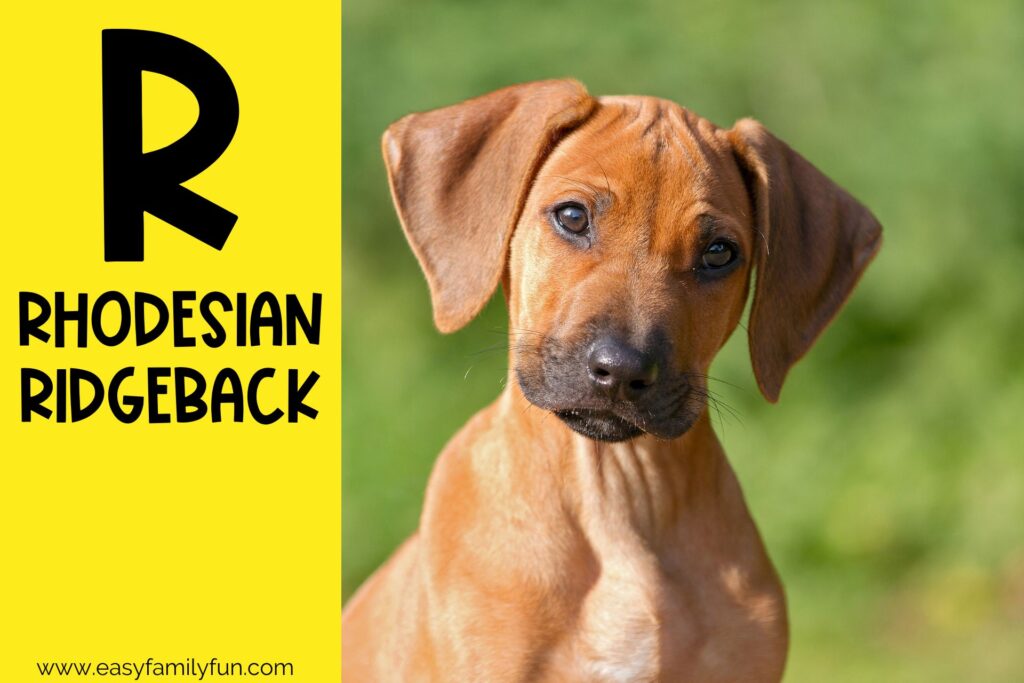 Rhodesian Ridgeback
Rhodesian Ridgebacks are a large dog breed. They are known for the ridge of hair that sticks along their back. They are intelligent and loyal. They may be a more challenging breed for those without experience and may not be great around small children. They are originally bred to help hunt lions.
Rocky Mountain Goat
Rocky Mountain Goats are found in the mountains of the western US. They are commonly seen on cliffs and ice and are very sure-footed. They have beards, short tails, and long black horns, whether a girl or a boy. The horn grows each year and has rings of growth each year.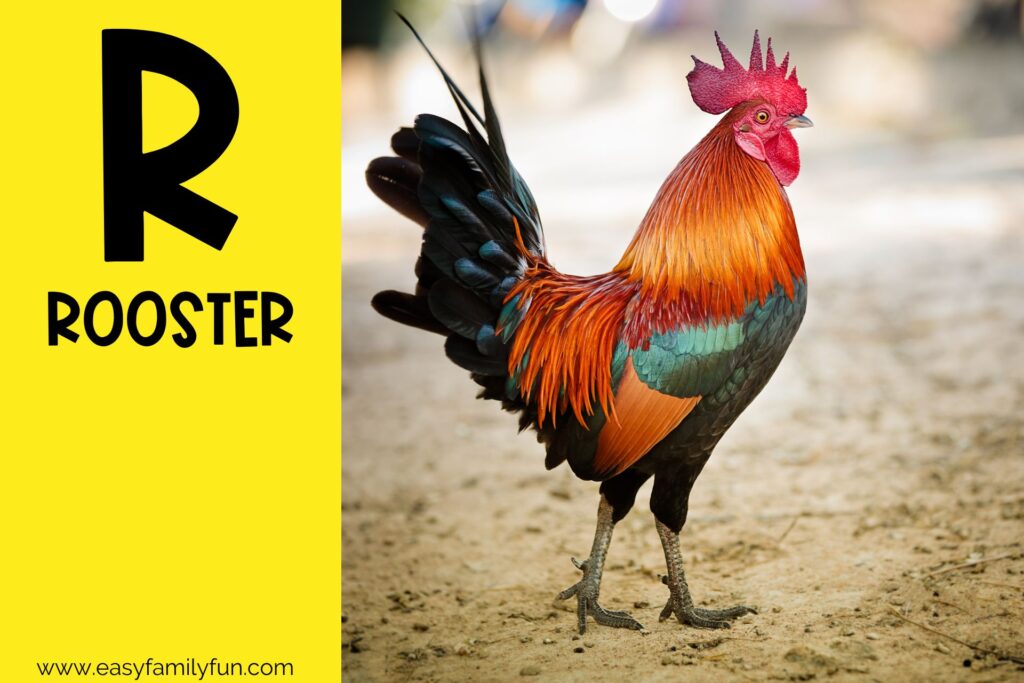 Rooster
Roosters are male chickens. They look different from the hens by the fact that they have long flowing tails and the comb, which is the flesh that grows on the top of the head and below the beak. They also have spur claws that they use to fight. They also crow loudly and will do that when they have a disturbance in their territory.
Rodents
Rodents are a category of mammal that have continuously growing front teeth. 40% of all mammals are rodents. They live all over the world. Some well-known rodents include mice, rats, squirrels, prairie dogs, porcupines, beavers, guinea pigs, and hamsters.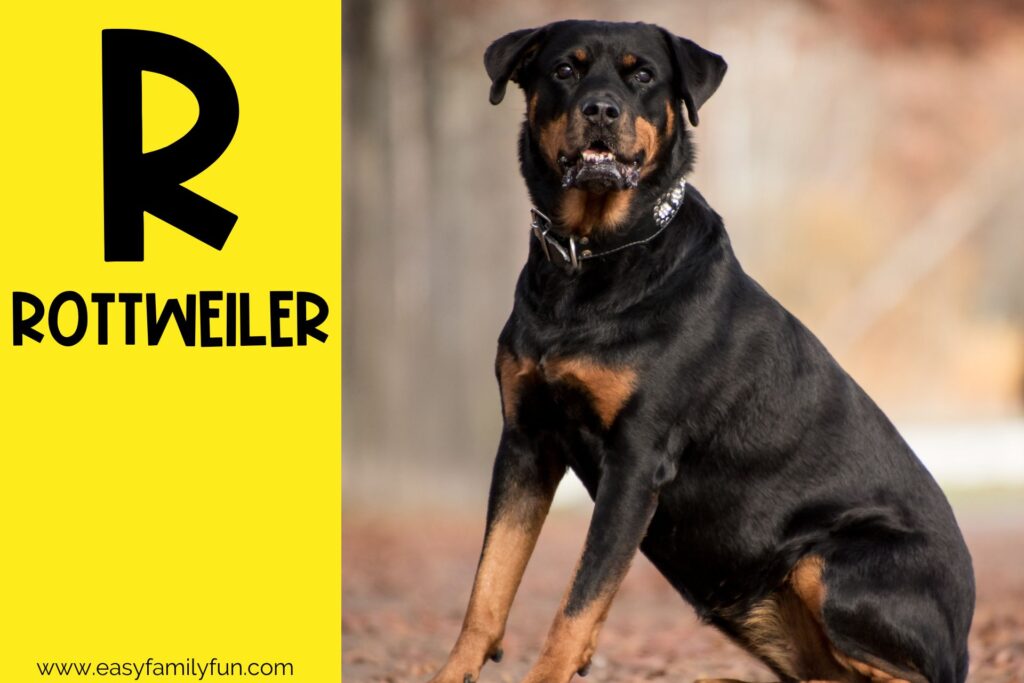 Rottweiler
Rottweilers are a large dog breed used today as guard, search, rescue, and police dogs. They are known to be a gentle breed but can be dangerous if not trained well. They are very protective and are more likely to bite a stranger than other dogs.
Russian Tortoise
Russian Tortoises thrive in dry open spaces. They like to dig in the sand and burrow as deep as 6 feet deep where they will go to get out of the heat of the day and to sleep at night. They can handle 70% humidity and like the rain to soften the soil for them to dig in. They like to be around other tortoises. They eat dark leafy greens and plantains.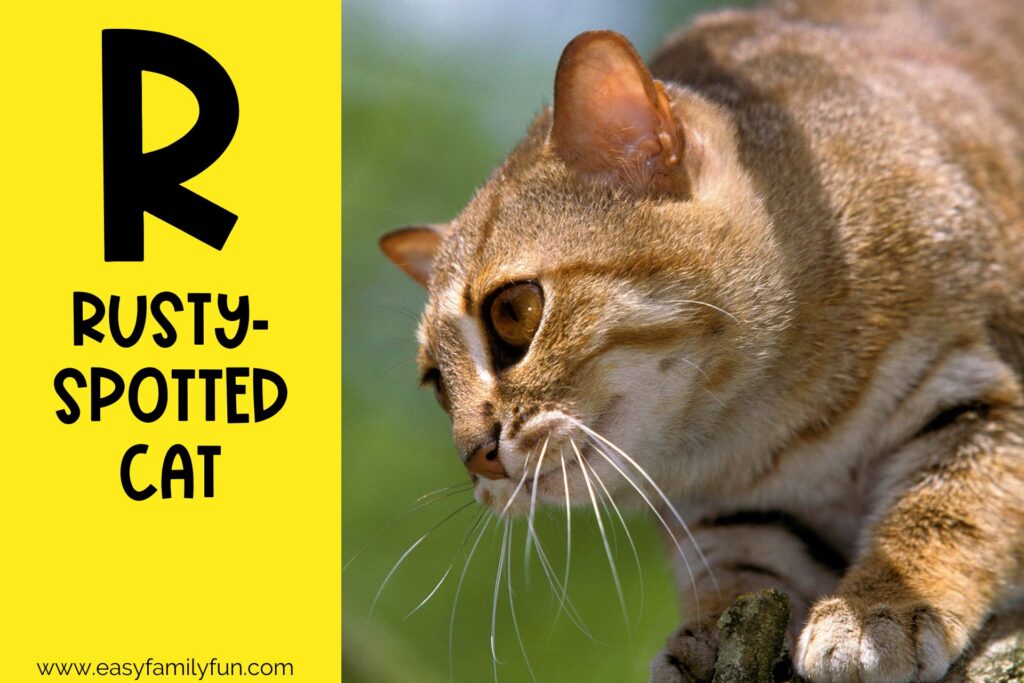 Rusty-Spotted Cat
Rusty-Spotted Cats are from India and Sri Lanka. They are the smallest member of the wild cat in Asia. They mostly live in moist, dry forests that most likely do not have evergreens.  They eat rodents, birds, lizards, frogs, and insects. Like other wild cats, they spray urine to mark their territory.
Zoo Animals That Start With R
Radiated Tortoise
Radiated Tortoises are from Madagascar. They can live up to 188 years. Grazing most of the time, they eat fruits and succulents. They like to eat new growth, will eat in one area often, and can keep that area well-trimmed. They lay eggs in a hole and leave them to grow independently.
Rat Snakes
Rat Snakes are found in most of the northern hemisphere. They are constrictors which means they squeeze their prey. Their prey is primarily rodents. They have found a small amount of venom, but it will not be enough to do anything to humans.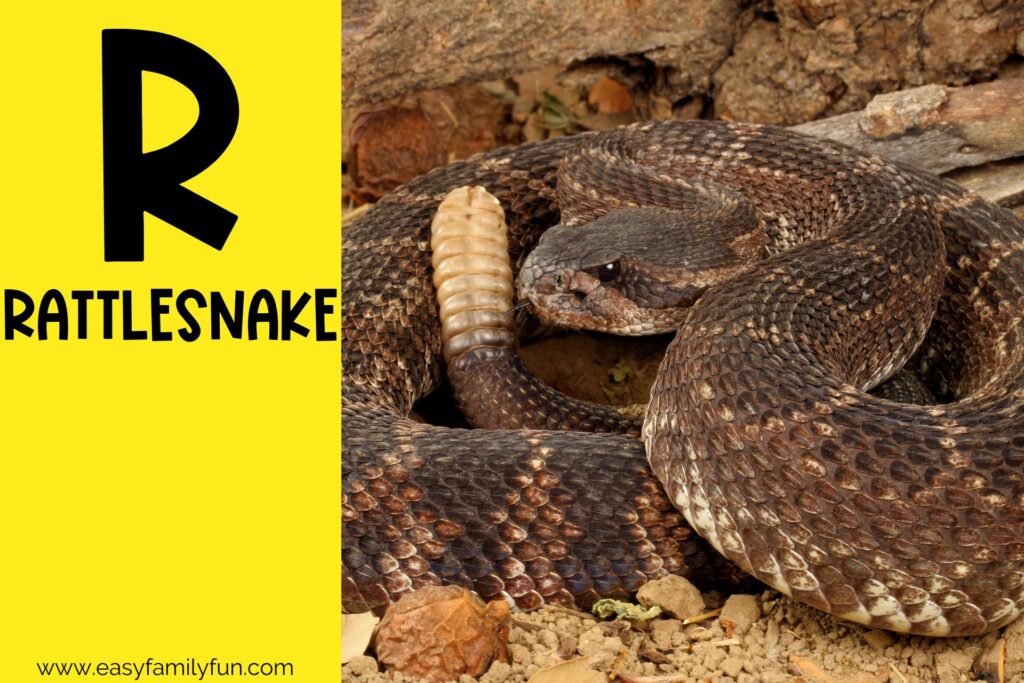 Rattlesnake
Rattlesnakes are called that because they have a rattle at the end of their tail that they rattle when they feel threatened. They live in mostly dry climates in North, Central, and South America. They like to eat mice, rats, rabbits, squirrels, small birds, and other small animals. 
Raven
Ravens are big black birds. They eat meat and plants and will eat what they can find according to weather, location, and season. They may even eat the meat of dead animals if they have to. They live all over the Northern Hemisphere. They live in pairs that sometimes quarrel but are devoted to each other.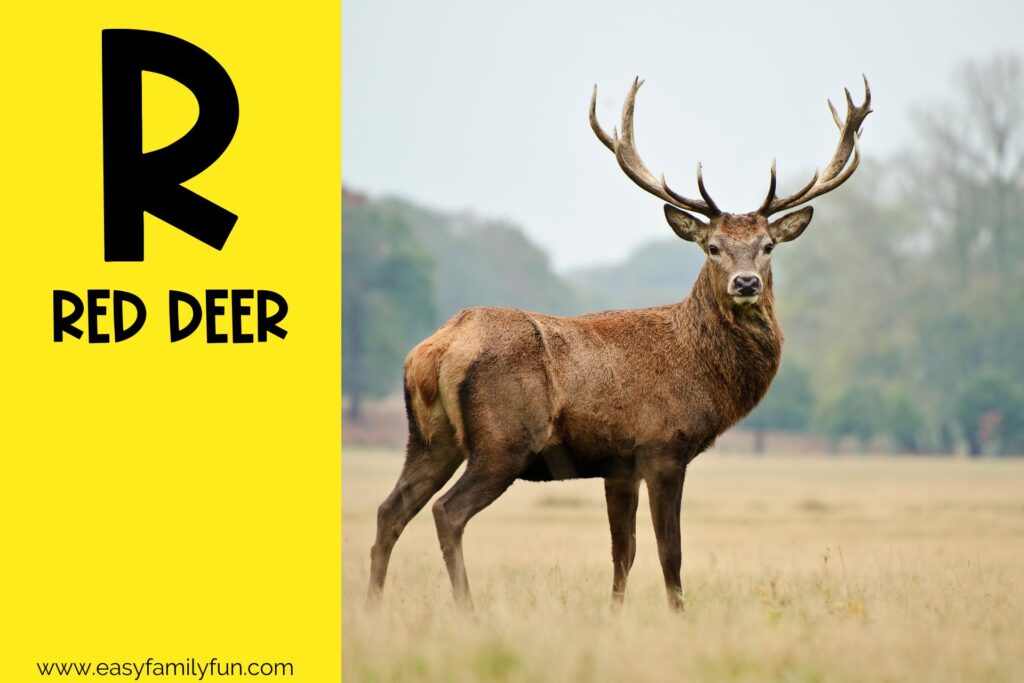 Red Deer
Red Deer is one of the largest deer species. The male is a stag or heart, and the female is a hind. They live in most of Europe and Western Asia. The males have bone antlers, and they grow new ones each year after shedding them. The Antlers can grow about one inch each day.
Red-Eyed Tree Frog
Red-Eyed Tree Frogs live in the forests of Central America down to northwestern South America. They have green bodies with blue and yellow stripes on their sides. Their stomachs are white, with bright red and orange colored feet and bright red eyes. They are active at night and climb trees with long legs and webbed toes.
Red Fox
Red Foxes are the largest of the foxes. They live all over the Northern Hemisphere. They live in either pairs or families. They use their urine to mark their territories. They eat voles, mice, ground squirrels, hamsters, gerbils, and woodchucks. They will usually hunt in the early morning hours and the late evening. They have about 4 to 6 babies at a time, called kits.
Red Panda
Red Pandas live in the Himalayas and China. They live in forests with evergreen trees and other trees, and they like to live close to water and bamboo. They live alone and move around in the trees and not so much on the ground. Like the giant panda, they eat mostly bamboo. They can live up to 14 years.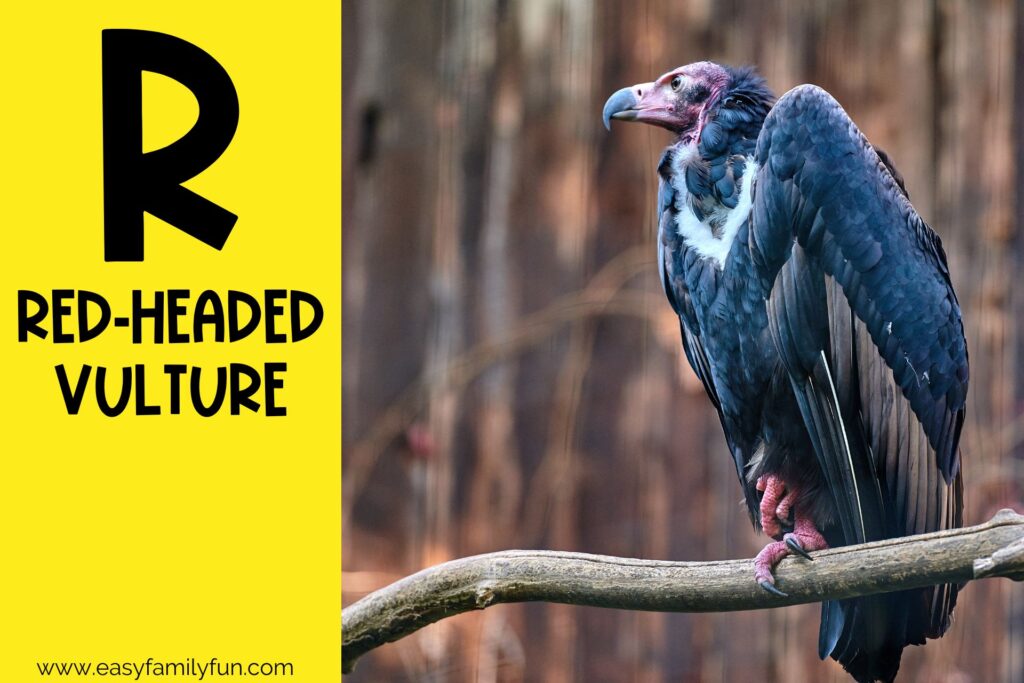 Red-Headed Vulture
Red-Headed Vultures live in Southeast Asia. They have a naked head that is deep red to orange as an adult and paler red as a youth. They, like other vultures, eat the flesh of dead animals. Males and females have different colored eyes. Males have paler, whitish eyes, and females have dark brown eyes.
Red-Tail Boa
Red-Tail Boas are large and non-venomous. They live in tropical South America. They are often found as pets. They are most active at night and tend to be alone unless they want to have babies. They mainly eat rodents. Stoke their prey and pounce when they are not expecting it. It can take 4 to 6 days for them to digest their food, and they will then often not eat for weeks to months afterward.
Reindeer
Reindeers are also called caribou. There are many different kinds, some migrate, and some do not. Males and females grow antlers each year. They have four parts to their stomachs that help ferment their food so they can digest it. They eat something called lichens, which is moss. They will also eat leaves, grasses, and sometimes even antlers after being shed.
Rhinoceros
Rhinoceros, also called Rhinos, live in Africa and South and Southeast Asia. They weigh at least a ton as an adult. They eat plants and have tiny brains for a mammal. They have horns on their heads that often are what poachers hunt them for. The African species do not have teeth in the front of their mouths and use their lips to pluck food.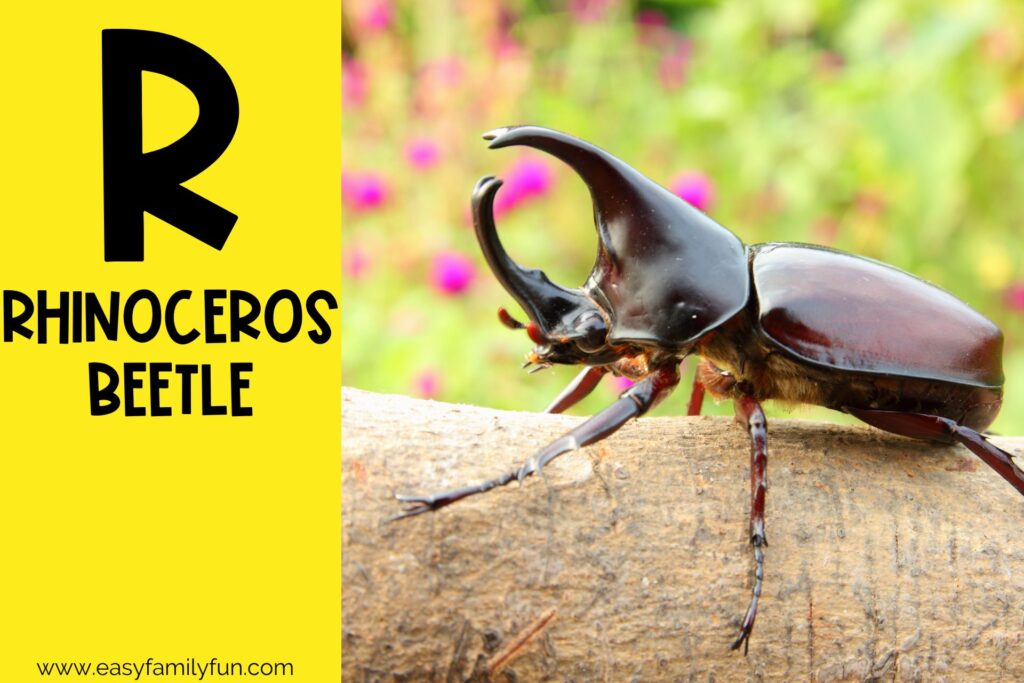 Rhinoceros Beetle
Rhinoceros Beetles have over 1500 species. They are some of the giant beetles. They can measure about 6 inches in length. They cannot bite or sting. Some of them can lift 850 times their weight. They have horns on their head, much like a Rhiino, so they are called the Rhino beetle. They have wings and can fly but not very well because of their size.
Ring-tailed Lemur
Ring-tailed lemurs are from the island of Madagascar. They love to be with other lemurs and often are in groups of up to 30. The females are the ones that are in charge of the Lemar family. They like to groom each other, which is a big part of how they interact. They are mostly active during the day. And eat both plants and meat.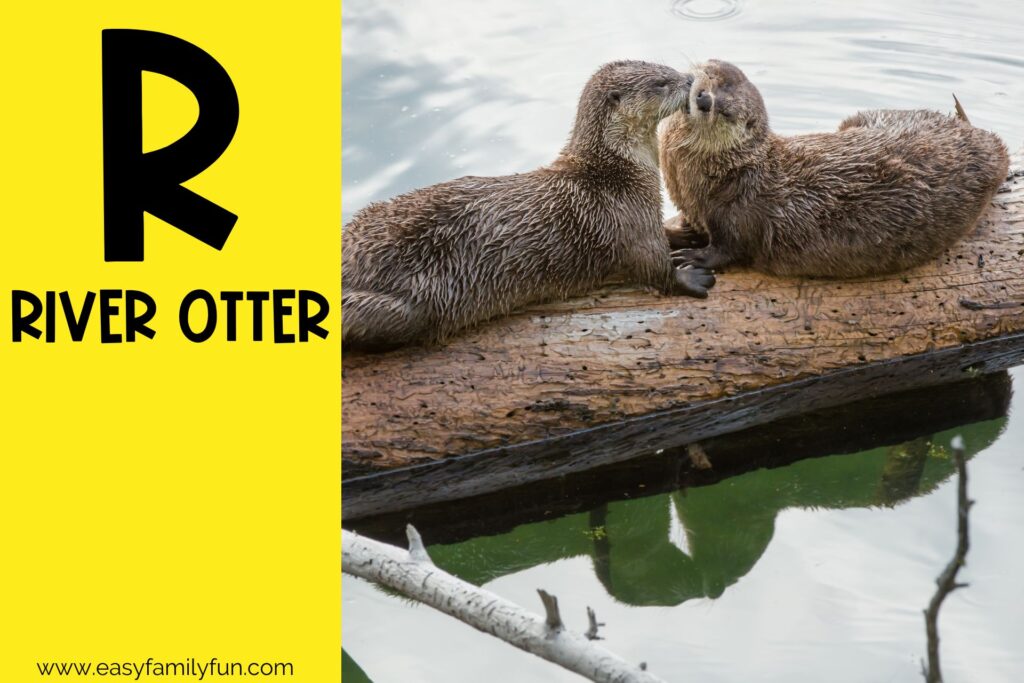 River Otter
River otters live all over the world. The North American river otter lives in both the land and the water. They are part of the weasel family and like to burrow in the ground close to the water. They eat animals and usually what they can find close by, like fish and other things that live in water. They love to play, and this play teaches them life skills.
Roadrunner
Roadrunners are birds that are found in the southwestern and south-central US and Mexico, usually in the desert. They can fly, but usually, they run away from predators. They have been seen running at 20 to 27 mph. They eat various things, from insects to small reptiles and mammals, and even eggs and fruit. They mate for life and run around together.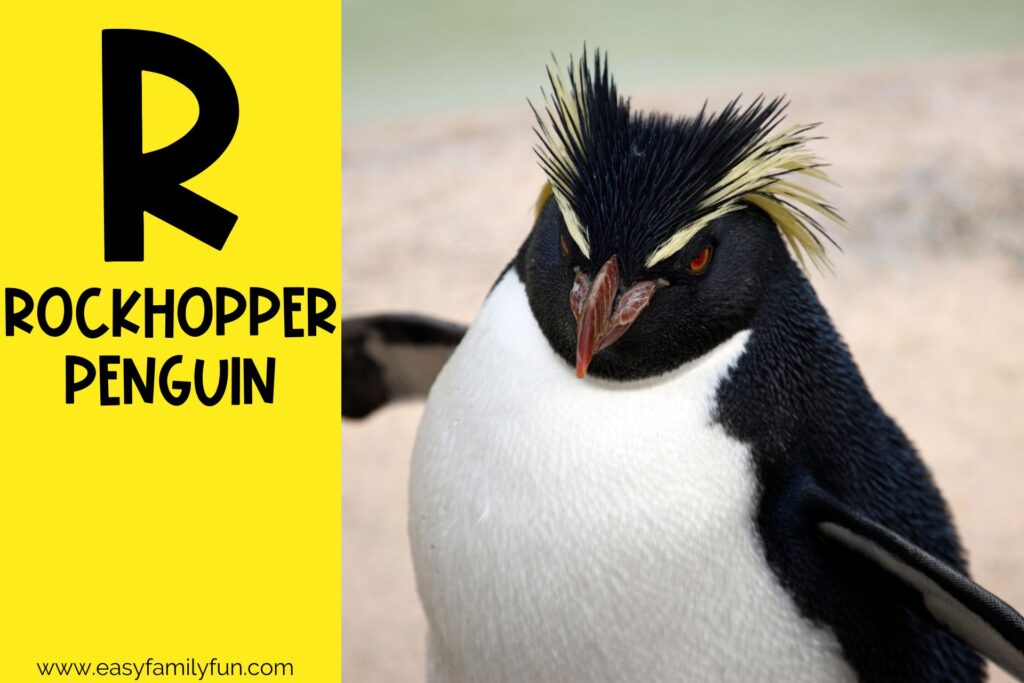 Rockhopper Penguin
Rockhopper Penguins are one of the smallest penguins. They live on rocky shores and breed in cool climates. They eat things like krill, shrimp, lobsters, or crayfish. The animals that prey on them are leopard seals, fur seals, killer whales, and blue sharks. They lay two eggs that are different sizes and use the same nest each year.
Royal Bengal Tiger
Royal Bengal Tigers are some of the biggest wild cats on earth. They are the classic colors of orange and black stripes. They live alone unless it is a mother and her cubs. They eat meat and like to eat large animals. They like to jump their prey from the side or behind. They can have 1 to 4 cubs at a time.
Other Animals That Start With R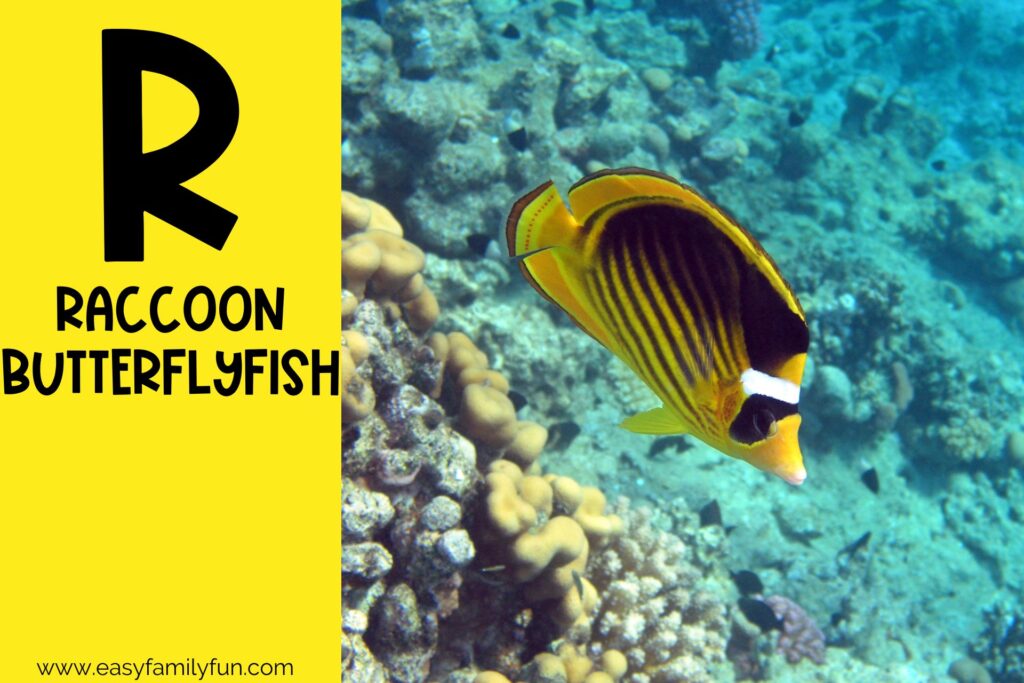 Raccoon butterflyfish
Raccoon Dog
Racer Snake
Radiated Tortoise
Ragamuffin
Ragdoll
Raggle
Rail
Rainbow boa
Rainbow Grasshopper (Dactylotum bicolor)
Rainbow Kribs (Kribensis)
Rainbow Lorikeet
Ratel
Ratfish
Razor clam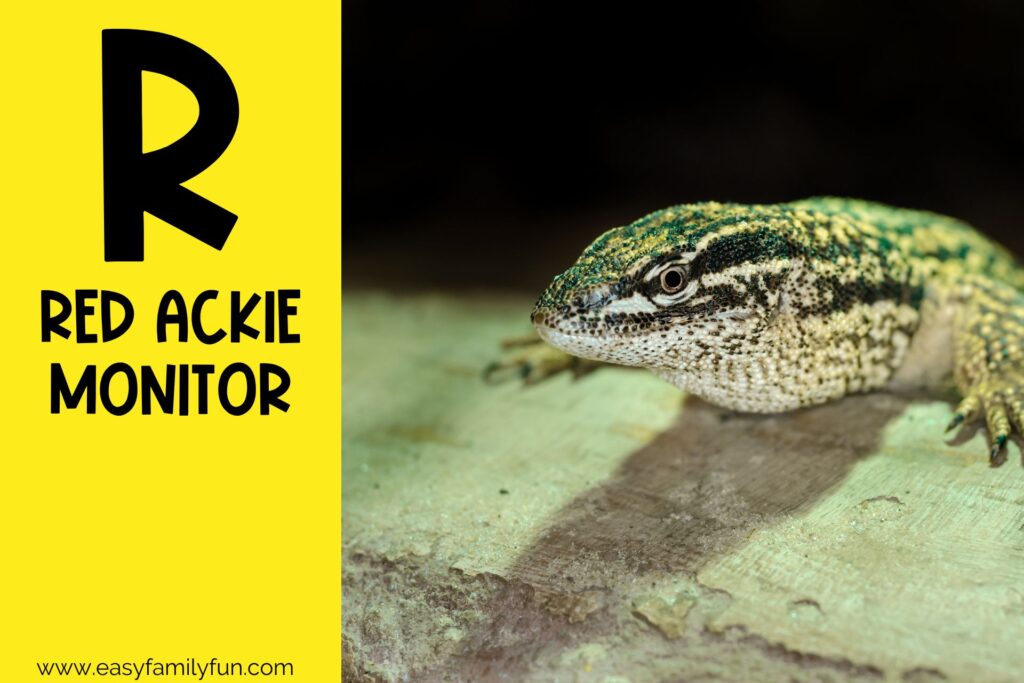 Red Ackie Monitor
Red Aphids
Red Crossbill
Red diamond rattlesnake
Red drum
Red Finch
Red hake
Red Kite
Red lionfish
Red Nose Pit Bull
Red Racer Snake
Red rock crab
Red sheep
Red snapper
Red Spitting Cobra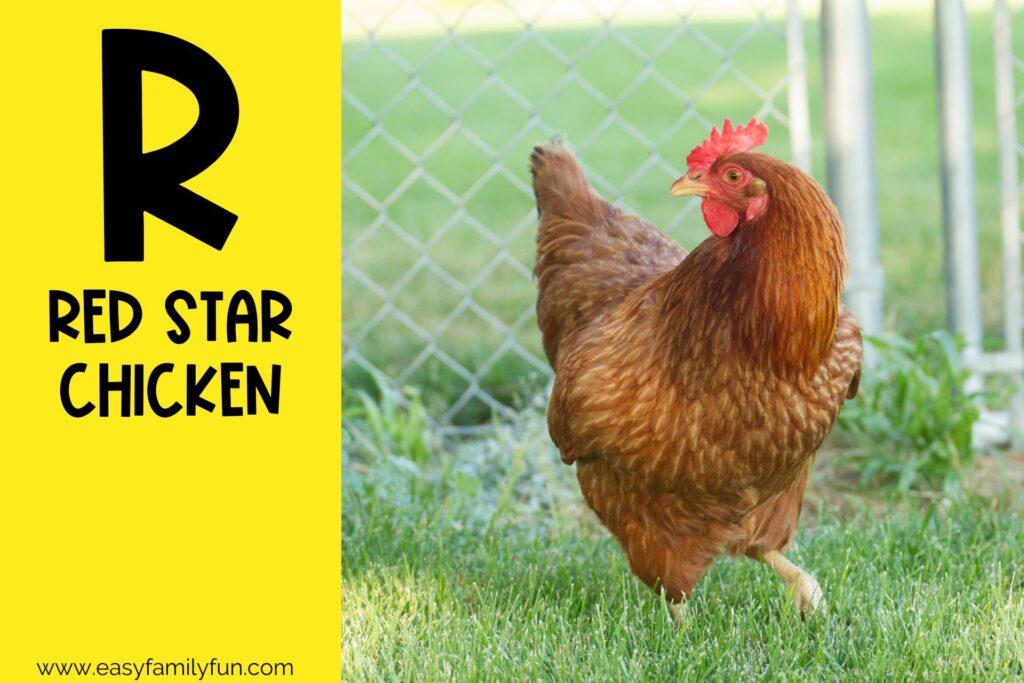 Red Star Chicken
Red Wolf
Red-Bellied Black Snake
Red-bellied piranha
Red-Billed Quelea Bird
Red-breasted Merganser
Red-breasted Nuthatch
Red-eared slider
Red-eyed Vireo
Red-faced Cormorant
Red-footed Booby
Red-handed Tamarind
Red-legged Seriema
Red-Lipped Batfish
Red-necked Grebe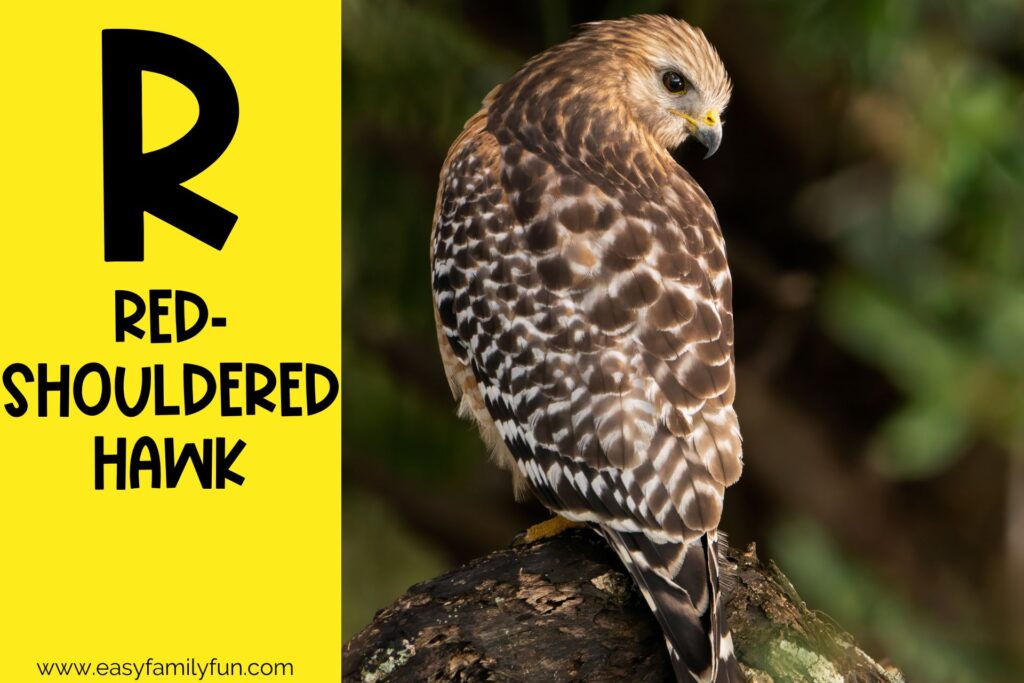 Red-shouldered Hawk
Red-spotted newt
Red-Tailed Cuckoo Bumblebee
Red-tailed Hawk
Red-throated Loon
Red-throated Pipit
Red-vented Bulbul
Red-whiskered Bulbul
Red-winged blackbird
Redback Spider
Redcap Chicken
Redfish
Redhead
Redhump Eartheater
Redpoll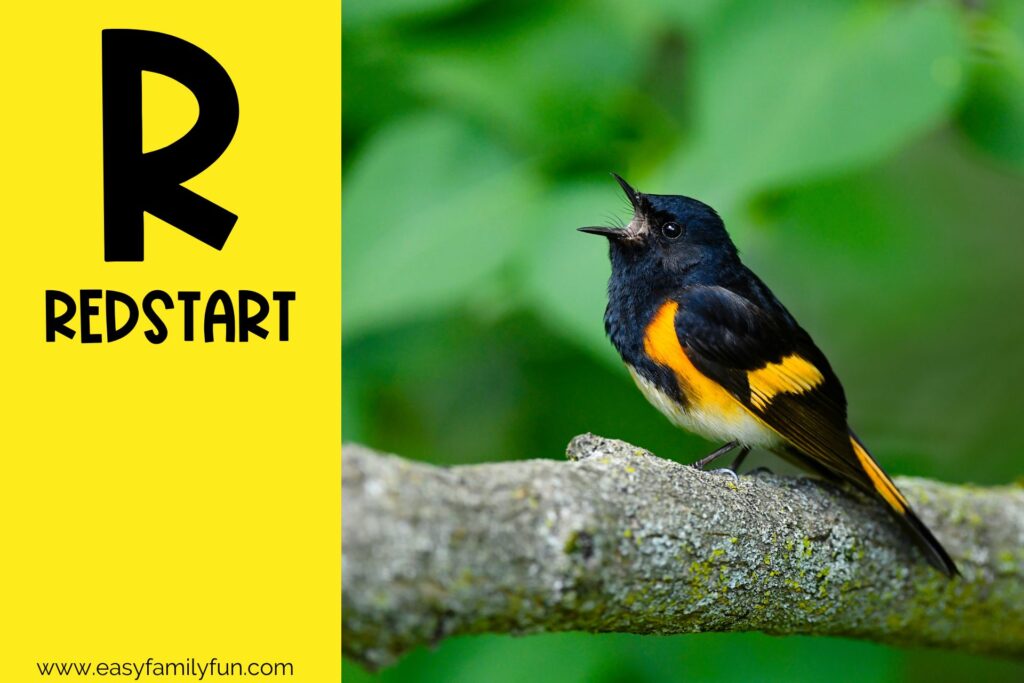 Redstart
Redtail Catfish
Reeves' muntjac
Regal Jumping Spider
Remora
Repenomamus
Reticulated python
Rhamphosuchus
Rhea
Rhesus Macaque
Rhino Viper
Rhinoceros iguana
Rhinoceros viper
Rhode Island Red Chicken
Rhodesian Ridgeback
Rhombic Egg-Eater Snake
Rainbow trout
Ribbon Eel
Ribbon Snake
Ribbonfish
Ridge-tailed monitor
Right whale
Rim Rock Crowned Snake
Ring-billed Gull
Ring-necked Duck
Ring-necked Pheasant
Ring-necked snake
Ringed Kingfisher
Ringed Parakeet
Ringed Seal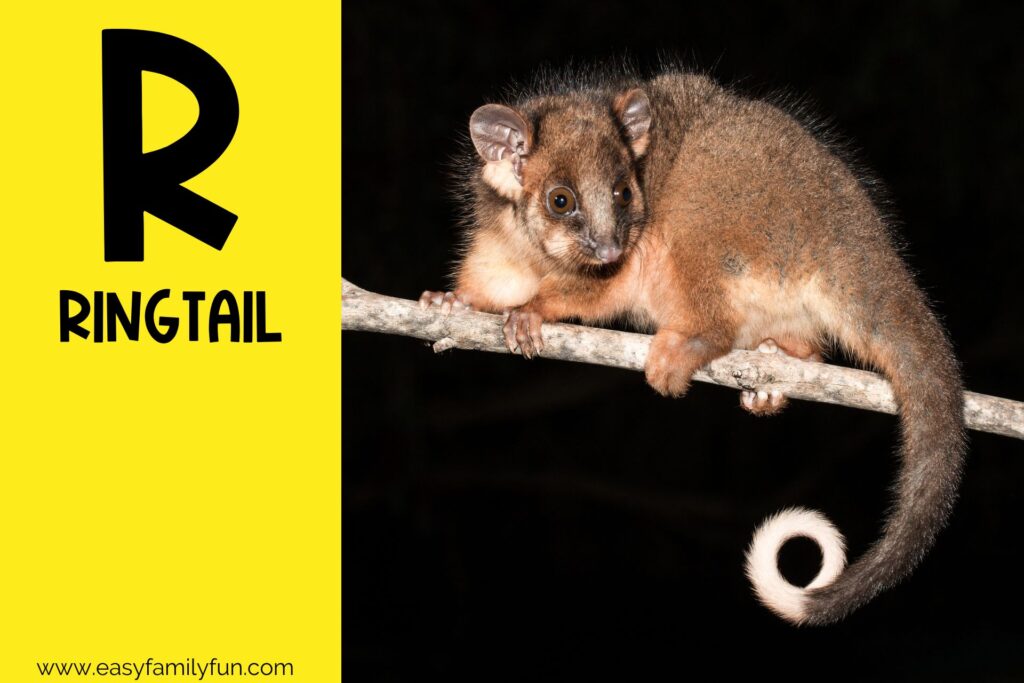 Ringtail
Rinkhals Snake
Risso's dolphin
River Dolphin
River Turtle
Robber Flies
Robin
Rock Bass
Rock Crab
Rock Hyrax
Rock iguana
Rock lobster
Rock Pigeon
Rock Ptarmigan
Rock python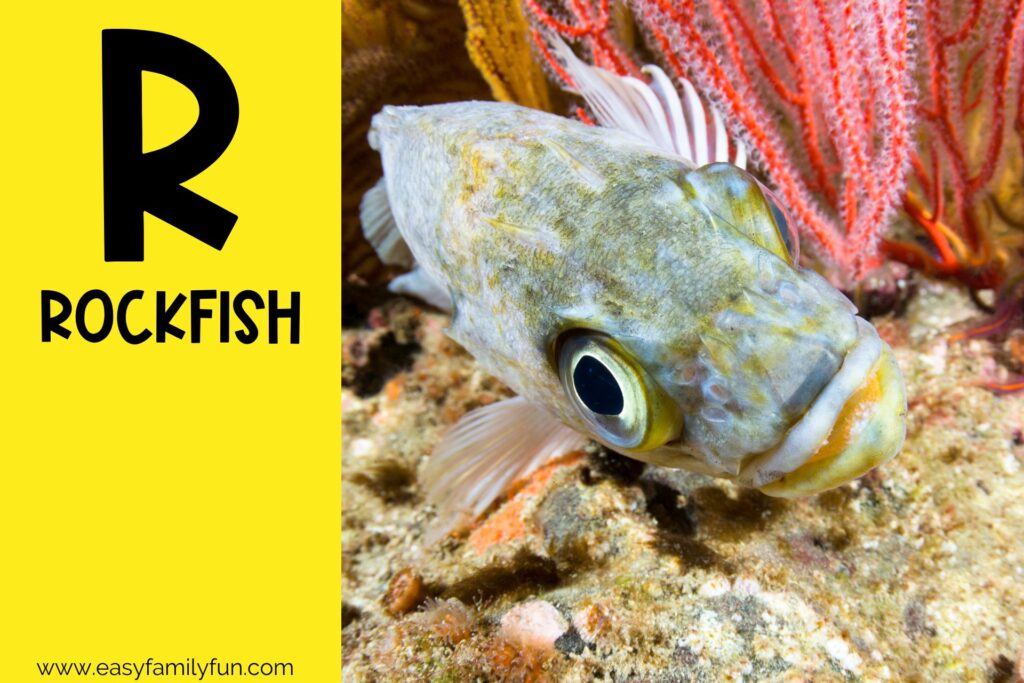 Rockfish
Roe Deer
Roller
Rook
Roosterfish
Root Aphids
Rose-Breasted Grosbeak
Roseat flamingo
Roseate cockatoo
Roseate Spoonbill
Ross's Goose
Rosy boa
Rosy-faced lovebird
Rosy-lipped batfish
Rotterm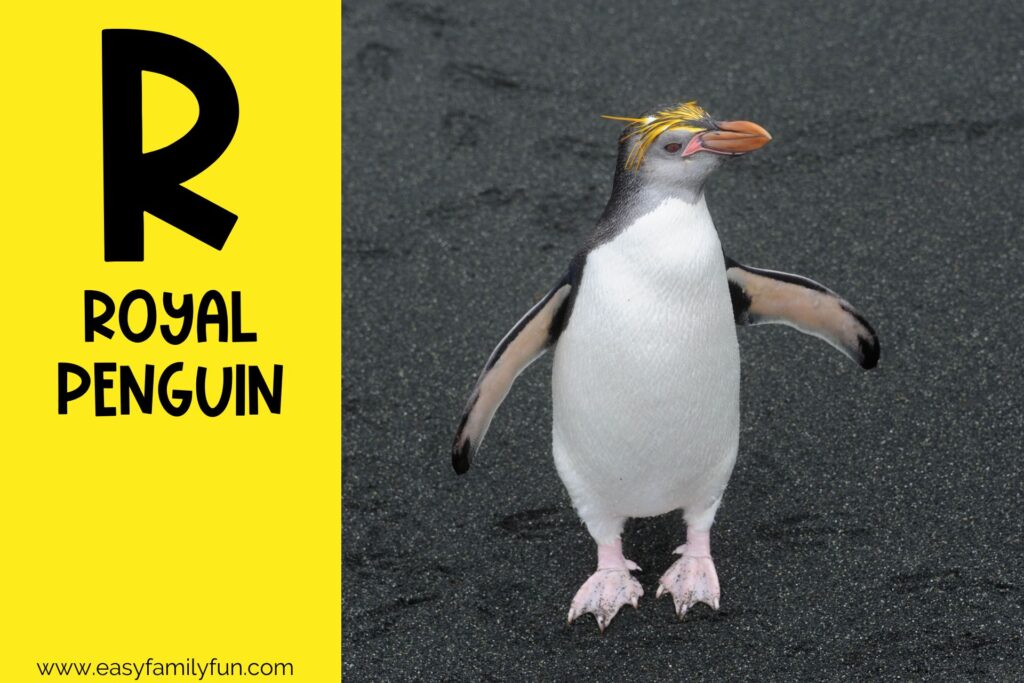 Royal Penguin
Rottsky
Rottweiler Mix
Rough Earth Snake
Rough green snake
Rough-legged Hawk
Rough-necked monitor
Rough-toothed dolphin
Roughhead blenny
Roughneck shrimp
Round stingray
Round-eared elephant shrew
Round-tailed horned lizard
Rove Beetle
Royal angelfish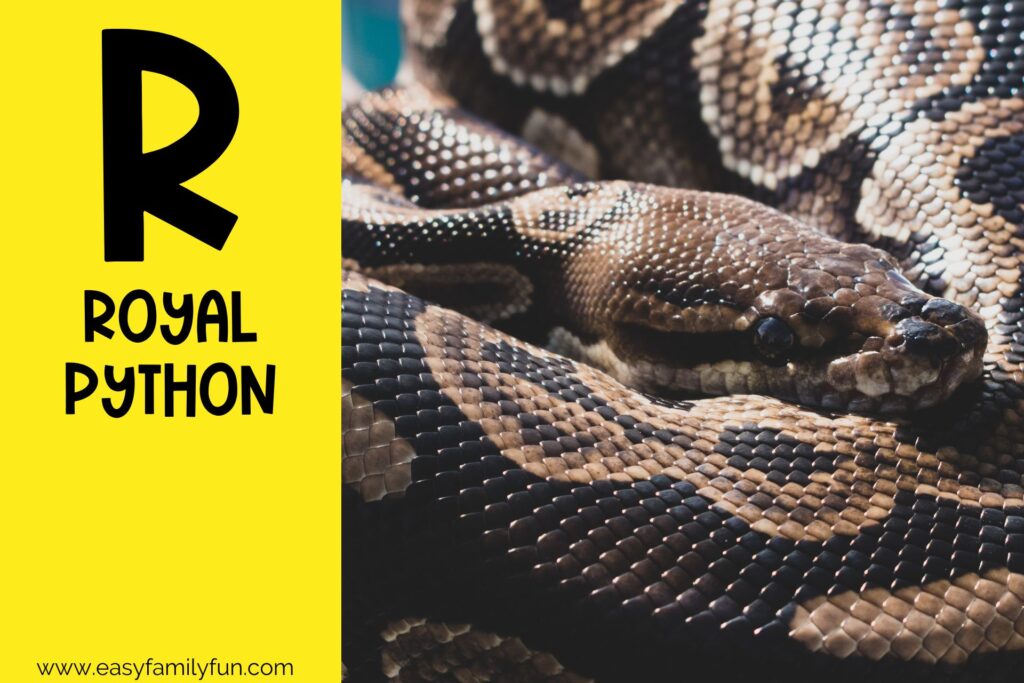 Royal python
Rubber boa
Ruby-Crowned Kinglet
Ruby-Throated Hummingbird
Ruddy Duck
Ruddy Turnstone
Ruffed Grouse
Rufous hare-wallaby
Rufous Hummingbird
Rufous mouse lemur
Rufous-bellied Thrush
Rufous-capped Warbler
Rufous-collared Sparrow
Rufous-Tailed Hummingbird
Rufous-tailed Jacamar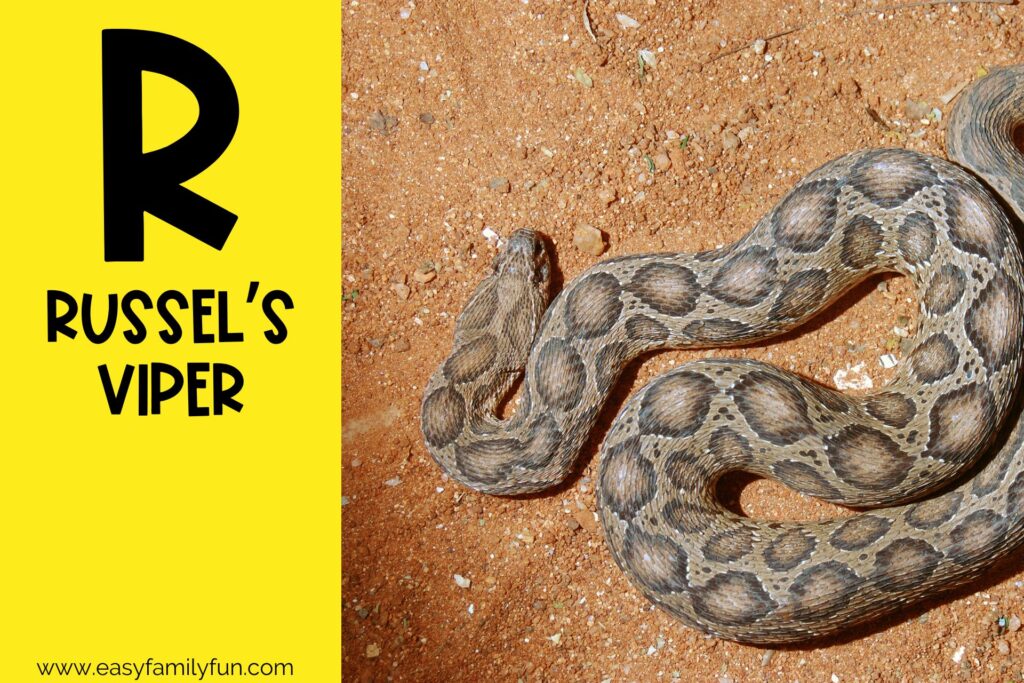 Russel's Viper
Russell Terrier
Russian Bear Dog

Russian desman

Rusty Blackbird
Rusty Sparrow
Rusty-capped Flycatcher
Rusty-rumped Warbler
Rusty-spotted catshark
Russian Blue Cat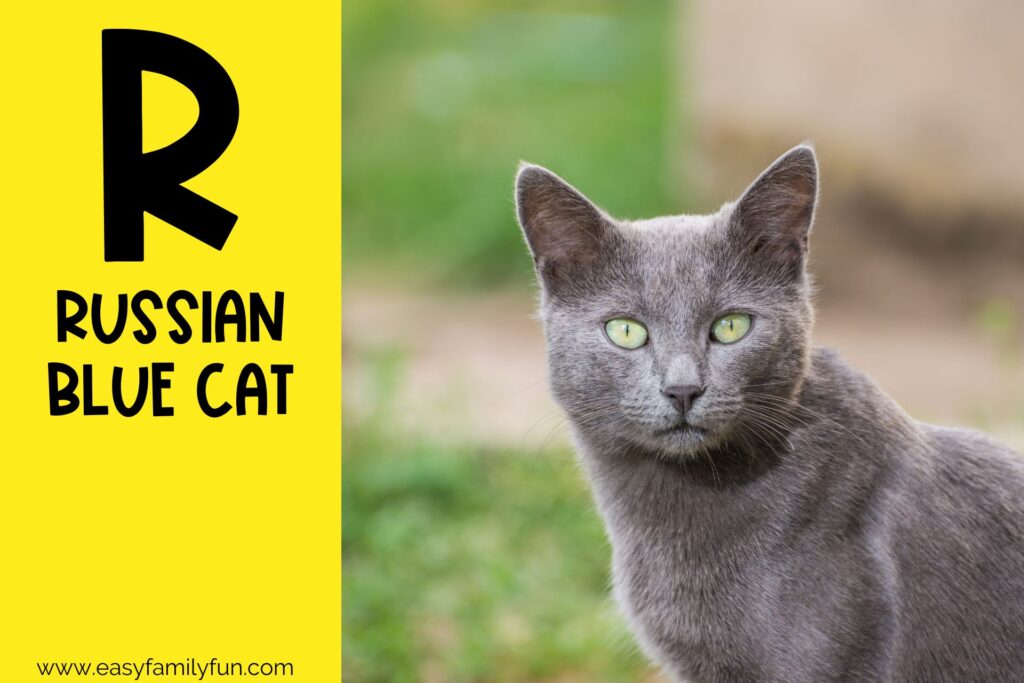 There you go! Hopefully, you learned about a new animal that starts with R. If you know any others, please leave them in the comments!
Be sure to check out our other animal lists.