There is a long list of animals that start with S. It might be hard for you to come up with as many as we have here. I know it has been hard for me, too, when my kids ask. So we have a good list here to help you the next time you want to answer your kid's questions about those animals that begin with S.
Looking to learn more about animals? Be sure to check out our Animals that Start with X and our Animals that Start with Y.
Commonly Known Animals That Start With S
Saint Bernard
Saint Bernards are a very large breed of dog. They live between 8 to 10 years. They are a gentle giant, calm, patient, and sweet. They are good with adults and children. They have been known as the search and rescue dog that brings you things to keep you warm until the humans get there.
Saber-toothed Tiger
Saber-toothed Tigers are one the most famous prehistoric mammal. They are also known as Smilodon. They probably ate bison and camels. They are not sure if they lived in groups or alone. They have very big canine teeth. They used those teeth to kill their prey. They are not sure if it has spots like leopards or just plain fur.
Salamander
Salamanders are like lizards in body and shape. They usually have four toes on their front feet and five on their back if they have back feet. They need to live near water or in a cool, damp place because of their skin. They can regrow legs or tails or other damaged parts of their bodies.
Salmon
Salmon is a fish that we use as food. There are many different types of salmon. They travel all the way back upstream when they want to lay eggs and have babies. They eat smaller fish and a few insects as well. Bears, birds, and otters all prey on them. They live in both the North Atlantic and North Pacific.
Sand Dollar
Sand Dollars are sea creatures that have a rigid skeleton called a test. Many people have found the sand dollar's test on the beach without any of the skin still on it. They have been named sand dollars because they looked like old Spanish coins. They live just at the water line either in the water or under the muddy sand.
Sand Tiger Shark
Sand Tiger Sharks in the sandy shoreline that is the continental shelf or the part of the continent that is underwater, and has relatively shallow water. They may be fast swimmers and may appear like mean sharks, but they have not been any confirmed human death from their attacks. They hunt at night. During the day they hide in caves and rocks and other things that will help them hide.
Sandpiper
Sandpipers are birds that are found all over the world. They are also called curlew or snipe. They have long legs and a skinny long beak. The beak is sensitive and can help them feel where their food is under the sand. They often nest on the ground and lay 3 to 4 eggs at a time. Both the male and the females sit on the eggs until they hatch. They feed on things that live in the dirt and mud like bugs some even eat small fish.
Sardines
Sardines are fish that belong to the herring family. The term Sardine comes from the fish that were once abundant around Sardinia. They are fish that are shorter than 6 inches in length. They are used for many different things, bait, eating, and making fish meal and oil. Mostly they are eaten in different types of food, but they are also used in animal feed, and the oil can be used in paint, varnish, and linoleum.
Scallops
Scallops are found in all the world's oceans. They look like clams and mussels that live in shells. Most of them can swim around and move to different parts of the ocean floor. They live found living within, upon, or under rocks, coral, rubble, sea grass, kelp, sand, or mud. Many people enjoy eating scallops. 
Schnauzer
Schnauzers are a dog breed that comes in 3 different sizes, Giant, Standard and miniature. They were originally bred to catch rats or be guard dogs. They are very smart and need a lot of training early on and need to have a lot of exercises as well. They are not known to shed that much.
Scorpion
Scorpions are the same family as spiders, arachnids. They usually hunt insects. They use their sting to both defend themselves and kill their prey. The exoskeleton contains fluorescent chemicals and glows under ultraviolet light. Most stings are not deadly to humans. Only 25 species are deadly to humans.
Scottish Terrier
Scottish Terriers are a dog breed. Some people call them Scotties. They are smart, playful, independent, and have the nickname "diehard" because of the endless determination they have. They are described as both loving and stubborn. They are not a good pets for small children.
Screech Owl
Screech Owls' females are bigger than the males. They like to live in areas that have old trees, as that is where they find their prey of insects, lizards, and small mammals. They take their prey back to their nests. They live alone. They get their name from the noise that they make; it is not the normal hoot of an owl but a more trill noise.
Sea Cucumber
Sea Cucumbers are animals that live in the water. It has leathery skin and is found on the sea floor worldwide. They are named after the fruit of a cucumber plant that it looks like. They feed on dead animals, particles that float in the sand, and other things that filter through their bodies.
Sea Otter
Sea Otters are mammals that live in the water. They live on the northern and eastern coasts of the North Pacific Ocean. They can walk on land but can live all the time in the water. They like to eat things like sea urchins, and other shellfish. It uses a rock to open shells and get their food off the ocean floor. They are active during the day and can be a pest to fishermen as they are trying to catch the same prey.
Sea Turtle
Sea Turtles are all either endangered or threatened species of animal. Males and females look the same in size and coloring. They usually live on continental shelves, which are the part of the continent that is underwater. When they are adults, they live closer to the shore. They go to the same place they were born to lay their eggs. 
Sea Urchin
Sea Urchins are on the seabed of all the oceans. They are round and covered in spikes. They can move around with their tube feet and their spikes. They mostly eat algae. They can live up to 200 years. Some are kept in aquariums to help control the algae in the tank.
Seagull
Seagulls, also known as Gulls. They are large or medium-sized birds that are grey or white. They nest together in large, noisy colonies. Despite the thought that they are not smart birds, they are actually very smart, curious birds. They live all over the world. They will eat whatever they can find either alive or dead. 
Seahorse
Seahorses are found in shallow tropical and temperate salt water all over the world. They are named for the fact that they look like horses. They do not swim well and are the slowest moving fish at a top speed of 5 feet per hour. Because of that, they are found most of the time with their tail holding onto something. 
Seal
Seals have several different species. You can find them all over the world, but most of them like to be in the cooler water up north or down south. Most of them feed on fish and other sea creatures, but a few will also eat penguins. They are mostly in the water but come ashore to mate, have babies, escape predators, and molt or shed. When they sleep in the water they have only one-half of their brains asleep to be able to still detect danger.
Shark
Sharks are a group of fish that has several species. Several of them are apex predators which means they are at the top of their food chain. Sharks' teeth are not attached to their jaw, and they are constantly being replaced. Some sharks lose 30,000 teeth or more in their lifetime. Most teeth are replaced one at a time instead of one row at a time.
Sheep
Sheep are livestock that people raise all over the world for food and for the coats that they can cut off to make wool that can be made into clothes and other materials. They eat grass that they graze to eat. They like leafy things and try to avoid the woody parts of a plant. They live in flocks and are followers for the most part. There is typically a dominant sheep that will lead them to do what they do.
Shetland Sheepdog
Shetland Sheepdogs, also known as Shelties are bred to help herd livestock. They are extremely smart and are listed as the 6th smartest dog. They are known to learn a new command after 5 times of repetition and will obey it the first time, given about 95% of the time. The breed does well in dog agility, obedience, showmanship, flyball, tracking, and herding.
Shih Tzu
Shih Tzus are a small toy dog breed. They are independent and are not always good at obeying. They can live 10 to 16 years. They are known to have several health problems in their life. The name comes from the Chinese language word for lion because this kind of dog was bred to resemble the lion that you would find in traditional oriental art.
Short-tailed Chinchilla
Short-tailed Chinchillas are rodents and are extremely shy. They are known to be very smart. They tend to hide all day to avoid predators. They are found looking for food at dawn and dusk. They are very social and like to be with others. They have been seen living in herds of several to hundreds.
Shrew
Shrews are small mole-like animals. They are not rodents and have sharp, spike-like teeth. They can be confused with a mouse because of its size, but it have a longer, more narrow nose than a mouse. They eat things like seeds, insects, nuts, and worms. With small eyes, they have poor vision but have wonderful hearing and smell.
Shrimp
Shrimps are shellfish. There are a lot of shrimp species, and they can be found all over the world. They usually live for 1 to 7 years. They live alone. They are eaten by a lot of things, including humans. Unlike crags and lobsters, they swim instead of walk. They live on the seafloor and can be found in salt water and fresh water.
Siamese Fighting Fish
Siamese Fighting Fish, most people, call them Betta Fish. The males will fight each other if they are in the same tank and if they have no way to escape this means one or both will die. The females are known to fight as well. They can be in low oxygen and poor water quality compared to other fish. They live in Cambodia, Laos, Thailand, and Vietnam and are found in shallow water with a lot of plants like marshes, floodplains, and paddy fields.
Siberian Cat
Siberian Cats are cats that many people keep as pets. They are from Russia and are the national cat of Russia. They are called hypoallergenic because they are less of the thing that makes people allergic than other cats. They are playful and adventurous and friendly, and easygoing. They are brilliant and can even learn to play fetch. They want to be a part of all that is going on in the house and do not mind getting wet.
Siberian Husky
Siberian Huskies are working sled dogs. They usually howl instead of bark. They seem to be able to get out of most enclosures by digging, chewing, and jumping over the fence. They would hunt as a pack in the summertime if they would be left to roam free because of their drive to hunt prey. They are friendly and gentle. They are too friendly to be guard dogs. They are not usually aggressive toward humans.
Skunk
Most skunks are black and white, but some are brown and are able to spray a strong smelly liquid from their backside. They live alone and do not hibernate in the winter. They have an excellent sense of smell and hearing. They do not have good vision. They eat insects, larvae, earthworms, grubs, rodents, lizards, salamanders, frogs, snakes, birds, moles, eggs, berries, roots, leaves, grasses, fungi, and nuts. 
Slug
Slugs are any insect that is like a snail but has no shell. They have tentacles that they use to feel around and to see. They eat decaying plants and fungi. They do a lot of things to deter those that attach them; they have mucus that they secrete that can taste bad and can be sticky and can make it hard for their predators to move. They also contract their bodies to make them harder and small, making them hard to pick up.
Smooth Fox Terrier
Smooth Fox Terriers are a dog breed. They are very energetic and can be hard for a first-time dog owner. They need to socialize early on or they will be more apt to bark at people and things they are not familiar with. They can live about 12 to 15 years. They are low maintenance and don't need much grooming.
Smooth Hammerhead Shark
Smooth Hammerhead Sharks are the second largest hammerhead shark. They have been known to eat fish and other sea creatures, as well as other sharks and rays. They live in cooler waters than other hammerhead sharks, but they are dangerous to humans and have probably been responsible for a few shark attacks. They migrate to cooler water in the poles when it gets warmer in the summertime.
Snail
Snails have long, skinny bodies that they have a shell on. Snails are found all over, including ditches, deserts, and the abyssal depths of the sea. Most people may only know the land snails but marine snails make up the majority of snail species and have the most differences. They can be found in freshwater as well. There are places in the world where snails are food.
Snake
Snakes are animals that have no arms or legs. Most snakes are nonvenomous and those that have venom use it to kill their prey rather than for self-defense. Some have venom that is strong enough to cause painful injury or death to humans. Nonvenomous snakes either swallow prey alive or kill it by constriction. Snakes live all over the world except Antarctica.
Snapping Turtle
Snapping Turtles are large freshwater turtles. It is one that is known for its fight when you come upon it out of the water. It has a strong beak-like jaw that it will try and bite you with. In the water, they will probably swim away and try to hide from you. They can live up to 100 years. They live in shallow ponds and streams. They eat any animal that they can find and ambush.
Snowshoe Hare
Snowshoe Hares are found in North America. They are named snowshoes because of the size of their feet. To be able to stay hidden, its fur turns white in the winter and brown in the summer. They are most active at night and do not hibernate. During the summer they eat leaves and green plants but in the winter they will eat the wood parts of plants.
Snowy Owl
Snowy Owls live in the Arctic and are large white owls. They are mostly active at night, but sometimes they are active during the day as well. They do not tend to stay in one place. They will go where the food is. Their call sounds more bark-like than hooting.
Softshell Turtle
Softshell Turtles are called that because their shell doesn't have the hard scales on them that other turtles have. Many of them have to be underwater to swallow their food. They have elongated, soft, snorkel-like nostrils. Their necks are extremely long in comparison to their body sizes, making them able to breathe surface air while their bodies remain under the mud or sand a foot or more below the surface.
Southern Elephant Seal
Southern Elephant Seals are the largest sea mammal that is not a whale. They do not move fast on land but move quickly in the water. They are born with black fur that is not good for the water but keeps them warm in the cold air. They then will molt and grow a new coat of grey hair which is what will help them stay warm while swimming in cold water.
Sparrow
Sparrows are birds that are small, plump, brown, and grey. Most of them eat seeds and small insects. They like to live in grasslands, deserts, and scrublands. They like to live with other sparrows and live in colonies or flocks. They do something called dust bathing where they clean themselves by rolling around in the dust.
Sperm Whale
Sperm Whales are the largest toothed whale and predators in the ocean. Male adults are 30 to 50 percent longer and three times as massive as females. They sleep with their heads straight up with it at the surface of the water. They are known to dive deep to try and find food. These dives can last more than an hour.
Spider
Spiders are arachnids. They have eight legs and inject venom and live on webs that they make with the silk they spin from their bodies. They wait for something to come along and get stuck in tier web, and then they bite it and inject venom. They can then inject them with digestive juices that will liquify their prey, and then they can suck the liquid into their stomachs. 
Spiny Lobster
Spiny Lobsters may look like true lobsters but are very different. They do not have the claws that the true lobster has, and they have very long, thick antennas. They live in almost all the warm seas. They live in the crevices of rocks and coral reefs. They eat snails, clams, sea hares, crabs, or sea urchins and only come out at night to find their food. 
Spinosaurus
Spinosaurus is the longest meat eater on land. They think that it ate both fish and hunted on land as well. They have a thing on tier back that is called a sail, but it is made up of bones that are attached to their spine. They think it walked on two feet, but they are not sure where it spent a good amount of its time in the water. 
Sponge
Sponges are sea creatures that fix to an underwater surface and then never move from there. They feed on bacteria and other microscopic food in the water. They do not need circulatory, respiratory, digestive, and excretory systems, but the water that flows through them acts as these systems for them. 
Spotted Turtle
Spotted Turtles are small turtles that live in the water sometimes and on land sometimes. They live in shallow, freshwaters like flooded forests, marshes, wet meadows, bogs, and woodland streams. They eat both plants and insects and small fish. They have been seen diving into the water and burying themselves in the bottom mud when surprised while basking.
Squid
Squids are sea creatures with long soft bodies. Large eyes, eight arms, and two tentacles. They can change colors to blend in with their surroundings. They can also use that color change to signal other squids. They can squirt ink to distract predators. The two long tentacles are used to grab prey, and the eight arms are used to hold and control it. The beak then cuts the food into suitable size chunks for swallowing. Squids are rapid swimmers, moving by jet propulsion, and largely locate their prey by sight. They are brilliant.
Squirrel
Squirrels come in many varieties. They are a rodent; They usually are active during the day, except flying squirrels are active at night. They eat things like nuts, seeds, conifer cones, fruits, fungi, and green plants. A group of squirrels is called a "dray" or a "scurry." They live in almost every place you can think of, from tropical rainforests to semiarid deserts, avoiding only the high polar regions and the driest of deserts.
Starfish
Starfish are sea creatures. They are in the shape of a star, so that is where their name comes from. They have been known to live up to 34 years. They eat things like microalgae, sponges, bivalves, snails, and other small animals. Because of the way they are built, they cannot live in freshwater and are found in all the world's oceans.
Staffordshire Bull Terrier
Staffordshire Bull Terriers are a breed of dog. They can live from 12 to 14 years. When another dog challenges them, they are known to get aggressive. They are also known to have been in attacks on humans that have caused death. It has been compared to pit bulls because they have been found to be aggressive. This has led to them getting a reputation for being mean.
Stingray
Stingrays are sea creatures that are related to sharks. They have flat bodies and tails. They are found in shallow water in tropical and subtropical waters all over the world. Most stingrays eat shellfish and, sometimes, small fish. Their mouth is located on the bottom of their bodies the part that would be around the ground and able to eat what they find under them. 
Stick Insect
Stick Insects live all over the world except for Antarctica. They make rhythmic side-to-side movements that they believe are to help them not be detected like trying to look like a part of the plant blowing in the breeze. The males will fight over the females they want to mate with. 
Stork
Storks are long-legged birds that have long necks and wade in water. They live all over the world. They eat a range of reptiles, small mammals, insects, fish, and amphibians. They are said to bring babies to mothers in stories like Dumbo. They live in the tropics, and most migrate to avoid bad winter weather.
Stink Bug
Stink Bugs are named for the smell that they give off when they feel attached. They are considered pests because of the fact that they eat crops and grow in large populations, and can be resistant to pesticides. They are a threat to cotton, corn, sorghum, soybeans, native and ornamental trees, shrubs, vines, weeds, and many cultivated crops. 
Strawberry Hermit Crab
Strawberry Hermit Crabs are called that because of their reddish-orange color. They are captured and sold as pets. They live in the shells of other animals that they have discarded. They are hard pets to keep, they take a lot to set up, and they still don't live very long in captivity. 
Sturgeon
Sturgeons are 28 different species of fish. They live in the subtropical to the subarctic waters in North America and Eurasia. They are some of the largest fish. They can live 50 to 60 years. They eat mostly on the bottom of their body of water. Eating things like shellfish and small fish. They have been seen jumping completely out of the water, making a big splash and diving deeper. 
Swallow
Swallows are a type of bird. That lives all over the world but not in Antarctica. They are great flyers and use that skill to find food and attract mates. They mostly eat insects and catch them in flight. They usually lay about 4 to 5 eggs at a time.
Swan
Swans mate for life and lay from 3 to 8 eggs at a time. Depending on what hemisphere they are from will determine the color of the Northern Hemisphere ones are what and the southern Hemisphere ones can be black or white. They feed on land and in the water. They eat the roots, tubers, stems, and leaves of plants that live in the water.
Swordfish
Swordfish are fish that have long sward-like bills on them. They can reach up to 14 feet in length. And they can weigh up to 1,430 pounds. They are caught often so people can eat them. They can live up to 16 years as a female and 12 years as a male. 
Syrian Hamster
Syrian Hamsters are often used as pets. They are much bigger than the dwarf hampster, which is also a pet. They do not like other hampsters and will attack each other. If a female thinks that their young have a foreign scent on them, they will eat them. They mark their territory with the glands they have on their hips.
Zoo Animals That Start With S
Saltwater Crocodile
Saltwater Crocodiles are the largest living reptile. They ambush their prey and either drown them or swallow them whole. They live on the coasts of India to Australia. They are the only crocodile that will live in the sea. They can live for a long time without eating. They have the strongest bite of any living animal.
Sea Lion
Sea Lions have ear flaps, long fore flippers, the ability to walk on all fours, short and thick hair, and a big chest and belly. They are related to the walrus and the seal. They live all over, but not usually in the northern Atlantic Ocean. They can live 20 to 30 years. Sea lions eat a lot of food at a time and are known to eat about 5–8% of their body weight, about 15 to 35 pounds at a single feeding.
Siberian Tiger
Siberian Tigers are reddish-rusty or rusty yellow and have black stripes. They live all over the continent of Asia. They are known to big animals like deer and even some smaller bears, but sometimes they eat small animals like hares, rabbits, and even salmon. They live from 16 to 18 years.
Sloth
Sloths are two types of sloths, two-toed and three-toed. They are named this because they either have 2 or 3 toes on their front paws. They spend most of their time hanging upside down in trees. They are slow-moving which lets them not eat things that are high in energy. It also helps them hide from predators that hunt by sight. They are almost helpless on the ground, but they can swim.
Snow Leopard
Snow Leopards are from the mountains of central and south Asia. They are white to grey fur and have black spots. They make sound much like your house cat. They purr, grunt, and moan. They live alone and are active at dawn and dusk. They actively hunt their food and like wild animals like sheep, and deer. They will eat all of the edible parts of their prey and then can go weeks without eating again.
South China Tiger
South China Tigers are from South China. They eat wild boar and deer. They look a lot like the other tiger and are similar in size to the Bengal tiger. They are the smallest tiger in mainland Asia. About 500 attacks on humans took place in the Ming and Qing dynasties as the human population grew.
Spectacled Bear
Spectacled Bears are the only bear that is from South America. They are the largest meat eater in that part of the world. As little as 5% of their diet is made up of meat. They have a very sensitive sense of smell and can smell from the ground if a tree is loaded with ripe fruit. They have bad vision and hearing.
Spider Monkey
Spider Monkeys have very long legs, arms, and tails. They usually eat fruits but will also eat leaves, flowers, and insects. They live in bands of up to 35 monkeys. Females rather than males tend to find new groups, they males tend to stick together. They are active during the day and find a carefully selected tree to sleep in at night.
Spitting Cobra
Spitting Cobras are able to spit their venom at their prey instead of needing to bite them. If this venom gets on your skin, it can be relatively harmless beautiful, it gets in your eyes, it can blind you. They usually only spit their venom to defend themselves. They can also bite you and inject their venom into your blood that way as well. 
Spotted Hyena
Spotted Hyenas are also known as laughing hyenas. They have a very complex social structure and are more social than most other carnivore animals. They are the most common large carnivore in Africa. They live in large groups that can be up to 80 hyenas. The females are the ones that run the pack called a clan.
Squirrel Glider
Squirrel Gliders are active at night and gliding possums. They live in south-eastern Australia. They can glide from tree to tree. They live in groups of one male, two females, and their babies. They like to eat fruit and insects, pollen, nectar, leaves, and bark. They can curl their tail around branches to hold on. 
Squirrel Monkey
Squirrel Monkeys live in the tropical forest of Central and South America. They can only sweat through the palms of their hands. They live in the trees and never come down, and they are active during the day. They live in groups of up to 500 monkeys. They eat fruits and insects. They rub their bodies and tails with urine to mark their territory.
Sri Lankan Elephant
Sri Lankan Elephants are the largest subspecies of elephants. They eat up to 330 pounds of plants per day. They live in groups but do not have a structure where one elephant is in charge. Not all males have tusks. Only about 7 % do. Males are larger than females.
Striped Hyena
Striped Hyenas are from North and East Africa, the Middle East, and several other places as well. They are the smallest of the bone-cracking hyenas. They, unlike other hyenas, are scavengers. They rarely kill their own food. They are active at night. They live in pairs or alone. They are not known to make as much noise as the spotted hyenas and only make a little chattering laugh and howling.
Sugar Glider
Sugar Gliders are gliding possums that live in trees and are active at night. They eat both plants and insects. They love sap and gum from plants. They wait for the insects to fly to them. They live in family groups of up to 7 adults. Plus the current season babies. They do not fight over their rank in the group. They just know by scent-marking who is in charge.
Sulcata Tortoise
Sulcata Tortoises are the third largest tortoise in the world. They are from the Sahara desert in Africa. They mostly eat plants, hay, and grasses. They are passive and docile pets. They are curious and can end up on their backs. They can live up to 70 years. They like to live in burrows that they dig in the ground.
Sumatran Orangutan
Sumatran Orangutans are from the island of Sumatra. They eat plants, fruits, and insects. Males can live 47 to 58 years, and females live 44 to 53 years. They are known to use tools to get the food they want. They are social and gather in groups, but they are not tight. They are generally a few females and their male mates. 
Sumatran Rhinoceros
Sumatran Rhinoceros are the smallest Rhinoceros. They live alone most of their lives. They live in lowlands and highlands. They usually are found close to water. They eat in the mornings and at dusk on young saplings, leaves, twigs, and shoots. They usually eat about 110 pounds a day.
Sumatran Tiger
Sumatran Tigers are one of the smallest tigers. They live all over the island of Sumatra. They like to live in forests. They eat small animals. They live alone but can share their territory with up to 3 tigers. They have stripes than other tigers species, and their stripes can fade into spots near their ends. 
Other Animals That Start With S
Saanen Goat
Saarloos Wolfdog
Sabah Damsel
Saber-Toothed Tiger
Sable
Sable Black German Shepherd
Sable Ferret
Saber-toothed tiger
Sacred ibis
Saddleback Caterpillar
Sage Grouse
Sagehen
Saiga
Saiga Antelope
Sailfin Tang
Sailfish
Saint Berdoodle
Saint Bernard
Saint Shepherd
Saki Monkey
Salamander
Sally Lightfoot Crab
Salmon
Salmon Shark
Saltwater Crocodile
Saluki
Sambar
Samoyed
San Francisco Garter Snake
Sand Cat
Sand Crab
Sand Dollar
Sand Lizard
Sand Tiger Shark
Sand Viper
Sanderling
Sandgrouse
Sandhill Crane
Sandpiper
Sandworm
Saola
Sapsali
Sarcosuchus
Sardines
Saskatoon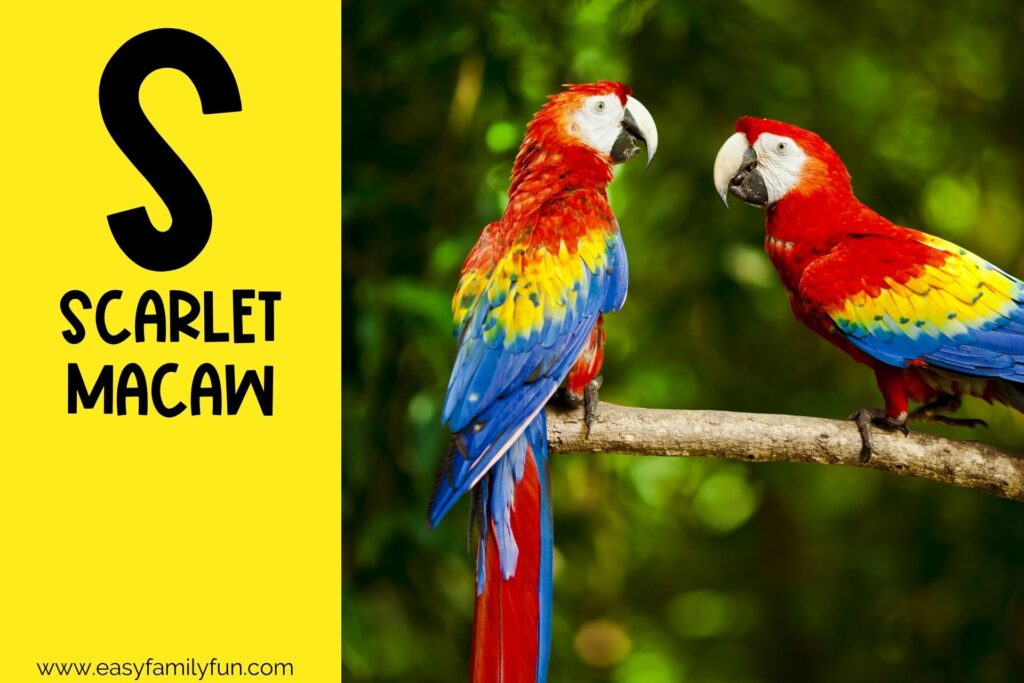 Scarlet Macaw
Sarplaninac
Sarus Crane
Satanic Leaf-Tailed Gecko
Saturniidae Moth
Sauropoda
Savanna fox
Savanna Goat
Savannah Monitor
Savannah Sparrow
Savu Python
Saw-scaled Viper
Sawfish
Scale-Crested Pygmy Tyrant
Scaleless Ball Python
Scarlet Ibis
Scallops
Scarab Beetle

Scarlet Kingsnake

Scarlet Macaw
Scarlet Tanager
Schapendoes
Schipperke
Schnauzer
Schneagle
Schnoodle
Scimitar Oryx
Scimitar-horned Oryx
Scissor-Tailed Flycatcher
Sco-Shi
Screech Owl
Scorpion
Scorpion Fish
Scotch Collie
Scottish Deerhound
Scottish Fold Cat
Scottish Terrier

Scrotum Frog

Sculpin
Scutosaurus
Scutulatus
Sea Anemone
Sea Bass
Sea Cucumber
Sea Dragon
Sea Eagle
Sea Lion
Sea Otter
Sea Roach
Sea Slug
Sea Snake
Sea Spider
Sea Squirt
Sea Trout
Sea Turtle
Sea Urchin
Seagull
Seahorse
Seal
Sealyham Terrier
Secretary Bird
Seastar

Sedge Warbler

Sehuencas Water Frog
Sei Whale
Senegal Parrot
Senepol Cattle
Sequined Spider
Serval
Seymouria
Shaggy Bat
Shantungosaurus
Shark
Sharp-Shinned Hawk
Sharp-tailed Snake
Sheepadoodle
Sharp-Tailed Snake
Shastasaurus
Shearwater
Shearwater
Sheep

Sheepshead Fish

Shelduck
Shepadoodle
Shepkita
Shepweiler
Shetland Sheepdog
Shiba Inu
Shichi
Shih Poo
Shih Tzu
Shikoku
Shiloh Shepherd
Shinned Hawk
Shiranian
Shoebill
Shoebill Stork
Shollie
Short-eared Dog
Short-Eared Owl
Short-Faced Bear
Short-tailed Albatross
Short-tailed Chinchilla
Shortfin Mako Shark
Shrew
Shrike
Shrimp
Siamang
Siamese
Siamese Fighting Fish
Siberian
Siberian Cat
Siberian Husky
Siberian Ibex
Siberian Retriever
Siberian Tiger
Siberpoo
Sichuan Takin (Tibetan Takin)
Sidewinder
Sika Deer
Silken Windhound
Silkie Chicken
Silky Shark
Silky Terrier
Silver Dollar
Silver Haired Bat
Silver Labrador
Simbakubwa
Sinosauropteryx
Sivatherium
Six-Eyed Sand Spiders
Sixgill Shark
Skate
Skate Fish
Skeleton Tarantula
Skink
Skimmer

Skink Lizard

Skipjack Tuna
Skipper Butterfly
Skua
Skunk
Skye Terrier
Skylark
Sleeper Shark
Slender Loris
Sloth
Sloth Bear
Slovak Cuvac
Slow Loris
Slug
Slow Worm

Smallmouth Bass

Smilosuchus
Smoky brown Cockroach
Smooth Earth Snake
Smooth Fox Terrier
Smooth Green Snake
Smooth Hammerhead Shark
Smooth Newt
Smooth Snake
Snail
Snailfish
Snake
Snapping Turtle
Snares Penguin
Snipe
Snook Fish
Snorkie
Snouted Cobra
Snow Bunting
Snow Crab
Snow Leopard
Snow Monkey
Snowberry Clearwing Moth
Snowflake Eel
Snowshoe
Snowshoe Hare
Snowy Egret
Snowy Owl
Sockeye Salmon
Softshell Turtle
Soldier Beetle
Somali
Song Sparrow
Song Thrush
Sora
South China Tiger
Southeastern Blueberry Bee
Southeastern Five-Lined
Southern Black Racer
Southern Cassowary
Southern Elephant Seal
Southern Flannel Moth
Southern Flying
Southern Hognose Snake
Southern House Spider
Southern Leopard Frogs
Southern Pacific Rattlesnake
Southern Tamandua
Spadefoot Toad
Spanador
Spanish Goat
Spanish Mackerel
Spanish Mastiff
Spanish Water Dog
Sparrow
Sparrowhawk
Speckled King
Speckled Kingsnake
Speckled Trout
Spectacled Bear
Sperm Whale
Sphynx
Spicebush
Spider
Spider Ball Python
Spider Beetle
Spider Monkey
Spider Wasp
Spider-Tailed Horned Viper
Spinner Dolphin
Spinner Shark
Spinone Italiano
Spinosaurus
Spiny bush viper

Spiny Dogfish
Spiny Hill Turtle
Spiny Lobster
Spitting Cobra
Spix's Macaw
Spixs Macaw
Sponge
Spongy Moth
Spoonbill
Spotted
Spotted Bass
Spotted Bat
Spotted Beetle
Spotted Eagle Ray
Spotted Gar
Spotted Garden Eel
Spotted Hyena
Spotted Lanternfly
Spotted Python
Spotted Skunk
Spotted Turtle
Spring Peepers
Springador
Springbok
Springerdoodle
Springhare
Squash Bee
Squash Beetle
Squid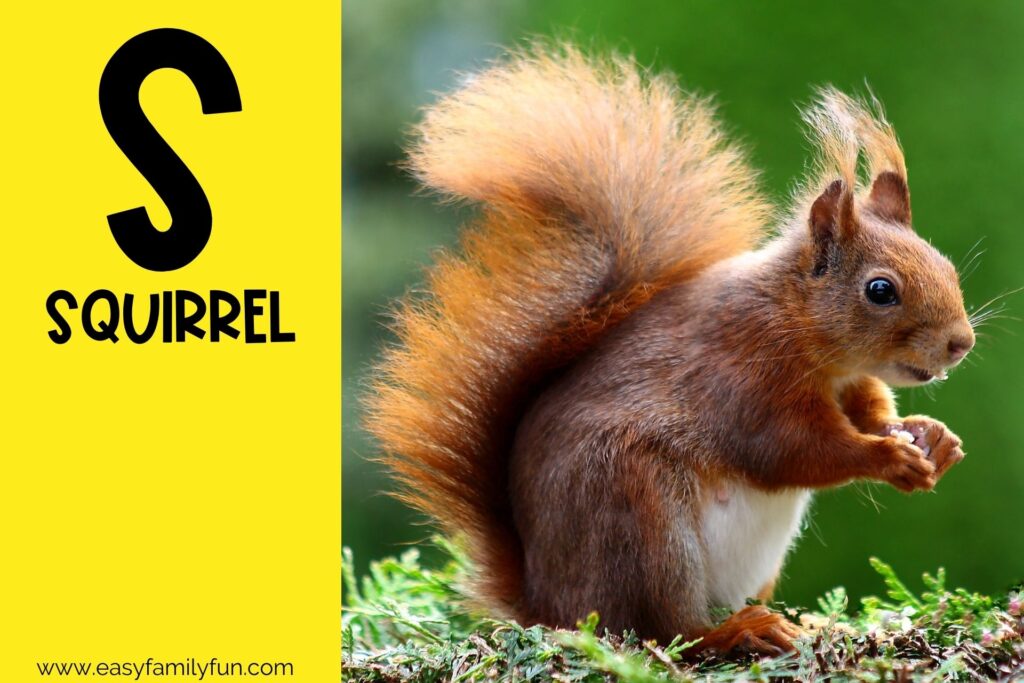 Squirrel
Squirrel Glider
Squirrel Monkey
Squirrelfish
Sri Lankan Elephant
Stabyhoun
Staffordshire Bull Terrier
Stag Beetle
Standard Schnauzer
Star-nosed mole
Starfish
Stargazer Fish
Starling
Steelhead Salmon
Steller's Sea Cow
Steller's Sea Eagle
Stick Insect
Stiletto Snake
Stingray
Stink Bug
Stinkpot Turtle
Stoat
Stone Crab
Stone Curlew
Stonechat
Stonefish
Stoplight Loosejaw
Stork
Strawberry Hermit Crab
Striped Bass
Striped Hyena
Striped Marlin
Striped Rocket Frog
Stromatolite
Stupendemys
Sturgeon
Styracosaurus
Suchomimus
Sucker Fish
Sugar Glider
Sulcata Tortoise
Sumatran Elephant
Sumatran Orangutan
Sumatran Rhinoceros
Sumatran Tiger
Summer Tanager
Sun Bear
Sunbeam Snake
Sunbird
Sunfish
Sunset Ball Python
Super Pastel Ball Python
Supersaurus
Superworm
Surgeonfish
Sussex Chicken
Swai Fish
Swainson's Hawk
Swallow
Swallow-tailed Kite
Swallowtail
Swallowtail Butterfly
Swallowtail Caterpillar
Swamphen
Swan
Swedish Elkhound
Swedish Lapphund
Swedish Vallhund
Swift
Swordfish
Syrian Hamster
There are so many animals that start with S! Hopefully you enjoyed this list. If you learned about a new animal, be sure to leave it in the comments!
Be sure to check out our other animal lists.