Elephants are some of the most amazing animals on Earth. They are the largest animals that live on land, and they can be as heavy as ten small cars! With their long trunks, big ears, and sturdy tusks, they are easy to spot and are often favorites at zoos and wildlife parks. Learn more cool facts about elephants below!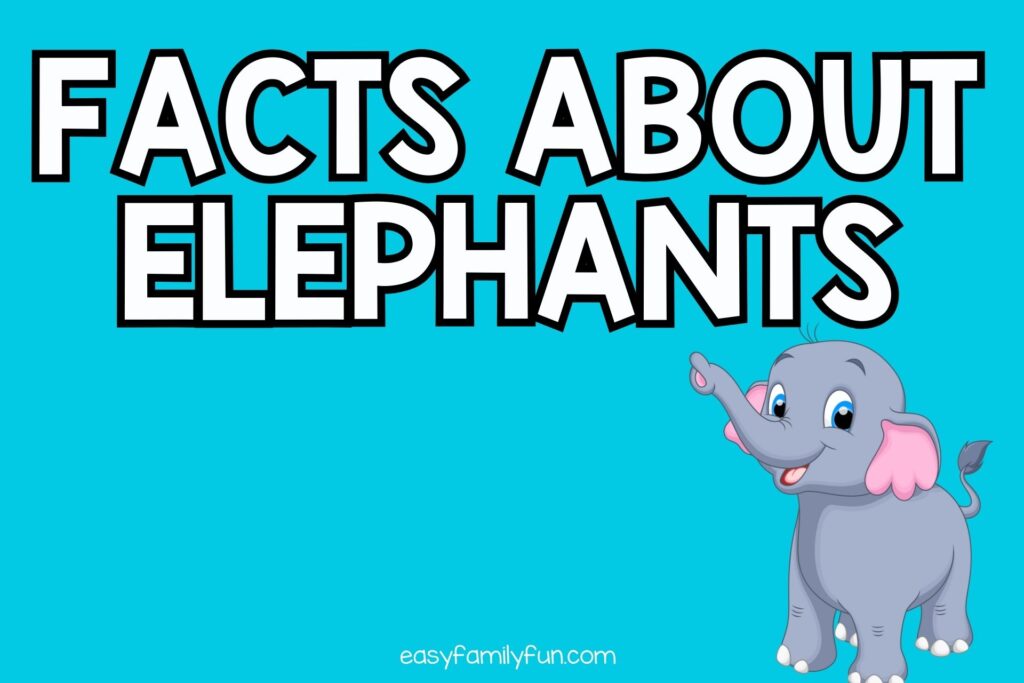 Did you know that elephants have a fantastic memory? They can remember places, other elephants, and even things that happened years ago. Their big ears aren't just for hearing; they also help elephants stay cool in hot weather. When it's too warm, elephants flap their ears to cool down, just like we might use a fan.
One of the coolest things about elephants is their trunk. It's like a long nose and an arm combined. They use it to pick up food, splash water, and even as a tool to communicate with other elephants. If you watch closely, you might see them giving each other trunk "hugs" or making trumpeting sounds when they are excited.
Sadly, elephants are in danger because some people want their tusks or want to take away their homes to build or farm. But many groups are working hard to protect them and make sure they have a safe place to live. As we learn more about these incredible creatures, we can better appreciate and help protect them for future generations. Ready to learn even more facts about elephants? Scroll below to learn more!
For even more fun fact learning, be sure to check out our Facts About Blizzards and ourInteresting Facts About Red Wolves.
Best Facts about Elephants
Elephants have an estimated 2,000-3,000 olfactory receptor genes, more than five times as many as humans.
The wrinkles on the elephant's skin help it maintain its body temperature.
African elephants have large ears shaped like the continent of Africa!
Elephants can recognize themselves in a mirror.
When an elephant dies, they gather around the dead body, vocalizing their sadness with trumpet-like calls and touching the body with their trunks.
An elephant's skin is 2.5cm thick in most places.
The shape of the elephant's footprint indicates the gender of the elephant.
Elephants have a slow pulse of 27 pulses per minute while a canary has 1000!
The intestines of an elephant may be 19 meters in length, or more than 60 feet long.
Elephants are the world's largest land animal.
An elephant's long trunk is an extension of its upper lip and nose.
Only male Asian elephants have large tusks. Female Asian elephants have small tushes that rarely extend beyond their lip line.
The calf is born with its eyes open and can stand within minutes.
Despite their weight, the unique structure of their knees allows them to run at speeds of up to 25km/h.
They grow six sets of molars, which are used to grind down food, over the course of their life.
Elephants are vegetarians.
Elephant tusks never stop growing, so enormous tusks can be a sign of an old elephant.
These magnificent mammals spend between 12 to 18 hours eating grass, plants, and fruit every single day!
African elephants have 3 toes on their back feet whereas Asian elephants have 4 toes.
Each elephant creates about one ton of poop per week, which keeps the soil fertile and disperses tree seeds.
An Asian elephant drinks 40 liters of water on average per day.
Of all land mammals, elephants possess the largest brains.
Elephants have been known to detect odors up to 7 miles away!
Elephant teeth are so strong they can crush even the hardest of materials, such as tree bark and bones.
They have poor hearing, despite having such large ears.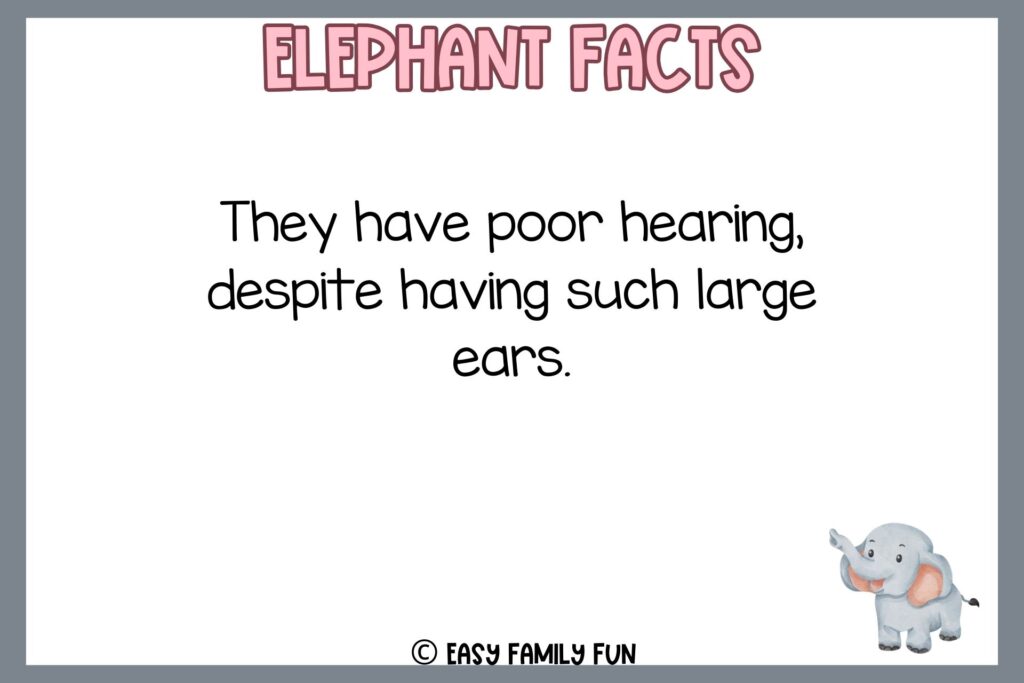 Elephant tusks are actually enlarged incisor teeth which first appear when elephants are around 2 years old.
Their trunks contain up to 40,000 muscular 'fingers',
The teeth of African elephants have diamond shaped ridges running across the teeth while Asian elephants have parallel ridges.
Elephants have hair all over their bodies.
They need to eat up to 150kg of food per day.
African elephants drink 60 liters of water a day.
Elephants eat so much that they can spend up to three-quarters of their day just eating.
They can't live without their trunks.
Elephants purr like cats do
Elephants have been known to learn more than 60 commands.
An elephant's trunk can hold 2.5 gallons of water.
An elephant's tail is usually 1.3 m long.
Elephants are the only mammals that have four knees.
Male African elephants can reach 3m tall and weigh between 4,000 -7,500kg.
Elephant's toes are not visible because they are hidden inside their feet with only toenails visible on the outside.
An elephant fills its trunk with up to 5 quarts of water and then empties it into its mouth in order to drink.
They use dirt as sunscreen.
Elephants are highly intelligent creatures.
A herd can consist of anywhere from 4 to 100 elephants, depending on the species.
The female group is mostly led by the oldest female.
Female elephants leave rounded footprints while male elephants tend to have oval shaped footprints.
Elephants have eyelashes.
Footprints can also be used to determine the animals' age.
African elephants tend to use their long ears for reasons such as signaling others and protection.
Around 90% of African Elephants have been wiped out in the past century.
Their trunks are perhaps the most sensitive organ found in any mammal.
Elephants Communicate with Vibrations Through Their Feet.
Normal daily water consumption is about 25 – 50 gallons per animal or 100 – 200 liters.
African elephants have 4 toes on their front feet while Asian elephants have 5 toes.
An elephant's tooth can weigh as much as three kilograms.
In cases of maternal death, a baby elephant will often stay by the mother's side for days or even weeks.
The tusk of a male elephant is actually a modified incisor, and it grows throughout its life and can reach up to 10 feet long!
In a study of elephant behavior, researchers found that when an elephant became distressed, other nearby elephants responded with calls and touches intended to console the individual.
Elephants have good control over their tail and use them to fend off insects and flies.
The elephant is pregnant for an average of 22 months.
Males generally leave the herd between the age of 12 to 15.
Asian elephants are an endangered species.
An elephant has 24 teeth but can use only two at a time.
On average, elephants weigh 200 – 300 pounds at birth.
Elephants are incredibly loyal and have been known to remember people they have met years before.
On average, elephants typically live between 55 to 70 years.
It is estimated that about 50,000 Asian elephants survive today.
Asian elephants are slightly smaller, reaching 2.7m tall and weighing 3,000– 6,000kg.
The average adult elephant poops 80 pounds a day!
Elephants have around 150,000 muscle units in their trunk.
Elephants are very social animals and live in herds.
The elephant trunk serves as a nose, a hand, an extra foot, a signaling device, and a tool for gathering food, siphoning water, dusting, digging, and much more.
African elephants, the largest species, can reach heights of up to 4 meters and weigh up to 6,000kg.
Elephants have a heightened sense of smell and can detect water from miles away.
Do you know even more cool elephant facts? Share them in the comments!
Are you looking for more fun and engaging facts to share with your family? Check out these other posts for more facts!
How Do I Print A PDF?
You'll need a program that supports PDFs. Adobe Acrobat is a great option. Open the program, click file, then print. Select your printer and the number of copies you want to print. Be sure you click double-sided if you want it to print on both sides.
Can I Resell These?
You may not resell any printable that you find on our website or in our resource library. You may use them for class parties, at church, at home, or in the classroom. You may get these printed at an office supply store or copy center at your own expense.