Get those oven mitts and aprons ready because we're about to dive into some delicious Food Trivia questions that'll help you connect with your kids in no time. Whether you're a gourmet chef or a microwaving genius, this game is perfect to see who's the real Food Network star of the family. Grab our printable food trivia questions, and let the culinary quiz begin! You and the kids are going to love playing this together!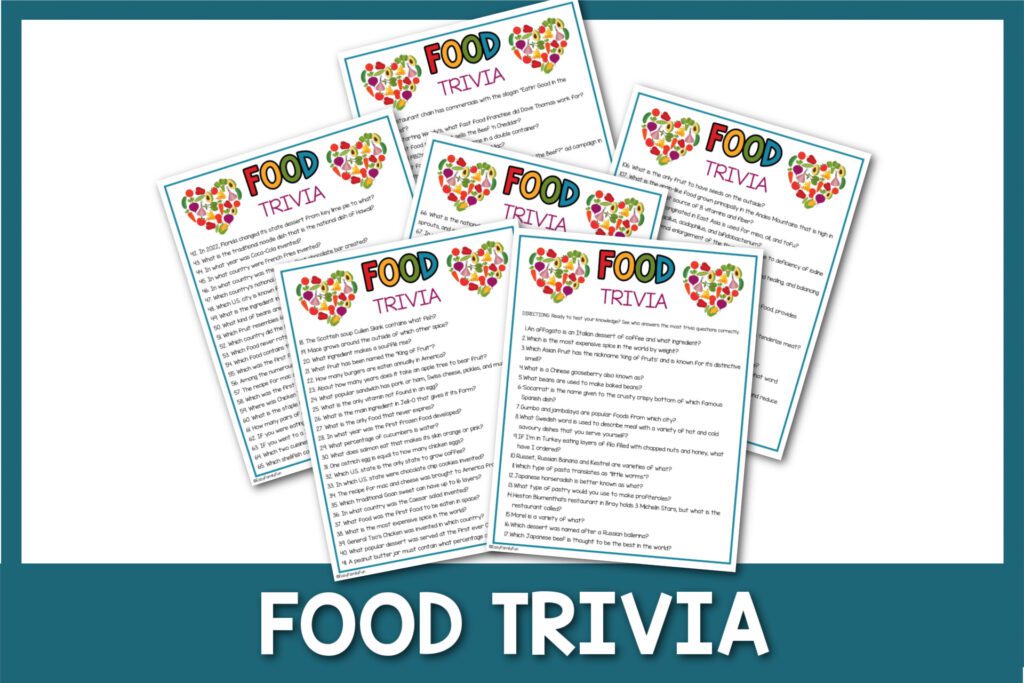 We've all been there—Friday night rolls around, and it's Family Game Night. We anxiously huddle around the dining table, waiting to see what this week's game is going to be. Will it be Monopoly or Clue or perhaps another great Trivia Night? In our family, it is always Trivia night because everyone always has a blast playing together.
Trivia games have been a game-changer, especially when you've got a house full of varying ages and interests. I mean, what other game lets your teenager, toddler, and even your hubby come together as one epic dream team? Plus, trivia means everyone's got a chance to be the champ, and that's the kind of inclusive fun we love in this household!
So, if you're tired of wracking your brain for games that'll get everyone equally jazzed, don't sweat it. Food Trivia is the answer to your "What should we do tonight?" dilemma. It's a great way to mix up your usual routine and get everyone talking, laughing, and maybe even learning a thing or two about their favorite foods. So, chop, chop! Let's get to it and see who is the food trivia champion!
For more trivia fun, don't forget to grab our horse trivia questions and our Candy Trivia Questions and Answers.
Why I Love Trivia Games As A Mom
Trivia is the perfect way to captivate and involve kids and teens in our family activities.
With all the distractions we have, trivia consistently ignites their interest without fail. They love the opportunity to demonstrate their intelligence and claim the title of trivia champion.
Trivia allows us to spontaneously bond and enjoy each other's company as a family whenever we have a few moments to connect.
Trivia is a great way to gain knowledge that you might not otherwise gain. Whenever I introduce a fresh trivia topic, like food trivia, I see my kids eagerly learning everything they can to become the ultimate trivia champions. The quest for victory becomes a catalyst for self-guided exploration, expanding their horizons and broadening their understanding.
The social aspect of trivia nights/games holds a special place in my heart. It offers an ideal platform for honing communication skills, fostering teamwork, and engaging in lively conversations with others.
Trivia encourages cooperative problem-solving and facilitates the development of vital interpersonal abilities that they might usually get otherwise. Lastly, trivia is an absolute blast! Laughter and love resonate throughout the room. It never ceases to amaze us how a few comical or unexpected answers can leave us laughing for days.
How to Play Trivia With Kids
Playing trivia with the kids is so easy!
Team or Solo: First, decide if you want to join forces or go it alone. Little ones can totally team up with the adults or older siblings. Everyone gets a slice of the action!
One Reader or Team Reads: Choose whether you want one person to read all the questions. Or you could pass the card deck around the table to keep everyone on their toes.
Race to Answer or Take Your Time: You can opt for a fast-food pace where the first to answer gets the point, or go for a fine-dining experience where everyone takes turns to savor the question. You can also give each team white boards to reveal their answers at the same time, and all the teams that get it right get a point.
Gameplay Duration: Whether it's a quick snack-sized round or a full-course game, set either a point goal or a timer to determine when the game is over.
And voila! At the end of the game, the one with the most points gets crowned the Food Trivia Master Chef. Or, you know, wins bragging rights until the next game night!
Tips for Playing Trivia, Especially With Young Kids
Before we get started with our food trivia questions, we wanted to leave you with a few tips that might help your night go smoother!
Simplicity is Key: Keep questions easy and relatable. Asking a 5-year-old about the chemical composition of chocolate? Nah. But asking which animal gives us milk? You're golden! Be sure there is a mix of questions for everyone.
Be the Hype Squad: Little ones feed off excitement. So pump up the energy, clap when they get answers right, and basically channel your inner cheerleader. And hey, a tiny trophy or a fun sticker as a prize wouldn't hurt!
The More, the Merrier: Kids love feeling like they're part of a team. Pair them up with adults or older siblings so they can whisper their answers and feel included, even if they don't know what's going on half the time.
Short and Sweet: Attention spans are, well, short. Keep rounds brief.
Dance Breaks: Yep, you read that right. If things are starting to go south (or just for the heck of it), pause for a 30-second dance break. It'll shake off any jitters and refocus the crew.
Life Line: For those tricky questions, give them an option to ask for a hint or skip to the next question. Makes it less frustrating and keeps the giggles rolling.
Repeat, Repeat, Repeat: Sometimes they didn't catch the question the first time. Or the second time. Be prepared to put your broken-record skills to good use.
Clues & Hints: Don't shy away from giving helpful nudges. "It's something that you like to eat on your birthday" is a great clue for "cake," it makes them feel like trivia detectives!
Flexible Rules: Last but not least, adapt the game as you go along. If you find something's not working, change it up.
Best Food Trivia Questions
Grab your complete list of Food trivia questions for one low price right here, or refer back to the list of Food Trivia questions below as you play with your friends and family.
Best Food Trivia Questions
An affogato is an Italian dessert of coffee and what ingredient?

Ice cream
Which is the most expensive spice in the world by weight?

Saffron
Which Asian fruit has the nickname 'king of fruits' and is known for its distinctive smell?

Durian
What is a Chinese gooseberry also known as?

Kiwifruit
What beans are used to make baked beans?

Haricot beans
'Socarrat' is the name given to the crusty crispy bottom of which famous Spanish dish?

Paella
Gumbo and jambalaya are popular foods from which city?

New Orleans
What Swedish word is used to describe meal with a variety of hot and cold savoury dishes that you serve yourself?

Smorgasbord
If I'm in Turkey eating layers of filo filled with chopped nuts and honey, what have I ordered?

Baklava
Russet, Russian Banana and Kestrel are varieties of what?

Potato
Which type of pasta translates as "little worms"?

Vermicelli
Japanese horseradish is better known as what?

Wasabi
What type of pastry would you use to make profiteroles?

Choux
Heston Blumenthal's restaurant in Bray holds 3 Michelin Stars, but what is the restaurant called?

The Fat Duck
Morel is a variety of what?

Mushroom
Which dessert was named after a Russian ballerina?

Pavlova
Which Japanese beef is thought to be the best in the world?

Wagyu
The Scottish soup Cullen Skink contains what fish?

Smoked haddock
Mace grows around the outside of which other spice?

Nutmeg
What ingredient makes a soufflé rise?

Egg
What fruit has been named the "King of Fruit"?

Durian
How many burgers are eaten annually in America?

500 million
About how many years does it take an apple tree to bear fruit?

5
What popular sandwich has pork or ham, Swiss cheese, pickles, and mustard?

A Cuban sandwich
What is the only vitamin not found in an egg?

Vitamin C
What is the main ingredient in Jell-O that gives it its form?

Gelatin
What is the only food that never expires?

Honey
In what year was the first frozen food developed?

1930
What percentage of cucumbers is water?

96%
What does salmon eat that makes its skin orange or pink?

Krill and shrimp
One ostrich egg is equal to how many chicken eggs?

Two Dozen
Which U.S. state is the only state to grow coffee?

Hawaii
In which U.S. state were chocolate chip cookies invented?

Massachusetts
The recipe for mac and cheese was brought to America from which country?

France
Which traditional Goan sweet can have up to 16 layers?

Bebinca
In what country was the Caesar salad invented?

Mexico
What food was the first food to be eaten in space?

Apple Sauce
What is the most expensive spice in the world?

Saffron
General Tso's Chicken was invented in which country?

Taiwan
What popular dessert was served at the first ever Olympic games?

Cheesecake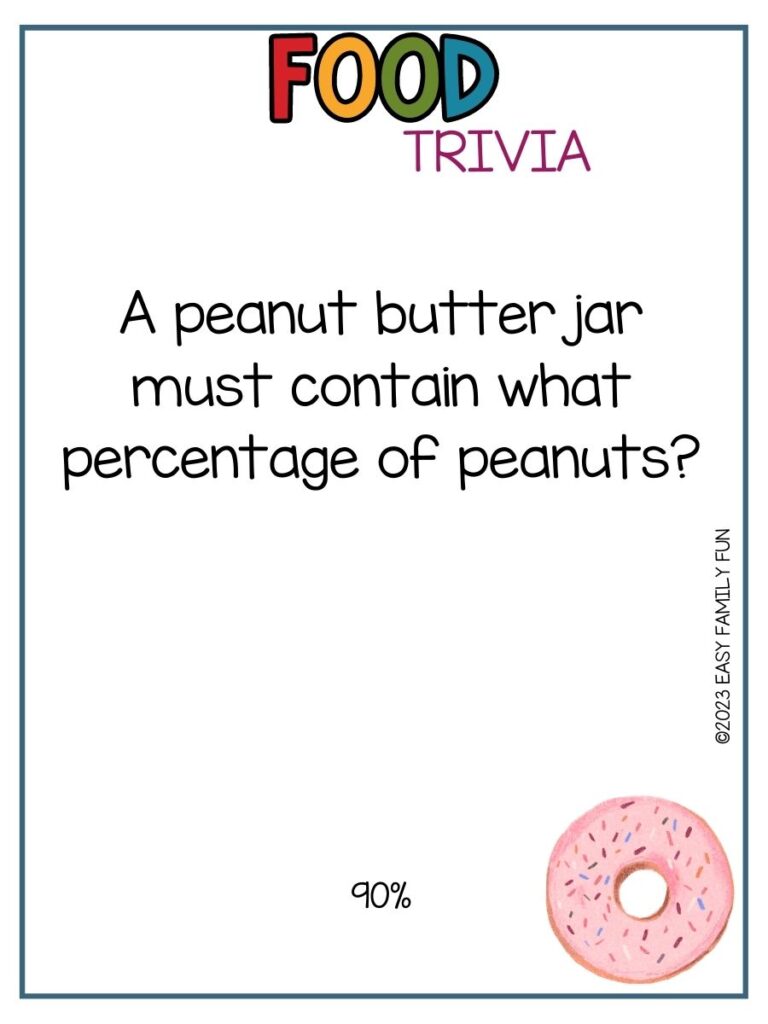 A peanut butter jar must contain what percentage of peanuts?

90%
In 2022, Florida changed its state dessert from key lime pie to what?

Strawberry shortcake
What is the traditional noodle dish that is the national dish of Hawaii?

Saimin
In what year was Coca-Cola invented?

1892
In what country were French fries invented?

Belgium
In what country was the world's first chocolate bar created?

England
Which country's national dish is a meat pie?

Australia
Which U.S. city is known for having deep-dish pizza?

Chicago
What is the ingredient in bread that makes it rise?

Yeast
What kind of beans are falafel made from?

Fava beans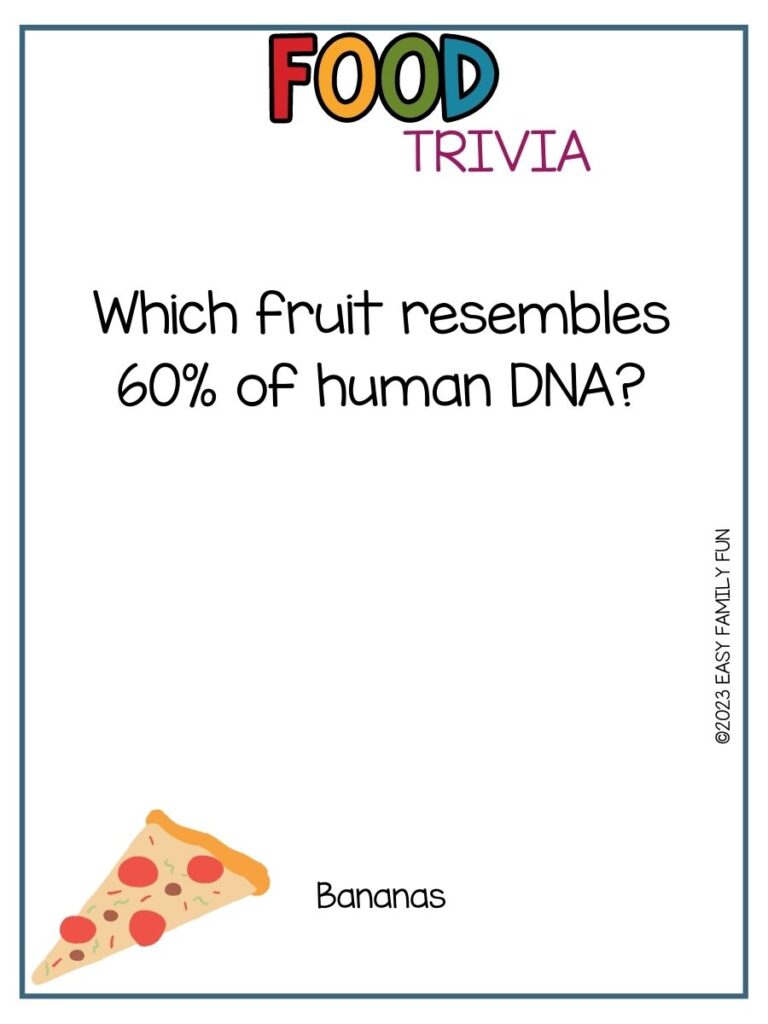 Which fruit resembles 60% of human DNA?

Bananas
Which country did the french fries originate from?

Belgium
Which food never rots and doesn't require preservatives to keep fresh?

Honey
Which food contains the most calories per gram?

Avocado
Which was the first fast-food restaurant to open an outlet in China?

KFC
Among the numerous pizza toppings, which is the most commonly used?

Pepperoni
The recipe for mac and cheese was brought to America from which country?

France
Which was the first country to set the minimum drinking age to 21?

England
Where was Chicken Tikka masala invented?

Glasgow, Scotland
What is the staple food of almost one-third of the world's population?

Rice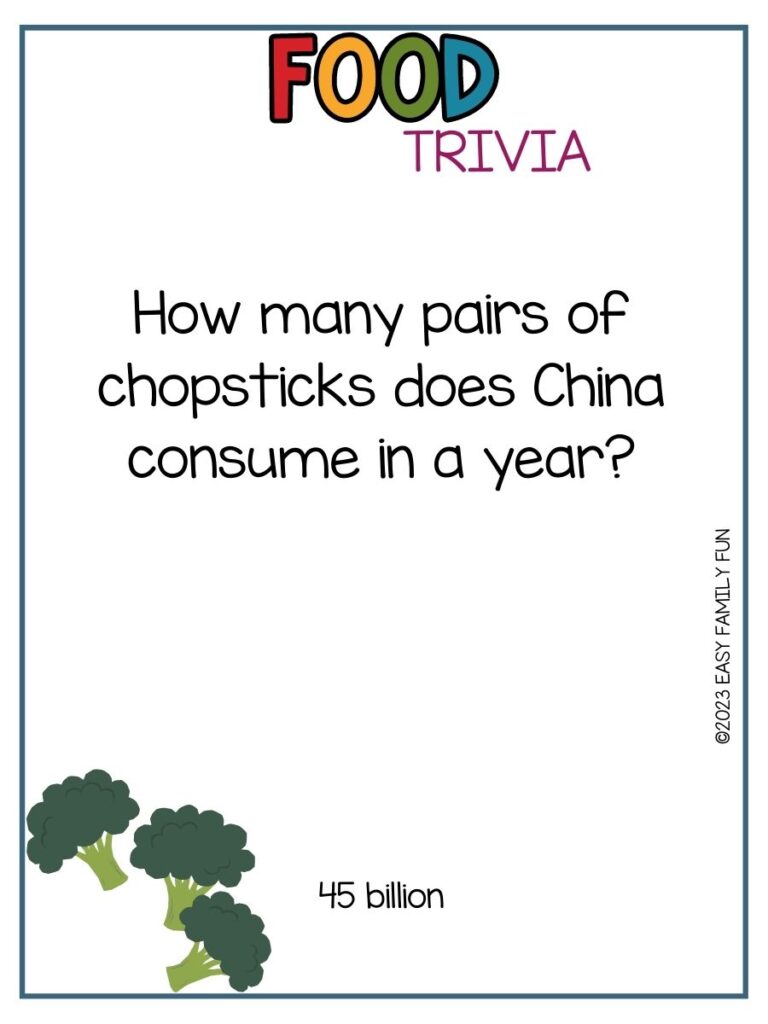 How many pairs of chopsticks does China consume in a year?

45 billion
If you were eating a mole poblano, which county are you in?

Mexico
If you went to a Japanese restaurant and ordered Unagi, what would you get?

Eel
Which two cuisines is Nikkei food a combination of?

Japanese and Peruvian
Which shellfish comes in varieties such as Olympia, European flat, and Kumamoto?

Oysters
What is the national dish of Thailand that contains rice noodles, tofu, dried shrimp, sprouts, and eggs?

Pad Thai
In which country would you find shish kebab as an everyday food?

Turkey
What fast food restaurant is credited with introducing the first modern-day drive-thru window?

Wendy's
What vitamin gives sweet potatoes and carrots their orange color?

Vitamin A
What fast food restaurants was founded first?

In-N-Out Burger was founded in 1948.
What did McDonald's restaurants first introduce in 1968?

The Big Mac
When did McDonald's introduce Ronald McDonald?

1963
Where was the first Pizza Hut built?

Wichita, Kansas
What fast food restaurant introduced a popular advertising campaign in 1997 that featured a talking chihuahua?

Taco Bell
What fast food restaurant boasts that you can "Have it your way"?

Burger King
What fast food restaurant aired ads featuring a man who lost 245 pounds eating only their products?

Subway
How many herbs and spices make up the secret blend used on Colonel Harland Sanders' fried chicken recipe?

11
Why did Kentucky Fried Chicken change its name to KFC?

To eliminate the unhealthy connotation of "fried" from its name
Which fast food restaurant is famous for its curly fries and jamocha shakes?

Arby's
What sub shop is known for its toasted subs?

Quiznos
What was the first fast food restaurant to offer a complete "lite" menu?

Arby's
The Famous Star is the signature burger of what fast food restaurant?

Carl's Jr.
What year did the first Taco Bell open?

1962
Which restaurant is famous for its "Grand Slam" meal?

Denny's
What restaurant chain has commercials with the slogan "Eatin' Good in the Neighborhood"?

Applebee's
Before starting Wendy's, what fast food franchise did Dave Thomas work for?

Kentucky Fried Chicken
What fast food restaurant sells the Beef 'n Cheddar?

Arby's
What mid 1980's McDonald's item came in a double container?

The McDLT
What fast food restaurant sells the Big Mac?

McDonalds
Where is the busiest McDonald's in the world?

Munich, Germany
Which fast food chain was behind the infamous "Where's the Beef?" ad campaign in 1984?

Wendy's
Which fast food chain was originally called St. Louis Bread Co.?

Panera Bread
Who is the founder of Chick-Fil-A?

Truett Cathy
Which restaurant is the home of the original small, square hamburger?

White Castle
Which fast-food restaurant founder was the most visible, by being featured in television commercials and becoming the face of the franchise?

Dave Thomas (Wendy's)
What is the most used flavor enhancer in fast foods?

MSG
Which of the following McDonald's menu items have 1,320 calories?

Big Mac
Which of the following is the most common pizza topping?

Pepperoni
What nutrient do you get from the meat, poultry, eggs, and fish?

Protein
What are cruciferous vegetables?

Vegetables in the cabbage family such as cabbage, bok choy, and cauliflower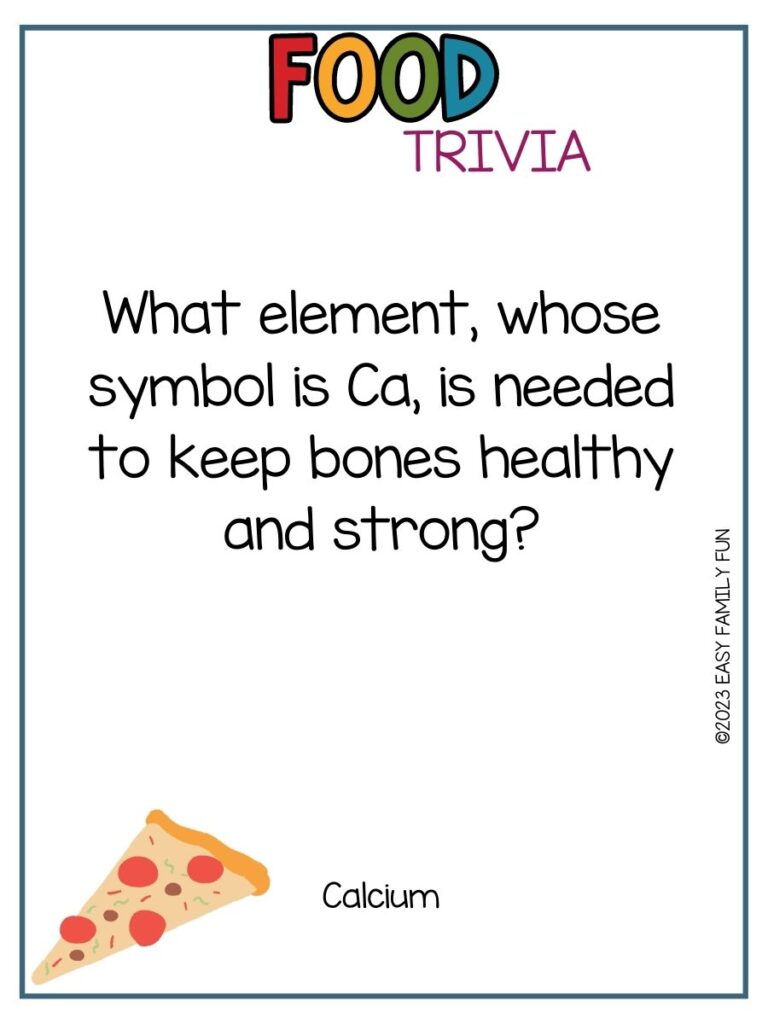 What element, whose symbol is Ca, is needed to keep bones healthy and strong?

Calcium
What is known as the most important meal of the day?

Breakfast
How do you know if juice is made from real fruit?

The label says 100 percent fruit juice
How much of your plate should you fill with fruits and veggies?

1/2
What red food is actually a fruit and not a veggie?

Tomato
What is the only fruit to have seeds on the outside?

Strawberry
What is the grain-like food grown principally in the Andes Mountains that is high in protein and is a great source of B vitamins and fiber?

Quinoa
What bean that originated in East Asia is used for miso, oil, and tofu?

Soybean
What are lactobacillus, acidophilus, and bifidobacterium?

Probiotics
What is the abnormal enlargement of the thyroid gland due to deficiency of iodine called?

Goiter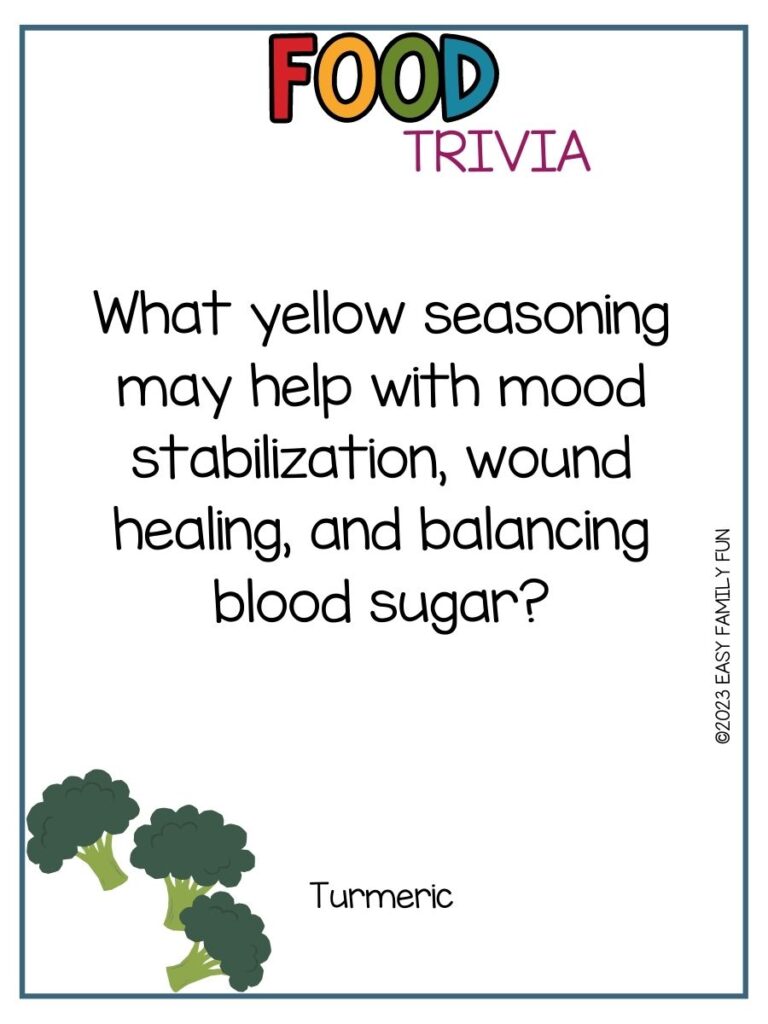 What yellow seasoning may help with mood stabilization, wound healing, and balancing blood sugar?

Turmeric
What is the name for probiotic rich fermented milk?

Kefir
What spice, frequently used in Hungarian, Indian, and Moroccan food, provides vitamin A and can prevent spider veins and inhibit hair loss?

Paprika
What is the common name for Allium sativum?

Garlic
Which fruit contains an enzyme that aids digestion and also helps tenderize meat?

Pineapple
Deer meat is known by what name?

Venison
Are humans omnivore, herbivore, or carnivore?

Omnivore
What healthy fat containing food is used as the base of guacamole?

Avocado
Foods rich in starch such as pasta and bread are often known by what word starting with the letter C?

Carbohydrates
What should you have in your diet that may benefit your digestion and reduce your risk of chronic disease?

Fiber
There you have it! Hopefully, you've learned a new fact you didn't know before. If you have any other fun food trivia questions, be sure to leave them below!
Are you a fan of trivia? Check out our other awesome trivia questions now!
If you're ready to show off your trivia skills, make sure to subscribe to our email list! That way, you'll be the first to know when we've added new topics for even more brain-teasing fun.
How Do I Print A PDF?
You'll need a program that supports PDFs. Adobe Acrobat is a great option. Open the program, click file, then print. Select your printer and the number of copies you want to print. Be sure you click double-sided if you want it to print on both sides.
Can I Resell These?
You may not resell any printable that you find on our website or in our resource library. You may use them for class parties, at church, at home, or in the classroom. You may get these printed at an office supply store or copy center at your own expense.