Movie theaters are a great place to see new releases and catch up on old favorites. But did you know that they're also a great category for puns? Here are some of our favorite movie theater puns to get you ready to share some laughs with friends on your next trip to the movies.
Movie Theater Puns
Summertime means blockbuster movies! And that also means movie theater puns. Yes, movie theater puns. If you don't know what those are, they are jokes that use a word in a humorous way but in a different meaning. We love puns in our home, just about as much as we love jokes. Most of the time when a pun is shared it is followed by "did you get it?" I hope as you share more puns with your family and friends you can find more joy and laughter in your day!
What is a Pun?
Do you like to laugh? I do, and one of the things I enjoy most is a good pun. But what is a pun, exactly? And why do they make us laugh? This post will help explain what is a pun and why we find them so funny. Keep reading for some hilarious examples!
Do your kids love jokes?
Grab these fun joke cards for them to laugh at all the time! These make great lunch box jokes, joke card series, bedtime laughs, and more!
Grab your set now! There are over 50+ pages of jokes included! This is a digital download, so it is easy! Just download, print, and enjoy!
Funny Movie Theater Puns
What did the thief steal on the theatre's opening night? The spotlight.
We should've guessed the failed postman wouldn't be any better at delivering his acting lines.
Everyone was spot on, you really did make a great theater lighting tech.
Thankfully, not too many thieves are interested in acting on stage. They'd surely steal the show.
When the theater owner dies, his visitation hours are as follows: 1pm, 3pm, 6:30 pm, 9pm, and midnight.
The skeleton would love to see the latest horror flick, but he just doesn't have the guts for it.
Show your popcorn and coke guy at the movies a little appreciation. After all, he makes a lot of concessions.
I'm so excited about the upcoming interactive theater pun show. I do love to play on words.
A blonde rush to the ticket counter for a showing of Legally Blonde, but the cashier reminds her she just bought a ticket less than a minute ago. She says, "I know, but some idiot just tore it in half as I was about to enter."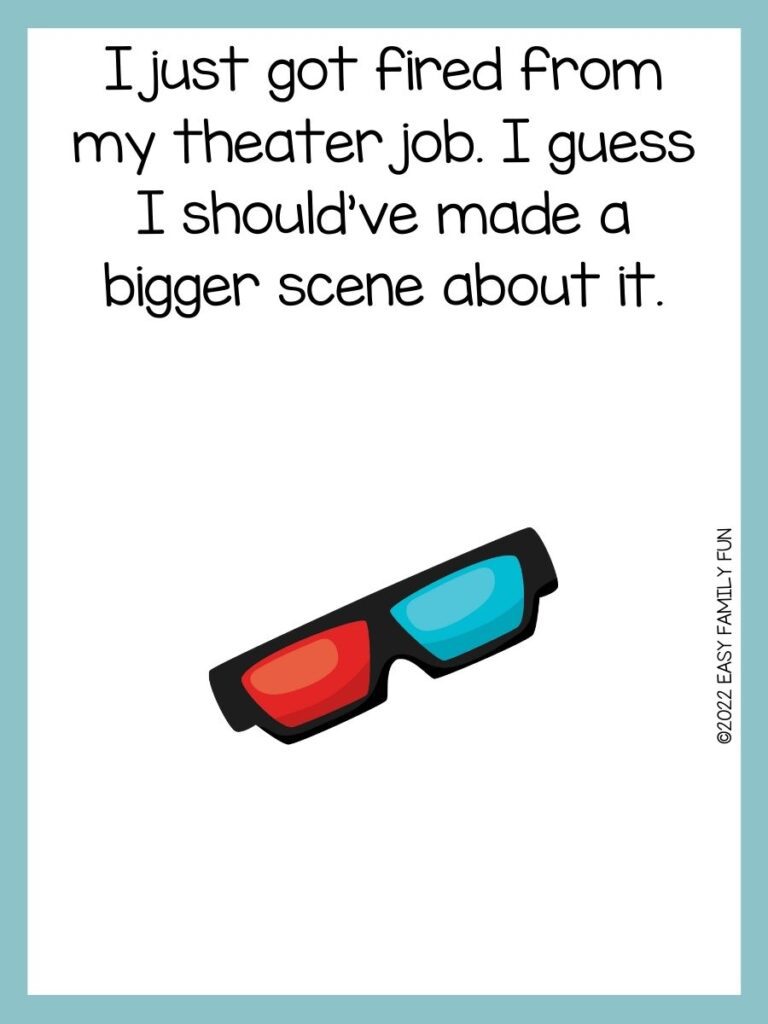 I just got fired from my theater job. I guess I should've made a bigger scene about it.
When I bumped into this lady coming out of the theater, she was kind enough to recommend I watch out man, but the ticket clerk can't seem to find any showing for me. Go figure.
The concession stand seems to continually be out of my favorite candy, but I always have a couple of Twix up my sleeve.
Great news! I'm a movie director now! I gave stellar directions to a very lovely family on their way to the theater.
I'd love to go see the new production, "Theater Puns," but all the reviews say it's just a very bad play on words.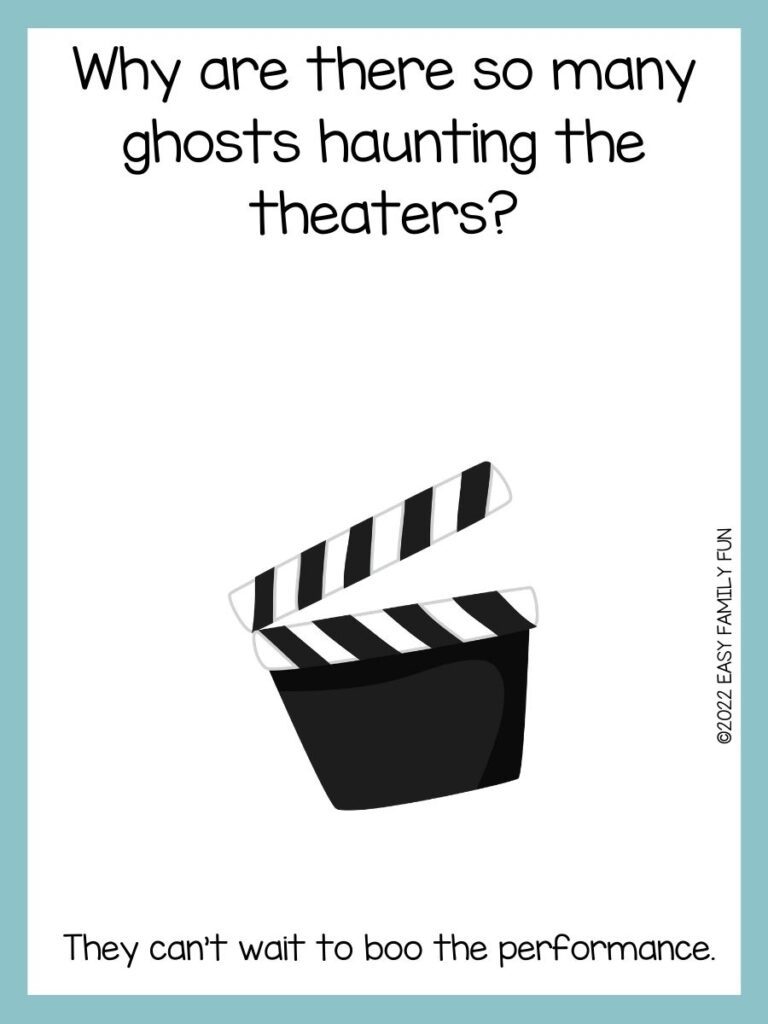 Why are there so many ghosts haunting the theaters? They can't wait to boo the performance.
I hate farmers-only nights at the theater. They always have plenty of tomatoes and know just how to moo you off stage.
I tried to come up with a funny theater joke, but it was all just an act.
Leave it to the theatrics of a theater cast to tell performers to break a leg when they're already cast.
This hottie has forever changed the film industry, and it starts with the letter P and ends with "orn," Reel your mind back in…we're talking popcorn!
Don't worry if any of the actors desperately fall through the theater floor. It's just a stage they're going through.
If you want to write punning dialogue, you'll need to write your play on words.
Don't theater jokes always seem so staged?
A prankster played a really dark and dim-witted joke at the theater. He turned off the lights.
My friend told me he had to leave the play after Act l. Knowing he'd waited forever to see it, I asked him why. He said the program stated that Act ll was two years later, and he refused to wait that long.
It may just be a stage I'm going through, but I sure do love the trapdoors on set.
The local movie theater was robbed last night, and the thief got away with five thousand dollars in merchandise. Authorities are still trying to figure out how the thief managed to carry the two popcorns, two drinks, and two candies from the crime scene.
My buddy was cast in Snow White and The Seven Dwarfs, but he was still angry because he wasn't Happy.
All theaters love to see scarecrows out in the audience as reviewers! They're simply outstanding in their field.
Why didn't Iron Man attend the opening of The Man In The Iron Mask? He was afraid he'd steel the show.
I'm coming out of the closet to tell everyone I was just hired as a seamstress for the theater.
If you don't focus on learning your lines for the production, I shutter to imagine what the reviewers will snap about.
Theater costumes must be handled with care since they're often laced with something.
Theater … the one place it doesn't pay to read between the lines.
Why do thespians have great hair? They want the perfect part.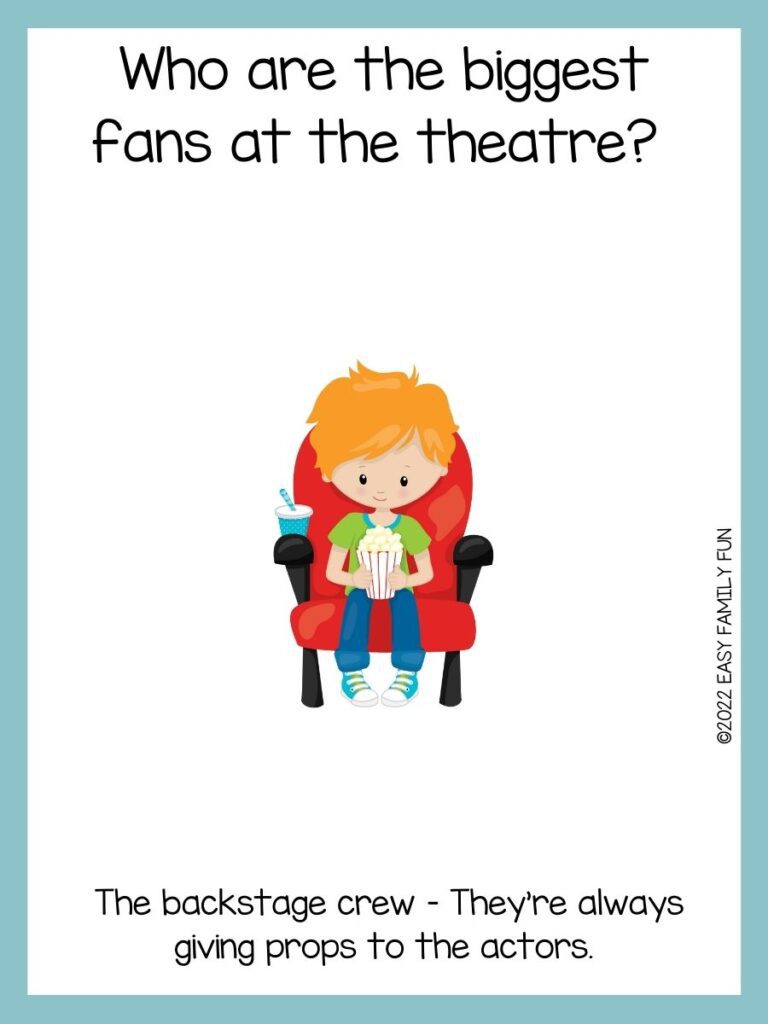 Who are the biggest fans at the theatre? The backstage crew – They're always giving props to the actors.
I read an amazing book about how to get into a movie theater without paying. Naturally, I looked the author up to read more. Sadly, the next book was an autobiography about spending several years in prison.
I wonder why theaters are so sad? They're always dark, moody, and in tiers.
Our backstage manager is leaving at the end of the year. He has been an outstanding member of our theater team. Props to him.
Why the skeleton doesn't go to the theater? Because he has nobody to go with.
Coming to theaters: the thrilling tale of a man who ate biographical books instead of turkey on Thanksgiving. Baste on a true story.
You know why theater people say "break a leg" instead of good luck? Because if you do, you'll end up in a cast!
I had a job directing an elementary school theater production. It wasn't hard work, after all, it was child's play.
I tried to come up with a funny theater joke, but it was all just an act.
A classically trainer theater performer just became a spy. I guess you could say they perform… thespionage
Why do poltergeists love haunting old theaters? Because they can't wait to boo the performers.
Opening a new shadow puppet theater. Business plan says we'll make a fortune, but those are just projected figures.
A couple of friends have decided to put theater-style seats in their house. It will end in tiers.
Tried acting in a theater full of farmers. Got mooed off stage.
A pig and a horse walk into a movie theater. The horse didn't feel like buying popcorn so he brought some hay. A theater employee saw him and said. "Are you sneaking outside food into the theater?" The horse said "nay." The pig squealed.
My theater group is writing a sci-fi thriller about classical musicians. I'll be Bach.
There are two people who both claim to live in the building where Shakespeare wrote Romeo & Juliet. They should put a plaque on both their houses.
A friend has joined a blond-only theater group. Fair play to him.
A friend of mine got sacked as a set designer for not producing anything. He didn't make a scene.
I went to a theater performance done on a bunch of dictionaries the other day… It was a play on words.
I seem to find a way of sneaking chocolate into movie theaters.. .. I always have a few twix up my sleeve.
Why did someone lose their job at the Pixar cinema? They forgot to show Up!
They want to open a floating theater in Paris with drive-in boats. I just think that's in Seine.
Someone forced me to watch a horror movie about clowns by punching me all the way to the theater. They beat me to IT.
A guy asked me if I did work as the person who looks after the film's as they ran at the theater.
In a movie theater crowd watches a movie. During funny moments only one person laughs. Confusingly, he turns around and explains: "Sorry, I haven't seen the trailer."
"Lincoln" grossed $275,000,000 in movie theaters. Which is ironic since historically Lincoln doesn't do too well in theaters.
I got fined $50 for sneaking popcorn and a drink into the movie theater. It's ok though, it still saved me money.
What resolution do Mexican movie theaters show movies in? Por que.
I saw Sonic The Hedgehog at the movie theater… The only problem with it was that it ended too *fast*.
Did you know Lynyrd Skynyrd owns a movie theater that plays a different classic film every day? Tuesday's Gone with the Wind.
Why did eighteen blonde women go to the movie theater? It said under 17 not permitted.
I went to the movie theater, and they said it was $6 for adults and $4 for children. So I said: "Alright, then give me two boys and a girl."
Starting this Thursday, some movie theaters will not allow large bags inside the theater. But thank God I have a few twix up my sleeve.
What did Usher say when he started working at the movie theater? These are my concessions.
How unself-aware does someone have to be to not realize how loud their baby is in a movie theater? I can barely hear the person on the other end of the line!
Called up the movie theater to find out what the order was for the double feature horror films. It follows It Follows.
Why wasn't the Canadian scared at the movie theater? He knew Nunavut was real.
My great-grandfather knew that Titanic would sink and tried to alert people 3 times. The third time, he was expelled from the movie theater.
An old couple was found dead in a drive in theater… they came to see the movie "Closed for Winter".
Why did Sony pull "The Interview"? They were afraid it would bomb at the movie theaters.
My dad always used to say "The first rule of theater is to always leave them wanting more".Good man, terrible anaesthetist.
So I was in the movie theatre…and I was watching an incredibly sad film. So sad that the man behind me started wailing, then he hit me in the head with a harpoon.
Recently I felt Funny and came over Queasy…At which point I was told to leave the local theater adaption of Snow White and the Seven Dwarves.
Got thrown out of the theatre during the Superman movie…… but I was able to sneak back in by putting on glasses.
People love animals. There's movies where people get blown up and shot. But you kill one puppy…They ask you to leave the theatre!
Do you have some favorite movie theater puns for kids? Share them in the comments so we can add them to the list!
Love Puns? Check these out: